The State of Qatar offers experiences that combine old and new, the traditional with the modern. The country's tourism sector is undergoing rapid development with milestone achievements in various sectors.
Qatar is also an important business hub, most notably for its robust oil and gas industry. Many trade shows and business conferences take place in Doha throughout the year.
In 2019 Qatar witnessed a huge leap in visitor arrivals with 2.1 million visitors, a double-digit growth compared to 2018.
Did You Know? Thanks to Qatar's strategic location at the crossroads of East and West, 80% of the world's population is within a 6-hour flight from Qatar and more than two-thirds can enter Qatar visa-free.
This article explains the types of visas, when to visit, public transport, local attractions and other important things to consider before visiting Qatar.
18 JULY 2021 UPDATE: Qatar is now issuing tourist visas, family visit visas, and visas on arrival subject to certain conditions. Visitors should also get pre-travel approval by applying on the Ehteraz website. Here are the conditions for visa on arrival.
Visiting Qatar: Types of Visas
As for every other country, the first step to planning an international trip is to check the visa requirements. Thanks to a host of visa facilitation measures, Qatar is now the most open country in the Middle East.
Visitors from all around the world can now enter Qatar either visa-free or by filling out simple online applications, depending on the passport they carry. Here are the different visa options to enter Qatar:
Free Visa On Arrival
Fully vaccinated citizens of more than 90 countries are now eligible for visa-free entry into the State of Qatar, with varying allowable lengths of stay. Nationals of the eligible countries have to apply for pre-arrival approval by submitting all the documents to the Ehteraz website.
They also need to have a valid passport with a minimum validity of six months and a confirmed onward or return ticket. You can read more about visa-free entry here: Qatar Visa On Arrival: Complete Guide
Online Tourist Visa
NOTE: This service is currently suspended
Individuals not eligible for visa-free entry or ETA can apply for a Tourist Visa online. Visitors to Qatar travelling onboard any airline may apply for a Tourist Visa through the Qatar Visa Service.
The cost of the Qatar Tourist Visa is QAR 100. Tourist Visa holders are allowed to stay in Qatar for up to 30 days on a single trip. You can read more about Tourist Visa here: How to Apply for Qatar Tourist Visa Online.
GCC Residents Visit Visa
Residents of the Gulf Cooperation Council (GCC) countries who hold positions in approved professions and those accompanying them may obtain a GCC Residents Visit Visa (GCC Residents Entry Permit) on arrival in Qatar.
You can read more about GCC Residents Visit Visa here: Qatar Visa On Arrival for GCC Residents: Professions List.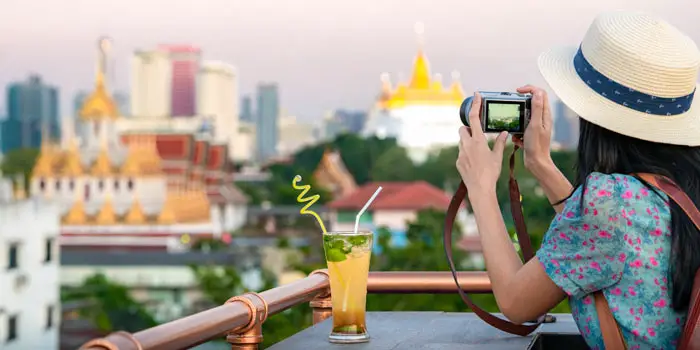 Qatar-Oman Joint Tourist Visa
This visa is issued upon arrival and is valid for 30 days for the State of Qatar and the Sultanate of Oman. It allows for multiple entry to both countries and is extendable for an additional 30 days for a fee.
Electronic Travel Authorisation
Individuals who are not eligible for visa-free entry, but who hold a valid residence permit or visit visa to either Schengen countries, Australia, Canada, UK, USA or New Zealand, can obtain an Electronic Travel Authorisation (ETA) free of charge by completing an online application prior to travelling.
You can apply for ETA here: www.qatarvisaservice.com.
Qatar Family Visit Visa
An expatriate working in Qatar can sponsor his/her family to visit if he/she meets the requirements. This visa is valid for 30 days and can be extended for up to 6 months after doing the medical test.
You can read more about the Family Visit Visa here: Qatar Family Visit Visa Requirements and How To Apply.
Qatar Business Visa
This visa is available for new expatriate workers and persons conducting short-term contractual work in Qatar. The visa is valid for a maximum of three months and must be arranged in advance by an approved company or institution operating in Qatar.
Visa Exemptions
Nationals of the Gulf Cooperation Council countries (Bahrain, Kuwait, Oman, Saudi Arabia and the United Arab Emirates) do not require a visa to enter Qatar.
Gateway to Qatar
Qatar is centrally located on the globe, close to Europe, Africa and Asia. Flights from around the world touch down on Qatar's Hamad International Airport every day, making Qatar the perfect place for layovers and visits.
Doha, the capital city of Qatar, is modern and rapidly developing with much construction underway. It is home to most of the country's best museums and examples of cultural heritage. 
Hamad International Airport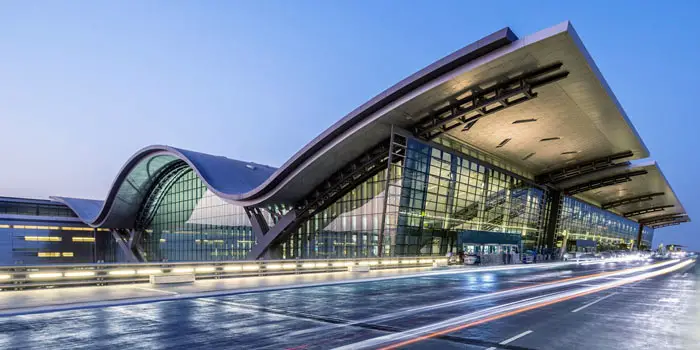 Qatar connects to an array of destinations around the world, making it an extremely busy transit spot. In fact, Hamad International Airport (HIA) has fast become the global gateway for overseas travellers.
Opened in April 2014, the state-of-the-art airport is conveniently located just south of Doha city.
HIA is certified as a 5 Star Airport by Skytrax and was ranked the Third Best Airport in the World at the 2020 Skytrax World Airport Awards. It can handle 8,700 passengers per hour and has an annual capacity of up to 50 million passengers.
Qatar Airways
Qatar Airways, the award-winning national carrier, is certified as a 5-Star Airline for the quality of its airport and onboard product and staff service.
The Qatar Airways network connects Doha with more than 150 popular destinations around the world, including most major cities throughout the Middle East, Europe, Africa, Asia, Australasia & North and South America.
Cruise Tourism
Cruise tourism brings over 100 thousand visitors a year to Qatar, enabling them to enjoy the many landmarks that are mere minutes from Doha Port. The peak season runs from October to May, allowing visitors to enjoy the country's pleasant winter weather during that time.
Qatar Weather
Qatar has two major seasons: Summer and Winter. May to September can be considered as Summer months, while December to February is the cooler season. March to April and October to November are the transition months.
Summer temperatures are routinely 50°C in the day and quite often greater than 40°C at night. t's important to wear sunblock, cover yourself and drink plenty of water when going outside during the day.
During cooler months (December to February) the temperatures average between 14°C and 25°C on most days.
Where to Stay in Qatar
Since most of the attractions are within a couple of hours distance from Doha, you do not have to stay at different hotels during your Qatar vacation.
Doha has the presence of almost all major hotel chains in the world. You can choose from a range of hotels here: https://www.tripadvisor.com/Hotels
Public Transportation
Doha's city centre is just 15 minutes drive from the airport by car. To get from HIA to the city, you can take Airport Taxis available at Arrivals Terminal or request your hotel to arrange a private hotel transfer. It is possible to rent a car at the airport or at the hotels. An international driving license is required for visitors to drive in Qatar.
For travelling around the city, you can use the official taxi network called Karwa Taxi or pre-book a taxi using mobile apps like Uber or Careem. Even though Qatar has a network of public buses, they are not recommended for first-time visitors as their frequency is not guaranteed.
Another option would be to use the newly constructed Doha Metro. You can read our complete guide to Doha Metro here: Doha Metro Map, Stations, Timings, Ticket Prices
Places To Visit in Qatar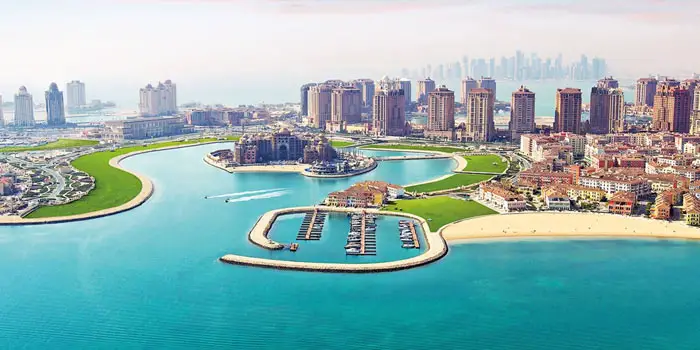 Qatar has a long list of interesting places to visit. Some of the more popular attractions include:
National Museum of Qatar
Museum of Islamic Art
Souq Waqif
Katara Cultural Village
The Pearl Qatar
Mall of Qatar and other shopping malls
You can see a comprehensive list of tourist places in Qatar here.
How to Dress While in Qatar
Since Qatar is an Islamic country, it is important to dress appropriately. Loose-fitting and modesty covering clothing is the preferred style. Women are not required to wear the hijab or veil their heads in public.
Tourists are generally expected to cover their shoulders and knees at a minimum. Beachwear is acceptable at private beaches and swimming pools inside hotels.
Qatar Currency
The national currency of Qatar is Qatari Riyal (QAR). One QAR is equivalent to 100 Dirhams. Banknotes are available in values of QAR 500, 100, 50, 10, 5 and 1. Coins in circulation are 25 Dhs (QAR 0.25) and 50 Dhs (QAR 0.5).
Since Qatar Riyal is pegged to US Dollar, the value of USD 1 is around QAR 3.64. Banks and ATMs across the country take major international credit cards and debit cards.
Working Hours in Qatar
Normally, work week in Qatar is from Sunday to Thursday.
Government offices operate from 7 am to 2 pm.
Private offices operate from 8 am to 4 pm.
Shopping malls generally are open from 10 am to 10 pm.
Most shops and offices change their hours during Ramadan. Visitors should refrain from eating and drinking in public, except in hotels, during the hours between sunrise and sunset.
Copyright © DohaGuides.com – Full or partial reproduction of this article in any language is prohibited.
---
FAQ on Visiting Qatar
---
Which is the best time to visit Qatar?
The best time to visit Qatar would be between December and February. During these months, the weather is cooler and there are a number of outdoor events happening around the country,
Is it safe to visit Qatar?
Yes, Qatar is a very safe country to visit as the crime rates are low. Violent crimes, especially towards foreigners and women, are extremely rare.
Can you drink alcohol in Qatar?
Alcohol is regulated in Qatar and it is prohibited to drink in public places. However, alcohol is available at licensed hotel restaurants and bars.
Is Qatar expensive to visit?
Qatar is a moderately expensive place to visit. Even though there is zero tax on products and services, accommodation and eating out can be expensive for tourists.
How many days would I need to visit Qatar?
Since most of the sightseeing in Qatar is based around Doha, you can see the major tourist attractions in three or four days.
---
You May Also Like:
---