Qatar Central Bank (QCB) has unveiled the fifth series of Qatar currency notes in December 2020. The new Qatari Riyal banknotes have come into effect from December 18, 2020.
As per the latest announcement, all denomination of Qatar currency notes will have new designs and added security features. QCB has also introduced a 200 Qatari Riyal bank note for the first time.
Exchanging Old Qatar Currency Notes
Qatar Central Bank officials have said that the old banknotes will be in circulation and can be exchanged through local banks in the next three months and after that from Qatar Central Bank for ten years.
The public will be able to withdraw new notes from ATMs as of 12:01 am, Friday, December 18.
New Qatar Currency Notes: Design Features
The front designs of the new banknotes share a common theme based on traditional geometric patterns, the State of Qatar flag, Qatari flora (Dreama) and an ornate gate representing the historical Qatari architecture.
The back designs comprise themes reflecting Qatari tradition, Islamic history, culture, flora and fauna and development of education, sport and the economy.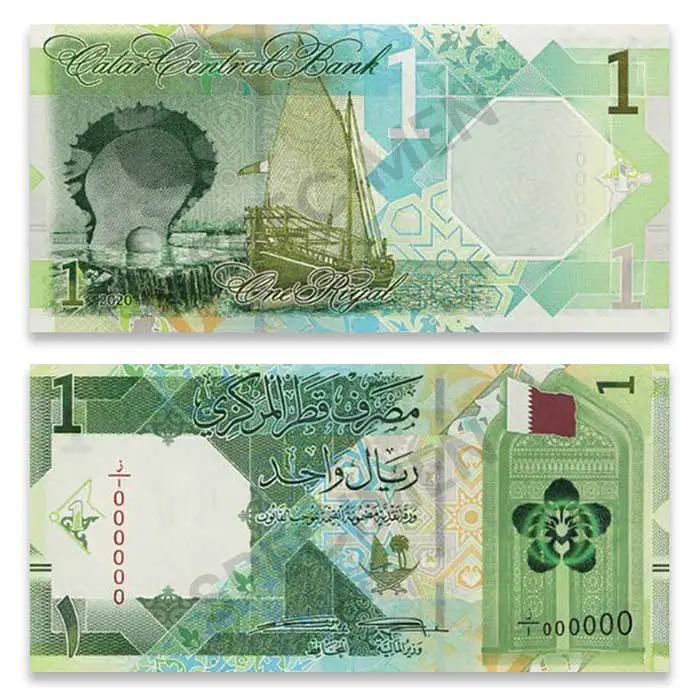 QR1 shows Traditional Dhow (Bateel) and the Oyster and Pearl Monument.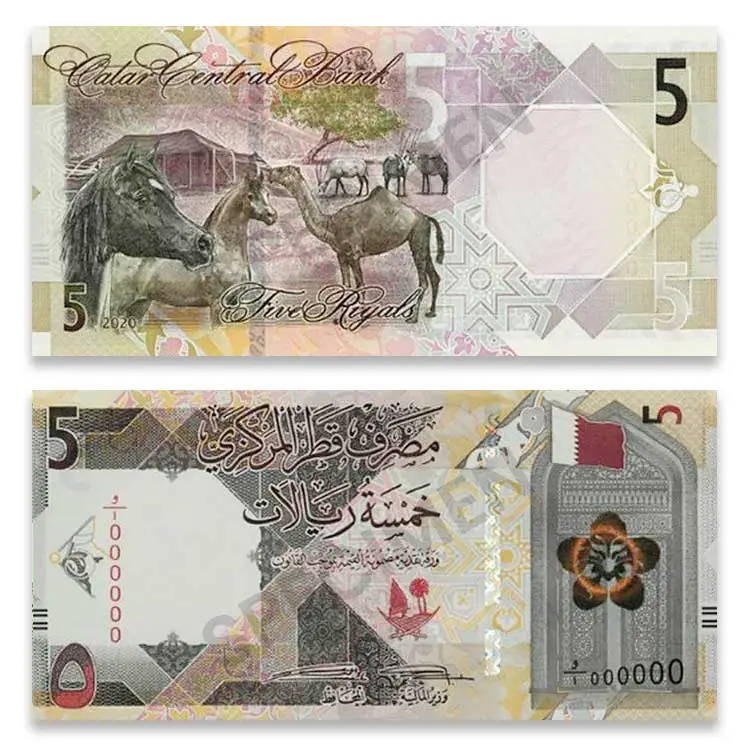 QR5 shows Traditional desert scene comprising fauna (Arab horses, Camel, Oryxes), flora (Al Qataf) and 'hair tent' (buryuut hajar).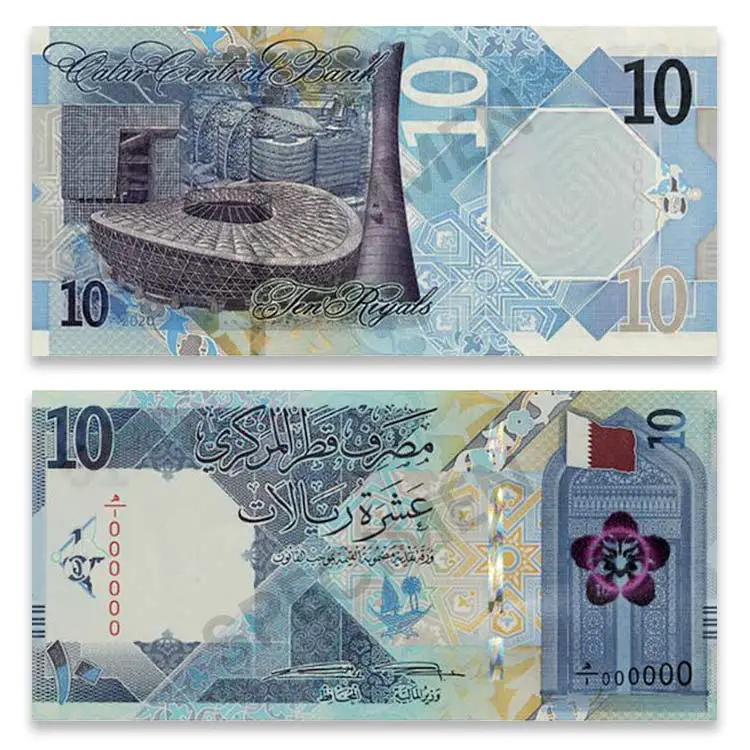 QR10 shows Lusail Stadium, Torch Tower (Aspire Zone), Sidra Medicine and Education City (Qatar Foundation)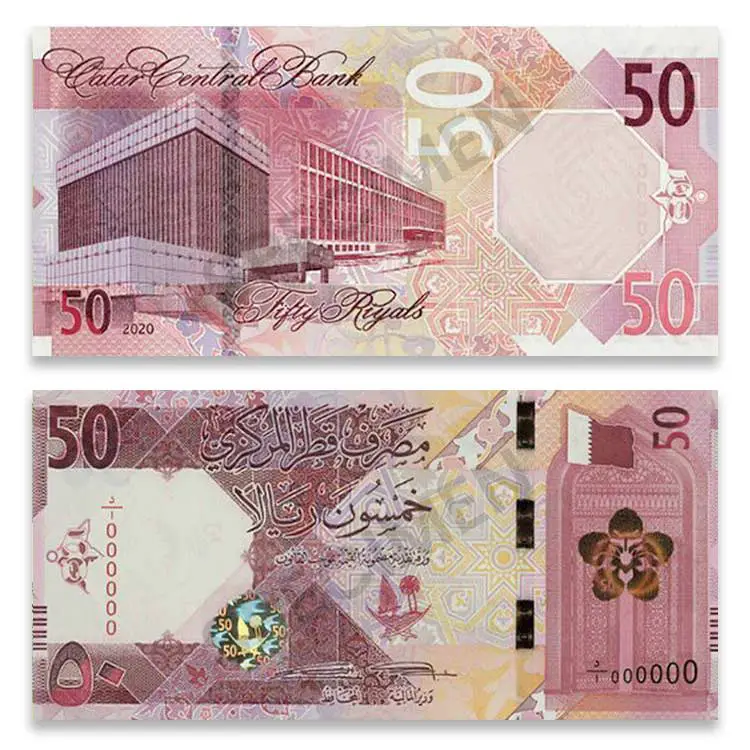 QR 50 shows Qatar Central Bank building and Ministry of Finance building.
QR 100 shows picture of Imam Muhammad ibn Abd al-Wahhab Mosque.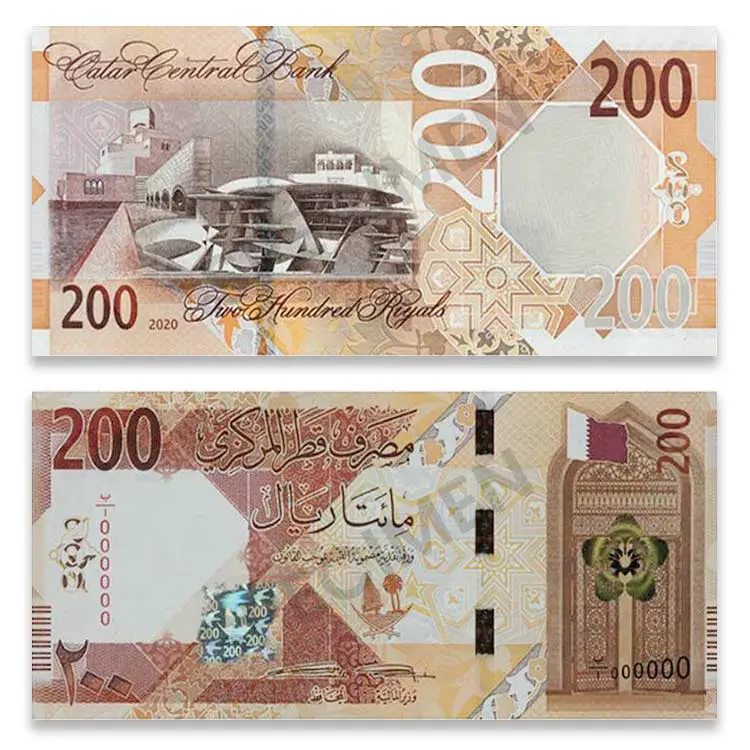 QR 200 shows pictures of Palace of Sheikh Abdullah bin Jassim Al Thani, Qatar National Museum and Museum of Islamic Art.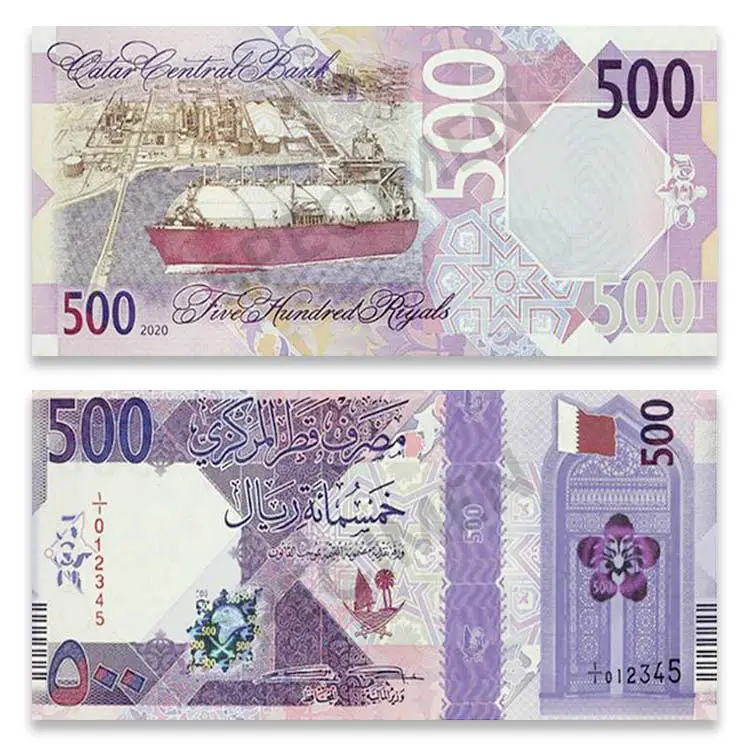 QR500 shows Ras Laffan LNG refinery and LNG canter ship.
New Qatar Currency Notes: Security Features
The new bank will have 64 state-of-the-art security specifications.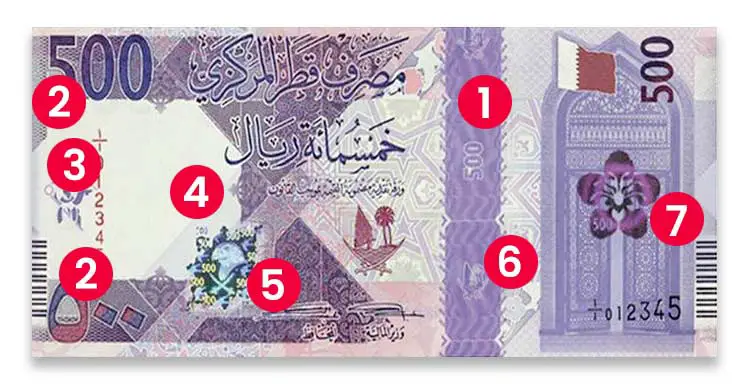 1) Each security thread shows the value of the denomination.
2) The numerals and horizontal line prints are raised for the benefit of blind and visually impaired.
3) When you lift the banknote up to the light to see the incomplete shapes on the front and back of the note combine to form the banknote's value.
4) Lift the banknote up to the light to see the watermark of the State of Qatar Crest and denomination numerals.
5) Tilt the banknote and see changes to the appearance of the holgram.
6) Tilt the banknote and see the changes to the appearance of the security thread.
7) Tilt the banknote to see the Dreama flower on the gate changing colour and a bright circle moving within the flower.
Qatar Coins in Circulation
Qatar has coins of various denominations in circulation with its riyal currency notes. The coins commonly seen in circulation are of 50 and 25 dirhams (100 dirhams make a riyal).
Images Courtesy: Qatar Central Bank
Legal Warning: Currency images shown here are for awareness purpose only and should not be printed or misused. Printing currency images is a crime as per Qatari Law.
Copyright © DohaGuides.com – Full or partial reproduction of this article is prohibited
Share This With Someone Who Needs It