What is Family Residence Visa in Qatar?
A Family Residence Visa is the type of visa using which a foreign worker can sponsor his immediate family members like wife and children for long term stay in Qatar. Every family member, including infants, must have an individual Residence Visa to stay in Qatar.
In order to sponsor his family members, an expatriate resident has to meet some eligibility requirements like profession, salary and accommodation.
Applicants are also required to submit a number of documents, including authenticated marriage and birth certificates, tenancy contract and salary certificate from the employer.
This article explains the eligibility requirements, documents needed, visa fees and step by step procedure to apply for Qatar Family Residence Visa.
Qatar Family Visa Requirements
Here are the major requirements for an expatriate to be eligible for sponsoring his family:
The sponsor should have Residence Permit
The first requirement is that the applicant shall have a valid residence permit in the country. Your Qatar ID / Residence Card should be ready before you apply for residence visas for your family.
Profession Requirement
The sponsor's profession as per his Qatar ID should be technical or specialised (non-labour). Those belonging to labour category like drivers, delivery boys, cleaners etc. may not be eligible to sponsor their family irrespective of their salary.
Salary Requirement
The applicant should have a minimum salary of QR 10,000 to be eligible for sponsoring family.
Those who have a minimum salary of QR 7000 + free family accommodation can also apply (if family accommodation is provided by employer).
The salary requirements are in place to ensure that the sponsor is capable of supporting his family expenses like accommodation and grocery.
Housing Requirement
If your salary is QR 10,000 or above you have to provide a tenancy contract attested by Municipality.
If your salary is above QR 7,000 but less than QR 10,000, then your family accommodation should be provided by your employer. If not, you have to produce an employment contract that specifically mentions family housing allowance will be provided in addition to your salary.
Qatar Family Visa Process
Before you begin the application process for Family Residence Visas, check with your employer to see if they can assist you in the process. Employers are not obliged to process or pay for Family Residence Visas, but some companies do take care of this process as part of their employment policy.
Qatar Family Visa and Residence Permit process can be summarised as below:
Step 1. Apply for Family Entry Visa online or directly
Step 2. Family members enter Qatar on entry visas
Step 3. Undergo the Medical Test
Step 4. undergo the Fingerprints Process
Step 5. Apply for Family Residence Permit Card
Let's examine the above steps in detail:
Step 1. Apply for Family Entry Visa online or directly
The first step is that you should submit all necessary documents to get family residence visa approved. This one month visa will allow your family to enter Qatar. However other formalities like medical test and fingerprint have to be done after arrival.
Another way is to bring the family on a visit visa which will have a simpler process. Visit visa can be converted to Family Residence Visa after submitting the same documents. You have to pay an additional fee QR 500 if you are changing the visa without leaving the country.
Since employees working with private companies are required to submit 6 months bank statement, many people opt to first bring their families on visit visa until the 6 months period is completed.
Documents Required for Qatar Family Visa Application
When applying for a Family Residence Visa, you will need to prepare the following documents:
A completed application form in Arabic (Download Form) – Not needed when applying online
Copy of your Passport (photo page + bio page)
Copy of your Qatar ID card (both sides)
Passport copies of all family members to be brought in
Copy of Marriage Certificate – attested by the Qatar embassy in your country, your country's embassy in Qatar, as well as Qatar's Ministry of Foreign Affairs
Copy Birth Certificates (for children) -attested by the Qatar embassy in your country, your country's embassy in Qatar, as well as Qatar's Ministry of Foreign Affairs
No Objection Letter (NOC) from your employer stating your profession and salary – in Arabic and dated within the last 3 months
Copy of Tenancy Contract attested by Municipality or letter from your employer stating that family accommodation will be provided
Bank statement of last 6 months to prove your salary credit. Get this stamped from your bank.
Copy of the Employer QID / Company Registration Card
Labour Contract stamped by Ministry of Labour (MADLSA)
Copies of your attested educational certificates
Items 10 to 12 may not be needed in some cases, especially for public sector companies.
If documents like Marriage Certificate, Birth Certificate or Education Certificate are not in English or Arabic, you will have to get them translated. There are many private attestation companies in Qatar that can assist with attestation and translation works.
If you have adopted children, statements of adoption, as well as reasons for adoption, will be required.
Option 1: Applying for Family Residence Visa through Metrash
Recently Qatar has made the application process easier by allowing applicants to submit the documents via Metrash2 mobile app. If you haven't registered for Metrash2 see our comprehensive Metrash2 User Guide. Here are the steps to follow to apply for Family Residence Visa on Metrash2 mobile app.
After logging to Metrash, Click on "Visa" icon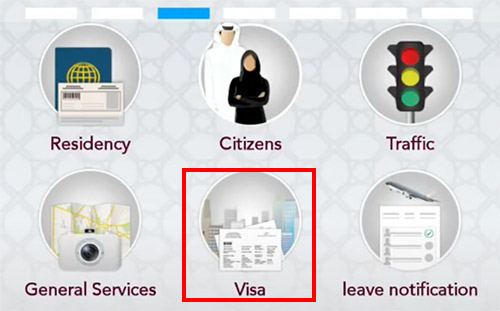 2. On the next page, click on "Issue Visa" icon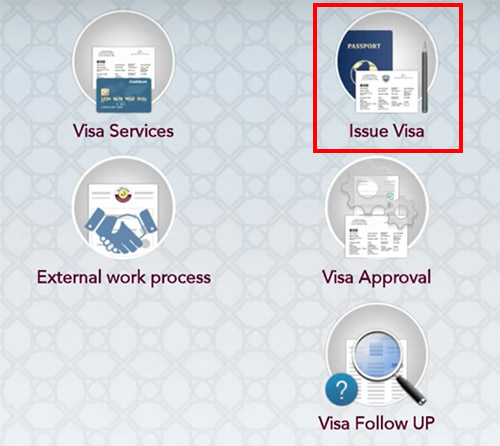 3. On the next page, click on "Family Visit" icon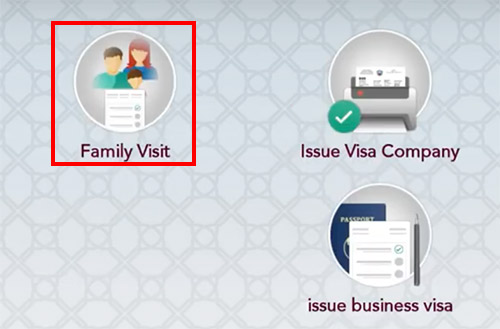 4. On the next page, select "Family Resident Application". Click on "New Application" (bottom right of the page)
6. Carefully fill up the form with details of your family member. Click "Validate"
7. Follow the instructions on screen and upload the scanned copies or photos of the documents
It is very important that the document scans/photos are clear and readable.
When uploading passports, both photo page and bio page should be on the same side. You will need to combine both the photos/scans to create one JPG file.
Similarly, when uploading Qatar ID, both front and back should be on the same side of the JPG file.
8. After confirmation message you will receive an update after few days
If the visa is approved, you can pay the visa fees (QR 200) online via Metrash2 or pay at the Immigration Office. The visa can be downloaded on this link.
Option 2: Applying for Family Residence Directly
For the offline application, you would need a completed application form in Arabic (Download Form) in addition to other documents mentioned above. If you are a non-Arabic speaker, you may get this application form filled from any typing centre.
Take the required documents to the Immigration Department in Al Gharafa (Location Map). It is better to go early morning between 6 and 9 am.
Take a token number from Reception, and wait for your turn. When your number is displayed on the screen, go to the counter and submit the documents. If the documents are in place they would accept the application and you will be notified in a few days.
If the visa is approved, you can pay the visa fees (QR 200) online via Metrash2 or pay at Immigration Office. Note that you would need Debit or Credit card for payment.
What to do if the family visa application is rejected
Sometimes the visa application can be rejected even if you meet the requirements. In such cases, visit the Gharafa Immigration Office and request a meeting with the visa approval committee.
Take a copy of the visa application receipt as they will keep the original receipt with them and give the copy on which they will mention the meeting date.
If there is no serious problem with your submitted documents after their scrutiny, you will be given an appointment date with the visa approval committee.
On the meeting date, the committee will ask you simple questions like your qualification and profession. Take originals of all the documents you submitted including your education certificates, in case they ask for it. If everything is OK, you will get the approval in a couple of days.
Step 2. Family Members enter Qatar on Entry Visas
Once the Family Entry Visa is approved, the family members can travel to Qatar. The entry visa is valid for 30 days from the date of entry, within which the next steps like medical test and fingerprints should be done.
If the family members are already in Qatar on visit visa, you can proceed to the next steps after approval.
Step 3. Undergo the Medical Test
Visa holder shall start the Residence Permit (RP) procedures by completing the medical examination. The purpose of this test is to protect the health of the population and prevent the spread of infectious diseases from newcomers.
The Medical Commission is the authority responsible for conducting the health exam in Qatar. The Medical Commission Department is located on Al Muntazah Street, off the E-Ring Road (Location Map).
The medical examination may include Blood Test, Chest X-Ray, Screening for HIV/AIDS, Tuberculosis, Hepatitis B, Hepatitis C.
The following documents are generally needed for the medical test:
Original passport
A clear copy of the residence visa with the mobile number to be contacted if necessary
Debit/Credit card for payment of fees
The fee for Medical Test is QR 100 per person. Children do not have to go for a medical test. However, you have to take their passport and visa copy to Medical Commission and pay QR 100 to mark as fit in the system. Here is our detailed guide about Medical Test in Qatar.
If you are converting visit visa to residence, you have to inform the officer about converting the visit into residence.
The results of the medical examination are sent electronically to the residency system at the Ministry of Interior. 2 or 3 days after Medical Test you would receive the result on your Metrash mobile app. You can also check the result online on the MoPH website.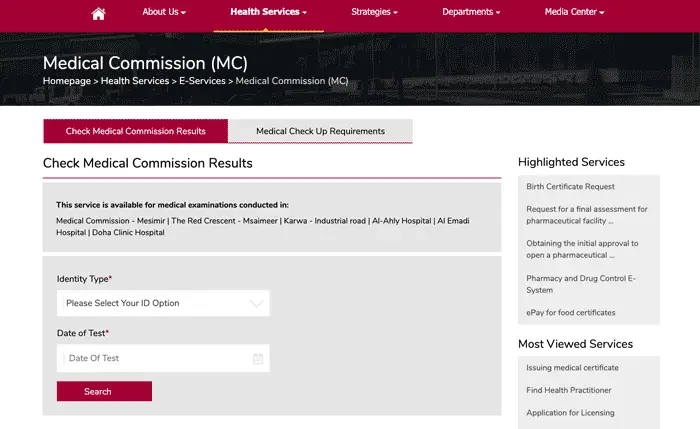 Step 4. Undergo the Fingerprinting Process
After completing the medical test, adults are required to register their fingerprints digitally with the Ministry of Interior.
For Residence Permit, you should obtain a blood-type (blood group) certificate from any local clinic. This costs around QR 30 to 50.
The Criminal Evidence and Information Department (CEID) is responsible to collect the fingerprints of all residents in Qatar. The CEID Headquarters is located just after the Industrial Area flyover on Salwa Road (Location Map).
The following documents are generally needed for the fingerprint process:
Sponsor's passport & QID copy
Applicant's original passport and copy
Blood group report
2 x passport-size pictures on blue background
In addition to the above, you have to fill a fingerprint application form which is available at the CIED. If you are provided with a receipt after fingerprint, you have to keep it for future reference.
Once the fingerprint process is complete, you would receive an update on the Metrash2 app.
Step 5. Apply for Family Residence Permit Card
The final step is to apply for a Residence Permit Card (Qatar ID). You have to go to any Ministry of Interior Service Centre with your Qatar ID, Passports of the family members, and passport-size photos with a blue background.
The Residence Permit costs QR 500 for the first year. After payment of the fees, they would advise you when the cards will be ready for collection.
Qatar Family Visa Fees
Qatar Family Visa Fee is QR 200 per dependent.
However there are other expenses to be considered:
Medical Commission Test: QR 100
Residence Permit: QR 500 for one year
In addition to this, there may be charges for Documents Attestation, Blood Group Report etc. There would be additional charges if you are transferring a visit visa to the residence without exiting the country.
Rules To Sponsor Adult Children
One of the things to be aware of when applying for visas is that male children aged 25 years and over are not eligible to be on either parent's visa; there is no age restriction for daughters, as long as they are not married.
Children who are grown up and exceed the legal age may be granted Residence Permit under their parents for one more year in order to find an employer during the following year.
Work Permit for Spouse and Children
Dependent spouse and children above 18 who wish to work, require a special work permit in order to be able to work while in family sponsorship. This work permit can also be applied on Metrash app.
Copyright © DohaGuides.com – Full or partial reproduction of this article is prohibited.
---
FAQ on Qatar Family Residence Visa
---
How much is the minimum salary to sponsor my family in Qatar?
To be eligible for sponsoring your family in Qatar, you should have a minimum salary of QR 10,000 or QR 7,000 with family accommodation provided by employer.
What to do if my family visa application is rejected?
If the family visa application is rejected you can visit Gharafa Immigration Office and request a meeting with the visa approval committee.
How can I renew Residence Permit for my family?
You can renew the Residence Permit (QID) for family members using Metrash2 application. The payment can be made online and delivery will be by QPost.
Can I get a residence visa for extended family members?
In Qatar, family residence visas are generally issued for immediate family members like spouse and children only. Parents can be sponsored on exception cases.
How much does the family visa cost in Qatar?
The cost for initial entry visa is QR 200. However there are other expenses like Medical Test fee, Residence Card fee and miscellaneous expenses like attestation charges.
---
You May Also Like:
---
Share This With Someone Who Needs It