Doha Guides Team regularly reviews this article to ensure the content is up-to-date and accurate. The last editorial review and update were on 3 September 2023.
Flying on a connecting flight and airport transfer can be quite a hassle for most travellers. Doha's Hamad International Airport (HIA) is among the region's busiest airports and sees millions of transit passengers annually.
This article will explain Doha Airport transit requirements and procedures to be followed. It will also brief the facilities available for passengers and the frequently asked questions about transfer through Hamad Internation Airport.
About Hamad International Airport
Hamad International Airport (DOH), with an annual capacity of 35 million passengers, is the principal international airport in the State of Qatar. It is certified by Skytrax as a 5-Star Airport for facilities, comfort, cleanliness, shopping, food & beverages, staff service, and security/immigration. The airport saw 7.14 million passengers in the first quarter of 2022.
During the last two years, HIA has been named the World's Best Airport at Skytrax World Airport Awards. It is also the first Middle Eastern airport awarded Skytrax's World Best Airport.
Since 2014, HIA has been home to Qatar Airways, a 5-Star Airline that has been voted six times as the World's Best Airline by Skytrax. Qatar Airways connects more than 140 destinations worldwide, and a large number of its passengers are transit passengers.
Doha Airport Transit Visa
One of the most common questions is whether you need a transit visa for connecting flights through Doha Airport. The answer is no, you do not need a transit visa if you are not planning on leaving the airport.
Here is a tweet from Qatar Airways on 18 July 2022 to confirm this:
Earlier Qatar Airways travellers could apply for a free 96-hour transit visa that would allow them to visit the city. However, this service is currently suspended; instead, eligible travellers from 90+ countries can use Qatar's visa-on-arrival facility.
---
---
Doha Airport Transfer Procedure
Doha Airport makes it easy and convenient to transfer to your connecting flight. There is only a single passenger terminal at HIA, which means you can arrive, transfer and depart in the same terminal. You do not have to worry about changing the terminal building,
The terminal building has three levels and five concourses: A, B, C, D, and E. Each of these has several passenger gates connected to jet bridges. The below map will give you a rough idea of the airport layout.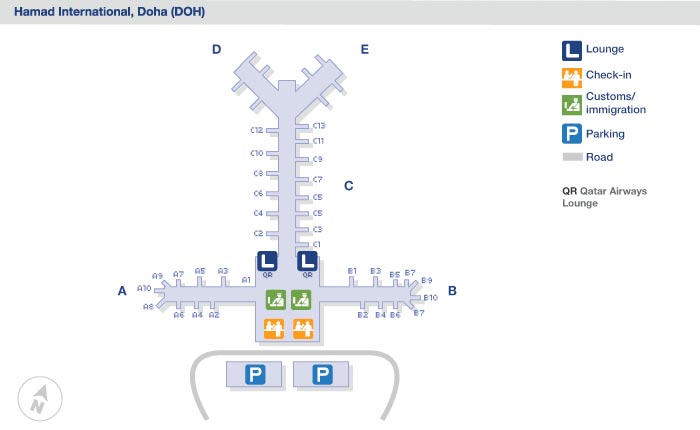 Below are the steps on how to transit at Doha Airport:
Step 1: Exit the aircraft
For most flights, you can access the terminal through jet bridges. During peak hours, you may be required to use a bus, which will be guided by staff.
On arrival, Al Maha customers, special assistance travellers, and unaccompanied minors are met by airport staff.
Step 2: Proceed to Transfer Halls
Upon exiting your aircraft, follow the "Transfer" signs. These signs will lead you to the Transfer Halls on the concourses.

Directional signs are available in English and Arabic; some even have estimated walking times.
Please follow the 'Transfers' sign for transit, not the 'Arrivals' sign. If you wish to exit the airport, please approach the transfer desk for assistance.
Step 3: Collect Boarding Pass if required
Most airlines will issue you both boarding passes at the first check-in point (country of origin). If you already have the boarding pass for the next flight, you can proceed to the Departures Hall.
However, for some flights, you may be required to collect a new boarding pass from Doha. In that case, go to the transfer desk, and the staff will assist you.
The staff at the desks can answer any questions you may have. They can also help you reschedule or rebook flights, upgrade seats, obtain boarding passes, and exit the airport if you plan a stopover.
Step 4: Go through security screening
Before entering the Departures Hall, you must pass through a security screening. Your hand baggage will be screened for potentially dangerous items. Also, you will be required to pass through metal detectors.

Make sure your baggage does not contain any prohibited items.
Step 5: Check the gate number for your next flight
Several electronic screens with Flight Information can be seen in the Transfer and Departures Halls. Check the screens for your next flight number and the corresponding gate number.

You may not see your gate number if your flight is after a few hours. In that case, you can relax, dine or shop at the terminal. We will discuss those options later.
Step 6: Proceed to your gate
Once your gate information is available, proceed to the gate. You can use the shuttle train service inside the airport for some concourses. If you need help navigating around the airport, ask at the information desk or use the airport maps available throughout the airport.

Moving walkways are also available on most routes. Along the way, there are plenty of toilets to freshen up. Below is a video by HIA on how to transfer through Doha Airport.
---
Time Required For Transit At Doha Airport
Most passengers often wonder how much transit time you need for connecting flights at Doha Airport. There are several factors to consider here:
a) Boarding Pass: If the boarding pass for the second flight is issued from the first airport (point of origin), you can proceed to security check and move to your gate. If not, you will have to queue up at the transfer desk and wait for your turn to collect your boarding pass.
b) Distance Between Gates: Doha Airport is an integrated facility inside a single terminal building, but it is not a small airport. The walking distance between some gates can be up to 15 minutes.
c) Flight Arrival: You also need to consider the possibility of your first flight landing late. If you have a very short connection time, say 1 hour, even 15 minutes delay in your flight can create havoc on your plans.
d) Disembarkation Time: Even if your flight arrives on time, you may not be able to leave the aircraft at the next moment. Usually, you have to wait 10-20 minutes to leave the aircraft through the jet bridge. It may be longer if you need to take a bus from the aircraft.
e) Gate Closing Time: Remember that gates close 20 minutes before departure time.
f) Seasonal Rush: During peak seasons like holidays, FIFA World Cup, etc., you can expect some delays in security screening.
Considering all these scenarios, a safe margin would be three hours. Shorter durations, like 1.5 to 2 hours, maybe doable but can be a risky call. We wouldn't advise anything below 1.5 hours.
Below are the estimated walking times from Transfers Hall to the gates in each Concourse.
| | From Transfers A | From Transfers B | From Transfers D | From Transfers E |
| --- | --- | --- | --- | --- |
| To Concourse A | 1-5 min | 2-6 min | 10-14 min | 10-14 min |
| To Concourse B | 4-6 min | 3-5 min | 11-14 min | 11-14 min |
| To Concourse C | 2-8 min | 2-8 min | 1-6 min | 1-6 min |
| To Concourse D | 10-11 min | 10-11 min | 1-3 min | 1-3 min |
| To Concourse E | 9-11 min | 9-11 min | 2-3 min | 1-2 min |
Doha Airport walking times (minutes) from Transfers to Gates
In the unfortunate situation of having missed your connecting flight, please contact the transfer desks. The staff will assist you with re-booking a later flight.
---
Doha Airport Transfer Desk
You can visit one of the transfer desks if you need assistance with your onward flight, including boarding passes, rescheduling flights, or general inquiries.
The transfer desks can also assist you if you are on an extended stopover and wish to visit Qatar before boarding your onward flight. It is important to check visa and immigration requirements before beginning your journey to avoid disappointment and delays.
Relaxation Facilities At Doha Airport
Hamad International Airport has some of the world's best facilities for relaxing and refreshing during your transit journey.
There are several world-class travellers' lounges at the terminal. They offer complimentary food, shower facilities, business rooms, and luggage lockers. Depending on your ticket or privilege club membership, you may be entitled to complimentary lounge access, or you can pay to access the lounge.
There are also quiet rooms offering recliners and soft lighting where you can relax.
Doha Airport Restaurants
The airport features a wide variety of restaurants and coffee shops to suit international travellers. There is a common food court area near departure (near the Giant Teddy), and coffee shops and restaurants spread all over the duty-free area. Below are some of the dining options available at Doha Airport.
Azka Restaurant
Burger King
Brioche Doree
Camden Food Co
Coffeeshop Company
Costa Coffee
Del Monte F&B
Emporio Armani Caffe
Evergreen Organics
Great Eastern Market
Harrods Tea Room
Harvest Market Restaurant
Illy
Jamocha Cafe
L'ETO
Le Grand Comptoir
Negroni
Red Restaurant
Red Mango Yogurt & Smoothies
Spizzico
Starbucks
The Burger Federation
Yumcha
Shopping At Doha Airport
The award-winning Qatar Duty Free (QDF) shopping emporium is one of the largest in the world. It is home to around 100 retail outlets and restaurants across 40,000 square meters of combined retail, food, and beverage space. Among its many products are designer labels, electronics, gourmet foods, and much more.
The prominent luxury brands at QDF include Tiffany & Co., Gucci, Bulgari, Hermès, Hugo Boss, Moncler, Rolex, and Harrods. If you are in a hurry, express stores are also available.
Sleeping Options at Doha Airport
Sleep 'n fly Sleep Lounge is located within the main duty-free area within HIA's transit terminal and offers a selection of sleep pods and cabins that can accommodate up to 50 adults and four children. The sleep units provide a soundproof, air-conditioned space where you can relax before or between flights and pay by the hour.
You can choose from the following accommodations at sleep 'n fly:
FlexiSuite Sleep Pods (one person)
YAWN Double Cabin (max. two persons)
YAWN Double Cabin with kid's pull-out bed (max. two adults and one child <115 cm)
YAWN Bunk Cabin (max. two persons)
The average two-hour rates are USD 48 (one person) and USD 77 (two persons).
You can make online reservations at www.sleep-n-fly.com
For assistance, call +974 4467 8993 or email [email protected]
Doha Airport Hotels
Doha's Hamad International Airport (HIA) has two hotels for transit passengers:
Oryx Airport Hotel
Oryx Airport Hotel is conveniently located inside Hamad International Airport's passenger terminal, offering guests a wonderful place to relax, unwind and recharge before their next flight. The hotel offers hourly rates, fitness facilities as well as spa services for the convenience of every guest.
Daily rates for Superior Rooms start at QR 1,290 (USD 350). To know more about hourly rates, contact the reservations team by email at [email protected] or call +974-40108100.
You can see the hotel reviews and book on TripAdvisor.
Oryx Garden Hotel
The Oryx Garden Hotel is HIA's newly inaugurated airport hotel located in North Plaza. A total of 100 rooms are available, ranging from king beds to twin beds and suites. All rooms are conveniently located within the terminal, near boarding gates. Bookings can be made around the clock for a maximum of 24 hours.
A variety of retail and culinary options are conveniently located nearby the Oryx Garden Hotel, as well as complimentary new-generation wireless internet throughout the premises.
Luggage Storage at Doha Airport
Currently, the Hamad International Airport storage lockers are not in operation due to health and safety concerns. However, Tawfeeq Travel offers luggage storage at their Travel Hub inside the airport Metro station. You can find more details about luggage storage here.
Doha Airport Wifi
HIA provides complimentary wireless internet WiFi access throughout its passenger terminals. You can sign up for complimentary WiFi by searching for "HIAQatar Complimentary WiFi".
There are also internet kiosks and desks with screens and keyboards that offer free web browsing. Kiosks are located throughout the passenger terminal (near the boarding gates).
Purchasing a prepaid calling card from Qatar Duty Free lets you make international calls anywhere in the world. There are telephone booths throughout the passenger terminal (including at the boarding gates).
Other Facilities
The passenger terminal has smoking rooms, prayer rooms, and phone/laptop charging stations.
Six foreign exchange stores and multiple ATMs are located throughout the passenger terminal. Travelex offers currency conversion of over 40 plus currencies. There are play areas and activity nodes for children. Complimentary baby strollers and parents' rooms are also available.
Doha Airport Transit Tour
If your transit is more than 8 hours, you can join a city tour or adventure tour by Discover Qatar. There are three types of tours available. Below are the details:
| Tour Theme | Tour Duration | Price | Timings |
| --- | --- | --- | --- |
| Discover Doha – City tour | 3 hours | QR 95 | 08:00, 13:00, 18:00, 21:30 |
| Discover the dunes and inland sea | 4 hours | QR 367 | 07:00, 14:00 |
| Discover the dunes and inland sea (Private – 5 persons) | 4 hours | QR 734 | 06:00, 14:00 |
For more details and booking, check Discover Qatar Transit Tours.
Qatar Airways Stopover Program
You can explore Qatar by booking a stopover holiday with Qatar Airways. Packages start from $14, including luxurious accommodation at 4-star and 5-star hotels. For more information, check Qatar Airways Stop Over Package.
---
Doha Airport Transit Requirements During COVID
Transit Visa is NOT required for transit passengers who do not plan on leaving the airport terminal.
Ehteraz pre-travel registration is NOT required anymore. Qatar has completely removed the Ehteraz pre-registration requirement from 1 November.
A vaccination Certificate and COVID-19 PCR Tests are only required if your destination country requires these. If your country of arrival does not demand these, you do not have to present this for transit.
The above information is already available on the Qatar Airways website. Below is a tweet from QA on 07 August 2022 to confirm:

You can check your destination country's requirements using this tool on Qatar Airways.
---
Covid Hygiene at HIA
HIA takes extreme care of hygiene, especially after the pandemic breakout. It is mandatory to wear masks and to maintain social distancing inside the airport. It is only permitted for staff members and passengers with valid flight reservations to enter the airport terminal.
265 hand sanitiser dispensers have been strategically placed throughout the terminal. Each passenger touch point is sanitized regularly, and all baggage trolleys and tubs are regularly disinfected. UV disinfection tunnels were installed to disinfect all luggage arriving at the airport.
Other security measures include mobile disinfection robots, plexiglass shields, thermal cameras, contactless elevators, and contactless payment methods. As a result of its efforts, HIA has become the first airport in Asia and the Middle East to receive a COVID-19 5-Star Airport Safety Rating from Skytrax.
READ NEXT: Qatar Visa on Arrival: Complete Guide
---
FAQ On Doha Airport Transfer
---
Is a Covid PCR test required for transit through Doha Airport?
No, a Covid test is not required for transit unless your destination country requires an RT-PCR test.
Is it easy to transfer through Doha Airport?
Transfer through Doha Airport is not difficult, as it is an integrated airport with arrival, transit, and departure facilities inside a single terminal building. Signages are well-marked, and all modern facilities for passengers are available.
Is 1-hour transit enough at Doha Airport?
The transit time of one hour may not be enough at Doha Airport, considering that the distance between some gates can be up to 15 minutes. You should also consider the possibility of flight delays, security screening, and gates closing 20 minutes before departure.
Is alcohol allowed at Doha Airport transit areas?
You can carry alcoholic beverages purchased from the duty free along with your hand baggage, but drinking in public is not allowed. Alcoholic beverages may be available in some lounges.
---
Related Articles:
Copyright © DohaGuides.com – Full or partial reproduction of this article in any language is prohibited.
Images and video courtesy: Hamad International Airport, Qatar Airways
---