Many people are not aware of the alcohol laws in Islamic countries. Some Muslim countries have very strict laws about alcohol, while others are more relaxed. In general, drinking in public and possessing alcohol without a permit is illegal in most Islamic countries.
Some exceptions exist, and rules may vary from country to country. For example, in some Gulf countries, only Muslims are prohibited from drinking alcohol, and non-Muslims can buy alcohol from authorized sellers.
So if you're planning on travelling to an Islamic country like Qatar, it is important to understand the laws regarding the possession and consumption of alcohol in Qatar. Here is our detailed guide based on our thorough research.
First, let's get into the most obvious question:
Is Alcohol Allowed in Qatar?
The answer is yes! Consumption of alcohol bought from authorized suppliers is legal in Qatar, but here is the catch: drinking in public is strictly prohibited and punishable by law. It is legally allowed for tourists and non-Muslim residents to drink in private as long as they do not get intoxicated and create a nuisance for others.
At present, bars, clubs, and high-end restaurants licensed by hotels serve alcohol to guests over the age of 21. Non-muslim residents can buy liquor for home consumption from a state-controlled distributor through a permit system.
Qatar Laws Regarding Alcohol
Drinking alcohol in public or being found drunk is illegal and can attract heavy fines and even jail terms. Public drinking, for example, may result in a prison sentence and/or a fine of up to QAR 3,000 (USD 825). 
Below are the alcohol-related offences and punishments as per Qatar's Law No 11 of 2004:
| Article | Offence | Punishment |
| --- | --- | --- |
| 270 | Drinking any alcoholic beverage in a public place or opening a store or a house to trade in alcohol | Up to 6 months imprisonment and/or a fine up to QR 3,000 |
| 270 | Being found drunk on the main road or, being intoxicated disturbing others | Up to 6 months imprisonment and/or a fine up to QR 3,000 |
| 271 | Giving a person under 16 years of age an alcoholic beverage or inciting him to drink alcohol | Up to 3 years imprisonment and/or a fine up to QR 10,000 |
| 272 | Importing, exporting, making, extracting or producing alcohol or alcoholic beverages | Up to 3 years imprisonment and/or a fine up to QR 10,000 |
| 273 | Selling, buying, delivering, receiving, transporting or possessing alcohol or alcoholic beverages, or dealing with alcohol in any way for the purpose of trade or promotion | Up to 3 years imprisonment and/or a fine up to QR 10,000 |
Qatar Laws Regarding Alcohol
Driving a motor vehicle under the influence of alcohol, drugs, or other psychotropic substances is a serious crime. Offensive behaviour, disturbing public life, swearing and making rude gestures are all offences that can result in jail time and/or deportation. In the past, several foreign visitors and expatriate residents have been arrested under these laws.
Transporting alcohol within the country is also not recommended, except on the day of collection from the warehouse.
Legal Age for Drinking in Qatar
In Qatar, the legal drinking age is 21 years. Establishments serving alcohol will require an original photo ID upon entry. Offering alcohol to minors is a legal offence.
Drinking Alcohol During Qatar World Cup
As Qatar is the first Muslim country to host the FIFA World Cup, there have been many speculations and discussions about allowing alcohol during the tournament.
Qatar is expected to modify its alcohol laws temporarily during the FIFA World Cup 2022. Media reports suggest that alcohol will be available at hotels, clubs, and licensed restaurants and in some designated hospitality venues and fan zones during the tournament.
According to unconfirmed reports, alcohol will be served to fans before and after the matches but not inside the stadium during the matches. A spokesperson from Qatar's Supreme Committee for Delivery and Legacy said that, together with FIFA, they would announce plans on the availability of alcohol "in due course."
We shall update this page once the announcement is made.
Where To Buy Alcohol in Qatar
Currently, alcohol can be consumed by residents and tourists in designated places, such as bars, clubs, or hotels. Regular restaurants do not serve alcoholic beverages, but licensed restaurants inside hotels may serve them.
Qatar residents over 21 years can also purchase alcohol from the Qatar Distribution Company (QDC) outlet if they have a pre-approved license. Please note that this is for their own home consumption, and they are not allowed to sell it to others.
Alcohol in Qatar During Ramadan
Alcohol consumption in Qatar will be more restricted during the Holy month of Ramadan. During the day, some hotels may serve alcohol as part of room service, but bars and restaurants will be closed. Bars, clubs, and restaurants will be open at night.
The QDC outlet will be normally closed during the month. However, license holders can buy additional quotas during the previous months.
Alcohol in Qatar Airport
If your final destination is Doha, alcoholic beverages cannot be imported under any condition as they are classified under "Prohibited Goods". All baggage arriving at Doha Airport will be scanned, and any illegal import will be subject to penalties by Customs law.
Some airlines, such as Qatar Airways, allow transit passengers to carry alcoholic beverages in receptacles not exceeding 5 litres. Please check with your airline about their policy for transit passengers.
NOTE: You are not allowed to drink any alcoholic beverage while you are at the airport. Drinking is allowed inside the aircraft subject to airline policies.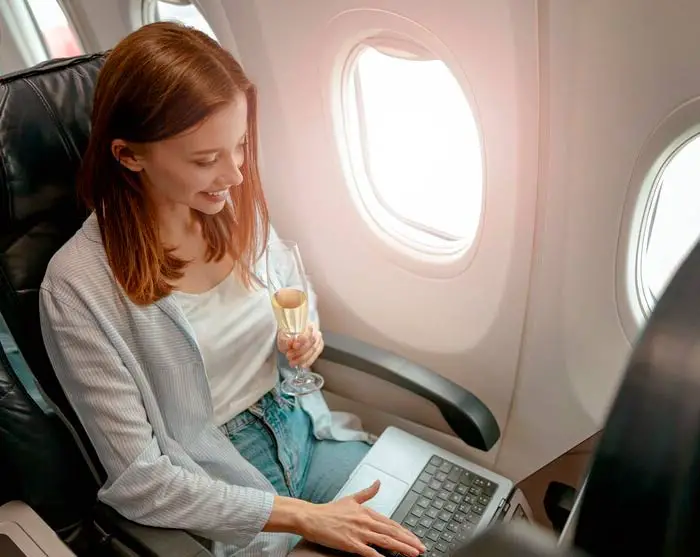 Serving Alcohol in Qatar Airways
Qatar's national carrier Qatar Airways typically serves alcohol to onboard travellers (if requested). A wide variety of alcoholic beverages are available on most Qatar Airways routes, including beer, wine, and spirits. Cocktails and non-alcoholic beverages are also available.
However, the service of alcoholic beverages onboard will be more restricted during the Holy month of Ramadan.
Buying Alcohol at Qatar Duty-Free
If you are travelling from or transiting through Doha to any other country, you can buy alcohol from Qatar Duty-Free shops inside Hamad International Airport. However, please check the maximum alcohol allowance for your destination country. You should show your passport and boarding pass to purchase these.
You are not allowed to buy alcoholic beverages from Qatar Duty-Free if your final destination is Doha.
If you are a transit passenger planning to leave the airport and visit the city for a few hours or days (transit visa or visa on arrival), you should declare your alcoholic beverages to Customs officials. They will store these beverages and release them while you are leaving Doha.
To conclude, drinking alcoholic beverages is a sensitive subject in Qatar. It is not widely accepted in the local culture nor encouraged at public meetings. However, those wishing to drink in moderation are free to do so at their residence or in a private space. The only condition is that the liquor should be purchased through legal means, and consumption should not create any issues for the public.
READ NEXT: QDC Qatar License Application & Renewal Guide
---
FAQ On Drinking Alcohol in Qatar
---
Is alcohol banned in Qatar?
Importing alcohol is banned in Qatar, but you can buy from authorized dealers such as QDC, licensed bars, clubs, and hotels.
Do restaurants serve alcohol in Qatar?
Only licensed high-end restaurants inside hotels are allowed to serve alcohol in Qatar.
Is alcohol expensive in Qatar?
Alcohol is relatively more expensive in Qatar as it is regulated and subject to high taxation, including the 100% tax on harmful goods introduced in 2019.
---
Related Articles:
Copyright © DohaGuides.com – Full or partial reproduction of this article in any language is prohibited.
References: Al Meezan Legal Portal, Qatar Customs Law
---