Doha Guides Team regularly reviews this article to ensure the content is up-to-date and accurate. The last editorial review and update was on 3 September 2023.
Residents and visa holders of US, UK, Canada, Australia, New Zealand or Schengen countries can now avail Electronic Travel Authorization (ETA) through the Hayya portal and stay in Qatar for up to 30 days. Whether you're visiting Qatar for business or leisure, having a valid ETA visa will ensure a hassle-free entry into the country.
Applying for an ETA visa is a straightforward process, but it's important to know the requirements and procedures to ensure a smooth application process. In this article, we'll walk you through the steps on how to apply for a Qatar ETA visa online, including the necessary documents, fees, and processing time.
Qatar ETA Visa Online Through Hayya Portal
In order to boost tourism in Qatar, three new categories of e-visa have been added to the Hayya Platform.
Qatar Tourist Visa and Qatar ETA Visa, which were suspended for several months, are now available through the newly relaunched Hayya platform. You only need to upload your documents, enter the required information, and pay the visa fee (if applicable).
Qatar ETA Visa Eligibility Requirements
Qatar ETA Visa is available to nationals of all countries, who hold a valid Schengen, US, UK, Canada, Australia or New Zealand visa or residency. 
The visitor's passport should be valid for at least three months from the date of entry. 
The visitor should have confirmed accommodation. This can be "Family and Friends Hosting" or "Other Accommodation" (hotel booking).
If arriving by air, the visitor should have a return ticket.
The visitor should have health insurance (as per MOPH guidelines).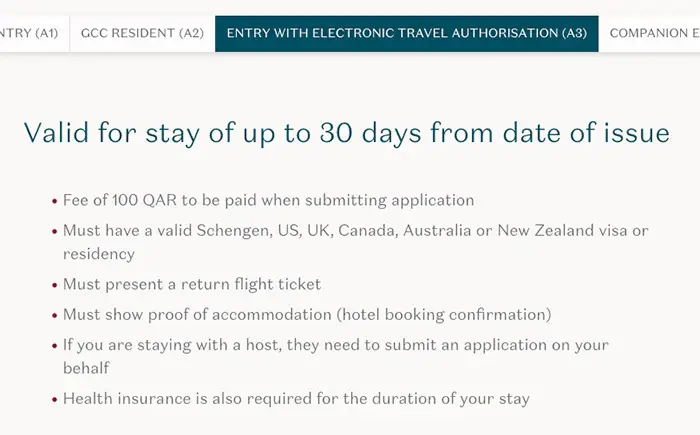 Please note that nationals of more than 90 countries are eligible for a free visa on arrival in Qatar. Even if you are eligible for a visa on arrival, you can still apply for an ETA visa through Hayya portal.
Qatar ETA Visa Cost
Qatar ETA Visa costs QAR 100 (USD 27).
Qatar ETA Visa Validity
The ETA Visa you receive through Hayya platform is valid for 30 days from entry date.
Entry Permits are valid for 30 days from date of issue, so visitors must enter within those days.
---
How To Apply For Qatar ETA Visa Online
Follow these steps to apply for a Qatar ETA Visa via Hayya Portal:
Step 1: Visit Hayya Portal
Go to the website address: www.hayya.qa
Step 2: Click on "My Hayya"
This is located on the top right of the page. Alternatively you can click on "Apply for Hayya" in the center the page.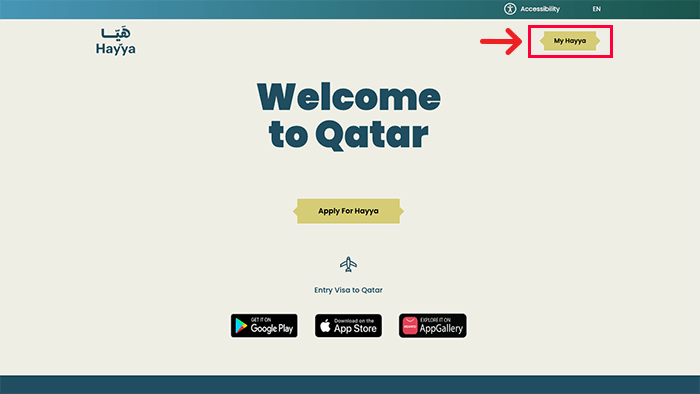 Step 3: Sign Up and Login
If you are a first-time user of the Hayya portal, click on "Sign Up" and create an account using your email address. You will be required to enter a verification code sent to your email.
Once you have created an account, login using your email and password.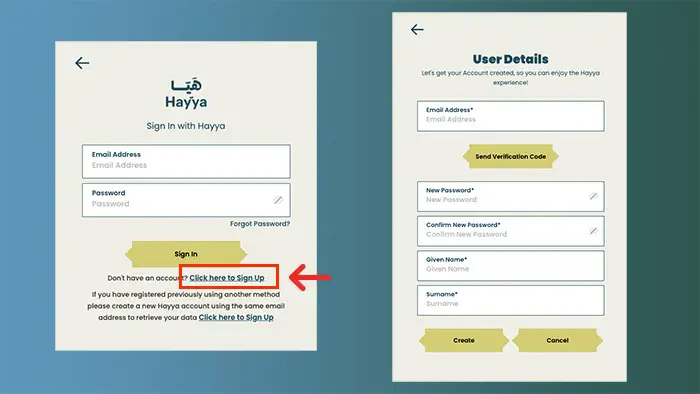 Step 4: Click on "Apply for Hayya"
You can find this button in the center of the page.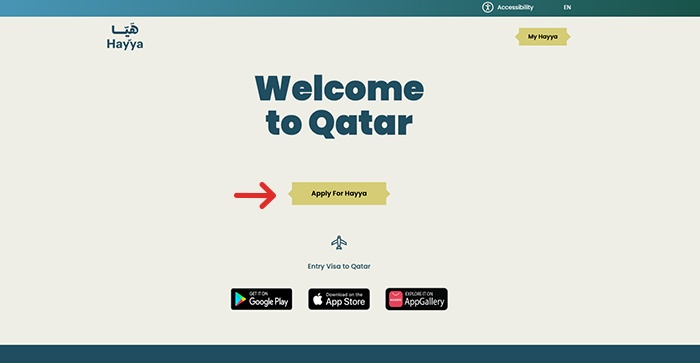 Step 5: Select Hayya Visit Category
Choose the "Visa With ETA (A3)" category from the drop-down menu.
Step 6: Select Visit Purpose
You can choose from a range of purposes including leisure, sports events, business meetings, weddings, shopping, heritage tourism, friend visit, participating in conventions and events, or select "Others" and specify the purpose.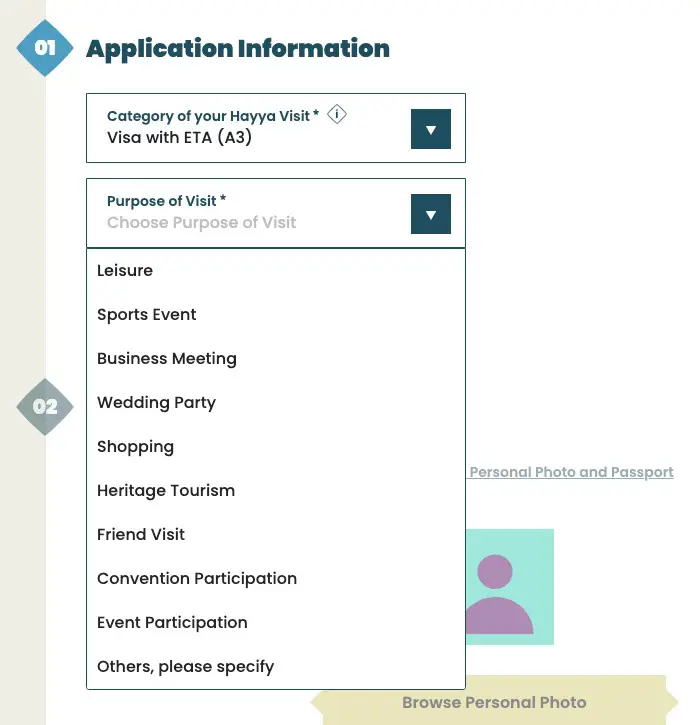 Step 7: Upload Your Photo
Select "I have reviewed the instructions to upload my Personal Photo and Passport". Then, click on "Browse Personal Photo".
Ensure that the photo meets the requirements such as a light background and sharpness.

Step 8: Upload Your Passport
Click on "Browse for first page" and upload only the first page of your passport. Crop it so that the machine-readable zone (MRZ) is clear. Finally, click on "Save".
Your data will be extracted automatically. If the data is unreadable, you can enter it manually.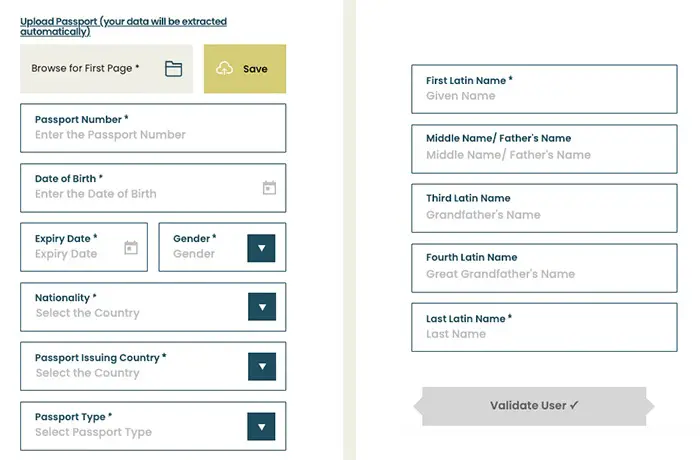 Click on "Validate User". If the "Validate User" option is inactive after automatic data extraction, select "Passport Type" as "Normal".
The first and last names are mandatory requirements. Middle names, third Latin name, and fourth Latin name are optional. If your last name is not on your passport, you can add your father's name as your last name. In that case, you should upload the last page of the passport along with the first page (to verify your father's name).
Step 9: Provide Your Residency Information
Select your country of birth and your country of residence. Declare if you have a previous nationality. If you have, select the country.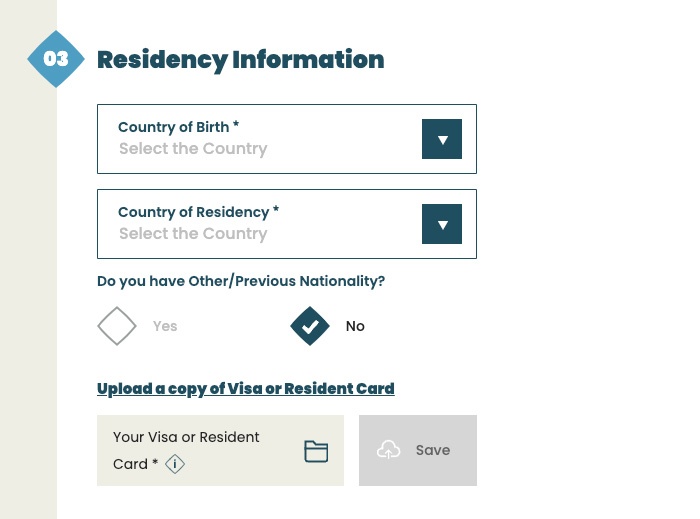 Step 10: Upload Visa or Resident Card
Upload your valid Schengen, US, UK, Canada, Australia or New Zealand visa or resident card. Click "Save".
Step 11: Select Your Accommodation Type
If you are staying with family or friends, your details should have already been added by your host in Qatar. Otherwise you can select "Other Accommodation" and enter the accommodation name.

Step 11: Enter Your Contact Information
Enter your phone number and emergency contact details. Finally, click on "Review & Submit".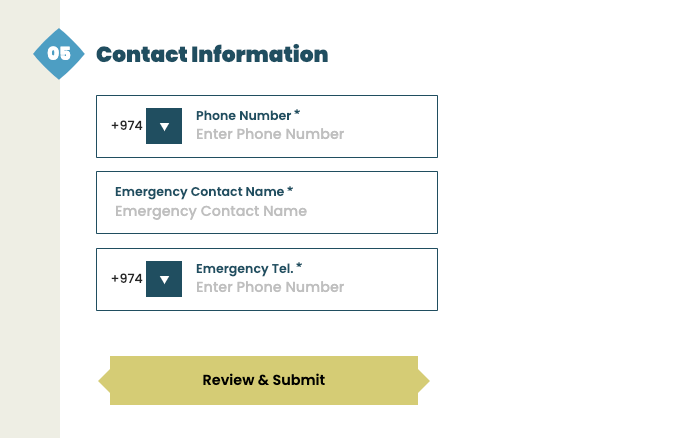 Step 12: Pay the Visa Fee
Once your application has been reviewed and approved, you will receive an email with a payment link. The visa fee of QR 100 should be paid using a credit/debit card. Visa or Mastercard are usually accepted.
Once the visa application is processed, the Hayya Entry Permit will be sent to your email. You can also access your Entry Permit by downloading Hayya To Qatar mobile app.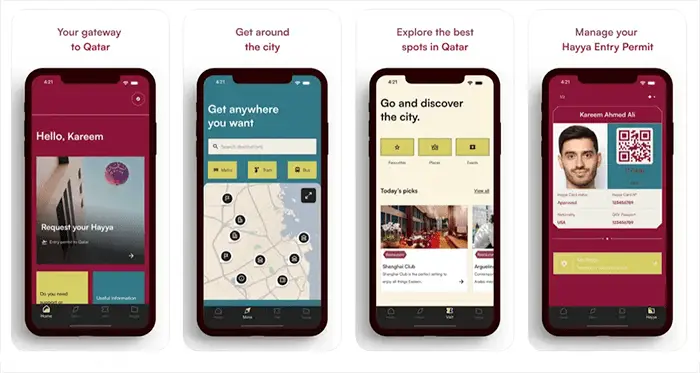 Hayya ETA Visa Processing Time
The average response time is 48 hours when all of the applicant's documents have been received.
Additional information
The Hayya Entry Permit is valid for 30 days. So applications should be made within 30 days before travel.
The passport should be valid for at least three (3) months from the date of entry in Qatar.
For each adult family member, a separate application is required.
You can add children as dependents to your Hayya account, but all details should be filled. You can also apply separately for children. Children also must have Visa or Residency from the US, UK, Canada, Schengen, Australia, or New Zealand.
Visa holders are not allowed to work in Qatar during their stay.
Documents Needed For Travel Using ETA Visa
While travelling using the Hayya ETA Visa, you will need the following:
Passport
Hayya Entry Permit
Return Flight Tickets
Health Insurance
Accommodation Details
Visa or Resident Card that makes you eligible for ETA
Currently COVID-19 vaccination and PCR testing are not required for visitors to Qatar.
---
FAQ on Qatar ETA Visa Procedure
---
How many days is Qatar ETA Visa valid for?
Qatar ETA Visa holders can stay in Qatar for up to 30 days in one trip.
How much does Qatar ETA Visa cost?
Qatar ETA Visa costs QAR 100 (USD 27).
How much is the fine after the Qatar ETA Visa expires?
The fine for an expired ETA visa in Qatar is QAR 200 (USD 55) per day.
Should I use only Qatar Airways for my travel?
You can use any airline to Doha. There are no restrictions on travel modes.
Can I bring dependent along with me?
Yes, you can apply for dependents below 18 year old by adding their information on the Hayya application portal. Note that children must have Visa or Residency from the US, UK, Canada, Schengen, Australia, or New Zealand.
Is there any age limit to apply for ETA Visa?
There is no age limit to apply for ETA Visa. As long as you meet the listed requirements, you can apply.
Will the validity of my UK, Shengen or US Visa/Residency affect my applications? And can I enter Qatar if it has expired?
To apply for Entry with ETA, your US, UK, Canada, Schengen, Australia, and New Zealand visa residency must be valid at the time you receive your entry visa and your passport should be valid for the next three (3) months from your arrival date in Qatar.
READ NEXT: How To Host Family And Friends On Hayya
---
Related Articles:
Copyright © DohaGuides.com – Full or partial reproduction of this article in any language is prohibited.
---