Qatar will host the biggest sports tournament of the year – the FIFA World Cup Qatar 2022™, from 20 November to 18 December 2022. Over a million travellers are expected to visit Qatar during the FIFA World Cup.
International fans travelling to Qatar during the event should be aware of the entry requirements and travel restrictions in place. This article is a guide for travellers explaining Qatar entry requirements during World Cup, including the documents required and other things to keep in mind.
Recent Updates
6 DECEMBER 2022 UPDATE: Qatar's Ministry of Interior has announced that GCC citizens and residents can now enter Qatar without a Hayya Card. Earlier entry was limited to Qatari citizens, residents and visitors with Hayya Cards. You can find more details here.
26 OCTOBER 2022 UPDATE: As per the latest travel policy announced by Qatar's Ministry of Public Health (MoPH), pre-travel and post-travel COVID testing and Ehteraz pre-registration are not required from 1 November. The Ehteraz mobile app is only required for entering public and private healthcare facilities.
---
According to Qatar's Ministry of Interior, visitors' entry from 1 November 2022 until 23 December 2022 will be restricted to only those with approved Hayya Cards. All other kinds of visit visas will be suspended during this period. Qatari Citizens and holders of a residence permit are excluded from this requirement.
Qatar Entry Requirements During World Cup
The following are the entry requirements for international visitors (except GCC citizens and residents) to Qatar during the FIFA World Cup 2022:
Hayya Card (Digital or physical)
Hayya Entry Permit (Digital or printed)
Passport
Flight Tickets
1. Hayya Card
The Hayya Card is a mandatory fan ID for those attending the FIFA World Cup. A Hayya Card will provide an entry permit for international fans, allows entry to the stadiums (with a valid match ticket), and can be used to get free transportation on match day.
Currently, a match ticket is also required to apply for a Hayya Card. There are some exceptional cases when you can get a Hayya Card without a match ticket. This includes Hayya With Me (1+3), Match Hospitality Package, FIFA Accredited Personnel etc.
The Hayya Card should be applied in advance by providing your identity details, accommodation details, a passport copy and a photograph. If you haven't applied for your Hayya Card, please see our detailed guide on Hayya Card requirements and how to apply.
You do not need a physical Hayya Card for entry to Qatar. A digital Hayya Card on the "Hayya to Qatar 2022" app is enough.
2. Hayya Entry Permit To Qatar
According to the tournament organisers at Supreme Committee for Delivery & Legacy (SC), all international fans whose Hayya Card applications have been approved will receive an entry permit to Qatar by email or on the Hayya app.
The entry permit will be required in the country of departure. Please keep either a printed copy or a digital copy for the duration of your journey.
Here is your complete guide on how to access the Hayya Entry Permit and frequently asked questions.
If you have not received your PDF entry permit, email [email protected] or call international support at +97444412022.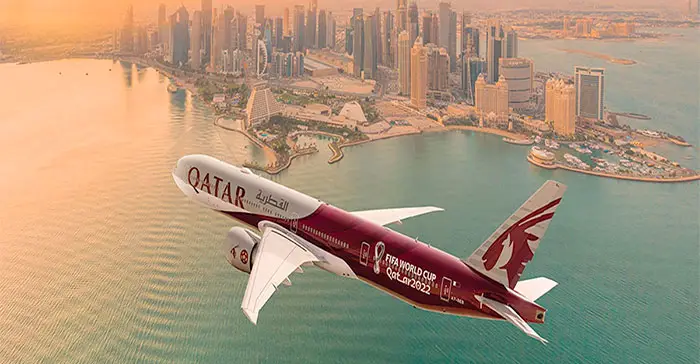 3. Passport
As for every international travel, a passport (with validity until at least March 2023) is required for travel to Qatar.
4. Flight Tickets
A flight ticket is required if you are entering by air. A return air ticket is not mandatory but may be required by your airline.
---
Optional Items
The following items are not required for entry to Qatar but are highly recommended to reduce health risks.
Medical Insurance
If you plan to travel to the tournament, you should ensure that you have travel insurance with healthcare coverage in case you need healthcare.
Qatar offers high-quality medical care, but it can be costly for visitors, especially at private clinics. Emergency and urgent healthcare services will be free for Hayya Card holders at public hospitals. 
Facemasks
Effective 23 October 2022, masks will be mandatory only inside health facilities (medical clinics, hospitals etc.). However, it is highly recommended to use facemasks as you would be in proximity to thousands of people.
Ehteraz Mobile App
Those aged 18 and over are encouraged to download the Ehteraz contract tracing app on their mobile phones and activate it after entering Qatar. The government-run app has coloured QR codes to show the immunity status of the holder. Note that from 1 November 2022, this app is only required for entering healthcare facilities.
---
Requirements for Stadium Entry
International fans attending the World Cup matches should keep the following ready before entering stadiums:
For those who are buying physical tickets from ticket centres, a mobile match ticket is not required.
You can also check the list of items that are prohibited from taking to the stadium.
Accommodation
If you plan to stay more than 24 hours, a confirmed accommodation is required to validate your Hayya Card. If you are staying with family or friends who are residents of Qatar, your host must register their home on the Hayya portal.
Travelling Around Qatar
Visitors with Hayya Cards will have free access to Qatar's public transport system, including the world-class Doha Metro. All stadiums can be accessed either directly using the metro or with support from shuttle buses.
Hamad International Airport has a dedicated metro station to connect with major spots in the city. Taxi services are available 24×7 from the airport to anywhere in Qatar. Make sure you know the address of your hotel or your accommodation.
Here is our guide on how to get from Doha airport to the city centre.
Customs Laws
As with every country, Qatar Customs has allowances and items that are not allowed entry. Make sure to check the list of prohibited items. Illegal drug use and related offences may attract severe punishment. You should also check the laws regarding bringing medicines to the country.
Qatar's alcohol laws are expected to be relaxed during the World Cup. However, public intoxication, driving under the influence, and disturbing public life are considered offences.
---
Frequently Asked Questions
---
Is Covid vaccination mandatory for entry to Qatar?
As per the current rules, Covid vaccination is not mandatory for visitors. However, it is highly recommended to be fully vaccinated to reduce health risks.
Is quarantine required for non-vaccinated travellers?
No, quarantine is not mandatory for unvaccinated travellers. However, those who test positive after entry must quarantine following Ministry of Public Health guidelines.
Are masks required during the World Cup?
Effective 23 October 2022, masks will be mandatory only inside health facilities (medical clinics, hospitals etc.)
Is Covid testing required for entry to Qatar?
Covid testing is not required for entry from 1 November 2022.
---
Related Articles:
---