Qatar will host the FIFA World Cup Qatar 2022™, the first of its kind in the Middle East. The tournament, which will run from 20 November to 18 December 2022, is also an exciting opportunity for international fans to see the Middle East cities and enjoy the Arab culture in all its glory.
Visitors planning to attend the matches will have many questions regarding entry requirements, especially as the world is not fully recovered from the COVID-19 pandemic. This article will answer the questions about Qatar World Cup vaccine requirements and the healthcare facilities available for visitors.
26 OCT 2022 UPDATE: As per the latest travel policy announced by Qatar's Ministry of Public Health (MoPH), pre-travel and post-travel COVID testing and Ehteraz pre-registration are not required from 1 November. The Ehteraz mobile app is only required for entering public and private healthcare facilities.
Qatar World Cup Vaccine Requirements
The first question is if the visitors are required to be vaccinated against COVID-19. The answer is no; COVID vaccination is not mandatory for international visitors. Visitors will not be required to show proof of vaccination during their entry to Qatar.
However, Qatar's Ministry of Public Health (MOPH) strongly recommends that all visitors be fully vaccinated against COVID-19, including any booster dose if eligible. This is not a mandatory requirement but a recommendation for their safety.
Seasonal Flu Vaccine
MOPH has also recommended that all visitors to Qatar receive their seasonal influenza vaccination before arrival. As the World Cup is held during Qatar's colder months, there is a high risk of seasonal flu.
Qatar residents can get free seasonal influenza vaccines available at all primary health centres, HMC outpatient clinics, and more than 45 private and semi-private clinics and hospitals across Qatar. Visitors are advised to receive their influenza vaccine before arrival.
Other Vaccines
Vaccines like meningitis and measles are also advised during travel and mass gatherings. However, there is no mandatory requirement for any vaccine during Qatar World Cup.
Qatar Health Care For Visitors
Qatar has many government and private hospitals and hundreds of clinics offering world-class healthcare facilities.
Qatar's healthcare sector is well prepared for the FIFA World Cup Qatar 2022, with high-quality services, world-class facilities and trained healthcare workers, Dr Yousef Al Maslaman, Official Healthcare Spokesperson for the FIFA World Cup Qatar 2022, recently said.
In the last decade, Qatar has opened 16 new Primary Health Care Centers and ten new hospitals while significantly increasing the health care capacity with the region's biggest emergency centre. Qatar's strategies have been proven successful, and the country has recorded the lowest rate of mortality and highest rate of vaccination coverage. 
Health Insurance For Visitors
Visitors coming to Qatar for the tournament can access medical care at any of the country's private or public hospitals, medical centres, clinics and pharmacies. Please note that MOPH recommends visiting fans have travel insurance coverage (with healthcare coverage) for the duration of their stay in Qatar.
Visiting fans with private travel insurance with healthcare coverage should check with the private healthcare sector medical facilities for payment terms and conditions per the insurance policy.
Access To Emergency Services
Visitors who hold the Hayya card for the FIFA World Cup Qatar 2022 will have access to emergency and urgent healthcare services in Qatar, MOPH senior officials have recently confirmed.
Hamad Medical Corporation (HMC), Qatar's main public sector provider of specialist healthcare services, operates the national Ambulance Service, providing emergency support for life-threatening medical incidents and transfer to an appropriate hospital emergency department. In the event of a medical emergency, you can request an ambulance by calling 999.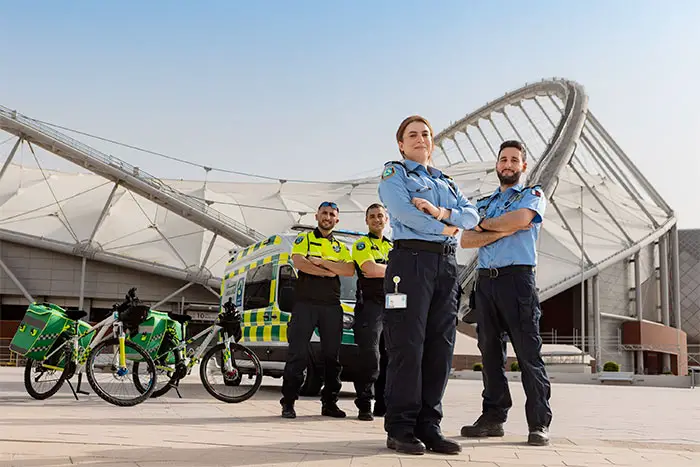 Access to emergency and urgent medical services at HMC facilities will be free of charge throughout the tournament. Fans must present their Hayya Card to the healthcare facility to receive these services free of charge. 
"All the fans coming for the World Cup will have the opportunity to access emergency and urgent healthcare services in Qatar, including rapid antigen testing, even if they are not residents of the country, throughout the tournament. That is one of the reasons why the MOPH is setting up testing facilities in several areas in the country for it to be accessible to all," Dr Soha Al Bayat, Head of Vaccination Unit, HPCDCD at MOPH, recently said.
Healthcare Facilities at Fan Villages and Stadiums
The World Cup Fan Villages will be provided with integrated medical teams consisting of experienced healthcare cadres, and 24×7 medical clinics will also be operational to ensure their easy access to medical services. 
Clinics are located at the following public fan zones and festivals during the designated opening hours of each venue: 
​FIFA Fan Festival 
​Corniche
Al Khor Fan Zone
Industrial Area fan Zone 
Clinics operating 24 hours a day, seven days a week, are located at the following Fan Accommodation sites:
Barwa Madinatna Fan Village
Barahat Al Janoub Fan Village
Doha Port Grand Terminal – allocated to the Cruise Ship Floating Hotels
Multiple clinics are located at all stadiums, with healthcare teams on-hand on match days.
COVID-19 Testing During Tournament
Rapid antigen testing is available in all 28 government health centres plus at least 100 private clinics. MOPH is also setting up centres and booths for rapid antigen testing in all the fan zones across Qatar, which will be accessible to everyone at a very affordable cost during the tournament.
Urgent Consultation Helpline
Medical consultation and support for urgent but non-life-threatening conditions are provided by Hamad Medical Corporation's Urgent Consultation Service. To access this service, dial 16000, select the language, and press 3. The service is available seven days a week from 7 am to 3 pm. 
Pre-Travel Advice for Visitors
Qatar MOPH has given the following pre-travel advice for visitors:
It is highly recommended to ensure your vaccination status (COVID-19 and Influenza) is up to date.
Get a routine health check with a medical professional within six weeks of travel.
For those wearing glasses, bring a spare pair of prescription glasses in case one pair gets lost or damaged.
Know your blood group and write it down on a document.
Bring adequate supplies of prescription medication to cover their period of stay.
Before bringing your own medication, please ensure it contains no banned ingredients. Here you can find all the rules about carrying medicines to Qatar.
---
Frequently Asked Questions
---
Is COVID vaccination mandatory for Qatar World Cup?
No, COVID-19 vaccination is not a mandatory requirement during Qatar World Cup. However, it is highly recommended that visitors be vaccinated if they are eligible.
Is COVID testing required before travelling to Qatar?
From 1 November, COVID testing is not required for travellers.
Will healthcare be free for visitors during Qatar World Cup?
Emergency and urgent medical services at HMC facilities will be free of charge for visitors. However, non-urgent medical services will not be free, and visitors are advised to have travel insurance with medical coverage.
Have you booked your flight tickets?
If you haven't yet booked your flight tickets to the FIFA World Cup, we highly recommend booking with Qatar Airways, the Official Airline of the tournament, which has been named the World's Best Airline a record seven times.
---
Related Articles:
References: MOPH Sports Health Portal
---