Doha Guides Team regularly reviews this article to ensure the content is up-to-date and accurate. The last editorial review and update were on 31 October 2022.
Ehteraz mobile app is an innovative mobile application designed and developed by Qatar's Ministry of Interior for Covid-19 tracking. It is the official app being used for contact tracing in Qatar. The word "ehteraz" means "precaution" in Arabic.
Since 22 May 2020, Qatar has made Ehteraz app installation compulsory for all citizens and residents when leaving the house for any reason – as a precautionary measure to limit the spread of Covid-19.
The Ehteraz app is also required when entering shops, restaurants, shopping malls, and other commercial establishments around Qatar. Individuals with a "Green" healthy status on the app are the only ones allowed entry to these places.
Visitors to Qatar are also required to install and activate the Ehteraz app using a local or international SIM card before leaving the airport. 
Here are the detailed steps to activate Ehteraz mobile app, solutions to problems you may face while using the app and answers to frequently asked questions.
31 OCTOBER 2022 UPDATE: Some users are reportedly facing issues in Ehteraz today. This is a technical issue and will be resolved soon. Users do not have to do anything.
27 OCTOBER 2022 UPDATE: From 1 November 2022, the Ehteraz mobile application will be compulsory only while entering healthcare facilities. The decision was taken at the Cabinet meeting held at Amiri Diwan.
NOTE: If you are looking for Ehteraz pre-registration for travelling to Qatar, you can apply on the Ehteraz website without using the mobile app. Here is the complete guide on Ehteraz pre-travel registration.
Features of Ehteraz Mobile App
Ehteraz app generates a QR code showing infection or vaccination status (when available) to other individuals for safe interaction with the broader community.
It provides notifications when someone is exposed to a suspected, infected, or confined person.
It helps identify locations with high infection rates for the relevant authorities to take prompt action to prevent further spread and higher risk exposure to the public.
The app also provides official announcements on health, social distancing, containment efforts, and up-to-date Covid-19 statistics.
Requirements to Install the Ehteraz App
The following are the requirements to install Ehteraz app on your phone:
Local or an international SIM card
Mobile internet connection
The smartphone should support Android 6.0, newer versions, iOS 13.5 and later versions.
Users must have the Location and Bluetooth settings turned on at all times for Ehteraz to work correctly.
SIM cards and smartphones are available for purchase at Hamad International Airport and Abu Samra border crossing if passengers do not own them before arrival.
Registering Ehteraz App Without QID
Earlier, non-QID holders could not register on the Ehteraz app as it required a QID number to complete the registration. The recently updated version allows non-QID holders (visitors) to register using a Passport number, Visa number or GCC ID number.
---
How to Register on the Ehteraz App
Step 1: Download the Ehteraz app from Google Play Store or App Store
Here are the links to download the app:
Step 2: Open the app and click on the "Start" button
When the app is opened, you can find a maroon "Start" button at the bottom of the app. Click on that.
Do not click on the "Pre-Registration System" link on top, as it is for getting Ehteraz approval to travel to Qatar.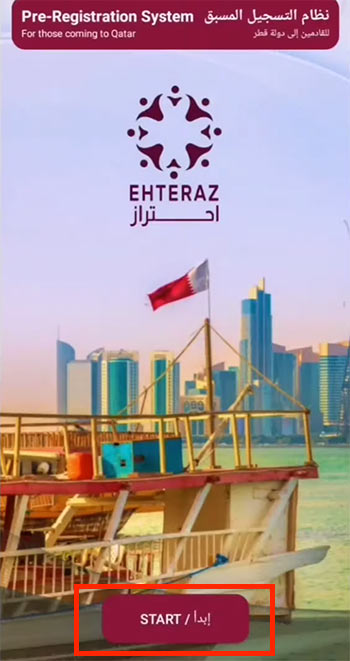 Step 3: Accept the privacy policy
Read the privacy policy and click on the "Accept" button
Step 4: Give the required permissions
The app would ask permission to make calls, access device location etc. Press "OK" or "Accept" as required.
Step 5: Register using QID / Passport / Visa / GCC ID number
The latest version of the Ehteraz app has four document types to choose from QID, Passport, Visa or GCC ID. You can select your preferred document type from the drop-down menu. It would also ask for your Mobile number, Document expiry date and Nationality (in some options). For residents, it is better to register with QID.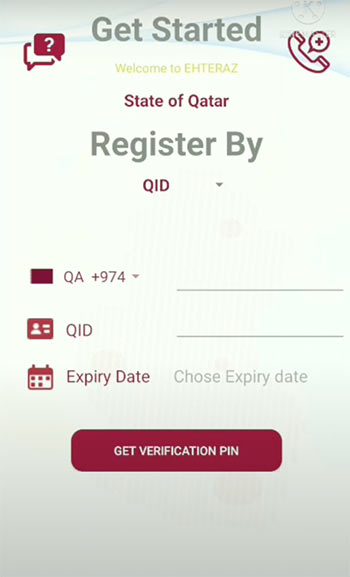 Step 6: Click on "Get Verification Pin"
Once you click on "Get Verification Pin", you will receive an OTP through SMS.
Step 7: Enter the OTP
The app will verify the OTP and your mobile will be registered on the system.
---
What Do the Colours on Ehteraz App Mean?
The QR Code on the app screen will be either of these four colours: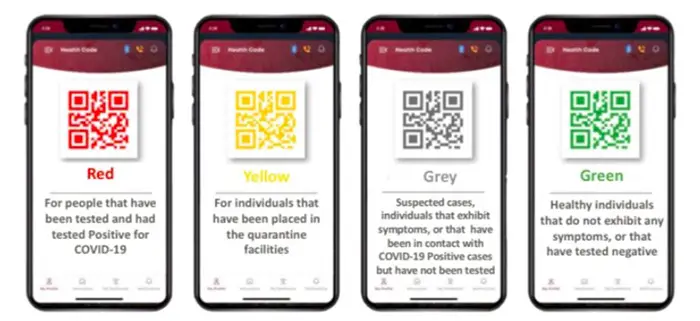 GREEN indicates that a user has no Covid-19 symptoms or has a negative test result.
YELLOW indicates the individual is currently confined to quarantine. The health status on the Ehterz app will remain yellow throughout the quarantine period until the result of the Covid-19 test comes out negative.
RED indicates a positive case of coronavirus.
GREY indicates that the user is a suspected case and is exhibiting symptoms, or the user is someone who has come into contact with an infected person or is someone awaiting their test result.
Suppose an individual is suspected by the health authorities to be infected; the status on Ehteraz changes to grey. Once the Covid-19 test is done, the status changes to yellow and remains yellow until the results are known. The QR code can also be yellow if a close family member has a red status or in other circumstances where there is a high possibility of immediate exposure to an infected person.
If the test results are positive, the status changes to red; if the results are negative, the status changes back to green.
According to the Ministry of Interior, individuals with a health profile code of Grey colour should stay at home and not go out because they are classified as among those with symptoms or contact with positive cases and have not yet been examined.
Recovered Status on Ehteraz Mobile App
With the recent updates, the Ehteraz app now shows the recovered status for those who have previously been infected with Covid-19. You can also see your Health Card number, last test date, last Covid test result, and vaccination details.
14 FEBRUARY 2022: A new Ehteraz update is available featuring a prominent Recovered Status icon. Individuals infected with COVID-19 in the past nine months will have the icon displayed in Ehteraz. An official test result at an approved medical facility is required to confirm the Recovered Status – rapid antigen self-tests are not valid. Individuals who have recovered from COVID-19 in the past nine months are eligible for the same privileges as vaccinated individuals under the COVID-19 restrictions and can show their Recovered Status icon to prove their eligibility.
Ehteraz Golden Frame for Vaccinated Users 
The Health Status on the Ehteraz mobile app for fully vaccinated persons in Qatar will remain Green with a Golden Frame. This indicates that they are excluded from quarantine, their PCR test result is negative, and they have completed the prescribed doses of the vaccine.
According to MoPH, the Golden Frame will appear around the QR code in the app seven days after the second vaccine dose.
28 DECEMBER 2021 UPDATE: From 1 February 2022, individuals whose second Covid-19 vaccine dose was more than nine months ago will be considered unvaccinated and lose their Gold Frame (immunized) status on Ehteraz. Receiving a booster vaccine dose will reinstate their Gold Frame status for a further nine months.
The Health Status of citizens and residents who have received the vaccine outside Qatar will remain green without a Golden Frame until their vaccine data is updated in the system.
Common Problems With Ehteraz App
These are some of the common issues faced while using the Ehteraz app:
Ehteraz app not turning green
Ehteraz app showing a question mark
Ehteraz app not updating
Ehteraz app exceeded the number of activation
Ehteraz app not registering
Ehteraz app colour not changing
Ehteraz app not showing vaccinated
Ehteraz app not showing health card etc.
What You Can Do To Solve Ehteraz App Problems
You can solve most of these problems by following the below steps. These are the suggestions given by Ehteraz technical team for users who faced these issues. There is a high chance that trying the below steps would solve your issue.
Also, note that your immunisation details on Ehteraz will only be updated after seven days of your second dose vaccination. The PCR test results may also take a few hours to update the app. So do not rush to these steps immediately.
If your issue gets resolved at any of the below steps, DO NOT proceed to the next.
Step 1: Make sure the internet is connected, Bluetooth and location are enabled
Often these problems can be due to simple issues like internet connectivity issues, Bluetooth being disabled, or location being turned off. MOI has advised all users to make sure of the following:
Do not disconnect your phone from the internet
Keep your Bluetooth enabled
Keep the location feature activated
You can also try turning off wifi and using mobile data instead.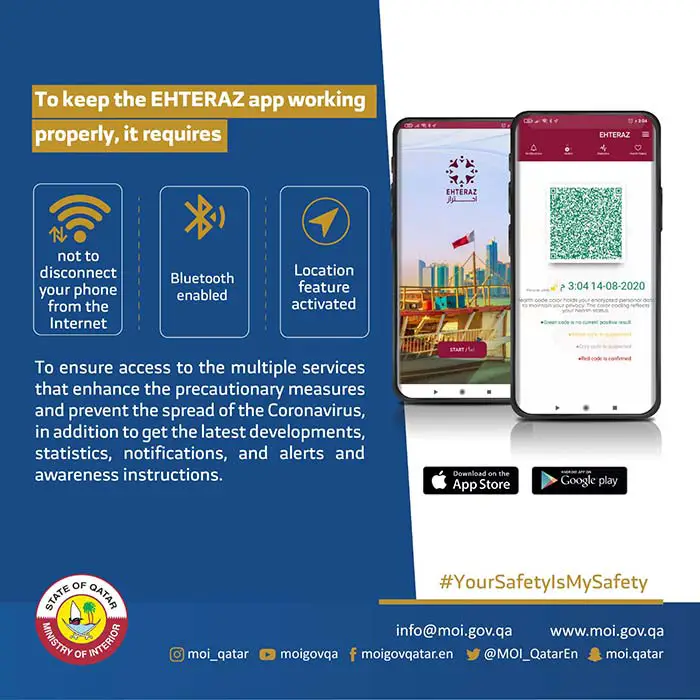 Step 2: Make sure your Ehteraz app is updated, and your phone's OS is updated
For Android, 6.0 and above are required
For iPhone, iOS 13.5 and above is required
The phone's OS should not be modified (jailbreak)
If you are using an older phone and it is impossible to update the OS, you have to use another phone that will support the app.
Step 3: Restart the phone
Another option is to restart the phone. Often this will reset the issues with the Ehteraz app.
Step 4: Check for conflicting apps
If your Ehteraz suddenly stops working, see if you have recently installed any new app that may be conflicting (e.g. Photo Retouch app). If yes, deactivate that and try.
You can also try to force-stop all other apps. Go to Settings > Apps > Choose app > Force Stop.
Step 5: Turn off VPN if it is turned on
If you have any Virtual Private Network (VPN) app on your phone, it may prevent Ehteraz from working normally.
Step 6: Force stop Ehteraz app in the App Info, then open it again
Go to Settings > Apps > EHTERAZ > Force Stop.
Step 7: Verify by clicking the open yellow lock
If you can see an open yellow lock near the QR code, click on "Press to verify". The app will then ask for verification details.
You cannot try this if your app shows the closed green lock.
Step 8: Clear the app's Data and Cache from your phone
If the above steps do not work, we could try clearing the app's cache and data.
Go to phone's Settings > Apps > EHTERAZ > Storage > Clear Data and Clear Cache
You will have to register again, as your app's memory will be cleared after this action.
Step 9: Uninstall the app and reinstall it from Play Store / App Store
If none of the above resolves your issues, the last option is to uninstall the Ehteraz app and download a new version.
To uninstall the app, you can long-press the app icon and select the "Uninstall" or "Delete" option (This method may not work on some phones).
Note that the Ministry of Interior has warned users to avoid repeated deleting and downloading of the app. If the issue does not resolve after a one-time reinstall, do not repeat that. Instead, contact the Ehteraz technical team for support.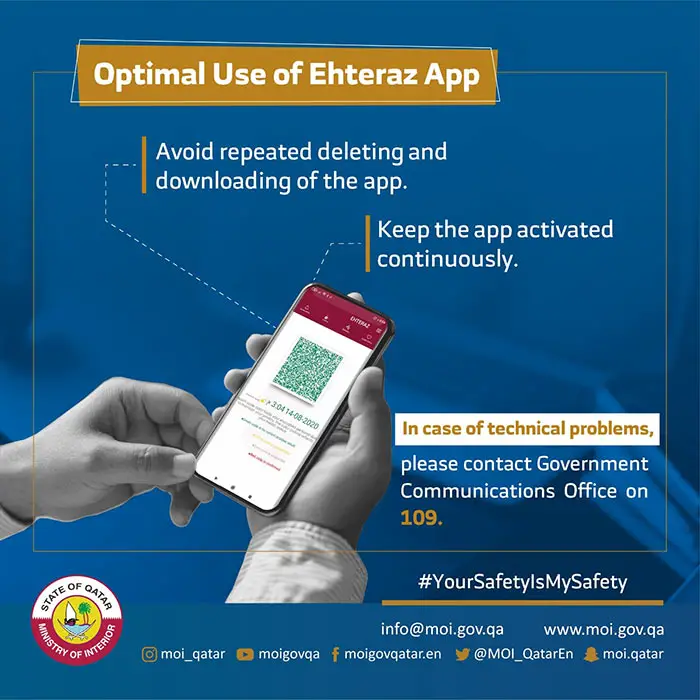 Ehteraz App Contact Number
If you still face technical issues with the Ehteraz app, you can contact the Qatar Government Contact Centre (Hukoomi) at 109 (inside Qatar) or +974-44069999. It is available 24/7 and available in 9 different languages.
The e-mail address to contact Hukoomi is [email protected]. There is also a live chat service on https://hukoomi.gov.qa/en/customer-service.
---
FAQ About Ehteraz App
---
Do I need a Qatar SIM card to activate the Ehteraz app?
No, you can also activate the latest version of the Ehteraz app with an international SIM card. 
How do I register Ehteraz mobile app without QID?
The new version of the Ehteraz mobile app has the option to register using either a QID number, Visa number, Passport number or GCC ID number.
How does Ehteraz detect infected persons nearby?
When two registered users come within Bluetooth range of each other, their Ehteraz Apps will automatically exchange anonymized IDs with devices nearby. This information is used for contact tracing to alert individuals at risk of infection.
How can I change my Ehteraz phone number?
You can deactivate the Ehteraz app from your phone and reinstall the app using another number. Make sure to clear the data and cache from your phone.
Would Ehteraz consume my mobile data?
No, Qatar's mobile networks Ooredoo and Vodafone have announced that downloading and data usage for the Ehteraz app will be free. So you can use the app without losing your phone's mobile data.
Are children required to have EHTERAZ app?
Children under 18 years old are not required to install the Ehteraz app. However, it is highly recommended that children with QID and their own smartphones have the app installed and turned on as an added safety precaution.
---
Related Articles:
---