On the 6th of December 2022, Qatar's Ministry of Interior announced that GCC citizens and residents can now enter Qatar without a Hayya Card. Earlier entry was limited to Qatari citizens, residents and visitors with Hayya Cards.
Here is everything you need to know about how GCC Residents can enter Qatar without Hayya Card from 6 December 2022, including visa-on-arrival requirements and entry point procedures.
Entry Procedure For GCC Citizens and Residents
According to the Ministry of Interior (MOI), citizens and residents of GCC countries will be allowed to enter Qatar without the need to obtain a Hayya Card for non-match ticket holders, through the various entry points into the country, in accordance with the usual entry procedures, as of 6 December 2022.
Below is the announcement from the Ministry:
As per the announcement, the following procedure should be followed at different entry points:
1. Entry through airports
GCC citizens and residents coming to Qatar can now enter without registering on the Hayya platform from 6 December 2022.
2. Entry through land border using buses
The land border crossing will continue to offer transportation by bus to all travellers. Visitors will have access to free parking spaces.
3. Entry through land border using private vehicles
Citizens and residents of GCC countries will be able to enter the country with their private vehicles from 8 December 2022.
Before travelling, they must apply for a permit on the website of the Ministry of Interior at least 12 hours in advance.
The entry permit will be free.
Here is detailed information on how to apply for a vehicle entry permit to enter Qatar.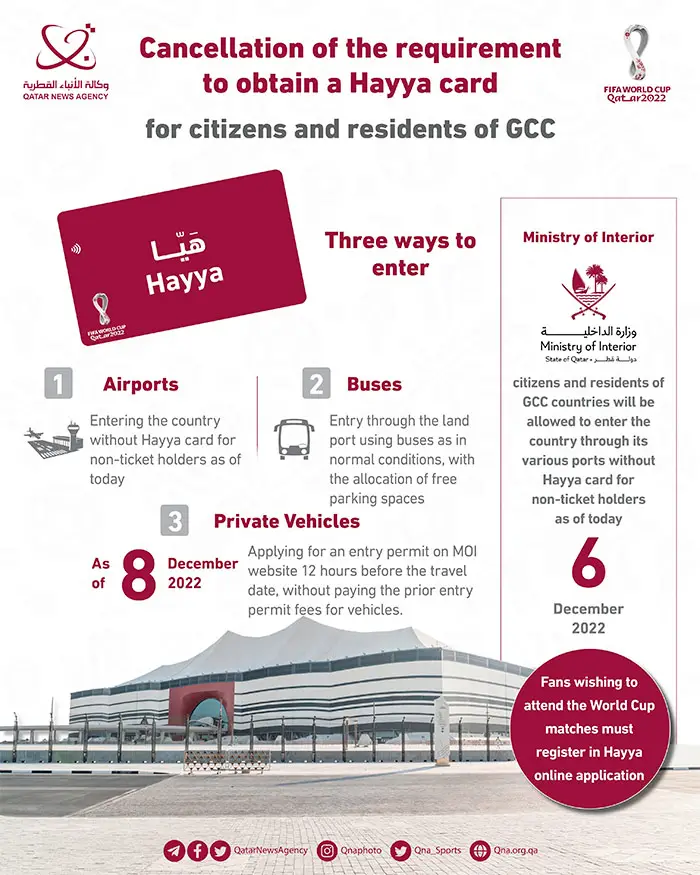 ---
Requirements for Visa On Arrival for GCC Residents
The announcement by the Ministry of Interior does not mention the requirements for availing visa on arrival for GCC residents. However, it states "under the usual entry procedures" which means GCC residents have to meet the following conditions for a visa on arrival:
The visitor should arrive from their country of residence.
The passport should be valid for at least 6 months from arrival.
GCC Residence Permit should be valid for at least 3 months from arrival.
The visitor should be employed as a qualified professional (See the list of eligible professions here).
The visitor should have a return ticket.
The visitor should have a confirmed hotel reservation.
Qatar Airways' website shows the following additional requirements, which are not mentioned on the MOI website.
Official evidence proving business in Qatar.
A letter issued by a sponsor in Qatar showing the name and telephone number of the sponsor.
The above two documents (7 and 8) are not always asked for. It would be better if you could have them.
NOTE: According to the Qatar Airways website, the Residence Permit should be valid for 6 months. However, according to the Ministry of Interior, the minimum requirement is 3 months only.
If you are travelling by air, please make sure to meet these additional requirements (if required by your airline).
Visa For Dependents
Dependents under the personal sponsorship of eligible GCC residents can also get visas on arrival. Their passport and residence permit should also meet the minimum validity required.
Visa Validity and Cost
According to MOI, the visa will be valid for one month (30 days) and can be extended for another 3 months.
Visa Issuance Fee is QAR 100.
Visa can be extended for QAR 100 per month for a maximum of three months.
The fine for overstay is QAR 200 per day.
According to the Ministry, the relaxation in rules is part of the State's efforts to ensure that visitors, citizens, and residents of GCC countries have the chance to enjoy the atmosphere of the FIFA World Cup Qatar 2022, as well as its entertainment activities. 
Additionally, it facilitates entry to thousands of fans who will cheer on the world's best footballers in dedicated fan zones and screening areas.
---
Frequently Asked Questions
---
Do GCC Residents need Hayya cards for stadium entry?
Can Non-GCC residents visit Qatar without Hayya?
For international fans, except for GCC citizens and residents, Hayya Card is still mandatory for entry to Qatar until 23 December 2022.
How long can Hayya Card holders stay in Qatar?
Hayya Card holders will be able to stay in Qatar until January 23, 2023.
---
Related Articles:
Copyright © DohaGuides.com – Full or partial reproduction of this article in any language is prohibited.
---