From 20 November to 18 December 2022, Qatar is hosting the FIFA World Cup, undoubtedly the biggest sports tournament of the year. Football fans all over the world are getting ready for the event.
As with any global event, Qatar 2022 also will have strict security measures. Spectators attending the World Cup matches must be wondering what all things can they take into the stadium. Food, drinks, flags, mobile, camera, selfie stick… are these allowed inside a stadium?
We have got you covered. Here is the list of Prohibited Items During Qatar World Cup based on the official Stadium Code of Conduct published by FIFA.
Prohibited Items During Qatar World Cup
According to FIFA's Stadium Code of Conduct, the following items are strictly prohibited at all times in the Stadium unless authorised by the organisers:
Food / Liquids / Consumable Items
Food Items
According to clause 3.1.21, food items of any kind brought from outside the stadium are not allowed, except for:
(a) food items that are medically required for babies or young infants (not exceeding 1 litre per child).
(b) food items that are required for medical reasons (but only if presented with a medical certificate in English or Arabic).
Any permitted food items must be packed in receptacles, not made of glass.
Spectators can purchase food items sold at designated kiosks inside the stadiums.
Bottles, cups, jars, cans or any other form of closed or capped receptacle that may be thrown or cause injury, as well as other objects made of glass or any other breakable material or especially hard packages or hard thermal boxes, are prohibited.
Liquid Items
According to clause 3.1.19, any liquid containing alcohol, including alcoholic beverages, is prohibited. However, they may be allowed if purchased and consumed within the designated areas of the Stadium and in strict accordance with any additional alcohol consumption rules imposed by the organisers.
Hand sanitisers up to 100 ml are exempted from the above clause.
Any other liquids exceeding 100 ml are prohibited inside the stadium, except for:
(a) baby milk and sterilised water in containers (including glass containers) not exceeding 1 litre per child.
(b) liquids up to 500 ml that are required for medical reasons but only if presented with a medical certificate (in English or Arabic).
Medications
Medications that are not prohibited or restricted by Qatari law are permitted in quantities not exceeding a single package of more than seven different medicines. These medicines must be in factory packaging.
Needless to say, drugs, narcotics or stimulants of any kind are prohibited.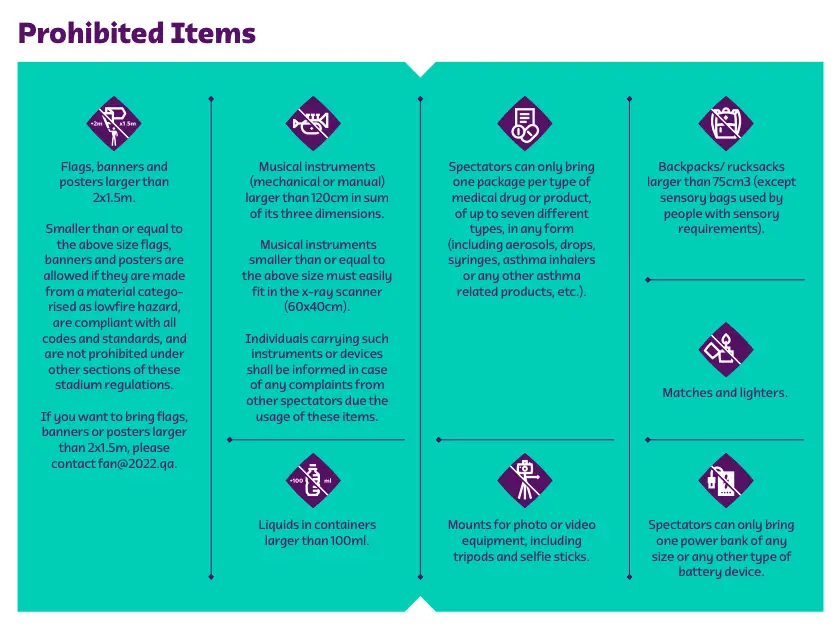 Flags and Political / Offensive / Commercial Items
According to clause 3.1.24 Flags, banners and posters should not exceed 2 meters x 1.5 meters. Flags, banners and posters bigger than this should be approved in advance by the Event Organisers in writing.
Flagpoles or banner poles should be made from non-flammable plastic that does not exceed 1 metre long and 1 cm in diameter.
In all cases, flags, banners or posters should be made of non-flammable material.
Content Restrictions
Content that is political, offensive and/or discriminatory in nature is not allowed (clause 3.1.23).
Promotional or commercial content is also not allowed (unless approved).
Electronic, Musical and Telecommunication Items
Radio-electronic or high-frequency devices that may interrupt broadcasting or IT functionality are prohibited.
Any musical instruments (mechanical or manual) should be smaller than 60 x 40 cm to easily fit within the x-ray baggage scanner. Musical instruments larger than this should have pre-approval from Organisers.
Electronic, mechanical or manual devices that produce noise or other excessively loud sounds, such as vuvuzelas, whistles, and loudspeakers, are not allowed.
Instruments that emit laser beams, laser pointers or similar emissions are prohibited.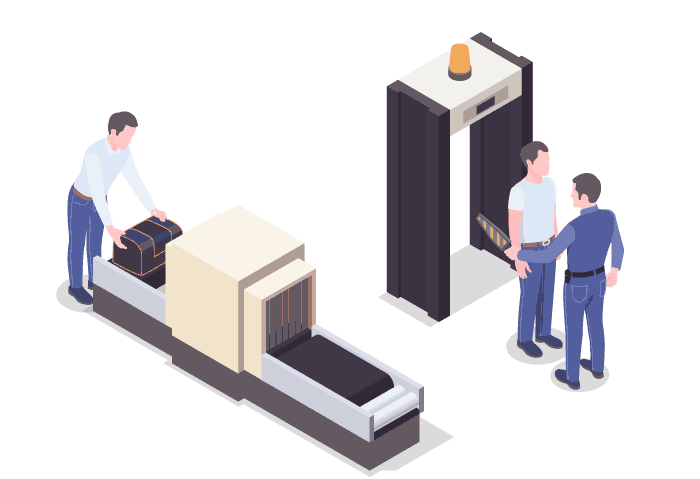 Cameras, Batteries, Power Banks, Selfie Sticks, Drones etc.
According to clause 3.1.31, any type of television and telecommunication equipment (including professional video cameras) or other professional equipment capable of recording sound and video is not allowed. However, there is no specific ban on smaller cameras for personal use or taking photos and videos using mobile phones.
Only one set of extra batteries or rechargeable units is allowed.
Only one power bank (of any size) is permitted per person.
Any types of mounts for photo and video equipment, such as tripods, monopods and 'selfie' sticks, are not allowed.
Drones and any remote-controlled aircraft are prohibited.
Binoculars and other optical magnifying equipment are prohibited (except photographic camera lenses for non-professional purposes).
Hazardous Items
Needless to say, hazardous items such as these are prohibited:
Weapons of any kind, ammunition, piercing or bladed items, knives etc.
Explosives, detonators etc.
Any other object that could be used as a weapon.
Work tools of any kind.
Body protection gear, corsets, helmets.
Toxic, Radioactive, Caustic, or Corrosive materials.
Spray cans, corrosive and flammable substances, and paints.
Aerosol cylinders, thermoses and flasks of any kind.
Sports equipment (excluding clothing) such as inflatable balls, regardless of size, and frisbees.
Other inflated or inflatable items, such as balloons.
Other Prohobited Items
Bicycles, rollerblades, skateboards, kick scooters, and electric scooters are prohibited.
Large items such as stairs, benches, folding chairs, boxes, cardboard containers, large bags, backpacks, suitcases and sports bags are not allowed. Large' means any objects for which the sum of three dimensions of length, width and height exceeds 75 centimetres and cannot be stored under a seat in the Stadium.
Significant quantities of paper or any rolls of paper, any quantities of powdery materials are also banned.
---
FAQ On Prohibited Items
---
Are cigarettes allowed in the stadium?
Yes, cigarettes and electronic smoking devices are allowed. However, lighters and matches are not allowed as they can generate smoke, heat and/or flames.
Are baby strollers allowed in the stadium?
Baby strollers are permitted to be brought inside the stadium's outer perimeter subject to dedicated storage facilities being available.
Are cameras allowed in the stadium?
Professional video cameras and recording devices are not allowed. However, there is no ban on smaller cameras for personal use.
Are pets allowed in the stadium?
Any type of animal, except for assistance dogs, provided they are not prohibited under local laws. Assistance dogs shall only be permitted if they accompany a disabled Ticket Holder with valid proof of eligibility or a disabled Accredited Person.
---
Related Articles:
Reference:
FIFA World Cup Qatar 2022TM Stadium Code of Conduct
---