What is Hayya Entry Permit?
Hayya Entry Permit is a document that allows an international Hayya Card holder to enter the State of Qatar. During the FIFA World Cup Qatar 2022™, this permit allowed multiple entries to Qatar from 1 November 2022 to 23 December 2022.
In 2023, the validity of Hayya Cards were extended. Currently Hayya Entry Permits allow entry up to 10 January 2024.
This article will discuss everything about Hayya Entry Permit to Qatar, including answers to frequently asked questions.
Is Hayya Entry Permit the same as Hayya Card?
No, The Hayya Entry Permit is a document required only for entering Qatar. It will be mainly used during your travel to Qatar.
The Hayya Card, on the other hand, was used for many more things such as access to stadiums, public transport, fan zones etc. International fans who have received approved Hayya Card will also need a Hayya Entry Permit to enter Qatar.
Will Qatar residents receive Hayya Entry Permits?
Residents who have applied for Hayya Card using a QID number will not receive entry permits. They will only receive Hayya Cards. They can continue to travel using their Qatari passport or Qatar ID card.
Do I need to apply for the Hayya Entry Permit?
International fans who have applied for a Hayya Card and have been approved will automatically receive their Hayya Entry Permit. They do not have to apply for entry permits.
Is Hayya Entry Permit digital or printed?
You will receive your Hayya Entry Permit in digital format. It would be sent to your registered email ID as a PDF file. The digital Hayya Permit can also be accessed on your mobile phone's Hayya to Qatar 2022 app.
If needed you can print it on A4 size paper using a normal printer. A printout on paper will make it easier to scan the QR code.
At your point of departure make sure you present your entry permit (digital copy or printed copy) to the relevant immigration counter(s) upon request. You can keep either a printed copy or a digital copy for the duration of your journey.
How will I receive my Hayya Entry Permit?
If you have an approved Hayya Card, you will receive an email with a PDF copy of your entry permit to Qatar. Even if you haven't received your mail due to some reason, you can check your Hayya to Qatar 2022 app.
---
How can I get Hayya Entry Permit on my mobile?
You can see the entry permit on the Hayya to Qatar 2022 app by following the below steps:
Step 1: Open your Hayya to Qatar 2022 app
Here are the App Store Link and Android Play Store Link.
Step 2: Login using your Hayya account email id and password
This will be the same email and password that you used during your Hayya application.
Step 3: Click on the "Hayya" icon
The icon is on the bottom right of your screen.

Step 4: You can see "Hayya Entry Permit" below "My Hayya"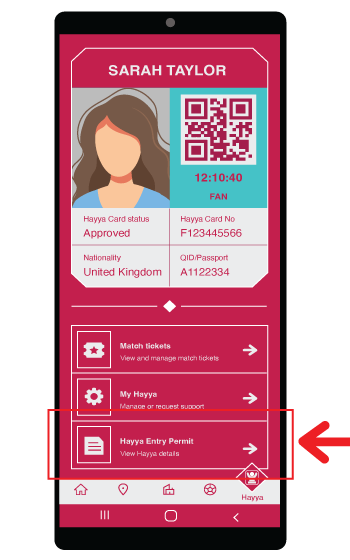 If your app doesn't show the permit link, it means your entry permit is not yet ready.
Step 5: Click on "Hayya Entry Permit"
Now you can see your entry permit. You can either use this for travel or take a printout.
---
What does the Hayya Entry Permit look like?
The entry permit features your photo with a QR code. It also has your name, Hayya Card number, validity and date of last entry.
If you want, you can scan this QR code using another mobile phone to make sure all your details are shown correctly. This will show more details.
Under Personal Information, you can see name, nationality, date of birth and gender. Under Passport Details, you can see your passport number, passport type and passport expiry date.
When will I receive my Hayya Entry Permit?
International fans whose Hayya Card application has been approved have started receiving entry permits during the last week of October. Most applicants are expected to receive them before 1 November 2022.
What should I do if I didn't receive my Entry Permit?
If your Hayya Card has been approved earlier, but you have not received your entry permit, send an email to [email protected] or call international support at (+974) 4441 2022.
Here is a video about Hayya Entry Permit in 2023:
---
Frequently Asked Questions
---
Is an approved Hayya Card enough to enter Qatar?
In addition to an approved Hayya Card, you will also need a Hayya Entry Permit.
Will the Hayya Entry Permit be accepted as a visa to enter Qatar?
Qatar will accept digital or printed entry permits from international fans as long as it remains valid. With an entry permit, you do not need any other visa during this period.
Is health insurance mandatory for travel to Qatar?
Since February 2023, if you're travelling to Qatar as a visitor, health insurance through MOPH-approved provider is mandatory.
Should I upload my insurance and flight ticket to Hayya portal before travel?
No, insurance and flight ticket are only needed to be shown during your travel (check-in and immigration). Once you receive your Hayya Entry Permit, and your accommodation is confirmed, you can travel.
---
Related Articles:
Copyright © DohaGuides.com – Unauthorized reproduction of this article in any language is prohibited.
---