On 17 October 2022, FIFA launched a new Ticketing App for World Cup Qatar 2022™. This app will allow users to access their mobile tickets, change the information, and even transfer the tickets to others.
This article will explain the benefits of the FIFA World Cup Ticketing App, how to download the app, and how to access your mobile tickets using the app.
Benefits of the FIFA World Cup Ticketing App
With the official FIFA World Cup 2022™ mobile ticketing application, you can:
1. You can download your tickets to your smartphone and keep them with you wherever you go.
2. You can send tickets to your friends and family using their e-mail addresses.
3. Using your digital tickets, you can access matches during the FIFA World Cup Qatar 2022™.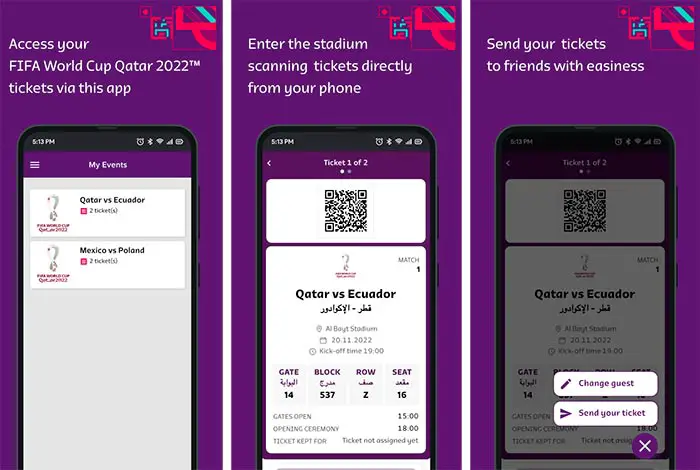 How To Download FIFA World Cup Ticketing App
The FIFA World Cup Ticketing App is available for Apple and Android users at App Store and Google Play Store under the name "FIFA World Cup 2022™ Tickets". Any other mobile operating system is not supported.

Below are the download links:
| Device Type | Download Link |
| --- | --- |
| Apple Devices | App Store Link |
| Android Devices  | Google Play Store |
World Cup Ticketing App Download Links
Please note that there are different apps under similar names. So if you are searching for the app, make sure the developer's name is FIFA.
The ticket holders must be at least 16 years of age to register for the Official FIFA World Cup 2022™ mobile ticketing app.
---
How To Access Mobile Tickets
Step 1: Download the app from App Store or Google Play Store
You can download the official apps from Apple Store and Google Play Store.
Step 2: Log in using your FIFA account credentials
Make sure to log in using the same email address and password you used for purchasing the ticket.
If you are not the primary applicant and do not have a FIFA Ticketing account, you must set one up using the email address where the main applicant will send you the ticket(s).
The registration form must be filled out, and your personal information must be included. You will receive a registration code via email to confirm the email address you entered.
Step 3: Accept the terms and conditions
If this is your first login, you need to accept the terms and conditions of the mobile app.
Step 4: You can see your tickets on the screen
You will see multiple tickets grouped as events (matches) if you have purchased multiple tickets.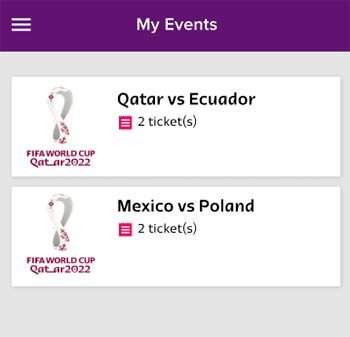 Step 5: Click on the event to see each ticket's details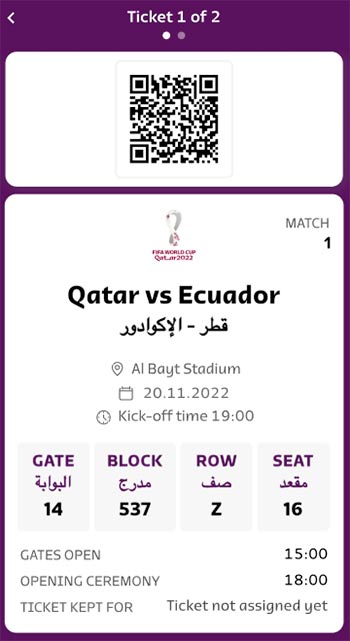 You can also access your ticket(s) by clicking on the menu on the top left and selecting "My Tickets".
Why I am not seeing my tickets on the app?
According to FIFA, all successful ticket applicants who have purchased tickets online at FIFA.com/tickets during Sales Phase (1), Sales Phase (2), and Last Minutes Sales phases will have their tickets delivered as mobile tickets.
FIFA Ticketing will send you an email once your mobile ticket(s) are ready to be downloaded. Please note that if you hold tickets for several matches at the FIFA World Cup Qatar 2022™, tickets may be delivered at different times.
"For those fans who have bought the tickets, you will receive an email this week with information on how to download the ticketing app and, therefore, how to access your mobile tickets," Colin Smith, Chief Operating Officer of FIFA World Cup, said on 17 October 2022.
He also clarified that mobile tickets are separate from Hayya Card, and both are required to enter the stadium.   
All tickets purchased over the counter at the FIFA Main Ticketing Centre will be delivered as paper tickets. Please treat your tickets carefully and keep them safe at all times, as duplicate tickets will not be issued.
---
How To Use FIFA World Cup Ticketing App
Before Going To The Stadium
Ensure that your mobile is fully charged.
Bluetooth is enabled.
App notification is activated.
For Android OS: Enable "Location Services" in "Privacy Settings".
Once You Arrive At The Stadium
Open the Official FIFA World Cup 2022™ mobile ticketing app.
Your ticket will be activated via Bluetooth (No internet connection is required at this stage).
A QR code will be displayed on the mobile ticket.
Scan your mobile ticket at the entrance and make your way to your seat.
FIFA Ticketing App Errors and Support
If you have an incompatible phone, please contact FIFA Customer Support by calling +974 4144 2022 for Qatari residents or +41 565 512 022 for international customers.
Customers already in Qatar can also visit the FIFA Main Ticketing Center (MTC) at the Doha Exhibition and Convention Center (DECC) starting 18 October 2022. The second ticketing centre at Ali Bin Hamad Al Attiyah Arena (ABHA Arena in Al Sadd) will soon be open to the public.
---
Frequently Asked Questions
---
Do I need a mobile ticket in addition to Hayya Card?
Yes, a mobile ticket and Hayya Card are separate apps that are required for stadium access.
What if my ticketing app doesn't work during stadium access?
In case mobile issues arise with fans, printed copies of tickets will be permitted.
---
Related Articles:
---