Navigating the roads of a new country comes with its own set of rules and regulations, and Qatar is no exception. Whether you're a visitor exploring the vibrant culture or a resident going about your daily activities, understanding the nuances of driving in Qatar is essential for a smooth and safe experience on the road.
This article will delve into the rules that govern driving for both visitors and residents in Qatar, shedding light on the guidelines that ensure road safety and compliance with local regulations.
From temporary driving licenses to road etiquette, we'll explore the key aspects that shape the driving landscape in Qatar, providing you with the knowledge needed to navigate the streets with confidence. So, whether you're planning a short stay or have made Qatar your home, let's uncover the rules that keep Qatar's roads moving smoothly for everyone.
Driving in Qatar: Essential Information
Documents Needed
First and foremost, for driving in Qatar, it is a legal requirement to hold a valid driving license.
Car owners must also register their vehicles and renew the registration annually. For renewing the registration card (known as Istimara), cars older than three years should undergo a technical inspection (called Fahes testing). In addition, car insurance should be renewed every year before renewing the registration.
Driving Side in Qatar
Motorists in Qatar drive on the right side of the road (similar to the US roads).
Speed Limits in Qatar
Most city roads generally have a speed limit of between 60-100 kilometres per hour (km/h). The maximum speed on highways (motorways) is 120 km/h. Speed limit signs are everywhere and should be followed strictly.
| Type of Road | Speed Limit |
| --- | --- |
| City Roads | 60-100 km/hr |
| Highways (Motorways) | 100-120 km/hr |
Speed Limits in Qatar
Road Conditions
Almost all the roads are well maintained. Traffic lights and roundabouts are common throughout Qatar. Traffic signs are mostly in English and Arabic.
Traffic radars and cameras are installed at regular intervals, especially on highways. Plain-clothed police officers may also observe traffic at roundabouts and on highways.
Qatar Traffic Signs And Their Meaning In English (Guide)
Road Etiquette
On highways, the track on the left is normally used by high-speed vehicles and the one on the right is used by slower vehicles. Driving too slow on highways can also attract traffic fines.
Seat belts are mandatory for all passengers.
Children under 12 are not allowed to sit in the front seat.
Using mobile phones while driving is against the law.
Make sure not to drive under the influence of alcohol or drugs.
Some drivers can be unpredictable and aggressive, so keep calm and keep a safe distance.
Can Visitors Drive in Qatar?
Visit visas, business visas, or tourist visa holders from most countries can drive in Qatar with restrictions. Below are the various options depending on the length of stay:
1. International Driving License
A valid international driving license can be used for six months from the date you enter the country (or the license validity period, whichever is earlier). To use an international driving permit issued by your country of origin, you must also hold a valid driving license recognised by the State of Qatar.
The holders are allowed to drive vehicles licensed by those licenses to be driven only. Renewal of license, while the license holder is in Qatar, is not valid.
2. Driving with another country's license
Visitors may be allowed to drive for 15 days on approved licences from some countries. You should visit the Traffic Department at Madinat Khalifa within 15 days from entry to Qatar and validate your license.
Citizens of GCC countries can drive in Qatar with their GCC driving license for an unlimited period. However, expatriates who hold GCC licenses (GCC residents) can drive for only three months. 
Proof of the date of entry to Qatar must be provided on demand. So you need to carry your passport or entry visa while driving in Qatar.
If an expatriate with a GCC driving license becomes a Qatar resident, he can register for a direct driving test, as explained here.
3. Temporary Driving License
If you wish to drive for longer than two weeks, you can apply in person for a Temporary License which is valid for three months. It is possible to extend the license when it expires.
How to apply for a temporary driving license in Qatar
Fill in the application form and submit it along with the following documents to the Traffic Department within seven days of your arrival in Qatar:
Original license from an approved country
Passport – original and copies
Three colour photos – passport size, white background. If you need to wear glasses while driving, you must be wearing glasses in the photos.
Fees: QR 10 for the card, QR 150 for the application. 
In general, temporary and international license holders are restricted to driving rental vehicles only as insurance companies require drivers of privately-owned vehicles to hold a full license.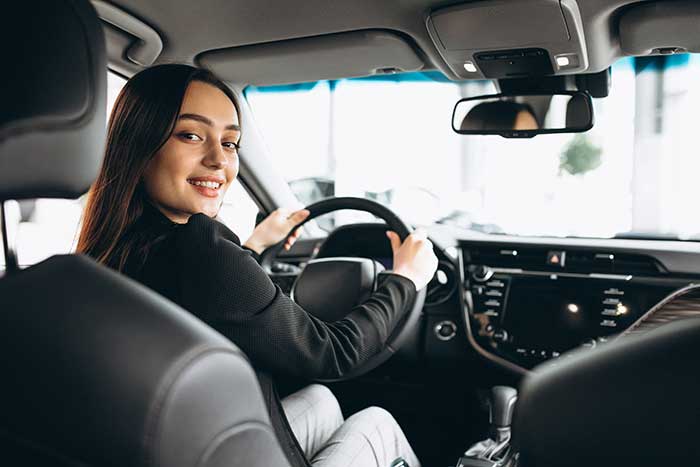 How Residents Can Drive in Qatar
Citizens and expatriate residents need a valid and full Qatari driving license to drive in Qatar.
Getting A Qatar Driving License
Eligibility: Minimum age to apply for a driving license is 18 years for light vehicles and 21 years for heavy vehicles.
Expatriates with some specific professions (mainly blue-collar jobs) are not eligible to apply for a driving license. Here is the list of professions not eligible for a driving license in Qatar.
If you are eligible to apply for a driving license, you can contact any driving institute to enrol for a driving course.
Qatar Driving License Fee: The driving license fee for Qatari citizens is QR 500 (valid for ten years) and QR 250 for non-Qataris (valid for five years). Additional fees apply for driving courses, tests and vision tests. Here is our detailed guide to the process of getting a Qatar Driving License:
How To Get Qatar Driving License
Qatar Traffic Department
The Traffic Department of the Ministry of Interior handles all matters concerning licensing and traffic violations. The Traffic Department is located on Khalifa Street, Madinat Khalifa, and is open from 7 am to 11 am and 4 pm to 7 pm.
Traffic Violations
Qatar's government is committed to reducing traffic violations and road accidents. Common traffic violations include:
Driving an unregistered vehicle. 
Driving a vehicle without a valid driving license.
Using a mobile phone while driving.
Driving over the speed limit.
Not wearing a seatbelt.
Running a red light.
Driving on the wrong side of the road.
Allowing children under 10 years old to occupy the front seat.
Driving under the influence of alcohol or drugs.
Not maintaining a distance of at least 50 meters from emergency vehicles.
Putting a load on a vehicle without adjusting it for safety.
Transporting a greater number of people in a vehicle than there are available seat belts.
Obstructing parking spots reserved for taxis or persons with disabilities.
Fleeing the scene after an accident.
Parking illegally.
Traffic fines in Qatar vary in price from QR 300 to QR 6,000.
List of Traffic Violation Fines And Demerit Points
Driving Without Licence
Driving without a valid licence is a criminal offence with harsh penalties for non-compliance. If you are involved in a car accident, your insurance will be void, and you may face imprisonment and deportation. Make sure you plan in advance and hold an appropriate, valid license at all times.
Traffic Points
Drivers may accumulate a certain number of points for each infraction. License suspension occurs after a driver reaches 14 points in traffic violations.
The suspension period is three months, during which driving in Qatar is prohibited. Repeat offenders risk facing lower point thresholds, longer suspension periods and ultimately, permanent cancellation of their driving licenses.
Certain serious traffic violations can lead to hefty fines, imprisonment or even deportation. You can learn more about such severe traffic violations here.
Metrash2 Services
Qatar's Ministry of Interior has a mobile application called Metrash, which enables a wide range of services online. The following traffic services are available on the Metrash2 mobile app:
Traffic Violations
Renew Driving Licenses
NOC for Driving License Application
Issuing Replacement Card for damaged driving license
Vehicle Exit Permit
Vehicle / Fancy Number Plate exit  Permit
Fancy Number Auction
Release Vehicle Mortgage
Inquiry with Chasis No. 
Traffic Certificates
Traffic Violation Images
You can learn more about the app on our Metrash2 Registration and User Guide.
Checking and Settling Traffic Violations
You can check the traffic violations online on the MOI website or the Metrash2 app. Minor traffic violations can be settled by paying the fine in person or online.
In cases where you feel you have been wrongly issued a traffic ticket, you can appeal online within 14 days of the ticket. You can also report any traffic violation using the Metrash2 application. Here is our detailed guide:
How To Check, Report and Appeal Traffic Violations in Qatar.
What to do in case of an accident
Accident procedures are straightforward. In the case of minor accidents with no injuries, you must report via Metrash2 to get a police report and proceed with the insurance claim. In case of a major accident or an accident with injury, call 999 for police and ambulance. You can read our detailed guide here:
Car Accident in Qatar: Police Report and Insurance Process
Driving License Renewal
Citizens and residents can renew their driving licenses directly at the Traffic Department or online through the Ministry of Interior website or Metrash2 mobile app. Here is our step-by-step guide on driving license renewal.
Get an International Driving License in Qatar
If you are a Qatar resident with a Qatar driving license, you can get an international license that lets you drive in more than 150 countries. We have prepared an easy guide for getting an international driving permit in Qatar.
Wishing you all safe driving in Qatar!
READ NEXT: How To Get Qatar Driving License (Step By Step Instructions)
---
Frequently Asked Questions
---
Can I drive in Qatar with International Driving License?
Yes, With an International Driving License, visit or business visa holders can drive for up to six months from the date of entry into the State of Qatar.
Can I drive in Qatar with US license?
Visitors or individuals holding business visas are permitted to drive for a duration of 15 days from their entry date. To extend this period, it's necessary to apply for a temporary Qatar driving license.
Can I drive in USA with Qatar driving license?
Depending on the U.S. states you will visit, you may need an International Driving Permit (IDP) as well as a Qatar driving license.
---
Related Articles:
Copyright © DohaGuides.com – Full or partial reproduction of this article in any language is prohibited.
---