No one wants to be part of a road accident. But it is always best to be informed on how to act and react if you ever get involved in a car accident in Qatar, no matter how minor.  
This article has the information that you should know regarding the Police Report, Insurance Claim and procedure to follow if involved in a car accident in Qatar.
Different Scenarios of An Accident
Let's see the different types of actions to be taken depending on the kind of accident you are involved in.
Scenario 1: Minor Accident
Once the vehicle stops, immediately turn on the hazard warning lights to signal to other vehicles. If both parties agree, you can move the vehicle to the side of the road in order not to block traffic.
Before moving the vehicles, take at least 4 photos of the vehicles with at least one of them showing number plates.
PLEASE NOTE: Ministry of Interior has announced that in case of accidents where there are no injuries, the vehicles shall be moved to the nearest parking area not to block the traffic. Otherwise, you will be fined QAR 1000 and three points will be registered against your license.
Once you have moved the vehicle, take down the other drivers phone number, name and Qatar ID number if possible.
As per new procedure, drivers can file online reports of minor traffic accidents and upload photos of the damage in both cars using Metrash2 app.
This service saves the time of waiting for the traffic car arrival and makes no need for both drivers to visit the Traffic Dept. in minor accidents.
Step to be followed for online reporting:
Ensure that the location service of your mobile is enabled.
Open the Metrash2 app on your smartphone.
Select Traffic >> Traffic Accident >> Accident Registration.
The app shows the current cell phone position as the accident location and shows first QID no. as it belongs to the driver of the first car.
Enter both cars numbers, drivers QIDs and cell phone numbers.
Attach photos of both vehicles. 
Agree on the legal responsibility and submit the report.
A notification SMS will be sent to you asking to wait for another message to complete the procedures.
If the responsibility is clear in the accident, the investigator will complete the report and register the accident. SMSs will be sent to both parties to print insurance and repairing reports (for the harmed party) through MoI website by using the sent accident number.
If the accident requires further investigation, the investigator will report that the investigation is not complete. SMSs will be sent to both parties to head to Traffic Dept. to complete the investigation.
Scenario 2: Injury / Major Damage / Parties do not agree on who is at fault
Do not move the vehicles no matter the obstruction that they may be causing to the other road users.
Call the police (999) as they need to see the position of all vehicle to assess responsibility.
Request for an ambulance if someone is injured.
Follow Step 2 (below).
Scenario 3: Hit and run / Accident or scratch while at the parking
Go to the police station closest to the scene of the accident.
They will open a file and you will have to wait for a week in case someone comes forward to claim responsibility.
Thereafter you will receive a police report which will enable you to fix your car.
Follow Step 4 (below).
Scenario 4: Accident without another party (Hit on a stationary object)
Go to the police station closest to the scene of the accident.
You will receive a police report which will enable you to fix your car.
You can claim insurance if your car is fully insured. If it is only 3rd party insurance you would have to bear the expenses at a garage.
Follow Step 4 (below).
Car Accident in Qatar: Steps To Be Followed
Step 1: Emergency calls – Police / Ambulance
Police: 999 / 44890699 / 44890670
Ambulance: 999
Hamad Hospital: 44392222 / 44393333
Step 2: When Police arrive on the scene
At the scene of the incident, you will be asked to provide your license, vehicle registration and insurance documents. Then they will issue you with a red or green paper. The red indicates that you are at fault while the green means that you are not at fault.
After police verify the accident on-site, you will receive an SMS with an accident file number and asking you to visit the insurance company. The details of the accident would be passed on to the insurance company through an electronic link.
You can also receive updates as SMS and on Metrash2 mobile application.
Step 3: At the Police Station
Take the car along so that police can inspect if needed.
If you don't speak Arabic, it is better to take a colleague or friend who speaks Arabic. Qatar police officers speak English, but not all of them are very fluent. Miscommunication may land you in more trouble.
Make sure to carry all the documents – Qatar ID, Driving License, Vehicle registration and Insurance documents.
Do not sign anything unless you fully understand what it is.
Do not accept the blame if you think it is not your fault.
Do not lose your temper / use bad language / aggressive behaviour.
Be patient, smile and be respectful to the police.
Once the report is filed, you can get the report on Metrash mobile app or MoI website using this link.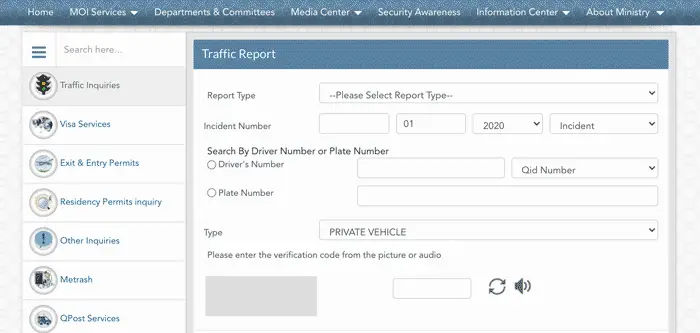 Step 4: Insurance Claim
If you are not at fault then find out from the other driver which insurance company his car is insured with. You will probably need to call them or go to their offices to complete the formalities.
Documents required for the insurance claim:
Take your car to the claims office of the insurance company with the following documents:
Police report from the accident
Police approval to repair
Copy of both sides of your car registration
Copy of both sides of your driver's license
Once you file a claim, they will inspect your car and take photos for their file.
Often this may not be required as nowadays the insurance claim process is via online. Traffic Police will send the report directly to insurance companies and they would advise you what to do.
Some insurance companies have the option of submitting documents via website, email or fax. You can contact your insurance company call center to check about this.
Step 5: Garage Repair
It is illegal for any garage in Qatar to carry out an accident or bodywork repair on your vehicle without the paperwork from police and or insurance company.
In the case of an insurance claim, the insurance company will tell you which garage you can take the car to. They will also give you a paper to give to the garage and you will not have to pay for the repairs.
Situations when your motor insurance does not cover you
The motor insurance does not cover you and the damages you cause if:
You do not hold a valid driver's license
You are driving under the influence of drugs or alcohol
An accident happens if you cross the red light
An accident happens while you drive at an excessive speed
You drive on sand dunes without off-road cover
For an exhaustive explanation of the coverage, please refer to your policy wordings.
Wish you all accident-free safe driving!
Copyright © DohaGuides.com – Full or partial reproduction of this article is prohibited.
---
You May Also Like:
---