There are many expatriates moving to Qatar from GCC countries like the UAE, Saudi Arabia, Oman, Kuwait, and Bahrain. Many of them have lived in other GCC countries and possess valid driving licenses from those countries.
A common question is whether they can convert or change GCC driving license to Qatar driving license. This article will answer the current law regarding this and the procedure to get a new Qatar driving license based on a GCC driving license.
What is GCC driving license?
GCC driving license refers to a driving license issued by any country of the Gulf Cooperation Council (GCC). These countries are Bahrain, Kuwait, Oman, Saudi Arabia, UAE, and Qatar.
Can I drive in Qatar with a GCC license?
When someone comes to Qatar from another GCC country such as the UAE or Saudi Arabia, they have two options:
Drive in Qatar using their GCC driving license, OR
Get a Qatar driving license.
Let's examine the possibilities here:
Expatriate GCC residents who are visitors to Qatar can use their GCC country's licenses in Qatar for up to three months. A passport or entry visa must be carried at all times as proof of entry to Qatar.
Note that this rule only applies to "visitors" on family visit visas, visas on arrival, GCC resident visit visas or other types of tourist visas.
However, once an expatriate becomes a Qatar resident (a residence visa is stamped), he/she cannot use a GCC license to drive in Qatar. Instead, he/she will need to apply for a Qatar driving license.
Can I exchange GCC driving license to Qatar license?
Earlier, there was a provision whereby holders of GCC driving licenses could simply exchange their licenses to get a Qatar driving license. As per the current rules, this is not possible anymore. However, there is some good news:
Expatriate residents with a valid driving license from another GCC country (UAE, Saudi, Kuwait, Bahrain, or Oman can register for a direct test to obtain their Qatar driving license. They do not have to attend a driving course like others.
This would save them several weeks of their time and thousands of Qatari Riyals in driving school fees.
This rule was confirmed by First Lieutenant Muhammad Al-Amri, from the General Directorate of Traffic, while speaking with Qatar TV.
How To Get Qatar Driving License Using GCC License
An expatriate resident who moves to live in Qatar (not visit) can apply for a Qatar driving license by following the below steps:
Step 1: Go to any driving school in Qatar
You can visit any driving school near you. Here is the list of all driving schools in Qatar.
Step 2: Open a new file with the Department of Traffic inside the school
All driving schools have an office of the Traffic Department attached to them. Make sure to visit in the morning, preferably between 6:30 and 9:00 am.
The documents required are:
Original driving license from a GCC country
Eye test certificate
QR 50 fee using a debit/credit card
The following may also be required in some cases:
NOC letter from the sponsor (this can also be done on Metrash)
Trade license of the sponsor company / QID of the sponsor (if under personal sponsorship)
3 passport-size photos
Most driving schools will have facilities for eye-test. You can use them or do the test from any optometrist shop or clinic.
Step 3: Enrol in a theory class and book a test date
You must return to the driving school reception and enrol in the theory (signals and rules) class. Most schools charge QR 300 or QR 350 for this.
You can book a date for the theory test through the school itself. This date can be changed using your Metrash2 mobile app.
Step 4: Study for the theory test and take the test
Your driving school will provide you with theory classes and learning resources such as guidebooks and mobile apps. You can also check our guide to Qatar traffic signs here.
On test day, visit the school and attend the test. This is a computer-based test, and you will know the results immediately.
Step 5: Pay the road test fee and book a test date
Once you pass the theory test, you can pay the fee for a road test and book a test date. The road test fee is QR 200 (includes two chances).
Note that you may need to wait a few weeks for the next test date as demand is high. You can also take the road test at a different driving school. All this can be managed using the Metrash mobile app.
Step 6: Take the road test and the parking test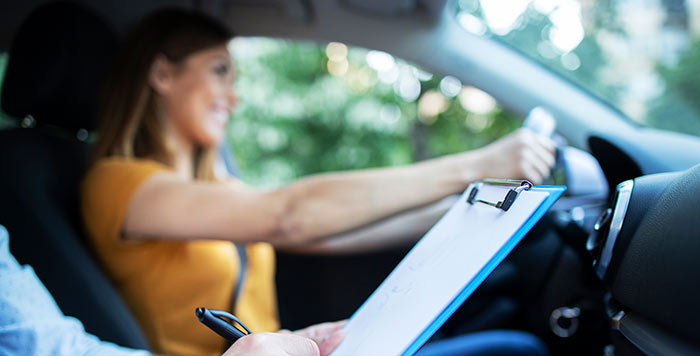 On the day of the driving school and register at the reception. You will use the vehicle of the driving school. Usually, the road test lasts 10-15 minutes, where you will be evaluated by a police officer.
After you pass the road test, you can take the parking test. This may be on the same day or another date.
Step 7: Pay the license fee and collect the driving license
After the successful completion of the road test and parking test, you can collect your Qatar driving license. You must pay a driving license fee of QR 250 for five years. The license may be issued the same day, or you can collect it the next day.
The newly issued license will be valid for five years.
Important Things To Consider
The GCC license should be valid. An expired license may be accepted in some rare cases.
The license holder's profession should not be on the list of professions not eligible for a driving license.
The license class should be the same as the old license. If a light-vehicle driver wants a heavy-vehicle license, he must attend classes.
The rules are sometimes relaxed in the case of professional drivers (household drivers) under personal sponsorship.
READ NEXT: List of Driving Schools in Qatar with Fees
---
Frequently Asked Questions
---
Is a UAE driving license valid in Qatar?
Visitors with UAE driving licenses can drive for up to 3 months in Qatar. Expatriates who become residents cannot use their UAE driver's license in Qatar.
Can I exchange my UAE license for a Qatar license?
As per the new rules, you cannot exchange a UAE license for a Qatar license. However, you can register for a direct test without going to driving classes.
Do GCC citizens have to take a driving test for the Qatar driving test?
No, in the case of GCC citizens, they can convert their country's licenses into Qatari driving licenses immediately if they have a Qatar ID. Only expatriate residents need to take a driving test.
---
Related Articles:
Copyright © DohaGuides.com – Unauthorized reproduction of this article in any language is prohibited.
---