Qatar follows the internationally approved set of road traffic signs as per the 1968 Vienna Convention. Their specifications and dimensions are governed by international standards. Following universally accepted traffic signs has made driving easier for visitors and residents in Qatar.
Most of the traffic signs in Qatar have English and Arabic text, while a few have only Arabic text. The majority of these traffic signs are easy to recognise, but some signs need special attention as they are unique to the region or country.
In this article, we have included all Qatar traffic signs and their meanings in English. If you are a visitor planning to drive in Qatar, or a resident taking driving lessons in Qatar, these signs would be helpful to you.
What Are Traffic Signs?
Traffic signs are defined as metal or electronic signs with different shapes, sizes and colours to control traffic motions on the road or at crossroads. These signs are used to obligate, warn and guide road users.
Types of Qatar Traffic Signs
The traffic signs in Qatar can be classified in terms of concept as follows:
Traffic Motion Control Signs
Warning Signs
Directional Informatory Signs
Temporary Works Signs
1. Traffic Motion Control Signs
Stop Sign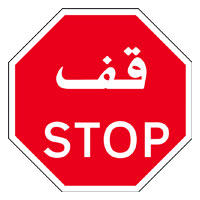 It is an equilateral octagon with a red background and sometimes a white frame, with the word (STOP) written inside in white colour. When a driver sees this sign, he has to completely stop before entering the intersection to give way to other vehicles at the intersection to pass, regardless of the shape or type of the intersection.
Give Way Signs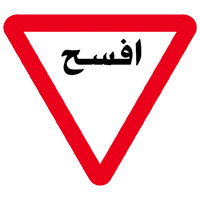 It is an equilateral triangle with the base pointing up and the vertex pointing down. It has a red frame and white background. Sometimes the word (Give Way) is indicated in black colour. It is placed at a crossroads or intersections of sub-roads with main roads to determine the priority of motion. When the driver sees this sign, he has to reduce the speed of his vehicle before arriving at the intersection to give way to the other vehicles at the intersection.
Give way sign for vehicles coming from the opposite side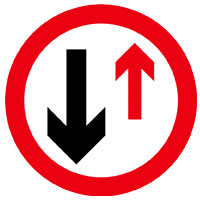 It is a circular shape sign with a white background and a red border. It contains a red arrow pointing up and a black arrow pointing down. The driver must reduce the speed of his vehicle when he sees this sign and give way to the vehicle coming from the opposite direction.
Give way sign for you to pass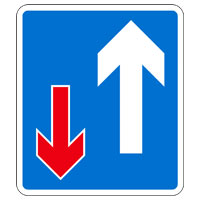 This sign has a blue background with a red arrow pointing down on the left and a white arrow pointing up on the right. It is the driver's responsibility to reduce the speed of his vehicle when he sees this sign, but he does not have to give way to the opposite vehicle because he has priority to pass.
Road with give way
Upon seeing this sign, a driver must assume the road is a give way, take caution at the intersection without stopping, and continue driving as normal.
End of road with give way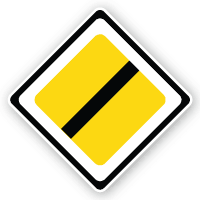 As soon as a driver sees this sign, he must realize the give way road is over. This means paying attention, exercising caution, reducing the speed of his vehicle, and letting other vehicles pass.
Prohibition Signs
These are in circular shape with a red border and white background. The "NO STOPPING" and "NO PARKING / STOPPING" signs have a blue background. The text or symbols inside are in black or red. Speed limits are also posted in this shape. Here are the prohibition road signs used in Qatar and their meanings: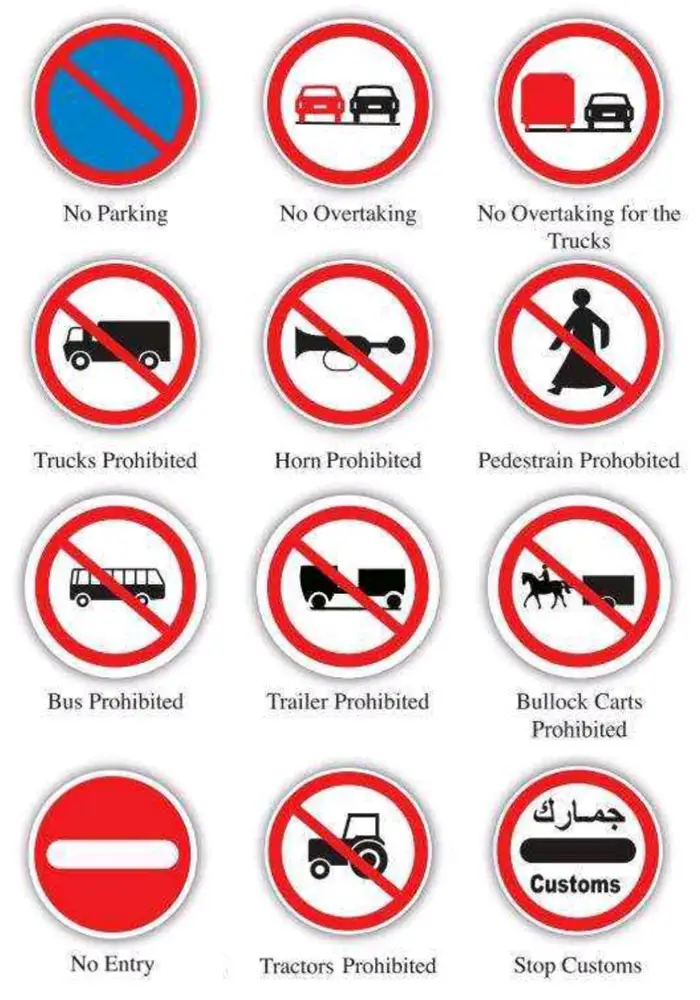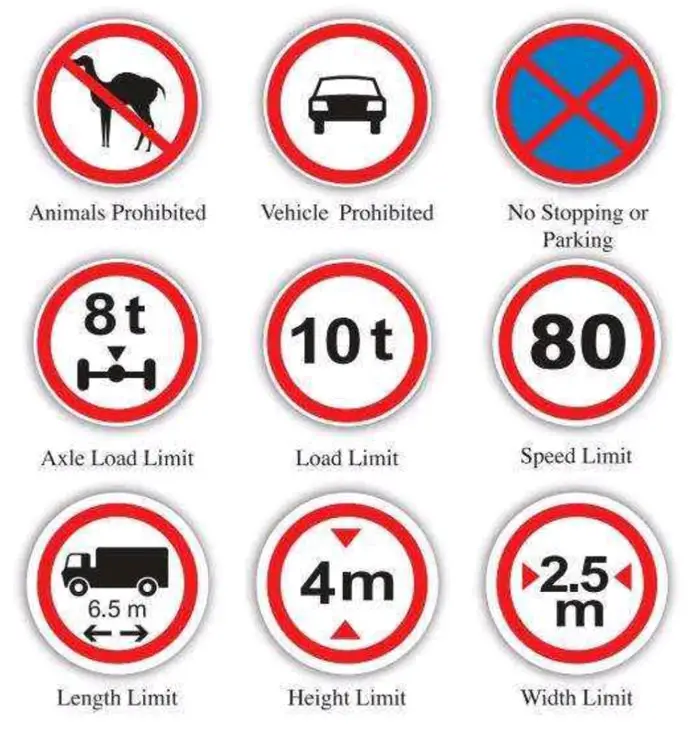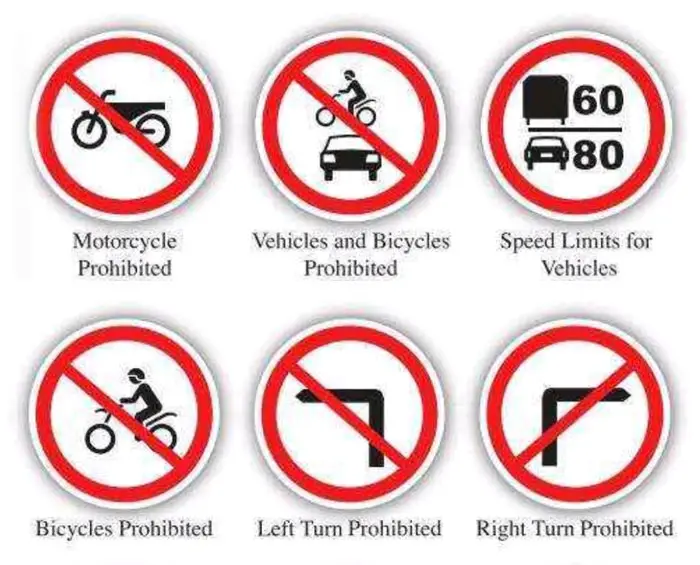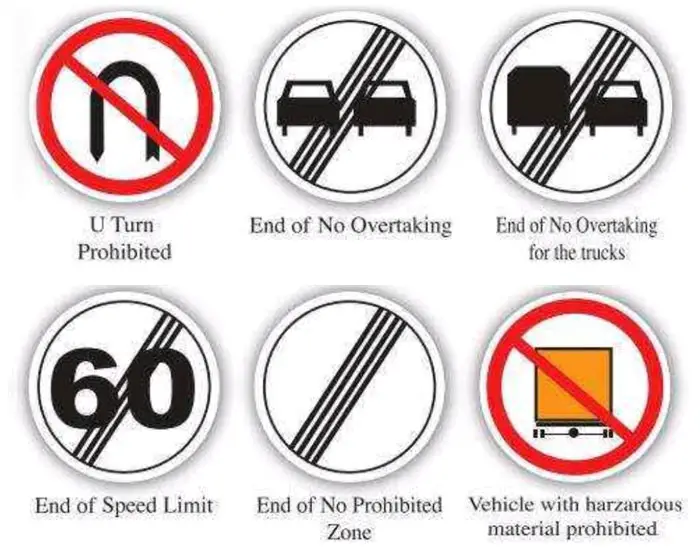 Mandatory Signs
These are circular in shape and have a blue background with white text or symbols. A sign like this means the action is compulsory, so drivers and road users must obey it. The mandatory road traffic signs used in Qatar are as follows: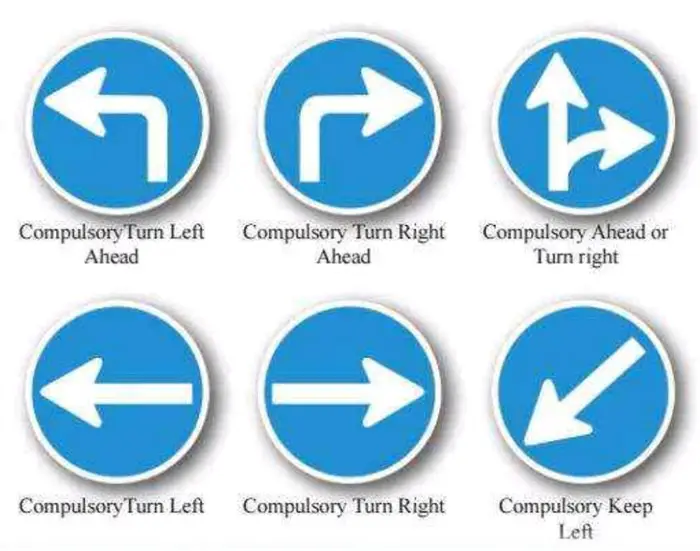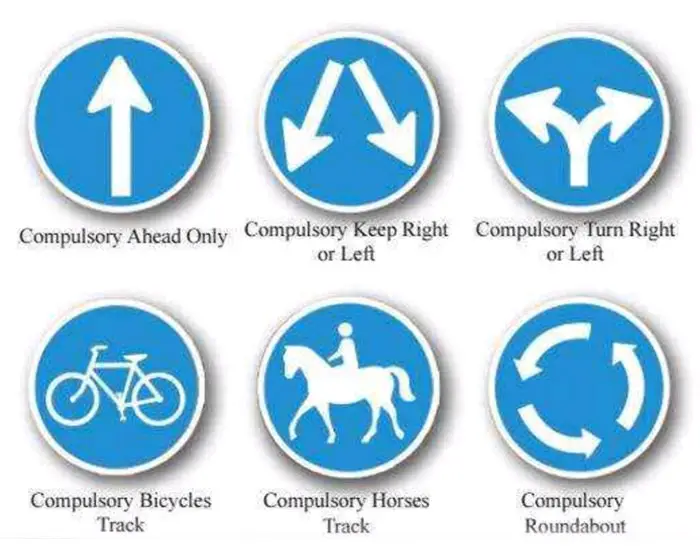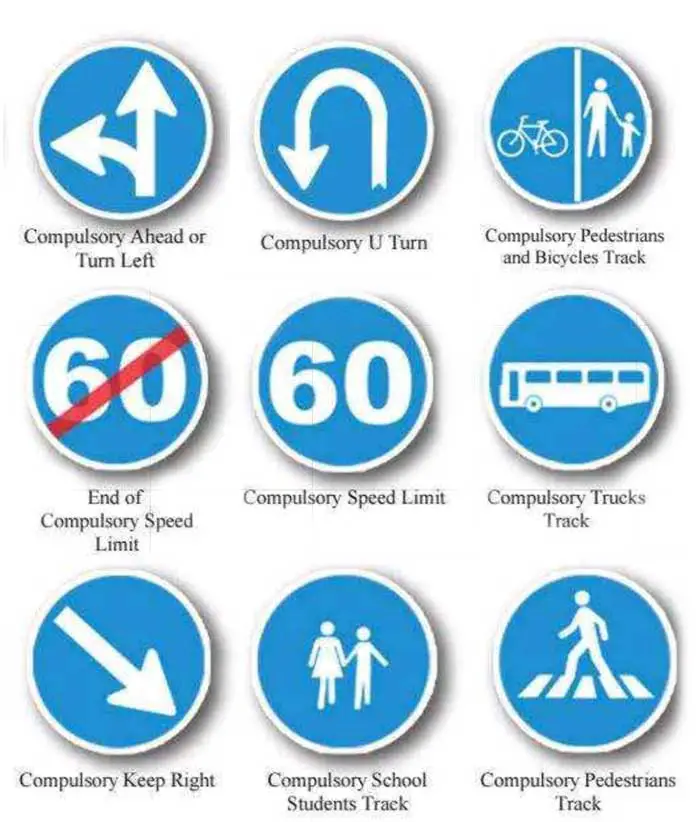 2. Warning Signs
Road users are warned of various risks and how to protect themselves from them through these signs. Warning signs are shaped like an equilateral triangle with its base pointing downwards and its vertex pointing upwards. They have a red border, a white background and symbols in black. These are the warning signs used in Qatar: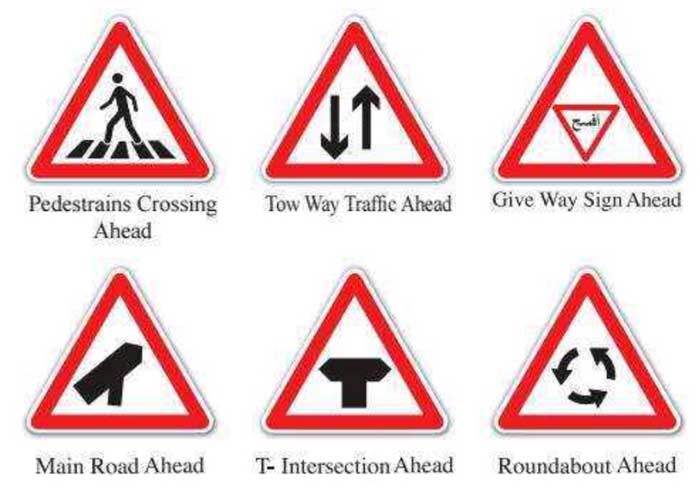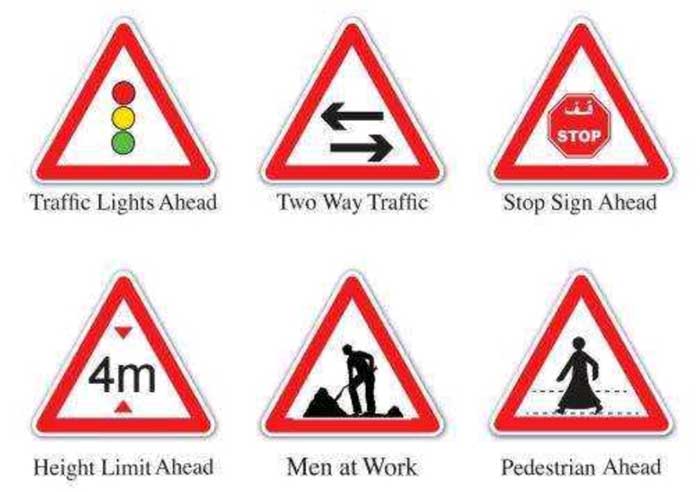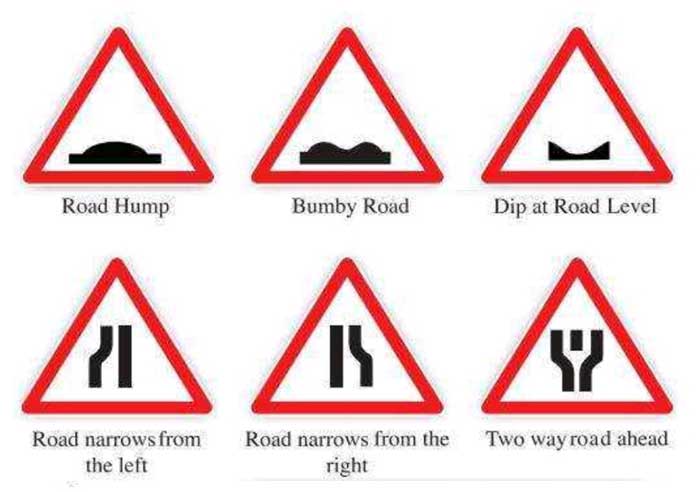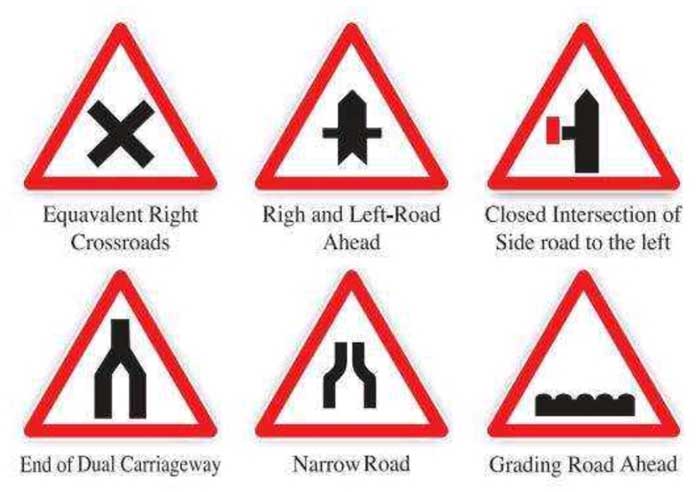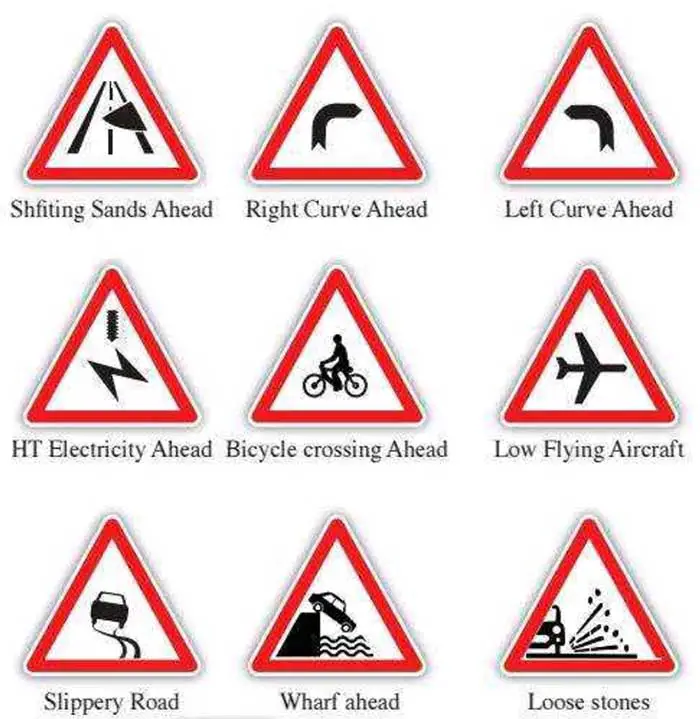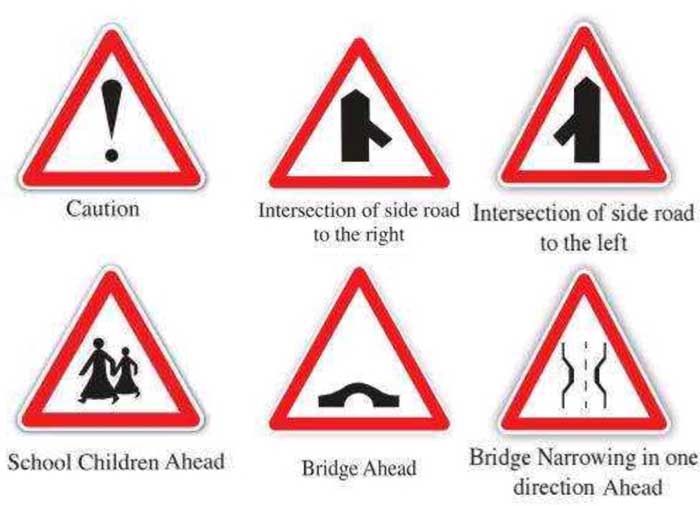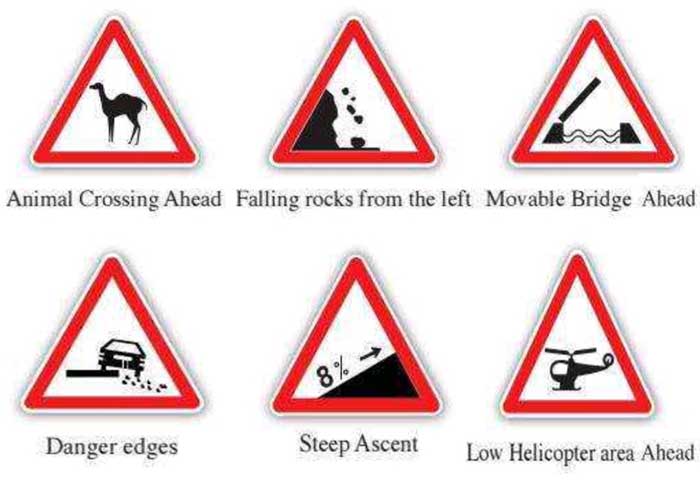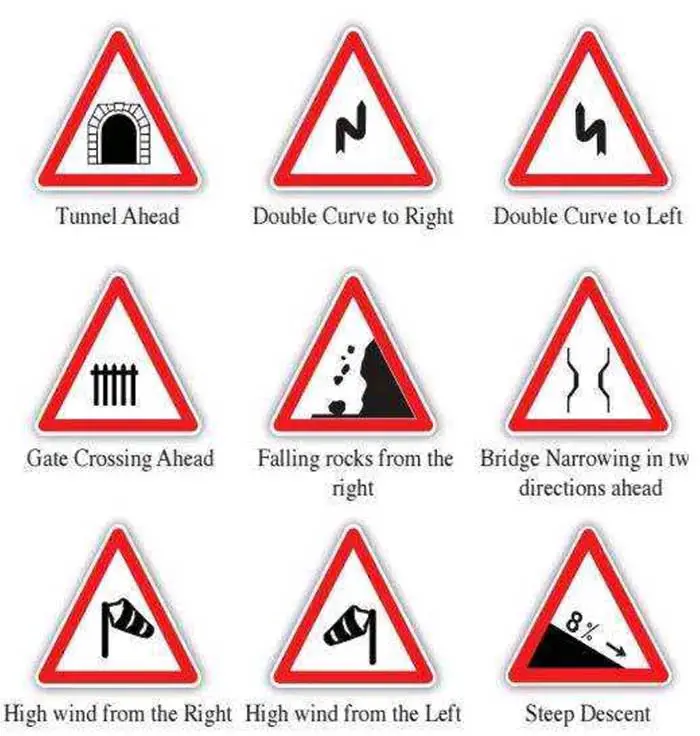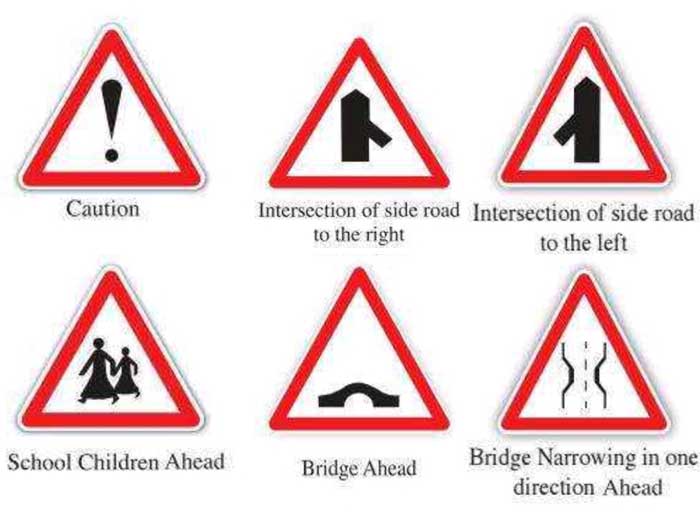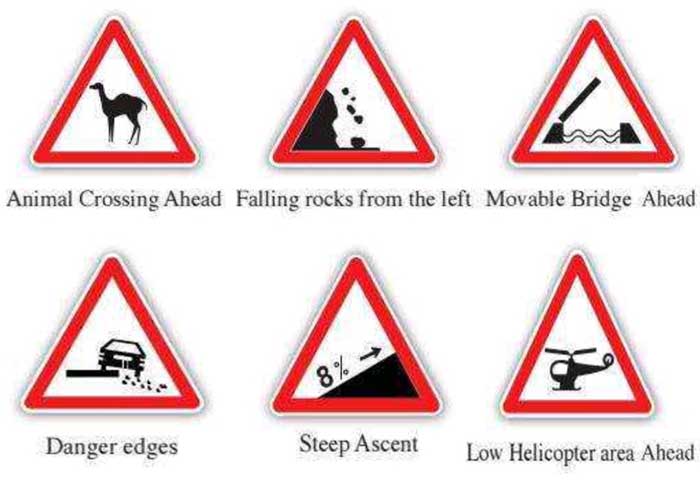 3. Directional Informatory Signs
These are metal or electronic signs aimed at guiding road users. They provide information about all directions, places, lanes, services and any other information that may benefit them. The shape is rectangular or square, and the background is blue, brown, green, or white. These are the common informatory road signs used in Qatar: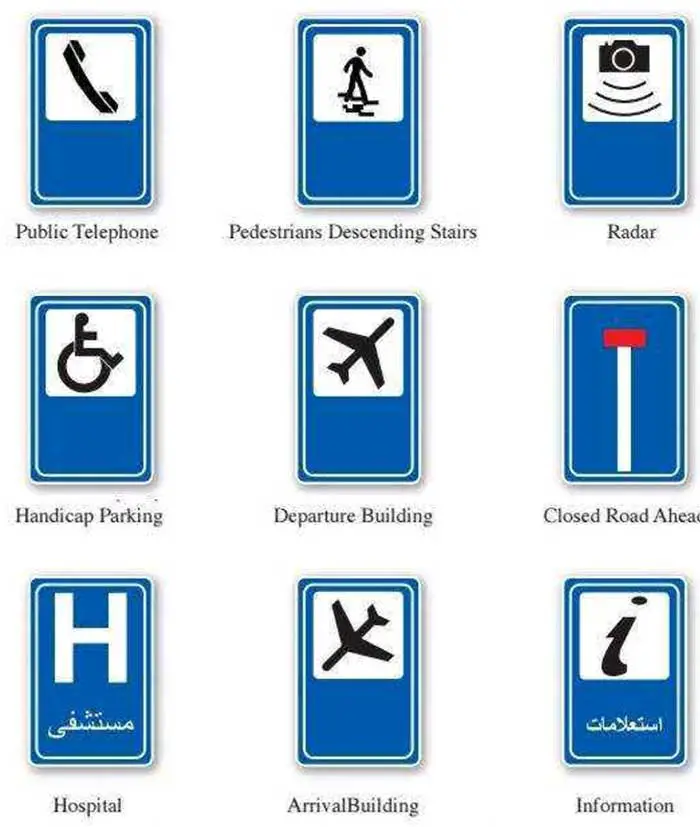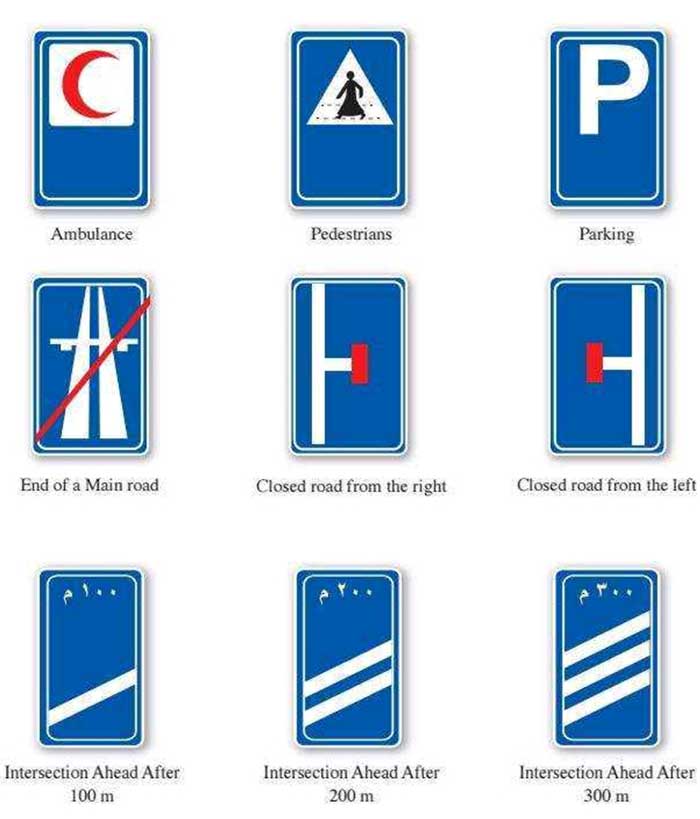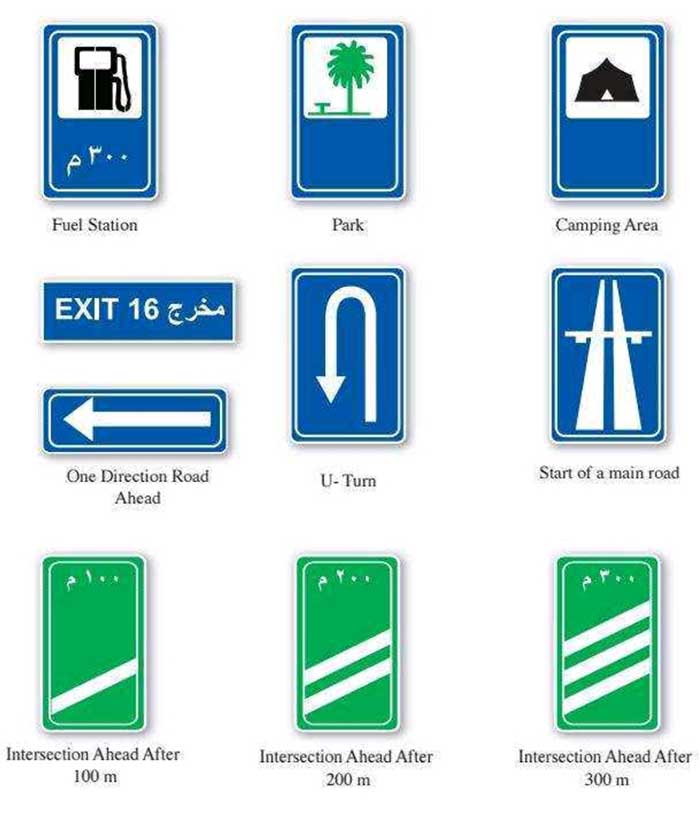 4. Temporary Works Signs
Temporary works signs have the same importance as other signs but are characterized by yellow or orange background. Below are some of the examples: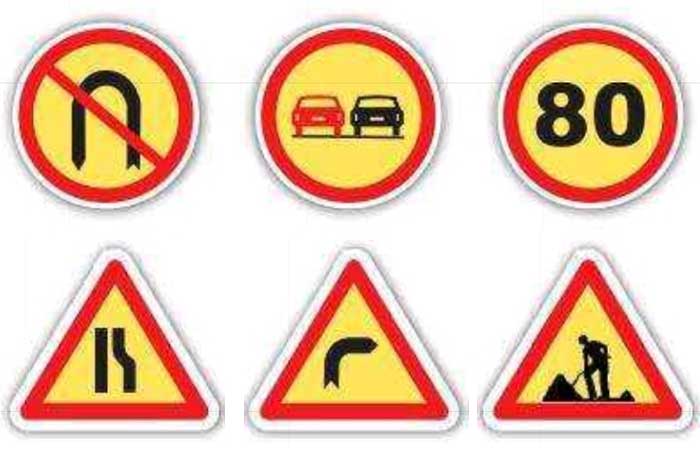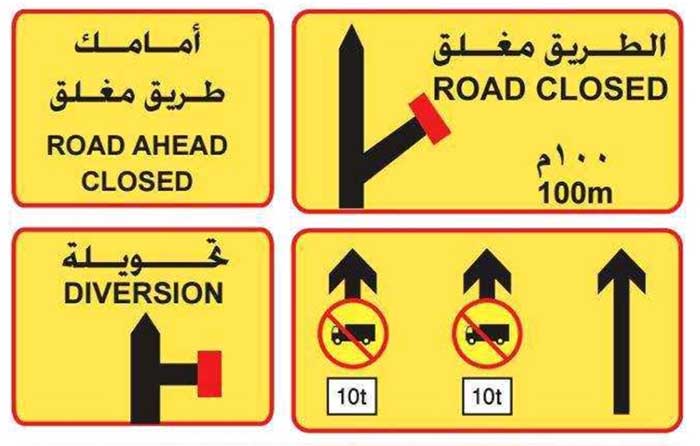 Article 64 of the Qatar Traffic Law mandates that motorists follow instructions on any sign constructed or carved on the road by the Licensing Authority.
Destroying a traffic sign or any part of it or shifting it or changing its content or its information or its direction, or damaging it or damaging the road will be punishable by a minimum imprisonment of one month; maximum imprisonment of 3 years; AND / OR fine of minimum QR 10,000 and maximum QR 50,000. If the same violation is repeated, the punishment will double the minimum level.
READ NEXT: How To Check Qatar Traffic Violations Online
---
Related Articles:
Copyright © DohaGuides.com – Unauthorized reproduction of this article in any language is prohibited.
---