Doha Guides Team regularly reviews this article to ensure the content is up-to-date and accurate. The last editorial review and update were on 3 September 2023.
What is Driving Experience Certificate
A Driving Experience Certificate is an official letter from the Traffic Department stating the driving history of a person. This is also known as a Driving License Extract, Driving Experience Letter or Letter of Authentication for a Driving License in some countries.
The driving experience certificate will include details such as the name, license number, date of issue, class of vehicles allowed to drive and significant traffic violations if any.
This article explains how you can easily get a driving experience certificate in Qatar without visiting the Traffic Police.
Why Do You Need a Driving Experience Certificate
A Driving Experience Certificate is needed to prove a person's driving experience or the period he has been driving in the country. It is also helpful to know if he has been involved in any serious traffic violations or if his driving license has been suspended in the past.
Many countries ask for a Driving Experience Certificate to transfer a foreign driving license directly to that country's license.
If you are migrating to a country like Canada, a foreign Driving Experience Certificate can help to reduce (or avoid) your mandatory "wait period" for a new driving license, as well as get you a discount for vehicle insurance.
Driving Experience Certificate Format
The standard format of the Driving Experience Certificate will be as below:
It should be on the official letterhead of the licensing authority
It should be dated no more than six months before the application date
This letter must include information about:

The date first licensed
License expiry date
Class of license
Any major traffic violations or license suspensions
Qatar's General Traffic Department issues the certificate in both English and Arabic. Below is what the driving experience certificate from Qatar looks like: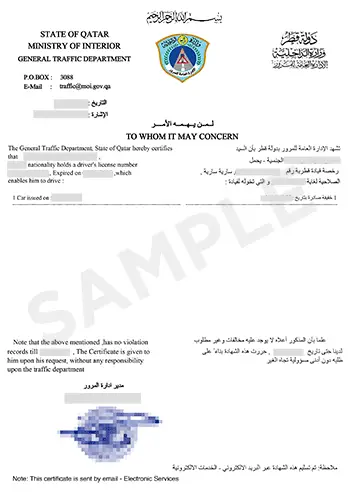 Driving Experience Certificate Fees in Qatar
In Qatar, the fee for issuing a Driving Experience Certificate is QR 10.
How To Get Driving Experience Certificate in Qatar
Applying Driving License Certificate via Metrash
It is very easy to apply for a Qatar Driving Experience Certificate online using the Metrash mobile app. Below are the steps to apply using Metrash:
Step 1: Log in to your Metrash2 App
Step 2: Click on the "Traffic" Icon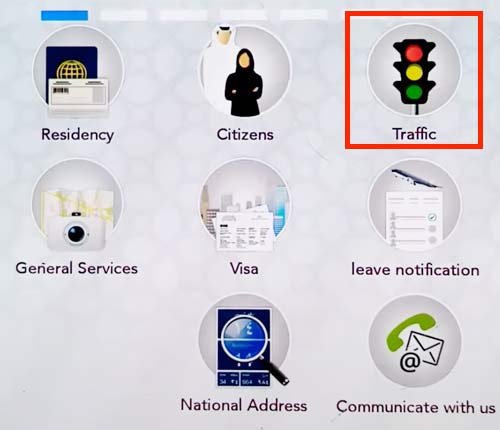 Step 3: Click on "Traffic Certificate"
Step 4: Click on "Driving License Certificate"
Step 5: Enter your email ID (if not entered before), and Click "Next"
Step 6: Enter the payment details
You can use a credit card or debit card for payment. You will receive the certificate as a PDF file in your email within 5 minutes. If it doesn't come up after some time, check your email's spam folder.
Applying Driving License Certificate via MOI Website
You can also do the same on the Ministry of Interior (MOI) website. However, you would need a smart card for e-services, which most residents won't have. Below are the steps to apply on the MOI website (if you have a smart card):
Go to the MOI website E-Services Portal
Log in with your smart card
Click on "Traffic Services"
Click on "Requests and Services"
Click on "Traffic Certificates"
Select Driving License Certificate, Click "Next"
Enter your email ID, and Click "Next."
Enter the payment details
The certificate will be sent to your email address as a PDF file.
Please note that the electronic system automatically issued the certificate with a stamp and signature. So further authentication is not required. All you have to do is print it out in colour on good-quality paper.
---
Related Articles:
Copyright © DohaGuides.com – Full or partial reproduction of this article is prohibited.
---