Since 01 November 2022, only people with the Hayya Card and match tickets are being allowed to visit Qatar. The only exception is Hayya 1+3 option which requires a match ticket holder to apply for bringing guests along. The good news is that these restrictions will be eased soon.
Fans without match tickets will be allowed to enter Qatar from 02 December 2022 when the FIFA World Cup Qatar 2022™ group stage matches will be completed, the organisers have announced on 03 November.
This article will explain how you can get Hayya Card without match ticket and enter Qatar as a visitor during the FIFA World Cup Qatar 2022™.
30 JANUARY 2023 UPDATE
Qatar's Ministry of Interior (MoI) has announced the extension on the validity of Hayya Card for fans and organizers, whereby its holders from outside the country will be allowed to enter Qatar until January 24, 2024. 
The Ministry also stated that the following conditions must be met:
– Proof of a confirmed hotel reservation or accomodation with family or friends approved through the Hayya portal. 
– A passport must be valid for no less than three months upon arrival in the State of Qatar. 
– Obtaining
health insurance
during the period of stay in the country.
– A return ticket
Based on this extension, all Hayya Card holders visiting Qatar will have access to the following:
– The '
Hayya with Me
' feature' which allows Hayya Card holders to invite up to three family members or friends
– A multiple-entry permit to the State
– Use of the e-Gate system for entry and exit via State ports
– No fees are required
The Ministry also stated: "The above conditions apply to holders of all Hayya Card types used during the FIFA World Cup Qatar 2022." This announcement from the Ministry comes after most Hayya card holders left the country as the initial validity was until January 23, 2023.
Currently Hayya portal is ongoing some updates. We shall update this article when more details are available.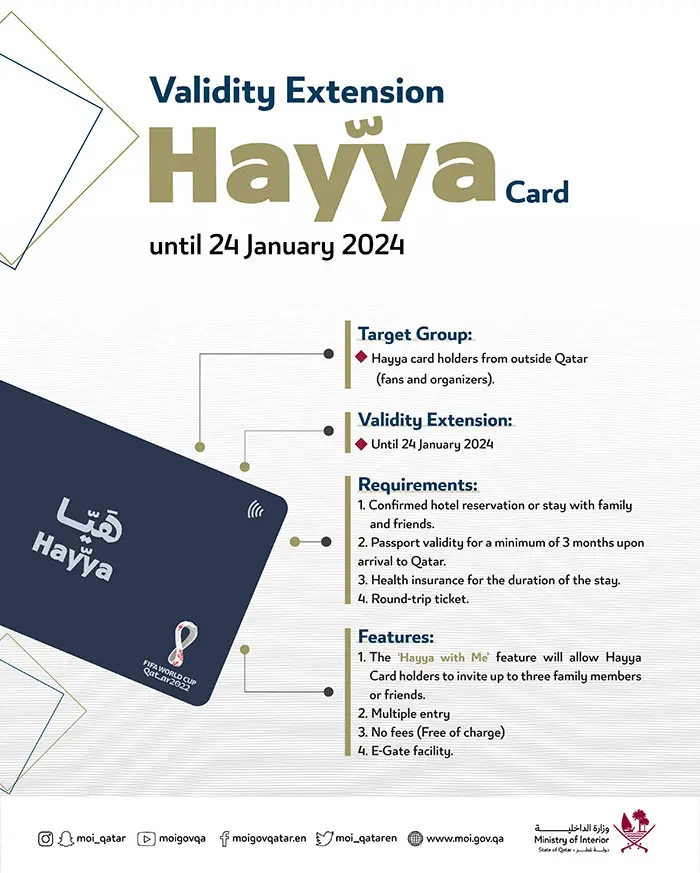 ---
Announcement on 04 November 2022
"We are delighted to announce today that non-ticketed fans will be able to enter the State of Qatar after the conclusion of the group stage on 02 December 2022 to enjoy the unique tournament atmosphere," Colonel Dr. Jabr Hammoud Jabr Al Nuaimi, Official Spokesperson for the Ministry of Interior & Safety and Security Operations Committee (SSOC) told reporters at Host Country Media Centre in Msheireb.
The announcement means fans from across the globe can experience a great atmosphere during the knockout stage, which begins on 03 December with the Round of 16.   
Conditions to Get Hayya Card Without Match Ticket
For a visitor to get Hayya Card without match ticket, the following conditions apply:
The visitor can only enter Qatar from 02 December 2022.
There will be an entry fee of QR 500 for those aged 12 and over. Children under 12 can enter free of charge.
The visitor should have confirmed accommodation.
If the visit is less than 24 hours, Match Day Visit is also accepted.
How To Apply For Hayya Card
Step 1: Go to Hayya Qatar's official website
The website link is: https://hayya.qatar2022.qa/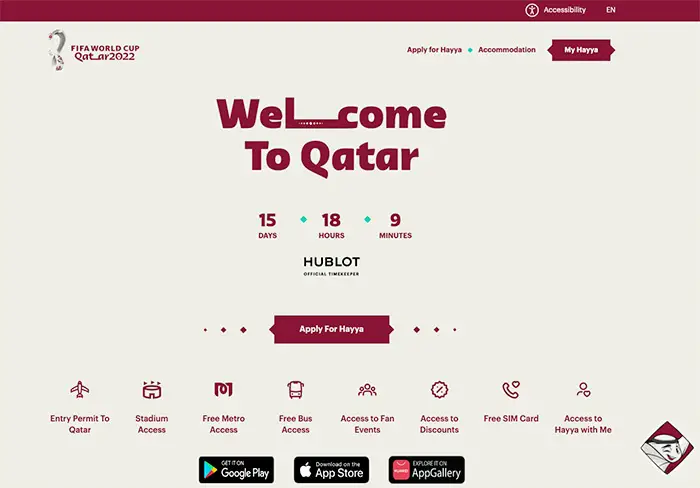 Step 2: Click on "Apply For Hayya"
The "Apply For Hayya" button is in the centre of the page.
You will see an option to "Sign in". If you already have a Hayya account, you can enter your email and password to sign in. If this is your first time, use the "Click Here to Sign Up" option (small text below the "Sign In" button).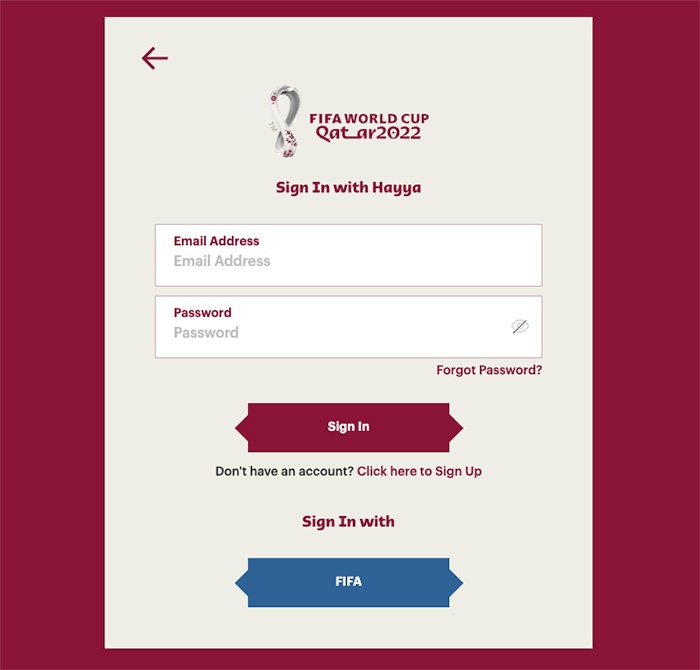 Step 3: Create your Hayya account
Enter your email id and click "Send Verification Code"
Enter the verification code received on your email and click "Verify Code"
Once verified, enter your first name, and surname.
Choose a password, confirm the password, and click "Create"
Your Hayya account will be activated.
Step 4: Login using your account details
Once the account is active, log in using the account email and password. Click on "Apply for Hayya".
Step 5: Select the applicant category as "Early December Hayya"
Step 6: Upload your personal photo
Read the instructions to upload a photo and passport.
Select "I have reviewed the instructions".
Upload a recent high-quality photo of size 30 x 40 mm.
The image type should be JPG/JPEG, and the size should be less than 2 MB.
Step 7: Enter your details and upload your passport
Note that non-match ticket holders cannot be Qatar residents.
Upload your passport. Make sure to crop only the front page (photo page). The machine code (MRZ) should be readable. Check the upload instructions again if you have doubts.
Click "Save".
The system will automatically extract your details from the passport and pre-fill the forms.
Check if all details are correct. Some information (like passport type) needs to be filled in manually.
If the system does not recognize your passport, enter your details manually.
The Hayya platform may amend your application data to match the information on your official identity document. This is to fit the Hayya platform identity document format.
Step 8: Enter contact information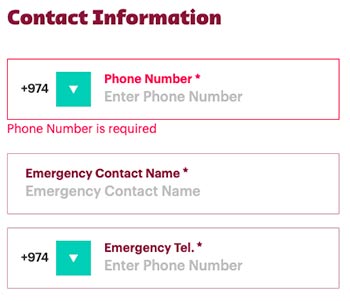 Enter your contact phone number and emergency contact. All fields are required.
Click on the "Review & Submit" button.
Step 9: Review the application summary and submit
Check the Application Summary, accept the terms, fill in the captcha and click "Submit".
Follow the instructions received in your email. You will receive updates on your application by email.
Step 10: Pay the entry fee
There is an entry fee of QR 500 for those above 12 years. Entry will be free for children below 12 years.
After your application has been verified, you will receive a payment link by email. This may take a few days after your application. If the email link doesn't work, you can log in to your Hayya Portal and check "Hayya Application Status".
Click on the "Click Here To Pay" link and pay using a credit/debit card.
Step 11: Confirm accommodation
All international fans must arrange their accommodation before receiving final approval on their Hayya Card application. The hosting family and friends option is not available after 1 November.
If you are visiting for less than 24 hours, you can opt for a Match Day Visit instead of hotel accommodation. However, in this case you should leave Qatar within 24 hours.
Once approved, you will get the digital version of the Hayya Card. Note that you will need a smartphone to access the digital Hayya Card on Hayya to Qatar 2022 mobile app. You will also receive your Hayya Entry Permit for entry to Qatar.
For technical support, please send an email to [email protected] or call international support at +974-4441-2022.
---
Hayya Card Pending Status
A large number of applicants have reported that their Early December Hayya status is pending for many days. Below is Hayya Customer Care Team's email response to enquiries about this:
"Please be advised that all pending applications for the Early December Hayya Holders category will be responded to by November 30, 2022, after reviewing each application carefully, but they cannot enter the State of Qatar until December 2, 2022."
---
Frequently Asked Questions
---
How can I get a Hayya Card without a match ticket?
International fans can get Hayya Cards without match tickets by selecting the applicant category as "Early December Hayya". There will be an entry fee of QR 500 (for those above 12 years). Visitors can only enter Qatar from 02 December 2022.
What is the deadline to apply for a Hayya Card?
The deadline to apply for a Hayya Card is 22 December 2022.
What is the deadline to enter Qatar using Hayya Card?
The deadline to enter using a Hayya Card is 23 December 2022.
How many days does the Hayya approval take?
The Hayya approval for international fans normally takes less than 5 days.
---
Related Articles:
---