Qatar has announced that regular visit visas, including family visit visas, will be suspended during the World Cup. Many Qatar residents wonder how they can bring family members and friends during this period. This article will explain the step-by-step procedure on how residents can bring family to Qatar using Hayya Card.
Many residents hoping to bring their families using the Hayya With Me (1+3) service were disappointed after it was clarified that residents could not use this feature. However, they can still bring their families if they buy World Cup match tickets.
How To Bring Family To Qatar Using Hayya Card
Below are the steps you need to follow to bring the family to Qatar during the World Cup. Here we are assuming that your family members will be staying at your residence in Qatar.
Step 1: Buy international match tickets
The most crucial part of this process is getting a match ticket. There may be a few tickets available for sale on the FIFA website. But getting a cheap ticket would be difficult at this stage.
You have a better chance of getting a cheaper ticket on the FIFA Resale Platform, which opened a few days back. This is an online platform where people can sell their own match tickets, and others can buy them.
Here is our detailed guide on buying match tickets on the FIFA Resale Platform.
Note that if you plan to bring children, you must also get match tickets for them (including infants). A match ticket is required for all, irrespective of age.
Step 2: Register your accommodation on Hayya
If your family stays with you, you should register your accommodation on the Hayya portal. You should upload a valid tenancy contract/property deed to prove that the property is under your name.
Add your family members' details as guests under this property. You can host up to 10 family members on one property. Your property details will be reviewed and approved in a few days.
Here is our detailed guide on hosting family members and friends during the World Cup.
Note that hosts registering their property don't need a match ticket or Hayya Card. They would only require their Qatar ID and tenancy contract/property deed.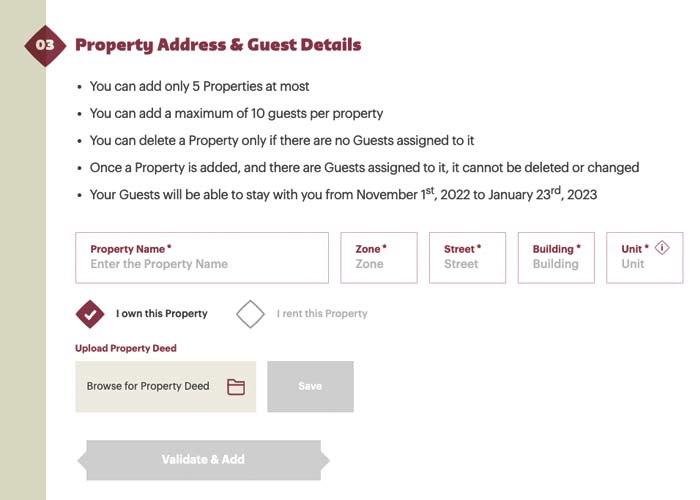 Step 3: Apply Hayya Card for family members
Hayya Card is a mandatory Fan ID for those planning to watch the World Cup matches. As per official announcements, only Hayya Card holders will be allowed to visit Qatar after 1 November 2022. Each family member must apply for a separate Hayya Card.
Here is our detailed guide on Hayya Card requirements and how to apply.
Children under 18 can be included as dependents under an adult's Hayya account. A separate Hayya Card will be issued for children also. As mentioned earlier, a match ticket is required for children to apply for Hayya Card.
Step 4: Wait for the Hayya Card to be approved
The Hayya Card application will be approved if the documents uploaded are clear and the correct details are entered. Once your hosting application (Step 2 above) is approved, your guest's details will be matched, and their accommodation will be approved.
Here is our guide on how to validate Hayya Cards Pending Accommodation
Once the Hayya Card applications are approved for guests, they will receive their entry permits by email or can access on the Hayya app.
Step 5: Book the flight tickets
After receiving entry permits, you can book flight tickets to Qatar. Hayya Cardholders can enter any time between 1 November 2022 and 23 December 2022.
If you haven't yet booked your flight tickets to the FIFA World Cup, we highly recommend booking with Qatar Airways, the Official Airline of the tournament, which has been named the World's Best Airline a record seven times.
26 OCT 2022 UPDATE: As per the latest travel policy announced by Qatar's Ministry of Public Health (MoPH), pre-travel and post-travel COVID testing and Ehteraz pre-registration are not required from 1 November. The Ehteraz mobile app is only required for entering public and private healthcare facilities.
Here is our article on the World Cup 2022 entry requirements.
That's all you need to bring family to Qatar using Hayya Card. Enjoy your time during the World Cup!
---
Frequently Asked Questions
---
Can international fans bring three others using Hayya With Me (1+3) option?
Yes, it is possible. However, in that case, the accommodation needs to be booked using the Qatar Accommodation Agency website or a third-party website. Also, there is a fee of QR 500 per person above 12 years.
Is there any age limit for visitors coming on Hayya Card?
No, there is no age limit for getting a FIFA Match Ticket. Hence there is no age limit to apply for Hayya Card.
Do my family members need visas to enter Qatar during World Cup?
A visitor with an approved Hayya Card doesn't need another visa during this period.
Can I transfer a resident match ticket to an international fan?
Category 4 tickets (QR 40) can only be used by Qatar residents. You can transfer other category guest tickets.
---
Related Articles:
Copyright © DohaGuides.com – Full or partial reproduction of this article in any language is prohibited.
---