A Hayya Card is a mandatory fan ID for all attending the FIFA World Cup Qatar 2022™. All local and international fans, including children, must apply for a digital Hayya Card. As children cannot apply by themselves, adults are allowed to add them as dependents under the adult's Hayya application.
This article will explain the conditions and the step-by-step process of how you can apply Hayya Card for dependents.
Why Do You Need A Hayya Card
The Hayya Card will provide the entry permit to the State of Qatar from 1 November 2022 (for international fans) and provide stadium access (along with your match ticket). International fans must also confirm their accommodation plans to receive final approval on their digital Hayya Card.
A Hayya Card and a match ticket are the two important documents required for anyone to access the stadium on match days. If you plan to watch a World Cup match with children, they must have their own match tickets and Hayya Cards.
The Hayya Card will also provide several benefits, including free public transportation from 10 November to 23 December 2022 and access to fan zones.
Condition To Apply Hayya Card For Dependents
You can apply digital Hayya Cards for up to 10 dependents as long as they are under the age of 18.
Before you begin with the application of a dependent, you should complete your application first. You can only apply for dependents after your application is completed.
If you haven't applied for your Hayya Card, please see the detailed guide on the requirements and how to apply for Hayya Card.
How To Apply Hayya Card For Dependents
Below are the steps to apply for Hayya Card, assuming you have already completed your Hayya Card application.
Step 1: Log in to your Hayya account
You can sign in on the website: www.hayya.qatar2022.qa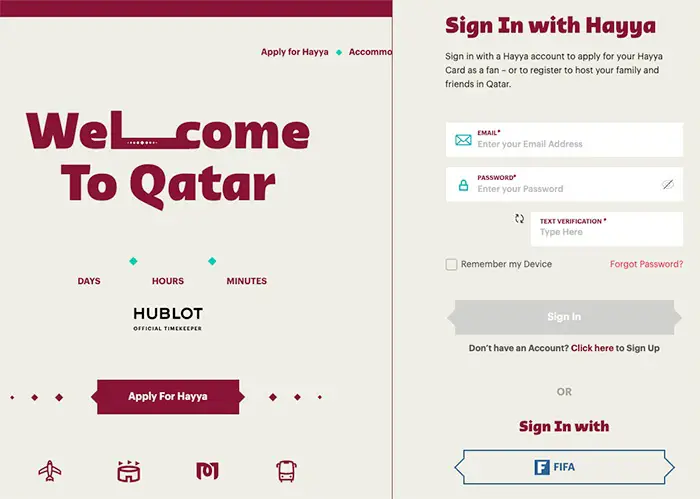 Step 2: Click on "My Hayya"
This will be available on the top right of the page (near your name).
Step 3: Click on "Add Dependents"
This option will be below the Hayya details of the primary applicant.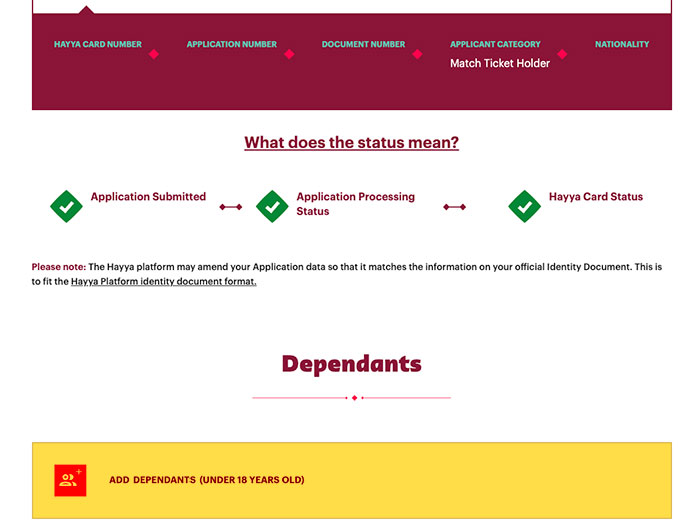 Step 4: Complete the application form
You need to fill up the form and upload the dependent's photo.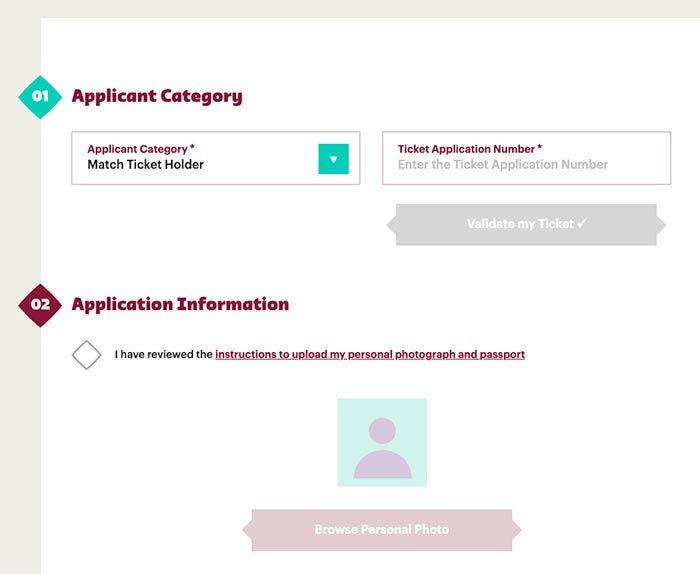 Step 5: Upload passport and complete details
You need to fill up the details and upload the passport as you did for your application.
Step 6: Click on "Review & Submit"
After completing the details and uploading the passport, click the "Review & Submit" button.
Once the application is submitted, it will be reviewed by the Hayya Team, and you will receive updates by email.
Below is a video explaining how to apply Hayya Card for dependents:
NOTE: You can also do the above steps through the Hayya to Qatar 2022 mobile app.
For any questions about Hayya Card, please contact [email protected] or call 800.2022 (Qatar) or (+974) 4441.2022 (International).
---
Frequently Asked Questions
---
Should children also have Hayya Cards?
A Hayya Card is mandatory for any visitor entering the State of Qatar or any visitor or resident attending a World Cup match. Note that children must have match tickets for stadium entry, irrespective of age.
Can I register someone with a disability as a dependent?
You can also register on behalf of someone with a disability (even above 18 years) or unable to apply by themselves. All you need is their personal details to enter into the application.
Should the dependent have a separate phone for Hayya Card?
No, the dependent's Hayya Card will be on the same phone as the adult applicant.
---
Related Articles:
Copyright © DohaGuides.com – Full or partial reproduction of this article in any language is prohibited.
---