A Hayya Card is a mandatory fan ID introduced during the FIFA World Cup Qatar 2022™. All local and international fans, including children, had to apply for a digital Hayya Card. As children cannot apply by themselves, adults are allowed to add them as dependents under the adult's Hayya application.
This article will explain the conditions and the step-by-step process of how you can apply Hayya Card for dependents using Hayya With Me 2023 feature.
What is Hayya With Me
Hayya With Me (1+3) is a feature using which an international fan who purchased FIFA World Cup match tickets in 2022 can invite up to three family members or friends to visit Qatar.
In January 2023, Qatar's Ministry of Interior announced that the validity of Hayya Cards will be extended until January 2024. The Hayya With Me feature is also back, which means international fans who bought match tickets in 2022, can still invite up to three guests using their voucher codes.
This is a great opportunity for those who want to visit Qatar, as this is issued free of charge and allows multiple entries up to January 2024.
Condition To Apply Hayya Card For Dependents
You can apply digital Hayya Cards for up to 10 dependents as long as they are under the age of 18.
Before you begin with the application of a dependent, you should complete your application first. You can only apply for dependents after your application is completed.
If you haven't applied for your Hayya Card, please see the detailed guide on the requirements and how to apply for Hayya Card using Hayya With Me.
How To Apply Hayya Card For Children
If you are creating a new Hayya account for the child, the steps are same as applying for an adult's Hayya card.
Or else, if you are adding the child as a dependent under an adult, you need to follow the below steps. These steps should be done after you have completed the adult's Hayya Card application.
Step 1: Log in to your Hayya account
You can sign in on the website: www.hayya.qatar2022.qa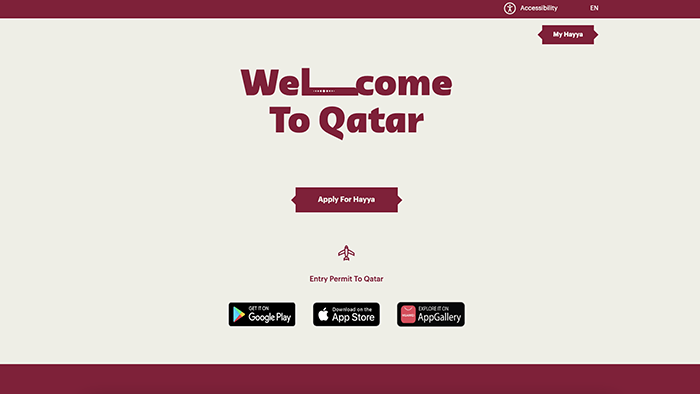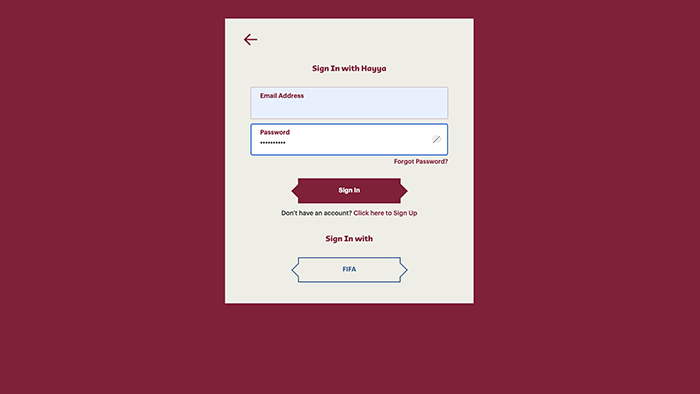 Step 2: Click on "My Hayya"
This will be available on the top right of the page (near your name).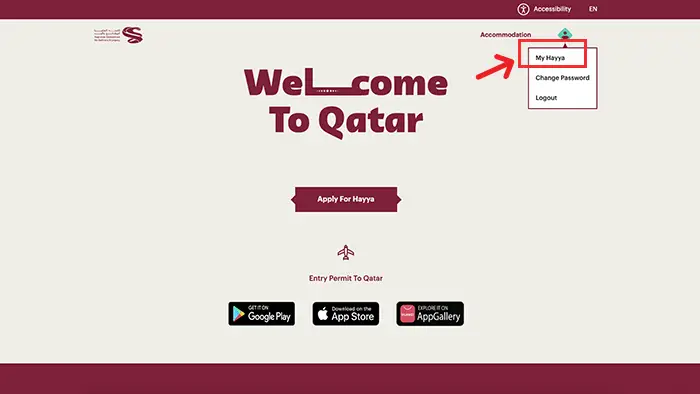 Step 3: Click on "Add Dependents"
This option will be below the Hayya details of the primary applicant.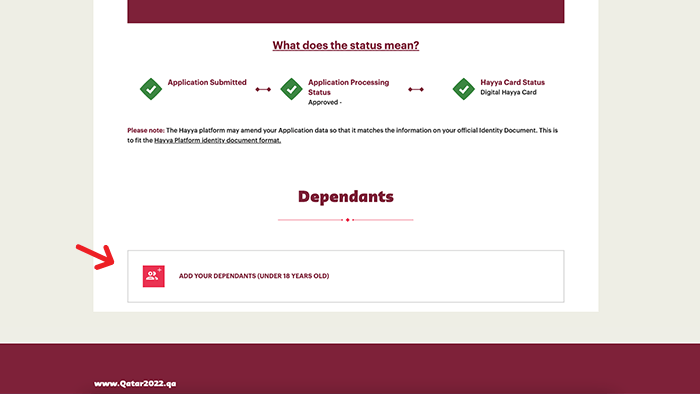 Step 4: Complete the application form
You need to fill up the form and upload the dependent's photo.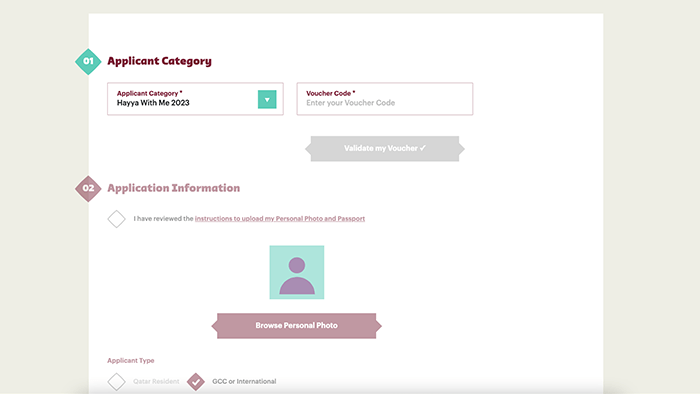 Step 5: Upload passport and complete details
You need to fill up the details and upload the passport as you did for your application.
Step 6: Click on "Review & Submit"
After completing the details and uploading the passport, click the "Review & Submit" button.
Once the application is submitted, it will be reviewed by the Hayya Team, and you will receive updates by email.
Below is a video explaining how to apply Hayya Card for dependents:
Note that International fans must also confirm their accommodation plans (for children also) before travelling.
Delay In Hayya Approval For Family
Even if you apply together for an adult and a child, sometimes one of them may take longer than the other. You don't have to worry if you face delays in approval, as this normal nowadays.
For any questions about Hayya Card, please contact [email protected] or call 800.2022 (Qatar) or (+974) 4441.2022 (International).
---
Frequently Asked Questions
---
Can I add my child as a dependent without a voucher code?
Children applying for Hayya Card in 2023 will need their own Hayya With Me voucher code even if applying as a dependent.
Is Hayya card mandatory for infants less than one year?
A separate Hayya Card is mandatory for all visitors, including infants.
If my child is travelling without an accompanying adult, how can I add him as a dependent?
It is not mandatory to add children as dependents. You can create a separate Hayya account for your child, even if the child is less than 18 years.
Should the dependent have a separate phone for Hayya Card?
No, the dependent's Hayya Card will be on the same phone as the adult applicant. Just make sure that the dependent has his own Hayya Entry Permit, which you will receive by email.
Should I add the child to my accommodation, or is it enough to add a parent?
All visitors, including children, should have their own confirmed accommodation. If you plan to host the visitors, you should add them to your accommodation through Hayya, even if they are children.
Can a child travel using Hayya with someone who is not a parent?
Yes, Children can travel alone or with an adult who is not the parent. However, some airlines may require authorisation from the child's parents. Please discuss this with your airline in advance.
---
Related Articles:
Copyright © DohaGuides.com – Full or partial reproduction of this article in any language is prohibited.
---