National identity cards are identification documents issued by a nation's government to its citizens and residents. Usually, they would have the holder's photo, identification details and national identity number.
A Qatar ID card (commonly called QID) is used to prove a person's identity and residency in Qatar. This article will discuss everything you need to know about Qatar ID cards.
There are broadly two types of Qatar IDs:
Cards issued to Qatari Citizens – titled "State of Qatar ID Card", and
Cards issued to Expatriate Residents – titled "State of Qatar Residency Permit".
Qatar ID Card Format
Qatar Citizen's ID cards (National ID) contain the card holder's photo, name, date of birth, nationality, ID number, expiry, and signature. Below is the design format of the ID card for Qatari citizens.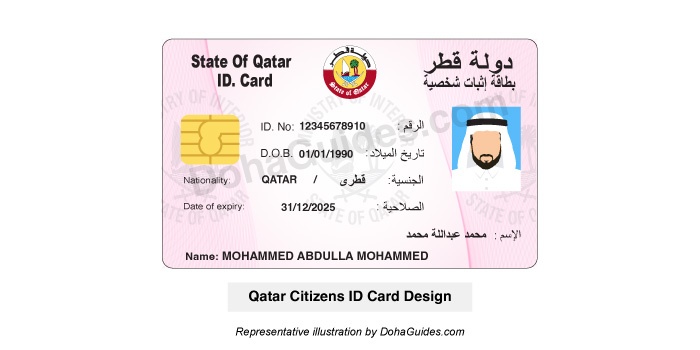 Expatriate Residents' cards (Residency Permit) contain the card holder's photo, name, date of birth, nationality, occupation, employer details, passport details and signature. It would also contain the QID number and expiry date of the card. Below is what the QID for expatriate residents looks like.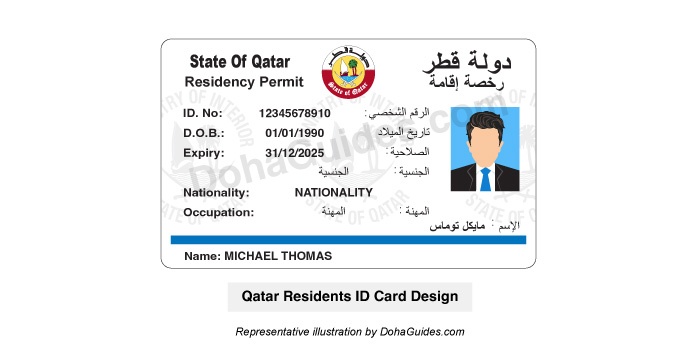 For expatriate residents, two types of QID cards are available:
Regular plastic cards that are commonly used, and
Smart cards that allow access to government services.
Smart ID Cards
Qatar's smart ID cards are plastic cards with an embedded electronic chip that contains digital data. These are more secure and can be used for online government transactions by inserting them into card readers.
Smart ID cards are issued to all citizens by default. Expatriate residents can get smart cards at an additional fee of QR 100.
One significant advantage of the smart card was the e-gate facility at the Hamad International Airport. However, the e-gate facility is now accessible even for residents with regular cards.
How To Apply For Qatar ID Card
The Qatar ID card will be issued after a new resident completes the medical check-up and fingerprinting process. The sponsor has to approach an MOI service centre with the visa, passport, photo, and fee for issuing a QID card. Usually, the card will be printed on the same day.
For newborn babies, the sponsor (father or mother, as the case may be) can apply for Qatar ID by submitting the birth certificate, baby passport, photo, parents' QIDs, etc.
Qatar ID Card Photo
The required photo size for the Qatar ID card is 35 x 45 mm. For expatriates, the photo should be with blue background.
Qatar ID Card Validity
The card will be renewed for a minimum of one year. It can be renewed for up to five years for some categories.
Renewing Qatar ID Card
The Qatar ID card will be reprinted each time a resident's visa is renewed. Only the sponsor can renew the QID on dependents or workers. A worker cannot renew his own QID.
In the case of a work visa, this will be by the employer. Residence renewal applications for govt, public and private company sponsorships can be made electronically.
In the case of family residence visa dependents, this process has to be done by the husband (or wife if she is the sponsor). For family and personal sponsorship, applications can be made online or physically at MOI services centres.
When the residence permit renewal is done online through the Metrash2 app or MOI website, the card will be delivered to the applicant's address by Q-Post.
Please note that the Qatar ID card must be reprinted each time the holder's visa or passport is renewed, or there is a change in personal information. This can be done by the worker or dependent through the Metrash app and doesn't require the sponsor's permission.
Here is our detailed guide on how to renew Qatar ID
Travelling With Qatar ID Card
Since 2015, Qatar ID has replaced the visa sticker in passports. Qatar residents must present a Qatar ID card during check-in and immigration for international travel.
Please note that the card must be valid during the date of travel. A resident will not be allowed to enter Qatar using an expired Qatar ID.
What to do if Qatar ID is lost?
If your Qatar ID card is lost while inside Qatar, you can request a new card using the "Replace Damaged/Lost ID" option in Metrash. This option is available under "Residency" services. You will need to pay QR 200 for replacement and an additional QR 20 if Q-Post delivery is needed.
If your Qatar ID card is lost outside Qatar, your sponsor can apply for a return permit. Please see our detailed guide on what to do if QID is lost during travel.
How To Check Qatar ID Status Online?
You can check the status of your Qatar ID by using the "Official Documents" feature on the Ministry of Interior website.
READ NEXT: Did You Know What Your QID Number Means?
---
FAQ On Qatar ID Card
---
How can I get Qatar ID card?
The Qatar ID card will be issued when a new resident completes the medical check-up and fingerprinting process. The parent should apply for the QID card for babies born in Qatar.
How much does Qatar ID renewal cost?
The annual fee for QID renewal is QR 500 for family sponsorship and QR 1000 for employees sponsored by businesses. For employees under personal sponsorship, the renewal fee is QR 300.
Should I carry the Qatar ID at all times?
Qatar residents must carry their Qatar IDs and show them to Police, CID and other security personnel when required. You can also show the QID image on your Metrash app's E-Wallet feature.
---
Related Articles:
Copyright © DohaGuides.com – Unauthorized reproduction of this article in any language is prohibited.
---