Doha Guides Team regularly reviews this article to ensure the content is up-to-date and accurate. The last editorial review and update was on 3 September 2023.
If you are planning on living in Qatar for an extended period, one of the first things you need to do is to get Qatar Driving License. Whether you are getting your first license or are an experienced driver, you must be informed of driving license regulations.
Our detailed guide explains the Qatar driving license procedure step by step.
Requirements for Qatar Driving License
Age Requirement
18 years is the minimum age requirement to apply for light motor vehicles and motorcycle licenses in Qatar. However, 21 years is the minimum requirement to apply for a license for heavy vehicles like trucks, buses, forklifts etc.
Residency Requirement
To obtain a Qatar driving license, the applicant must have a valid Residence Permit (QID). A visa copy and original passport are required if Qatar ID is not issued.
Profession Requirement
Expatriates with some specific professions (which do not require driving) are not eligible for Qatar driving licenses. Here is the list for your reference:
READ: List of Professions Not Eligible for Driving License in Qatar
The Traffic Department explains this is a move to reduce traffic congestion on the roads. If you are a company-sponsored expatriate, please verify the profession mentioned on your Qatar ID with a driving school.
Is Your Current License Valid in Qatar?
Before enrolling on a driving course in Qatar, you must check if your current driving license (if you have one) is valid for exchange or a direct test. Depending on the country of your existing driving license, you may be eligible for a simpler process:
Driving licenses issued by some countries can be converted to Qatar Driving licenses without a driving test.
Driving licenses issued by some countries qualify you for a direct road test without enrolling in a driving course.
Driving licenses issued by some countries make you eligible for a shorter training course, which means you can take a half course (20 classes) instead of a full course (40 classes).
To determine your eligibility, you must check with any authorised driving school or the Traffic Department.
---
Qatar Driving License Procedure
The procedure to get Qatar driving is as explained below:
Step 1: Select your driving school
There are several government-approved driving schools in Doha. Driving schools in Qatar follow a common curriculum, governed and administered by the Ministry of Interior's General Directorate of Traffic.
The applicant can choose any of these. Here is the list for your reference:
READ: List of Driving Schools in Qatar with Course Fees
Step 2: Apply for NOC (No Objection Certificate) on Metrash2 mobile application.
Earlier the applicant had to get a NOC from his sponsor in writing. Recently this has been changed to online approval, which can be done through the Metrash2 mobile app or MOI website.
For company sponsorship, NOC must be given by the company using the company Metrash2 application.
For personal sponsorship, NOC must be given by the sponsor using the Metrash2 application.
For Qatari males, NOC is not required.
For Qatari females, NOC must be given by the guardian using the Metrash2 application.
Steps to apply for Driving License NOC on Metrash2:
Login to the Metrash2 mobile app
Click on "Traffic" –> "License Service" –> "License NOC"
Enter the sponsored person's QID or visa number in the specified box
Select "New Issue"
Select the required driving license category (motorcycle, car, bus etc.)
Enter the email id and click "Next."
On the next page, confirm after reviewing the requested details
Once approved, the sponsor will get a Metrash notification on his phone.
These steps can also be done on the MOI website for companies and individuals with smart cards, as explained below.
Steps to apply for Driving License NOC on the MOI website:
Go to the E-Services page on the MOI website
Click on "Traffic Services"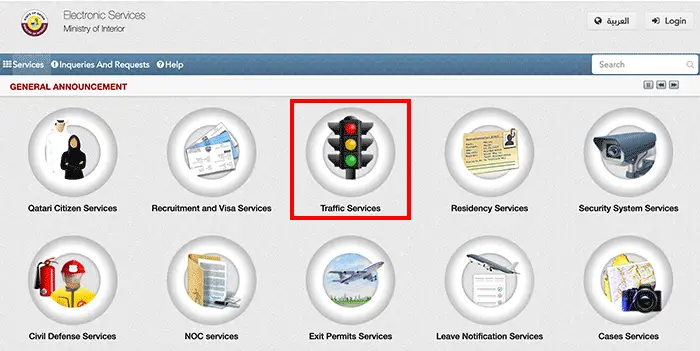 Click on "Driving License"

Click on "Driving License NOC"

Complete the required fields and submit the form.
Once approved, the sponsor will receive a notification.
Step 3: Eye test for Qatar driving license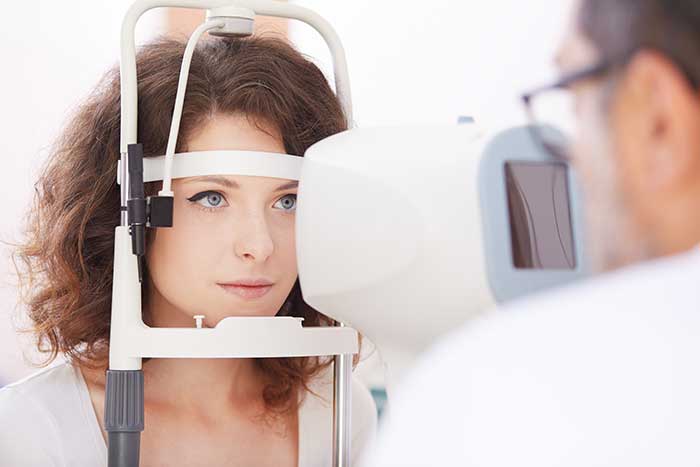 An eye test (vision test) is mandatory for all applicants and can be done at most driving schools. Alternatively, you may bring an Eye Test Certificate from an optometrist or ophthalmologist approved by the Traffic Department.
If the test is done at driving schools, they will update the test result on the MOI portal. The fee for eye tests ranges between QR 25 and QR 50.
The eye test could help indicate whether you suffer from myopia (short-sightedness), hyperopia (farsightedness), or other eyesight problems that may require corrective glasses or lenses.
Step 4: Decide on course duration
If you have a previous driving license from another country, you may be eligible for a half course. In such a case, you have to get approval from the Traffic Department by submitting your old driving license. Your driving school will check your eligibility and advise you of the course suitable for you.
Generally, a full course has 40 practical classes (in addition to theory and simulator classes), while a half course includes only 20 practical classes.
Step 5: Submit the required documents and pay the course fee
The applicant may submit the documents at any approved driving school of his or her choice.
Documents required for expatriate residents
Valid Qatar ID (original + copy)
NOC by Metrash2 (explained above)
Colour Passport Size Photos (4 pcs)*
Eye Test Certificate
Original valid home country license if applying for a half course
*If you use spectacles while driving, ensure your photos show you wearing spectacles.
Once you pay the fee, your driving school will open an online file for your driving lessons. They will also give you a guidebook or CD for theory lessons. Some driving schools have their own mobile app for theory lessons.
Step 6: Theory lessons
Theory classes will be bout traffic laws in Qatar, traffic signs, driving ethics etc. Some schools offer these classes on computers or tablets. You can also do mock tests with instant results to track your progress. Most driving schools offer theory classes for five days. In addition, some schools also provide simulator training that improves steering balance and vehicle control.
Step 7: Theory test
Upon completion of theory lessons, you can take the theory test. Nowadays, theory tests are conducted online using the driving school's computer. You have to answer at least 37 out of 40 questions correctly. The test is available in several languages.
Step 8: Practical lessons
Practical lessons will be one-to-one driving lessons with a driving instructor. Most driving schools offer male and female instructors as per your requirements. There might be a higher fee if you require a female instructor.
During practical lessons, you will drive on the main roads with an instructor and get used to all the driving techniques and skills required.
You will also be given lessons on parking. The two main tasks to master here are parking tests known as "L" and "P".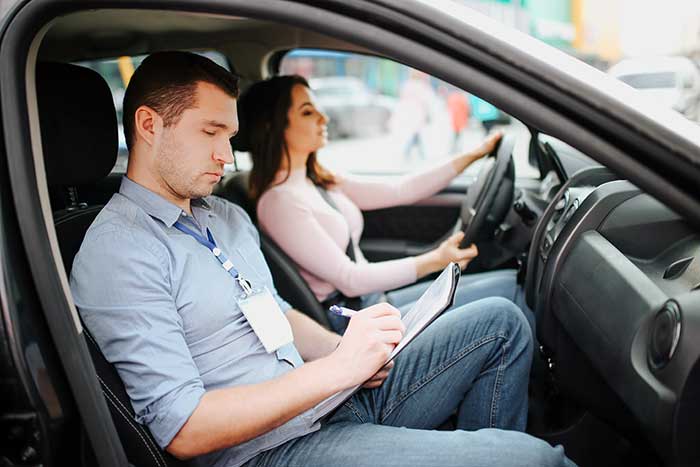 Step 9: Road Test
Upon completion of road training, you will be given a date for the road test. The road test is done in a driving school car with three or four people in the car taking turns to drive. A Traffic Police Officer will be present in the car to evaluate your driving skills.
Step 10: Parking test
Once you pass the road test, you will be assigned a test date for the parking test. You must complete both the "L" and "P" tasks on the same day. "L" refers to perpendicular parking, and "P" refers to parallel parking. The tests are computerised, and you get the results instantly.
A driving licence is issued immediately after successfully passing the test.
---
Time Required to Complete Driving Course
On average it will take approximately 90 to 110 days to complete a full course (theory training & test + waiting time + practical training & tests).
The regular half course will last approximately 65 to 90 days (theory training & test + waiting time + practical training & tests).
Please note that this time frame may vary from driving school to driving school, as some schools may have longer waiting periods.
Driving Test Procedure in Qatar
You have to pay a nominal fee and register for the test. Driving tests usually consist of the following modules on different days:
Theory Test (for road and traffic signs)
Road Test
Parking Test (L and P)
Each of these tests is a prerequisite to entering the next one. But, if you have passed one, you need not repeat it. If you fail one part of the test, you will not proceed to the next test stage.
If you fail the test, you can retake it within a specified time frame without additional charge. Parts of the test successfully passed previously do not have to be retaken.
As per the Traffic Department's announcement, effective March 2016, Full Course and Half Course will have two chances to take the Road Test. Signal and Parking Tests will be unlimited, but if failed, the applicant must pay QR 50 test fee to book another date.
You may be asked to join another course if you cannot pass after two attempts. Some driving schools offer special courses that offer unlimited training until you pass. These courses will be more expensive than regular ones.
Here is a short video from Doha Driving Academy on how to get a driving license:
Qatar Driving License Fees
Below are the fees for issuing Qatar Driving License. The course fee and test fee will be in addition to this.
Type of License
Amount
Validity
Qatari Citizen (Light Vehicle)
QR 500
10 Years
Expatriate Resident (Light Vehicle)
QR 250
5 Years
Qatari Citizen (Heavy Vehicle)
QR 600
10 Years
Expatriate Resident (Heavy Vehicle)
QR 300
5 Years
Qatari Citizen (Motorcycle)
QR 300
10 Years
Expatriate Resident (Motorcycle)
QR 150
5 Years
Driver's learning license (all vehicles)
QR 150
3 months
Permit for driving taxi vehicles, limousine
and public transport vehicles
QR 250
Annual
All transactions at the Traffic Department must be paid for using a credit/debit card.
Automatic or Manual Transmission Vehicles
For light vehicles, manual or automatic transmission vehicles are available at all driving schools. If you pass your test in an automatic car, you can only legally drive automatic cars. If you pass in a manual car, you can drive both manual and automatic cars.
How To Exchange / Transfer A Foreign License in Qatar
Driving licenses from some countries (mainly western countries) are eligible for direct exchange. Please check with any driving school to know if your driving license is eligible for direct exchange. Please note that only expatriates with valid Residence Permits can apply for this.
If you have a driving license from any GCC country (Bahrain, Kuwait, Oman, Saudi Arabia, or UAE), you can take a direct test without attending a training course. To get a test date, you must contact any driving school and pay the fee.
Here is our guide on how to take the direct test with a GCC driving license.
Recent Changes To Qatar Driving License System
The Traffic Department has introduced several changes to the driving license system in recent years. Here are some changes that you need to know :
1. Unified driving curriculum: The Traffic Department has introduced a unified driving curriculum for all driving schools.
2. Unified contract for all driving schools: All driving schools in the country have adopted a unified contract that clearly outlines their obligations to trainees. Driving schools are banned from imposing additional fees on trainees other than what has been specified in the unified contract. The contract forces the school to refund the balance amount, per the contract's provisions, in case the trainee discontinues the course.
3. Guardian can accompany female driving trainee: In case the trainer is a male, a female trainee may demand the company of a male guardian.
4. 18 languages: The unified curriculum is now available in more than 18 languages commonly used in Qatar instead of the earlier ten languages.
5. Road test after passing theory test only: No trainee will be allowed to take a road test unless he passes the theory test based on information provided in the new curriculum.
6. You need to know the basics of automobiles: In addition to driving skills and traffic laws, the syllabus addresses issues such as how to check the safety of a vehicle, lights, engines, engine oil and tyre pressure.
7. No more short courses: Short courses have been abolished, and new learners must take the half or full course.
8. No more exceptions for Saudi and Kuwait license holders: The provision of granting a driving licence to those holding licences issued by Saudi Arabia and Kuwait have been discontinued in Qatar. They are now required to take the driving tests.
9. Parking Test will follow the Road Test: Previously, the last step of a driving test was the road test, which follows the parking test. Nowadays, you have to pass the road test before you can attempt the parking test.
---
FAQ on How To Get Qatar Driving License
---
Can I practise driving using my own car?
No, as per the Qatar traffic rule, you can practise only on an authorised vehicle owned by a driving school.
Is it easy to get a driving license in Qatar?
It would depend on your confidence and driving skills. The testing standards are set high, and you must be proficient to pass the road test.
Can I exchange my driving license for a Qatar driving license?
Only licenses from very few countries are allowed for direct exchange. For others, you must take a direct test or join a driving course.
READ NEXT: List of Driving Schools in Qatar With Course Fees
---
Related Articles:
Copyright © DohaGuides.com – Full or partial reproduction of this article in any language is prohibited.
---