If you are a mother living and working in Qatar it is natural that you may want your children to join you. However if both husband and wife are working in Qatar under different sponsors, it may be not be as simple as applying for a Family Residence Visa.
The good news is that even in such cases the mother may be eligible to sponsor her children. Mothers in Qatar who wish to sponsor their children need to meet certain requirements and provide specific documents.
This article provides a comprehensive and step-by-step guide guide on how can a mother sponsor children in Qatar.
Can A Mother Sponsor Children In Qatar?
Yes, expatriate mothers who are working in Qatar can sponsor their children, if they meet the eligibility conditions such as salary and profession.
Eligibility For Mother To Sponsor Children
To sponsor your children in Qatar, you need to meet the following requirements:
1. Minimum Salary Requirement
If both the parents are working in Qatar they should have a combined salary of at least QR 10,000 per month. Additionally, the mother's contract salary alone should be a minimum of QR 5,000 per month. Meeting these salary requirements is crucial for a successful sponsorship application.
Note: In case the baby is born inside Qatar while the mother is already working, the salary requirement is often relaxed.
2. Profession Requirement
The mother should have a profession that is considered non-labour type. Certain professions like housemaid or cleaner may not be eligible. Professions like nurse, teacher, office jobs, etc. are normally approved.
3. Sponsor's NOC in Arabic
The mother's employer (sponsor) should issue a No Objection Certificate (NOC) letter, which should be be in Arabic. You can get the NOC format typed from a typing center or your company's PRO can help with this.
If your NOC is not in Arabic, it should be translated before submission. All other documents can be in either English or Arabic.
4. Salary Credited via WPS
Before applying to sponsor your children in Qatar, it's crucial to ensure that your salary is credited through the Wage Protection System (WPS). Nowadays this is a mandatory requirement, as there is no option to upload mother's bank statement on Metrash mobile app.
You can check the status of your salary via WPS and also access your labor contract through this Employment Contract page on Ministry of Labour website. If you cannot find your contract, please contact your company's PRO (Public Relations Officer) to update it before proceeding with the application.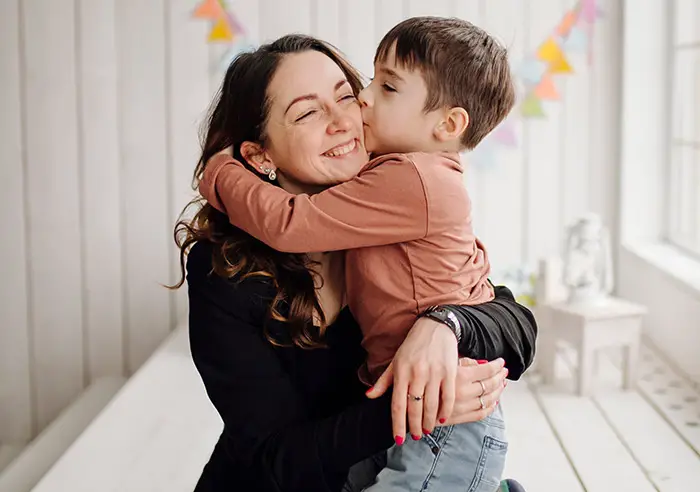 Documents Required For Mother To Sponsor Children
To initiate the sponsorship process for your children, you'll need to prepare the following documents, which should be uploaded via the Metrash mobile app:
Child's Passport Copy: The front and back sides of the passport should be uploaded as single image.
Child's Birth Certificate (MOFA Qatar Attested): Make sure your child's birth certificate is attested by the Ministry of Foreign Affairs (MOFA) in Qatar. Note that MOFA attestation is not required if your child was born in Qatar.
NOC From Mother's Sponsor: Ensure you have this document in Arabic.
Qatar ID / Passport Copy of Husband: A copy of your husband's Qatar ID or passport.
Husband Salary Certificate: A letter from husband's sponsor confirming his salary.
Husband's Bank Statement (salary credit): Provide three months' worth of bank salary statements. Inform the bank that this statement is for uploading on Metrash. They can prepare it in a format that all salary credits are shown on one page, making it easier to upload. Statements downloaded from the bank website or app will not be accepted.
Earlier mother's bank statement (salary credit) and attested degree certificate were also required. Since August 2023 there is no option to upload this in Metrash. Nowadays salary credit is verified through WPS and education is verified through labour contract.
Please note that the salary mentioned in your labor contract should meet the minimum salary requirements specified earlier.
Tips For Preparing Documents
If a document has multiple pages, merge them into a single JPG file. Numerous online tools are available to assist with this, but ensure that the merged JPG retains clarity.
Ensure that your JPG files are under 500KB in size.
When preparing documents for uploading, create a new folder on your phone so that you can easily organise them.
How To Apply For Child's RP Under Mother
As the child will be under mother's sponsorship, the application has to be submitted from the mother's Metrash account. If you haven't registered for it, here is our complete guide on Metrash app.
If you have activated your Metrash, follow the below steps:
After logging into Metrash, click on the 'Visa' icon.
Click on the "Issue Visa" icon on the next screen.
Click on the "Family Visit" icon on the next screen.
Select "Family Resident Application" on the next screen.
By default, this will be selected as Family Visa Application (which is for Family Visit Visa applicants). For Residence Visas, you have to change this selection as shown below: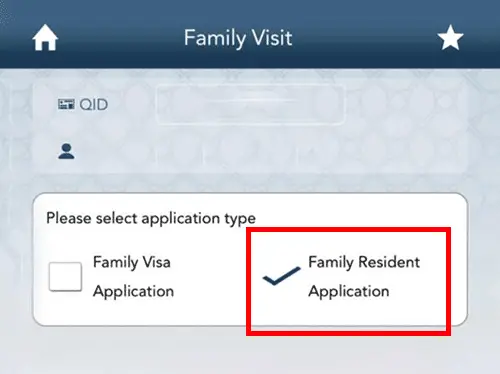 Click on "New Application" (bottom right of the screen).
Carefully fill in the form with the child's details. Click on "Validate".
Verify the details on the next screen. Select "I agree on the validity of data". Click "Next".
The next screen will have placeholders for uploading documents. Follow the instructions on the screen, and upload scanned copies or photos of the documents.
The documents required are:
Child's Passport and Attested Birth Certificate
Resident or passport copy for husband: Upload husband's QID or passport copy here.
Bank Salary Statement For Husband: Upload husband's bank statement with 3 months' salary credit (explained earlier).
Husband Salary Certificate: Upload letter from husband's employer (with profession and salary).
Other Documents: In the "Other Documents" placeholder, upload the NOC letter from mother's sponsor (employer) in Arabic.
On the next screen, confirm your submission by clicking on "Yes".
Your application number will be generated after this step. You can click on the arrow sign on the right to check the status. Once submitted it will be "Under Process". Later it will change to "Under Review".
If the application is rejected, the reason will be given as notes on this page.
If the visa is approved, you can pay the visa fees (QR 200) online via Metrash2 or pay at the Immigration Office. The visa can be downloaded from this link.
For more details such as meaning of each visa status, steps to follow-up, and the latest updates, check our detailed guide:
Qatar Family Visa (Residence): Requirements and Guide
Can Single Divorced Mothers Sponsor Children in Qatar
Many individuals often inquire whether a single or divorced mother can sponsor her child in Qatar. The answer is yes, a single or divorced mother can sponsor her child's residence visa in the Qatar. However in this case she may be required to meet the minimum salary criteria (QR 10,000) by herself as there is no husband to support.
If the child's father is living in another country, mother has to get a No Objection Certificate (NOC) from the father. This should be done through an attorney and properly attested.
If a woman is divorced and has full custody of the child with the father having visitation rights, she needs to provide additional documents such as the divorce certificate and/or custody certificate. These documents should be MOFA attested and translated (if required).
---
Related Articles:
Copyright © DohaGuides.com – Full or partial reproduction of this article in any language is prohibited.
---