Doha Guides Team regularly reviews this article to ensure the content is up-to-date and accurate. The last editorial review and update was on 3 September 2023.
If you are planning to bring your family to Qatar, you will need to apply for a Family RP (Residence Permit) visa. Once the Family RP is approved and your family members arrive in Qatar, they will need to undergo a medical test.
The medical test is a requirement to ensure that expatriates are healthy and free of contagious diseases. In this article, we will guide you on how to do a medical test for family RP in Qatar.
6 AUGUST 2023 UPDATE: Gharaffa Immigration Shiting
When And Where To Do Medical Test For Family RP
The medical test for Family RP should be done after the family visa is approved and the family member arrives in Qatar.
Unlike the medical test for employment visa, the medical test for family visa should be done inside Qatar and not from Qatar Visa Center (QVC) from your home country.
The Medical Commission is responsible for conducting the health exam and is located on Al Muntazah Street off E-Ring Road. Three other private hospitals are authorized to carry out the mandatory procedure, however their fee may be higher than Medical Commission:
Al Ahli Hospital
Doha Clinic Hospital
Al Emadi Hospital
Qatar Medical Commission Location
Medical Commission Office in Doha is located near Woqod Petrol Station near Industrial Area (Abu Hamour). Here is the location map:
There are separate entrances for male and female visitors at the Medical Commission.
To enter the female entrance, turn right when you enter the main gate.
You can reach the male entrance by going straight after the main building and taking the first right.
Qatar Medical Commission Timing
The Medical Commission is open from 7 am to 12 pm and from 2 pm to 7 pm from Sunday to Thursday. Fridays and Saturdays are holidays.
During mid-week days, afternoon sessions are less crowded for families. If it is a busy day, the tokens may cease to be issued 1-2 hours before closing.
Documents Required for Medical Test
The following are the documents required to do the medical test for a Family RP:
Sponsor's Qatar ID copy
Family member's original passport
Residence visa copy with the mobile number to be contacted, if necessary
Debit or credit card for payment of the fees
Fees for Medical Test
The fee for the medical test is QAR 100 per person.
A debit or credit card is required for payment. Cash payment is not allowed.
If you don't have a debit or credit card, there is a bank counter near the women's entrance that can issue a temporary debit card for a small fee.
Note that men are not allowed to accompany female visitors, even if they are relatives. A female visitor who might need assistance can be accompanied by another female only. So if you give your debit or credit card to your family member, be sure to give them the PIN code as well.
Procedure At Medical Commission
Applicants for the Family RP in Qatar must undergo testing for HIV, Hepatitis B, and Hepatitis C. The visitor will also undergo a general check-up and chest X-ray to check for tuberculosis.
The detailed process is as follows:
Take a token number from the machine at the entrance (or someone will issue them).
When your token number appears on the screen, go to the registration counter.
Please provide a copy of the original passport and visa (along with a contact number).
Following the entry of the details in the system, they will ask for payment. You can pay QR 100 with a debit or credit card.
They will return a copy of the passport, a copy of the visa, and a printout with the MC number.
After this they will direct you towards blood test room, where they will draw your blood sample.
Next stop is the X-ray room where a chest X-ray will be taken.
The final step is the doctor's room where a medical check-up will be done.
The sequence of these tests may change depending on the availability of each room. You must do all the tests on the same day. You should keep the MC number printout for the next steps such as fingerprint.
Time Required For Medical Test
The total time required depends on how busy the place is. If you're lucky, you can complete everything within 30 minutes. Depending on the day, it could even take four to five hours.
How To Check Medical Test Result
The results of the medical examination are sent electronically to the residency system at the Ministry of Interior.
As per MOPH website, the test result may take up to 72 hours. However in most cases, it is available within 24 hours.
If Metrash2 has been activated on the sponsor's phone, the result will be sent via SMS. You can also check it on the MOPH website. Here is how to check medical test result for Qatar visa:
Go to MOPH website page for the medical test result.
Select "Identity Type" and enter the number.

You can enter the MC number which you have receive during registration.
Or you can enter the Visa number. This is the visa number on the Family RP Visa.
Qatar ID Number is not applicable to new residents as their QID is not issued yet.

Enter the "Date of Test".
Click on "Search"
You can see the result if it has been processed.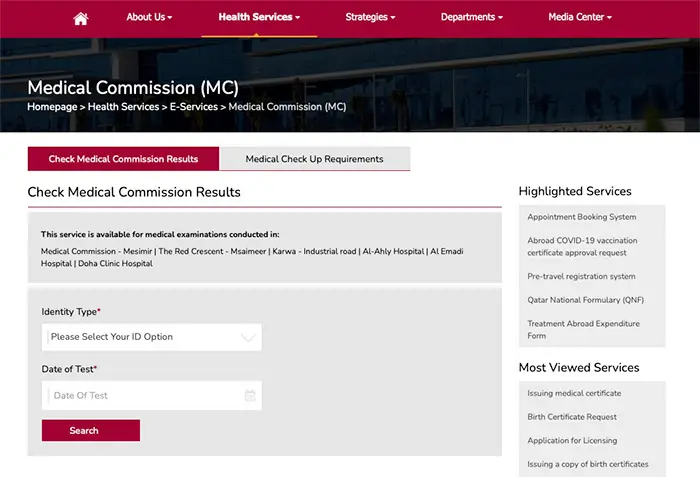 Once the medical test is passed, you can proceed for Fingerprint process at any MOI Service Center (except Wadi Al Banat / Duhail). You can find more about this on our article about Family Residence Visa.
Medical Test for Children
Medical tests are usually not required for children under 15 years old. Upon the child's arrival in Qatar, check with the sponsor's Metrash app to determine whether the "Issue Residence Permit" option is available.
If the option does not appear, you must pay QR 100 to the Medical Commission (show the original passport and visa copy). They will update the system with the status.
Medical Test To Change From Visit Visa To RP
If your family is already in Qatar on family visit visa and has done medical test for visit visa extension, they do not have to do the full medical test again.
However you need to visit to the Medical Commission and request to change your medical status (visit visa to residence visa). A regular health check-up may be done in this case. If you have not done the medical test earlier, you will need to do the full medical test.
To update the status in the system you have to pay a fee of QR 100 per family member. This fee should be paid using a bank card.
The documents you need to carry are:
Sponsor's Qatar ID copy
Family's original passport
Visit Visa copy
Residence Visa copy with the mobile number to be contacted, if necessary
Visit Visa Medical Receipt
Visit to RP Conversion Receipt (from MOI service center)
This Medical Commission process is also not required for children below 15 years. You can verify this on Metrash app by checking if "Issue Residence Permit" option is available.
---
FAQ on Medical Test For Family RP
---
What all medical tests are done for a family RP in Qatar?
For the family residence visa, a blood test for HIV, Hepatitis B, and C is required.
Furthermore, you will undergo a general medical check-up and chest X-ray to check for tuberculosis.
How much is the fee for the medical test?
The fee for a medical test for family RP is QAR 100 (USD 27.50).
What are the timings of the Medical Commission?
Medical Commission is open from 7 AM to 12 Noon and 2 PM to 7 PM on Sunday to Thursday. Friday and Saturday are holidays.
How can I check the result of the medical test online?
If the sponsor has activated Metrash2 on his phone, the result will be sent as an SMS. If Metrash2 is not activated, you can also check on the Ministry website.
READ NEXT: How To Convert Family Visit Visa To Residence Visa
---
You May Also Like:
Copyright © DohaGuides.com – Unauthorized reproduction of this article in any language is prohibited.
---