Expecting a baby is an exciting journey and giving birth in Qatar can be a great choice for parents who are living there. The country has an excellent healthcare system with many good hospitals and clinics. Generally speaking, the doctors and medical staff in Qatar are highly qualified and strive to make childbirth as easy as possible.
However, as an expatriate, understanding the costs and procedures associated with prenatal care and delivery is essential. This guide combines useful information with personal experiences to help you understand pregnancy and baby delivery in Qatar.
We will also provide a breakdown of the expenses and the steps you can expect to encounter during your pregnancy journey in Qatar. We hope the information in this guide is useful for expecting moms, their spouses and other family members.
Pregnancy Tests in Qatar
Discovering your pregnancy is often the first step on this incredible journey. In Qatar, you can easily purchase pregnancy testing kits from local pharmacies and supermarkets.
Prices of these test kits typically range from 25 to 100 QAR, and you won't be required to provide any ID or answer any questions.
Qatari law mandates that women should be married before having children. Unmarried expatriate women who are found to be pregnant are often subject to deportation from the country as per Qatari law.
Private Hospital or Public Hospital?
One crucial question you have to answer is if you would be seeking care at a private hospital or public hospital.
Some expatriates chose to go to private clinics for consultation during the initial days and visit public hospitals during the last trimester for delivery. Let's examine these options and the differences in detail:
1. Maternity Services in Public Hospitals
Public hospitals under the Hamad Medical Corporation (HMC) offer excellent healthcare at reasonable rates. The following hospitals under HMC offer maternity services: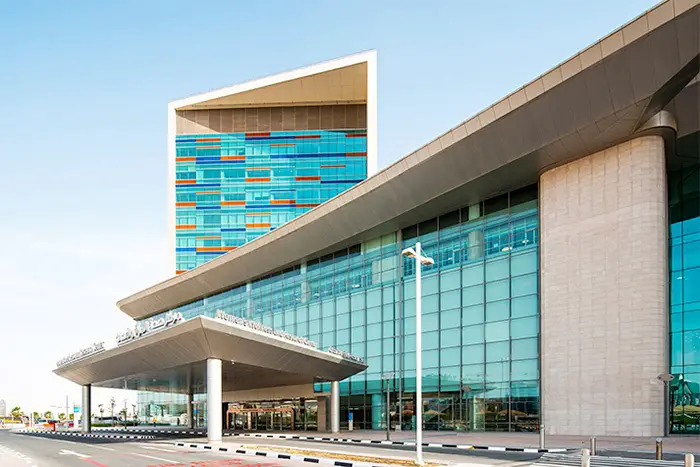 The Women's Wellness and Research Center (WWRC) is a specialized maternity hospital at the tertiary level, while the other three are general maternity hospitals that provide comprehensive reproductive care for women throughout the country. All of these hospitals offer women's urgent care and obstetric triage services.
Hamad Health Card
If you are an expatriate with a
Qatar Residence Permit
, you can apply for a health card (commonly known as a Hamad Card). This card will give you consultation, medication, and even baby delivery at subsidized rates. The annual cost of the card is only QR 100. Here is our detailed guide on
how to apply for a Hamad Health Card
.
2. Maternity Services in Private Hospitals
Several private hospitals provide more luxurious healthcare services, but their costs can be significantly higher, and they are not covered by the Hamad Card. If you have private health insurance from your employer, this could be a viable option for you.
Before you proceed with private hospitals, discuss with your insurance provider to make sure what is included in their coverage.
Differences Between Public And Private Hospitals
When it comes to pregnancy and baby delivery in Qatar, these are the main differences between public and private hospitals:
In public hospitals, you see any available obstetrician-gynaecologist (OB/GYN). In private hospitals, you have the freedom to choose your doctor and wait times are shorter.
Public hospitals offer more affordable care and have better resources for managing high-risk pregnancies.
Normally public hospitals in Qatar do not let husbands be with their wives during delivery, while most private hospitals do allow it. You should check with your hospital to see what their rules are.
Mostly public hospitals offer shared rooms or wards with less privacy. You have to pay extra if you need private rooms. Most private hospitals offer independent rooms for delivery and they may be covered in your insurance.
Public hospitals typically discharge you after a day, while private ones may keep you for two to three days for a natural birth.
---
Part 1: Pregnancy And Delivery At Private Hospitals
---
Prenatal Care in Public Hospitals
If you are going for public healthcare, your designated PHCC clinic is the place you should visit first. Primary Health Care Corporation (PHCC) offers a broad range of antenatal care services across all its health centres to women in their first and second trimesters.
How To Book Appointment: You can book an appointment by calling the Hayyak Customer Service on 107 or by walking into your nearest health centre.
Documents You Need To Carry
When you visit the health centre for your first appointment, you will need to have some important documents with you, like your Qatar ID, health card, passport, and marriage certificate copy. If you do not have a health card, you will also need your residential building address as well as a letter from your sponsor or husband's QID.
All payments should be made with a credit, debit or e-cash (QNB) card.
Initial Consultation and Tests
When you visit a health centre, your physician will conduct an initial pregnancy test followed by an antenatal package which includes all the needed initial lab investigations and ultrasound screening and appointment for the follow-up visit.
Regular check-ups are vital. Expect weight, blood pressure, and urine checks at each appointment. Key ultrasounds include one at 11-13 weeks to check the baby's development and one at 18-20 weeks to ensure it's growing well.
A primary health care physician can also request ultrasound checks and fetal heart monitoring for you during your visits. The number of check-ups you need depends on your hospital and your health condition.
Your doctor will keep you informed about your progress and answer your questions. If any issues arise, your doctor will refer you to specialists. You will also be given a date when you are due to have your baby, so make sure you have everything ready by then.
After 6 months, you will be recommended to consult a doctor at an HMC hospital based on your specific health condition.
Giving Birth At Public Hospitals
Public hospitals such as WWRC, The Cuban Hospital, Al Khor Hospital and Al Wakra Hospital, accept patients from the PHCC and private healthcare facilities across the country.
You have the flexibility to deliver your baby at any of HMC's maternity hospitals. However, for your convenience and quick access, it is advisable to select the facility closest to your residence. You can also ask recent mothers for recommendations.
In cases where your pregnancy is categorized as complex or high-risk, you will be referred to WWRC.
Requirement For Referral
To get access to HMC's maternity hospitals, you usually need a referral from your doctor at PHCC clinic, another HMC hospital, or a private healthcare provider.
How To Book Appointment: You can contact HMC hospitals through Nesma'ak Customer Service on 16060 or via email: [email protected]
If you are being referred from a private hospital, you will need to bring your referral form to the hospital's Registration Desk to book an appointment.
Once your appointment is confirmed, you will receive a call or email from the Nesma'ak customer care team.
Getting Ready for Delivery
At the hospital, they will conduct routine scans and tests including a Gestational Diabetes Test. Around the 38th week of pregnancy, an approximate delivery date is typically provided.
Before your due date, have a birthing plan ready. Discuss who will be with you, the type of birth you want, and which hospital you'll go to.
Pack essential documents like your Qatar ID, Health Card or health insurance card (if you have one), passport, and marriage certificate. Also, pack toiletries and extra clothes for you and your baby.
When To Visit The Hospital
Unless you have a high-risk pregnancy or have reached full term, you may not be admitted to the hospital until you start experiencing labour pains.
If you're experiencing labour pains, it's best to go directly to the Gynecology Emergency department. You can either drive yourself or call for an ambulance (dial 999), which is a free service.
Your hospital can offer a range of options for pain relief during childbirth, including epidurals, entonox, morphine, and more.
For normal deliveries, mothers are typically discharged within a day, while for C-sections, the hospital usually keeps both the mother and baby for at least 3-4 days.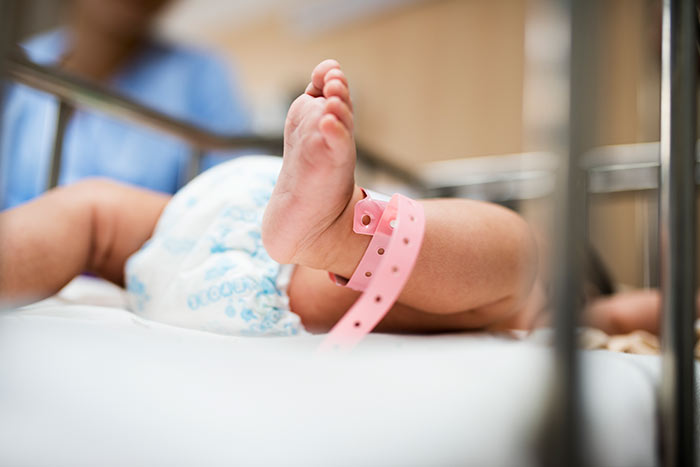 Baby Delivery Cost in Qatar's Public Hospitals (With Health Card)
If you have a Hamad Health Card, most of the services are free, except for some scans and tests. The average cost for a baby delivery at Qatar's public hospitals is only QR 200-300 for normal delivery.
In the case of a Caesarean (C-Section), it may be around QR 600-800. This can escalate further if there are complexities in delivery or the child requires additional healthcare support.
Baby Delivery Cost Without Hamad Health Card
Here are the approximate charges at Hamad Hospital for a visitor or someone without a Hamad Health Card:
Normal Delivery: QR 1,000
Normal Delivery with Suction Cup: QR 2,400
Caesarean (C-Section): QR 5,400
Any additional tests required during delivery will result in extra charges.
In addition to the delivery charges, there is a per-day room fee of QR 400. This fee covers accommodation in a shared room with another pregnant patient and meals for the mother.
---
Part 2: Pregnancy And Delivery At Private Hospitals
---
Prenatal Care In Private Clinics
For the first and second-trimester consultations, you can visit any of the private clinics near your place. If you have private insurance, you can check if this is covered by your insurance provider.
During the early stages of your pregnancy, you can check with friends and colleagues to find a doctor or clinic that you're comfortable with and that accepts your insurance.
Prenatal Costs At Private Clinics
Consultation Fee: When you visit a gynaecologist for prenatal care at a regular private clinic, you can expect to pay a consultation fee of QR 50-100 for each visit. Some private clinics charge up to QR 350 per visit. So make sure you check the rates in advance.
This fee is applicable every time you have an appointment, even if the doctor schedules your next visit within 10 days of your previous one.
First Visit Tests: During your initial visit, you may be required to undergo a blood test and an ultrasound. This first visit typically incurs a total charge of around QR 600-800. If the over-belly ultrasound fails to detect the baby's heartbeat or fetus, they may schedule a follow-up appointment for an invasive ultrasound, which does not come with an additional charge.
Regular Ultrasounds: Throughout your pregnancy, you'll have ultrasound appointments, usually every month. These ultrasounds cost QR 200-300 each, in addition to the consultation fee. The duration of ultrasounds can vary, so be prepared for appointments that last anywhere from 2 to 6 hours.
Blood Glucose Test: Around the 5th or 6th month of pregnancy, you'll be scheduled for a blood glucose test. This test takes approximately 4-5 hours and involves three samples taken at one-hour intervals. The cost for this day is QR 300-400, plus the consultation fee.
Giving Birth At Private Hospitals
Smaller private clinics in Qatar may have  gynecology departments, but they do not have facilities for child birth. There are four major private hospitals in Qatar, which offer maternity services including child birth. They are:
These hospitals operate this specialized service in coordination with HMC's Women's Wellness and Research Center.
All hospitals provide private rooms, but they allocate them on a first-come, first-served basis.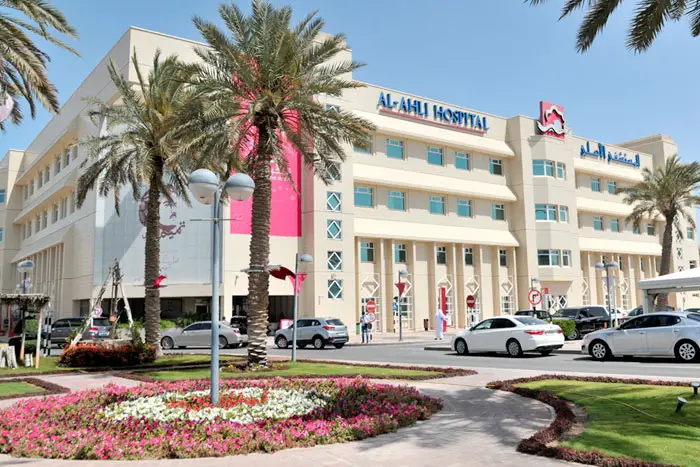 Baby Delivery Cost in Qatar's Private Hospitals
The cost of childbirth at private hospitals in Qatar varies, typically ranging from QR 10,000 to 15,000 for a normal baby delivery. In the case of a Caesarean (C-section), the cost may be around QR 25,000. Several factors influence these costs, including the complexity of your pregnancy and the facilities you choose.
Antenatal care is billed separately, and for instance, a package including antenatal check-ups and three ultrasounds typically costs around QR 2,000.
It's advisable to verify your insurance coverage with your provider to ensure you are well informed about the expenses.
---
Postnatal Care and Vaccinations
Qatar actively screens newborns for congenital disorders, so be sure to consent to this free screening. Postnatal care varies, so follow your doctor's advice.
Your hospital will do some newborn screening tests such as hearing, vision etc. Vaccinations which are required at birth are also given before discharge.
Children in Qatar get vaccinated against 12 diseases. Your doctor will help you keep track of vaccination dates. Here is our detailed guide on the vaccination schedule for children in Qatar.
Maternity Leave in Qatar
By Qatar's Labour Law, specifically Article 96, a female worker who has completed one year of service with her employer is eligible for maternity leave with pay, lasting for a total of fifty (50) days.
To avail of this maternity leave, a medical report from a licensed physician specifying the expected delivery date is required.
These 50 days encompass both the prenatal period (before delivery) and the postnatal period (after delivery), ensuring that the postnatal period lasts for at least thirty-five (35) days.
If the remaining leave period following delivery is less than thirty days, the female worker may be granted additional leave days from her annual leave. However, if the remaining period is more than thirty days, it will be considered unpaid leave.
You can read more about Qatar's Law on Maternity and Sick Leaves here.
Other Points To Note
Some expatriates choose to return to their home countries for childbirth. However, note that flying back home to give birth can be challenging. Many airlines have restrictions, often not permitting pregnant women to fly beyond 35 weeks of pregnancy. Women in the last trimester may require medical certificates to travel by air.
Understanding pregnancy and childbirth in Qatar is straightforward with the right healthcare provider and knowledge of the system. Follow legal requirements, consult healthcare professionals for guidance, and enjoy the journey of welcoming your new baby.
---
Frequently Asked Questions
---
How much does it cost to deliver a baby in Qatar?
If you possess a Hamad Health Card, you can avail most services for free, with the exception of certain scans and tests. If a Caesarean (C-section) is necessary, the cost could range from QR 600 to QR 800.
Does children born in Qatar get citizenship?
Unlike some Western countries, babies born in Qatar do not automatically receive Qatari citizenship. Citizenship inheritance needs to be applied for, and it depends on the citizenship of either parent.
Which hospital is good for baby delivery in Qatar?
All public hospitals operated by HMC provide outstanding maternity services, with the Women's Wellness and Research Center being the most advanced among them. If your pregnancy has complications, your doctor may recommend referring you to the WWRC for specialized care.
---
You May Also Like:
Copyright © DohaGuides.com – Full or partial reproduction of this article in any language is prohibited.
---