Abu Samra Land Border is the entry and exit point for those traveling between Qatar and Saudi Arabia.
Those who need to change their visa status from Hayya to RP or Visit Visa to Hayya can cross through this border and easily change their visa status without spending on air tickets. However the process can be a bit confusing for those doing it first time.
So here is a step-by-step guide to help you navigate the visa changing process via Abu Samra Land Border.
Important Update
03 JUNE 2023 UPDATE: As per the experience of recent travellers, only Qatar ID holders are allowed entry to Saudi Arabia now. Visitors are not being allowed enter Saudi Arabia (even if Qatar ID holder is accompanying). Many travellers were sent back this week. This could be due to the Hajj season. Visitors can do visa change by air as explained below:
Visa Change By Air
Visitors can change their visa type using Air Arabia flight to Sharjah (without taking UAE visa).
The process requires 3 hours transit at Sharjah. Visitor will enter Sharjah airport and return back by next flight to Qatar.
The approximate cost is QR 800 per adult. This can vary depending upon the demand.
Please confirm with Air Arabia or your travel agent that you can travel without UAE visa.
If you are changing visa type by air, make sure the sponsor gets a Metrash SMS like this: "An entry transaction to the country is registered for Visa Number: (3620230*****) FA*****". If you don't get this SMS that means the entry is marked on Hayya.
---
Visa Change By Land Border (Currently Not Possible)
Below are the steps for changing visa by Saudi land border. However this is not possible now as visitors are not being allowed entry to Saudi Arabia during Hajj season.
1. Visa For Saudi Arabia
Earlier it was possible to exit Qatar land border and take a U-turn without entering Saudi Arabia border. In this case, a Saudi visa was not required. However this may not be possible now as Qatar border officials are asking for exit stamp from Saudi border.
In this situation, you will need to get a Saudi visa before exiting Qatar. GCC residents can get Saudi multi-entry visa by applying online. Here is our detailed guide on how Qatar residents can apply for Saudi visa online.
Some visitors have successfully received Saudi visa by selecting GCC resident option and uploading the relative's (sponsor's) Qatar ID in place of visa. They have also entered Saudi through land border. However we cannot confirm if this approach will work always.
Another option for visitors is to apply for Saudi Tourist Visa through any travel agent or Tasheer Saudi Visa Center in Qatar. For more information on Saudi visa, you can contact the official helpline for Saudi Tourism in Qatar at 00800101091.
It is also important that the visitor has Qatar Family Visa or Hayya Entry Permit approved and printed.
Once both Saudi and Qatar visas have been issued, you can proceed with your visa change trip as below:
2. Exit At Qatar Border
When you arrive at the Qatar border, everything will be done in your car. You don't need to come out of your car.
Go to the immigration counter where they will put an exit stamp on your passport.
At the next counter, a car exit permit will be issued.
The last counter is for verification, and you need to keep all the papers that need to be handed over in this counter.
NOTE: In the case that the vehicle owner is not travelling, a Car Exit Permit is required. It can be obtained from the Metrash app on the car owner's phone. In the Metrash app, select "Traffic", then "Vehicle Service", then "Car Exit Permit", and fill out the required information. You will need to pay QR 10 for the service.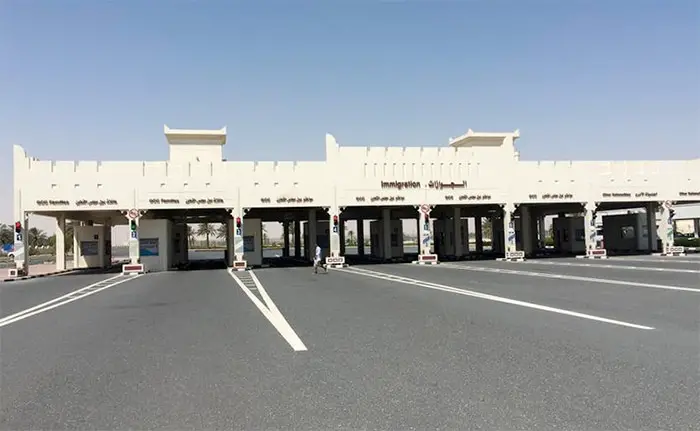 3. Entry At Saudi Border
Once you reach Saudi border, go to the Finger Print Building. You can follow the signage board to direct you to the finger print building. Building # 2 is for ladies, and Building # 3 is for gents.
For adults, fingerprints and photos will be taken. For children, only a photo will be taken.
You need to hand over your original passport for this process. After the finger print and photo, they will give you a paper that you have to show in the immigration counter.
Note that all first-time members have to undergo this procedure irrespective of age.
Once the finger print is done, go to the immigration lane by car. There, they will put a Saudi entry stamp.
Once immigration is cleared, go to customs where they will check your car.
After immigration verification, go to the counter where they will check the stamp on your passport and car entry permit slip.
After clearing all the counters, go to the insurance counter (uninsured car line). There, tell them that you came for a visa change, and you will take a U-turn and go back to Qatar. They will not ask you to take insurance.
4. Exit At Saudi Border
In counter one, they will give you a car entry permit.
In the second counter, they will put an exit stamp on your passport.
In the third counter, they will verify the exit stamp and take the car entry permit paper.
5. Entry At Qatar Border
In the first counter, they will give you a car entry permit.
The second counter is the immigration counter where you have to tell them that you need to enter with RP, not Hayya.
Then, they will check only the QID holder, and the remaining people have to go to the Biometric counter.
The Biometric counter is on the right side, and you have to get out of the car for this process. Parking is available.
Once the immigration process is completed, you will receive a Metrash entry message.
After immigration, go to customs where they will check your car and give you a customs paper. Keep this paper.
The last counter is the verification counter where they will collect the customs and car entry paper.
In conclusion, visa changing process via Abu Samra Land Border is a straightforward process if you follow these steps.
Remember to keep all your papers in order and be patient throughout the process. It is essential to have all the necessary documents and permits to avoid any complications during the visa changing process.
Bonus Tip: Live Stream Camera
This is a live online streaming from a camera in the Saudi border area before immigration at Salwa. You can refer to this prior to going there to see if it's crowded or not.
NOTE: The guide has been prepared based on the experience of recent travellers. If you have anything to add or change, please comment below.
Special thanks to Mr. Faris Ahmed, Mr. Siraj and others for sharing these tips with us.
---
Related Articles:
Copyright © DohaGuides.com – Full or partial reproduction of this article in any language is prohibited.
---