The Sultanate of Oman has announced that FIFA World Cup Qatar 2022™ Hayya Cardholders can get free multiple-entry tourist visas to visit Oman. Those travelling to Qatar during the World Cup can make use of this opportunity to explore Oman's rich history, culture, identity, and hospitality. 
This article will explain the requirements, visa validity, visa fees and the step-by-step process to get an Oman Visa for Hayya Card holders.
Recent Updates
On 27 October 2022, the Royal Oman Police announced that the visa application submission process is open to World Cup fans. The visa will be valid for 60 days and can further be extended twice through the e-visa website, the announcement said.
The visa can also be changed to another category while in the Sultanate as per the applicable rules. 
Moreover, Hayya Cardholders can be accompanied by first-degree relatives to stay in Oman.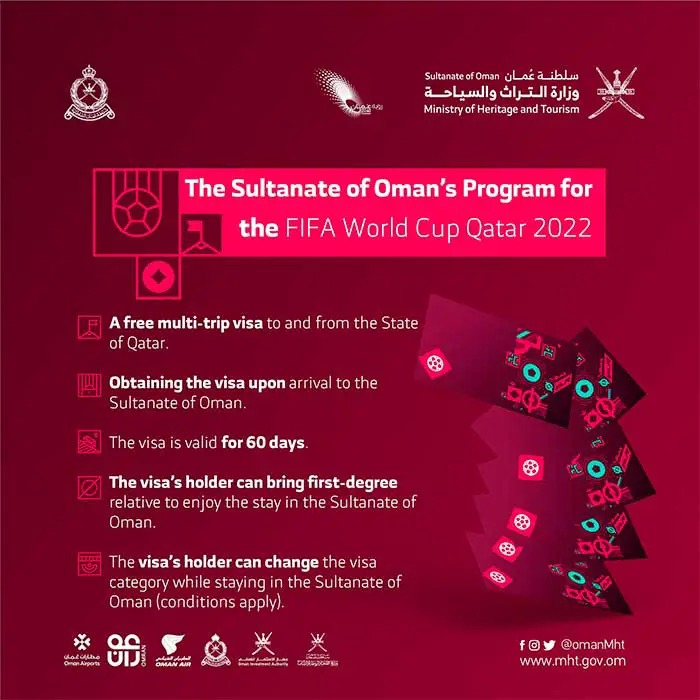 ---
What is Hayya Card
The Hayya Card is a mandatory Fan ID required for all those attending the FIFA World Cup Qatar 2022. The Hayya Card is required for all local and international World Cup attendees and provides entry into Qatar and the stadiums.
The card can be applied online by providing the match ticket number, personal details, passport copy and passport-size photograph. Check our detailed guide for more details on the requirements and how to apply for Hayya Card.
Why You Should Visit Oman?
Oman is one of the safest and most relaxing countries in the world to visit. It is also one of the most tourist-friendly countries in the Middle East.
Oman's culture is deeply rooted in its proud maritime heritage, trade, and exploration history. Across this country, you can find the latest fashions and electronics alongside traditional handmade crafts, jewellery, and even livestock in souqs, which seamlessly blend tradition with modern living.
Through the establishment of nature reserves such as the Daymaniyat Islands near Muscat, the turtle reserve at Ras Al Jinz, the Land of Frankincense in Dhofar or the Arabian Oryx Sanctuary in Al Wusta, Oman takes great pride in its diverse flora and fauna.
Every journey through Oman is filled with adventure, whether it's exploring one of the largest cave chambers in the world, Majlis Al Jinn, or snorkelling the colourful coral reefs of the Daymaniyat Islands.
Video courtesy: Oman Tourism
During the World Cup, the Sultanate of Oman is promoting the Sultanate in the tourism field and providing multiple attractions for tourists.
The tourism products offered in the program exceed 20,000 hotel rooms, and more than 200 tourism products through more than 35 local operators. Aside from celebrating the historic hosting of the tournament in the region, Oman also aims to prompt its capital Muscat as a major tourist city for World Cup fans.
Besides the Hayya fan visa, there will be express lanes at Muscat International Airport, a 9,000 square meter World Cup Festival Village at the Oman Convention and Exhibition Center and a host of other activities taking place across Oman.
Who Can Get Oman Visa With Hayya Card?
As per the current announcements, anyone with an approved Hayya Card can apply for a free Oman tourist visa.
Hayya Card Oman Visa Validity
The visa will be valid for 60 days and can further be extended twice through the Oman e-visa website.
Hayya Card Oman Visa Cost
The visa is issued free of cost to Hayya Card holders.
Requirements for Hayya Card Oman Visa
The following are the requirements for Oman visa for Hayya Card holders:
Hayya Card (Hayya Entry Permit in PDF format is better)
Passport
Photograph
Flight tickets
Confirmation of hotel reservation in Oman
---
How To Apply for Oman Visa With Hayya Card
The visa application process will be entirely online on Oman Government's E-Visa Platform. Hotel reservation is compulsory for this type of visa. You can book the hotel through any website.
Step 1: Go to the Oman E-Visa Platform Website
The link is www.evisa.rop.gov.om
Step 2: Click on "Apply for Tourist Visa"
You can find this at the centre left of the website.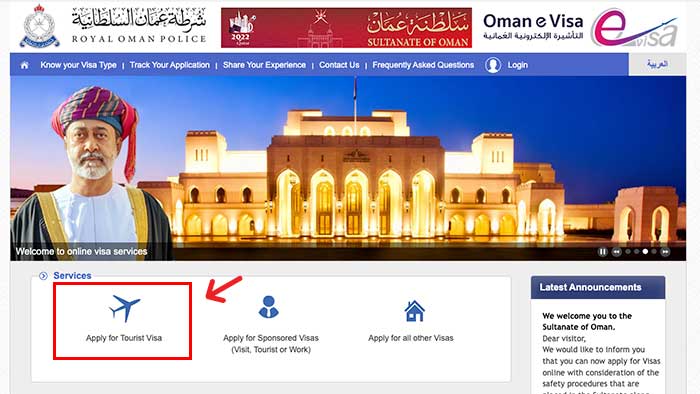 Step 3: Login or Register New User
If you have used this website earlier, you can log in using your email address and account password.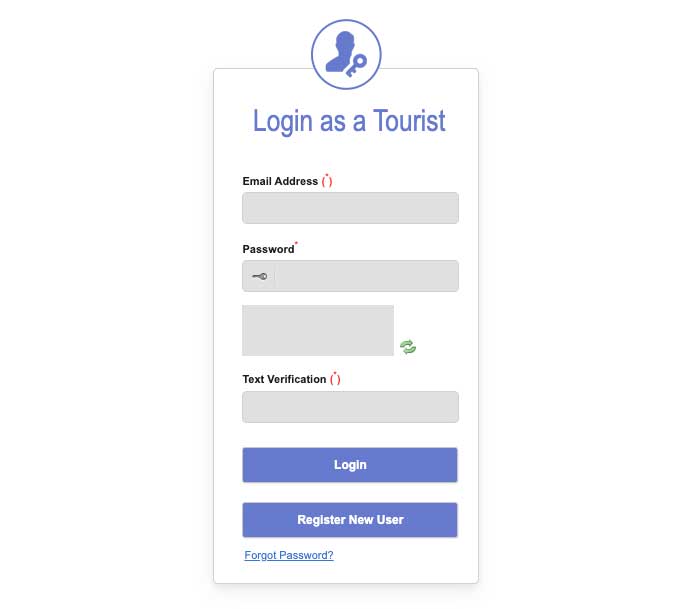 If this is your first time, click on "Register New User".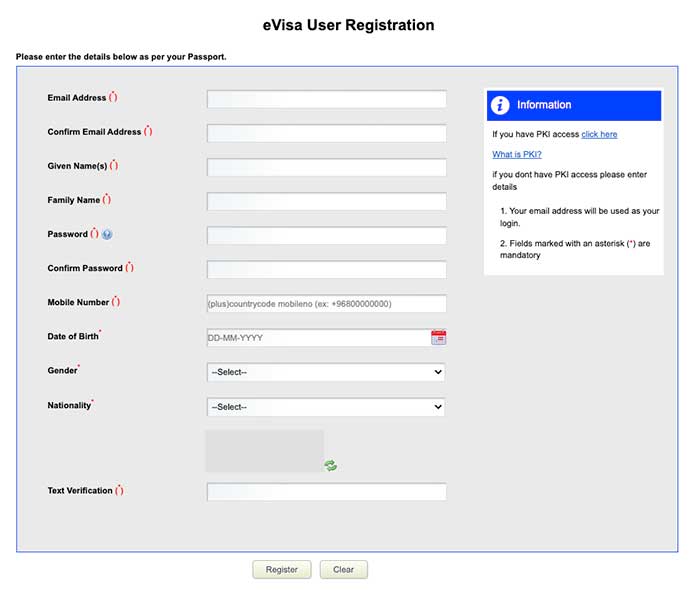 You need to register by providing your email address, name, mobile number, gender, nationality, and password.
You will receive a verification email. After verification, go back to the login page and log in using your account details.
Step 4: Click on Apply for Visa
Select "Apply for Unsponsored Visa". You can find this option as a dropdown under the left menu.

Step 5: Check your visa options

Select your nationality and confirm if you are a resident of a GCC country (Bahrain, Kuwait, Qatar, Saudi Arabia or UAE). Click "Next".
Step 6: Select World Cup Visa
You can see a list of available visa options on this page. Select "20C Qatar World Cup 2022 Free Visa". 20C is the code for this type of visa.

You will see a pop-up window to confirm this once again. Click "OK".
Step 7: Fill up your details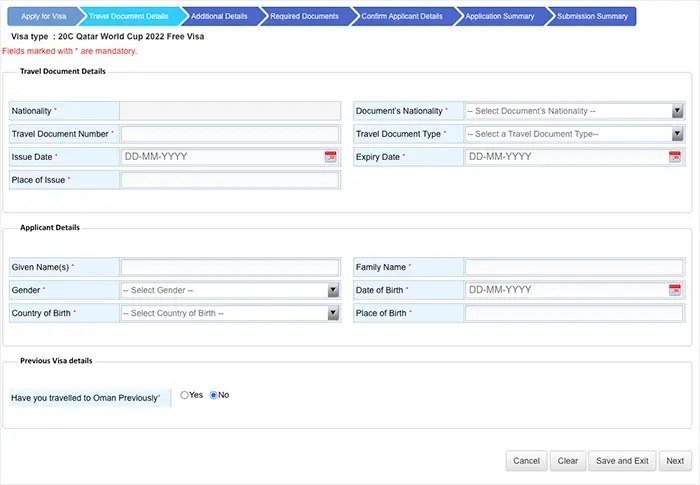 Information to be filled in includes Nationality, Travel Document (Passport) Number, Passport Type, Passport Issue Country, Date of Issue, Date of Expiry, Place of Issue, Name, Gender, Date of Birth, and Place of Birth.
If you have travelled to Oman before, you must also give previous visa details. Click "Next".
On the next page, you will be asked for additional details like your Mother's Name and Marital Status. Click "Next".
Step 8: Upload the required documents
The documents needed are:
Hotel Booking Confirmation
Return Flight Ticket
Passport
Photo
Hayya Entry Permit (PDF)
The file sizes of attachments should not be more than 512 kb. You can see the guidelines by clicking on "Guideline for Attaching Documents".
For the Hayya Card, a physical Hayya Card is not required. It is better to apply with a Hayya Entry Permit as the website is asking for a PDF.
Upload clear copies of all documents and click "Next".
Step 9: Confirm application details
On the next page, confirm the application details. You can still edit the details at this stage. You can also "Save and Exit" at any stage.
Review all the details and if satisfied, click "Submit".
Step 10: You will receive updates in your email
Your visa application will be reviewed, and status updates will be sent to you by email.
---
How Can I Travel Between Qatar and Oman?
Oman Air will provide daily match-day shuttle flights between Muscat and Doha. The prices for booking one-day flights start at 99 Omani riyals for economy class, and 305 Omani riyals for business class, during the World Cup matches.
For Omani citizens, prices have been reduced to 49 Omani riyals for economy class, and 155 Omani riyals for business class.
Those who are staying for less than 24 hours in Qatar are exempted from booking accommodation and can instead opt for a match-day visit during Hayya Application.
UAE has also announced multiple-entry tourist visas for travellers to the FIFA World Cup 2022 in Qatar.
In August, Saudi Arabia announced that it would allow free Saudi visas to Hayya cardholders.
Oman Visa For Hayya card Holder Helpline
For queries related to visa issuance, you can send an email to: [email protected] or call:
+968 2284 8200 (Outside of Sultanate of Oman)
800 80011 (Toll-free number inside the Sultanate of Oman)
Office Hours: 07:00 – 21:00 (+4 GMT)
---
Frequently Asked Questions
---
Can I re-enter Oman using the same visa?
Yes, the visa will be multi-entry, which means visitors can enter and exit Oman at any time during its validity period. 
Are there any Covid restrictions for travellers?
No, Oman has now lifted all travel Covid restrictions for international travellers.
How long does it take to get an Oman visa for Hayya Card holders?
Once the application is submitted with the complete information, it will be processed within the shortest possible time. However, it is recommended to lodge your visa application at least 4 days in advance as processing times might vary.
What is the minimum allowed passport validity to enter Oman?
A normal passport should be at least 6 months valid prior to entering Oman.
---
Related Articles:
References: Oman Tourism
---