From mega malls to some of the tallest buildings and the largest artificial islands in the world, Dubai is a modern city full of ambition. Visitors who hold the FIFA World Cup Qatar 2022™ Hayya Card can get multiple-entry tourist visas to visit Dubai and the other Emirates.
In this article, we will explain the requirements, visa validity, visa fees and the step-by-step application process to get a Dubai visa for Hayya Card holders through the GDRFA website.
Applying for UAE Hayya Card Visa Through ICP or GDRFA
Applicants can apply for a UAE Hayya Card Visa either through the Federal Government's ICP (Federal Authority for Identity, Citizenship, Customs and Port Security) platform or the Dubai Government's GDRFA (General Directorate of Residency and Foreigners Affairs) platform.
Earlier we had covered in detail how to apply for a UAE Hayya Visa through the ICP platform. The below details are about applying through the GDRFA website.
Dubai Hayya Visa Validity
With the multi-entry visa, world cup fans can enter multiple times over 90 days. It can be extended for another 90 days by paying regular fees.
The validity is the same for the UAE Hayya Card visa applied through the ICP website.
Dubai Hayya Visa Fee
The total cost for Dubai Visa for Hayya Card holders (including health insurance) will be AED AED 293.15. The breakdown is as follows:
| | |
| --- | --- |
| Application Fee | 100 |
| Issuance Fee | 100 |
| Health Insurance | 90 |
| Card Payment Charge + VAT | 3.15 |
| TOTAL | AED 293.15 |
Which type of visa is cheaper?
The total cost when applying through the ICP website is only AED 153.47 (including the online payment fee). However, you need to buy health insurance separately from any UAE-based insurance company.
A 40-day plan from Daman Health will cost you AED 48, while a 70-day plan will cost you AED 86 and a 100-day plan will cost you AED 125 (plus taxes). The health insurance included with the GDRFA website visa is valid for 90 days.
How To Apply Dubai Visa For Hayya Card Holders
Documents Required
Copy of Passport
Coloured Photo
The website mentions Hayya Card only. It is not clear if GDRFA would later ask for Hayya Entry Permit as ICP does.
Steps To Apply
Step 1: Go to the GDRFAD website
The English website address is https://www.gdrfad.gov.ae/en
Step 2: Click on the Register / Login icon
You can find this icon on the top menu.
Step 3: Register using your email ID
Select the "Individuals" tab and click on "Register now"
Select the "Email" tab
Enter your name, email and birth date
Select a username and password
Click on "Send OTP"
Enter the OTP received in your email
Accept the Terms and Conditions
Click "Register"
Step 4: Log in to your account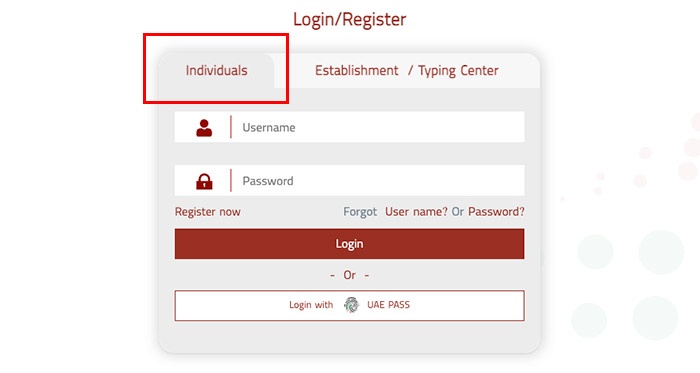 Select the "Individuals" tab and log in using your username and password.
Step 5: Click on "New Application"
This is the green button on top right of your dashboard.

Step 6: Select "New Visit Entry Permit"
The "New Visit Entry Permit" option is available from the drop-down. Select that and click on "Apply".
Step 7: Enter your details
Some details are pre-filled on this page.
Visit Details:
The visit purpose will be "Hayya Card Holders"
Duration will be 90 days by default
Entry will be "Multiple Entry" by default
Passport Details:
Enter passport details and click "Search Data".
If data is not found click on "Enter Manually"
If this is your first application on the GDRFA website, will need to manually enter the passport details.
Passport Details: Enter your passport details like type, number, current nationality and previous nationality. Click on "Search Data". If no data is found, you will need to manually enter the data.
Note that for a UAE visa, you must enter three names, including the name of your father. Arabic names will automatically be filled in. If not, click on the English to Arabic symbol.
Applicant Details: If you are already inside UAE select that (An additional fee will be applied when selecting this option).
Enter your personal details like your mother's name, marital status, religion, faith, education, profession, first language and country of departure.
Contact Details: Enter your contact details like email and mobile number. You can only give UAE mobile numbers here. If you don't have a UAE number, don't click on "Validate Mobile Number". The application doesn't require mobile validation.
Applicant's Address inside UAE: If you are staying with a friend or relative, give their address. If you are staying in a hotel, give the hotel's address.
Applicant's Address outside UAE: Give your current residence address and mobile number.
Once you have checked all fields, click on "Continue".
Step 8: Upload your documents
You will need to upload the following:
Passport size photo
Hayya card
The first page of your passport
The file types allowed are JPG, PNG and PDF. The maximum size of each file is 100 KB. If you have more documents, you can upload them as "Others".
Step 09: Pay the required fee
The final step is to pay the visa fee using a bank card (credit or debit). The total fee (including health insurance and transaction fee) is AED 293.15.
You will receive the updates by email. Once your application has been approved, the electronic visa will be sent to your registered email address or you can download it from the Dashboard.
Processing Times
Usually, the process takes 24 to 72 hours from the time of submitting the application and completing the fee payment.
How To Track The Visa Status
You can track the status of your application by going to your dashboard and clicking on "Status Inquiry".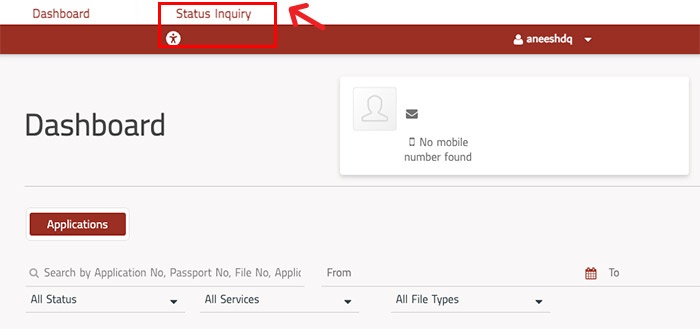 02 NOVEMBER 2022 UPDATE: Dubai's General Directorate of Residency and Foreigners Affairs (GDRFA) has issued the first special multi-entry, 90-day tourist visa to a football fan. Jordanian national Mohammed Jalal became the first recipient of the visa that is issued to fans attending the Fifa World Cup Qatar 2022.
---
Frequently Asked Questions
---
How can Hayya Card holders get Dubai visas?
Hayya Cardholders can either apply for UAE multiple-entry tourist visas on the UAE Government's ICP website or through Dubai's GDRFA website.
Can I re-enter Dubai using the same visa?
Yes, the visa will be multi-entry, which means visitors can enter and exit UAE at any time during its validity period. 
How can I travel to UAE from Qatar?
You can either travel by air or land. If you are entering through the land border, you will need a Saudi visa as well. Hayya card holders can also get free Saudi visas.
---
Related Articles:
---