All international fans attending FIFA World Cup Qatar 2022™ must give their accommodation details during their Hayya Card application process. However, this may not be possible for fans visiting Qatar for one day. In this case, they can request a Match Day Visit pass on the Hayya portal.
This article will explain how international fans can apply for Qatar World Cup Match Day Visit pass on the Hayya application portal.
What is Hayya Card
A Hayya Card is a mandatory Fan ID for everyone attending the FIFA World Cup Qatar 2022™. It will provide an entry permit for all international fans to the State of Qatar. International and local fans will also need a Hayya Card for stadium access, free public transportation etc.
Everyone who has purchased a FIFA World Cup match ticket is required to apply online for a Hayya Card. The application process is now open, and thousands of fans have already secured their Hayya Cards.
Apart from the match ticket, one important requirement for the Hayya Card is accommodation. International fans have to specify where they will be staying during their visit. They can either book hotels or apartments online using the official accommodation agency. They can also stay with family and friends in Qatar who have registered to host guests.
Their application will be approved only after their accommodation details are entered and validated.
However, there may be visitors from nearby countries or neighbouring GCC countries (UAE, Saudi Arabia, Oman, Kuwait and Bahrain) who want to visit Qatar for one day to watch a match. For such visitors, the organizers have introduced the option to apply for a Match Day Visit pass.
What is Match Day Visit
Match Day Visit is an option through which international fans can visit Qatar for less than 24 hours, thereby saving on accommodation costs. This can also be used by fans using the Match Day Shuttle services offered by various airlines.
Fans who have applied for Hayya Card can complete their application process by entering their travel details on the Hayya portal.
Requirements To Apply For Match Day Hayya Card
The following are the requirements to apply for a Match Day Hayya Card:
You should be an international fan with a match ticket.
You should have applied for Hayya Card using your Passport.
Your application status should be "Pending (Accommodation Confirmation)".
You should have travel plans with less than 24 hours of stay in Qatar.
---
How To Apply Hayya Card For Match Day Visit
The first step in applying for a Match Day Visit is to make a regular application for Hayya Card. We have compiled a detailed guide regarding the same. Click here to learn how to apply for Hayya Card.
Since you have not entered the accommodation details, your application status after this will be "Pending (Accommodation Confirmation)". Follow the below steps to apply for a Match Day Visit:
Step 1: Log in to Hayya Portal using your email and password
The Hayya Portal can be accessed at https://hayya.qatar2022.qa/
Step 2: Click on the "Accommodation" button on the top right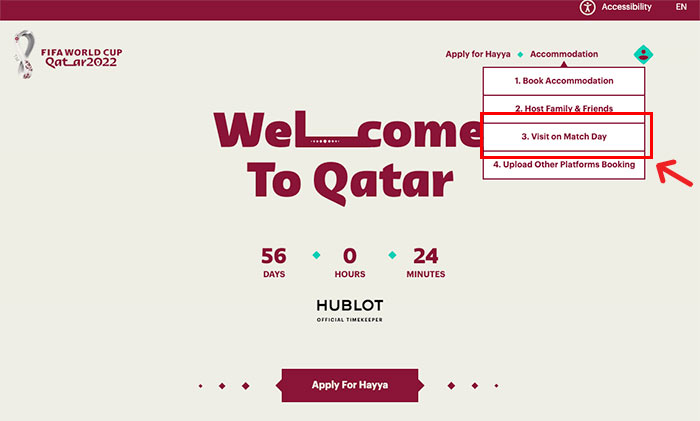 Step 3: Select "Visit on Match Day" from the drop-down menu
Step 4: Accept the Liability Statement on the next page

Step 5: Complete the details of your Match Day Visit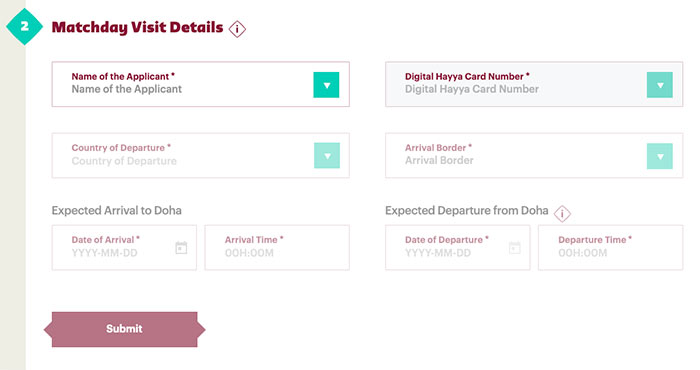 Select the name of the applicant from the dropdown list.
The Digital Hayya Card Number will be automatically filled.
Select the country of departure.
Select the arrival border (airport or land border).
Enter the expected arrival date and time.
Enter the expected departure date and time.
Note that the period between arrival and departure should be less than 24 hours.
Step 6: Click on the "Submit" button
Your application will be processed, and you will receive the updates in your registered email.
Here is a video explaining the Qatar World Cup Match Day Visit:
---
Validity of Match Day Visit
The Match Day Visit request will be valid for 24 hours from your time of entry to Qatar. Any stay beyond this will be subject to fines and penalties.
What if you what to extend your stay in Qatar?
Either before your arrival or within 24 hours of arrival, you can book accommodation in Qatar or arrange a stay with your family and friends. In this case, your family member or friend in Qatar needs to register as your host via the Host Family & Friends option on the Hayya portal.
You cannot make any changes once 24 hours have passed after you entered Qatar.
Submitting Match Day Visit Requests for Others
The primary applicant has to submit Match Day Visit requests for their dependents. Note that dependents are defined as children under 18 years. For spouses and children over 18 years, they should have their own Hayya account and make the request through that.
In case of any questions regarding the digital Hayya Card or delay in processing, you can call 800 2022 (Qatar) or (+974) 4441 2022 (International).
---
Frequently Asked Questions
---
What happens if I enter on Match Day Visit and do not leave within 24 hours?
If you overstay the permitted 24 hours in Qatar following your arrival, you will be subject to significant fines and penalties.
How many Match Day Visit requests can I make?
An applicant can make only one Match Day Visit request at a time.
Can I change my Match Day Visit details after entering Qatar?
No. You cannot delete or submit a new Match Day Visit request once you are physically in Qatar.
Have you booked your flight tickets?
If you haven't yet booked your flight tickets to the FIFA World Cup, we highly recommend booking with Qatar Airways, the Official Airline of the tournament, which has been named the World's Best Airline a record seven times.
---
Related Articles:
---