The Saudi Ministry of Foreign Affairs has announced that visitors holding the FIFA World Cup Qatar 2022™ Hayya Card can get free multiple-entry tourist visas to visit Saudi Arabia. This will be an excellent opportunity for World Cup visitors to discover Arabia's rich heritage, vibrant culture and breathtaking landscapes.
This article will explain the requirements, visa validity, visa fees and the step-by-step process to get a Saudi Arabia Visa with Hayya Card.
Recent Updates
15 DEC 2022: Visa validity has been extended to 25 December 2022.
As per the original announcement, the visa platform was showing validity until 18 December 2022 only. Now it has been changed to 25 December 2022 on the platform. This means new applicants can enter until 25 December 2022. However, the duration of stay is until 10 January 2023 only (no change).
---
24 NOV 2022: Only the passport needs to be uploaded during the application
The Saudi Visa Platform has now removed the option to upload Hayya Card. As per the reports, the applicant's passport number will be automatically matched with the Hayya database.
Qatar residents who applied for Hayya Card using Qatar ID numbers are now receiving the error: "An active Hayya card is required to issue this type of visa". If you are a Qatar resident, you may still apply using the regular Saudi visa for GCC Residents.
If you applied for Hayya Card using a passport number, you can continue to follow the below steps.
---
18 OCT 2022: Saudi Visa Platform is now open for Hayya Cardholders
Approved Hayya Card holders can now start submitting applications for Saudi multi-entry visas. Please check the application procedure explained below.
---
14 OCT 2022: Muslim visitors with Hayya Cards can perform Umrah
Saudi Arabia's Al Ekhbariya News Channel has announced that Muslims with World Cup Qatar Hayya cards can perform Umrah and visit Madinah with a free Saudi visa from November 11 to December 18, 2022.
---
11 OCT 2022: Cabinet approves State to bear entry visa e-services costs
The Saudi Cabinet approved the State to incur the costs of e-services for issuing entry visas to Saudi Arabia for holders of the Hayya Card.
---
What is Hayya Card
The Hayya Card is a mandatory Fan ID for all those attending the FIFA World Cup Qatar 2022. The Hayya Card is required for all local and international World Cup attendees and provides entry into Qatar and the stadiums.
The card can be applied online by providing the match ticket number, personal details, passport copy and passport-size photograph. Check our detailed guide for more details on the requirements and how to apply for Hayya Card.
Why Should You Visit Saudi Arabia?
A historic trade hub and the birthplace of Islam, Saudi Arabia has a rich heritage and traditions. The country has recently undergone a wave of cultural change, assimilating century-old customs into the contemporary world.
Saudi Arabia has six UNESCO World Heritage sites and more than 10,000 archaeological sites. Rijal Almaa, located in the Asir region, was recognized by UNWTO as the 'best tourism village' in 2021.
Saudi Arabia will host various entertainment events during the World Cup, including MDLBeast, Red Sea Film Festival, Riyadh Season, and Winter at Tantoura in AlUla. World Cup attendees can easily visit Saudi Arabia while attending the tournament since it is just a short hop away.
Who Can Get Saudi Arabia Visa With Hayya Card?
As per the current announcements, anyone with an approved Hayya Card can apply for a free Saudi tourist visa.
Hayya Card Saudi Visa Validity
The multi-entry visa allows Hayya Card holders to stay in Saudi for up to 60 days (if entering on 11 November). You can use the visa to enter until 25 December 2022 (latest update). The last date for staying in the country will be 10 January 2023.
Hayya Card Saudi Visa Cost
The visa is issued free, but medical insurance must be obtained from the visa platform.
---
How To Apply for Saudi Arabia Visa With Hayya Card
The visa application process will be entirely online on Saudi Government's Unified National Visa Platform.
Step 1: Go to the Saudi Visa Platform Website
The link is https://visa.mofa.gov.sa/
If you see the Arabic page, click on the "E" icon (blue circle) on the top left to change to English.
Step 2: Click on "Services for Hayya Card Holders"
You can find this at the bottom left of the website.
Step 3: Click on the "Apply" button
Step 4: Log in or Register to the platform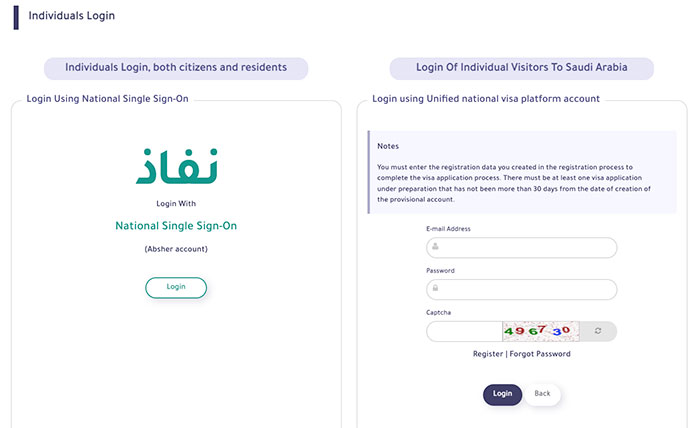 If this is your first time, click the "Register" link. You can register using your email address. You will receive an email for activation. You can log in using your email and password if you have registered.
Step 5: Click "Agree" to the terms and conditions
You may need to do this twice.
Step 6: Fill up the application details and upload a photo
The photo must have a white background and be with uniform lighting.
Personal Information includes Name, Nationality, Passport Number, Passport Type, Passport issue Country, Date of Issue, Date of Expiry, Place of Birth, Date of Birth, Marital Status, Gender, Occupation and KSA Home Address.
You must also give travel details like Port of Entry and Expected Entry Date To KSA.
Step 7: Upload a copy of your passport
The file can be in JPG or PNG format, with a maximum size of 1 MB. Once all details are entered, click "Save."
Step 8: Purchase medical insurance
You may be required to purchase medical insurance from the visa platform. The insurance amount will be USD 24.
On this page, you must enter Medical Insurance information, including Entry Date, Address, Mobile Number and some basic health questions.
Step 9: You will receive updates in your email
Your visa application will be reviewed, and status updates will be sent to you by email.
---
How Can I Travel Between Qatar and Saudi Arabia?
Saudia will provide shuttle flights from Jeddah and Riyadh to Doha 40 times daily, increasing to 60 on Saudi team match days. From Riyadh, you can reach Doha in 90 minutes by air.
Salwa Border Crossing between Saudi Arabia and Qatar will also be open to land travel, and the new port will be able to handle more than 24,000 cars daily.
Those who are staying for less than 24 hours in Qatar are exempted from booking accommodation and can instead opt for a match-day visit during Hayya Application.
Saudi Visa Helpline
For technical support in case of any error, please call +966 920011114.
You can also contact using email [email protected]
---
Frequently Asked Questions
---
Can I re-enter Saudi Arabia using the same visa?
Yes, the visa will be multi-entry, which means visitors can enter and exit Saudi Arabia at any time during its validity period. 
Are there any Covid restrictions for travellers?
No, Saudi has now lifted all travel Covid restrictions for international travellers.
Should I enter Qatar before coming to Saudi Arabia?
No, according to the Saudi Tourism website, pre-entry to FIFA World Cup Qatar 2022 hosting country is not required. This means Saudi Arabia can be your first country of entry, and you can go to Qatar later.
---
Related Articles:
References: Saudi Tourism Authority
---