Doha Guides Team regularly reviews this article to ensure the content is up-to-date and accurate. The last editorial review and update were on 3 September 2023.
After the success of the FIFA World Cup 2022 Qatar has relaunched the Hayya platform with new features and options for applying tourist and business visas. Most visitors have the option of staying with their friends and relatives, but their hosts have to register the accommodation on the Hayya portal.
This article will explain how citizens and residents of Qatar can register host family and friends for Hayya Card approval.
Latest Updates
04 AUGUST 2023 UPDATE: Currently Indian and Pakistan nationalities are not able to apply for "Hayya With Me" visa. If you select the nationality as India or Pakistan, you will see an error message: "Unfortunately, you are not qualified for this Visa type, please apply for another category". There is no official announcement regarding this.
17 APRIL 2023 UPDATE: Now you can register only one property and accommodate up to five guests per property. Earlier it was 5 properties and 10 guests per property. Another change is that the host should add the guest before the guest applies for Hayya Card.
16 APRIL 2023 UPDATE: The Hayya Portal has been updated with new branding and features. Now more types of visas such as GCC Resident Visa and Tourist Visa are available. Hosts can use the same procedure for adding guests under these categories.
Accommodation Requirement For Hayya Card
As part of the Hayya Card approval process for international visitors, you must confirm where you will stay in Qatar. Below are the options available now:
a) Discover Qatar Hotel booking
Visitors can book hotels through Discover Qatar website. A wide range of hotels suitable for every budget is available through this. For some categories of visas, Discover Qatar hotel booking is compulsory.
b) Book Regular Hotel
Accommodation can be booked through hotel/holiday websites or other portals like Tripadvisor. If the visitor is selecting this option, they have to upload their booking details on the Hayya portal using "Upload Other Platforms Booking".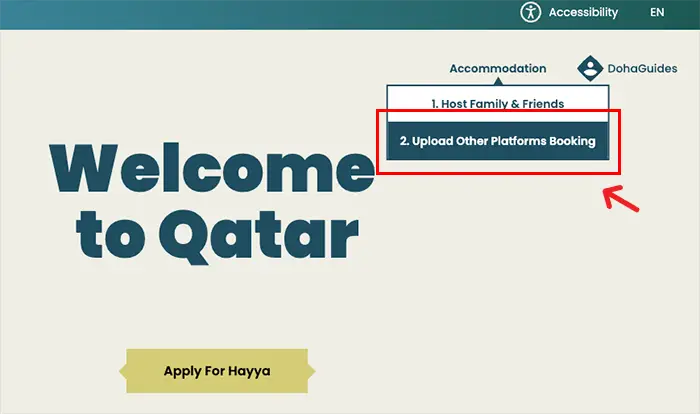 c) Stay with Family or Friends
Staying with family or friends is the cheapest and most convenient option as you could enjoy a few days in Doha without spending much. However, if you opt for this option, your host must register their property on the official Hayya portal and add your details. Read below to learn how a host can register his/her property.
Requirements To Host Family And Friends
The following are the requirements to host family and friends for Hayya:
The host should be 18 years old and over.
The host should be a Qatari citizen or resident with a valid QID.
The host should own or rent the property.
Please note that a Hayya card is NOT required for the host unless he/she is attending a match.
---
How To Host Family and Friends For Hayya
Residents who host families and friends must register their properties and verify the visitors' information as below:
Step 1: Go to the Hayya Qatar website
The website link is https://hayya.qa/
Step 2: Sign in using the "My Hayya" account
Click on "My Hayya" at the top right. Sign in using your email ID and password.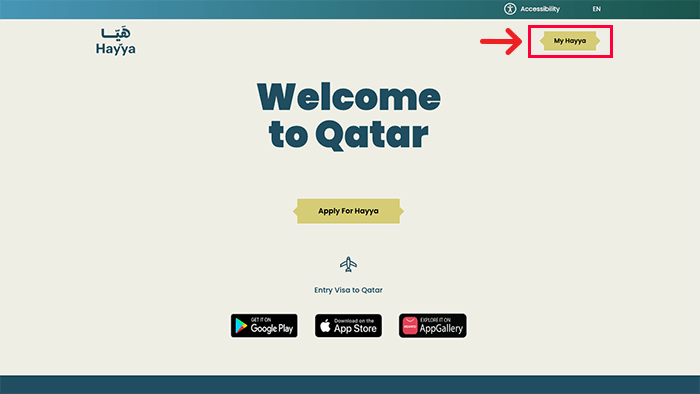 If you don't have a Hayya account, you can create an account by clicking on "My Hayya".
Step 3: Click on "Accommodation" and select "Host Family & Friends"
This is a drop-down menu on the top-right of the page.
Step 4: Enter your QID number and date of birth
Agree to the Legal Liability Disclaimer.
Enter your Qatar ID number and date of birth. Click on "Validate my QID".
You will receive an OTP as an SMS on your registered phone number. Enter the OTP and click on "Verify OTP".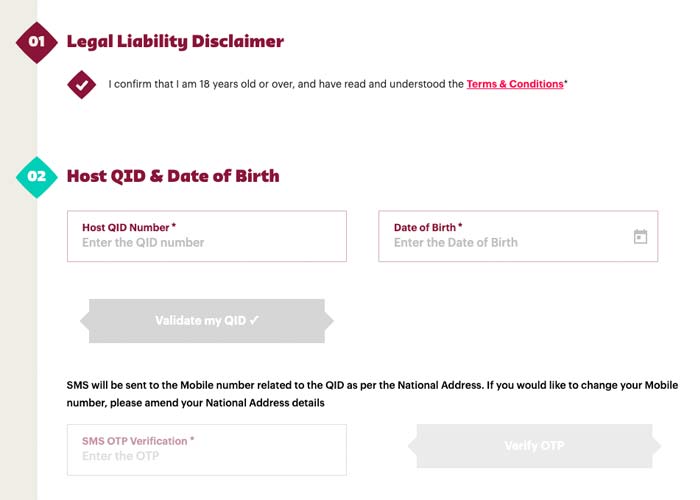 Step 5: Enter your property details
You must provide the property name, zone number, street number, building number, and unit number. The property name can be anything you can identify, especially if you have more than one property. The unit number can be "1" if you live in a villa.
Choose if you own this property or rent this property.
Upload the property deed, lease agreement or utility bill. National Address Certificate is also being approved.
Click on "Validate & Add".
The property will be added to your list.
You can add only one property under your name (April 2023 update).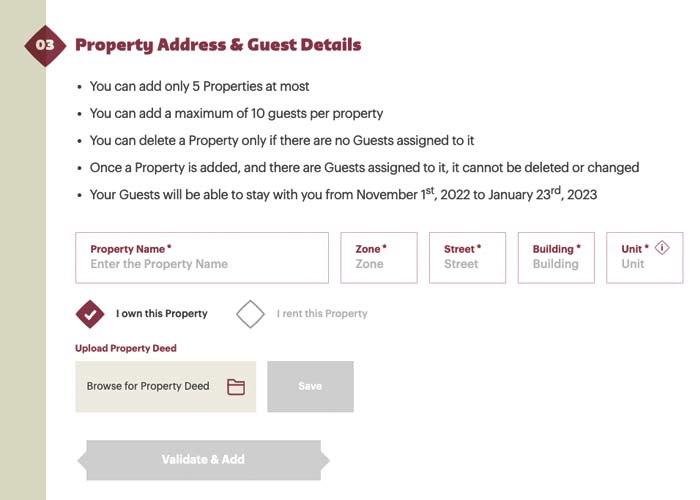 Step 6: Enter the guest details
Select the property and click on the "Manage Guests" button.
Enter your guest's name, passport number, nationality, and email ID.
Click on the "Add" button.
Once the application is submitted, the guest's Hayya Card application will be validated automatically. The guest will receive an email that he/she has been invited to stay with you.
You can add a maximum of 5 guests per property (April 2023 update).
Here is a video explaining the procedure to add family and friends to Hayya account:
What The Guest Needs To Do
The guest only needs to apply for a Hayya Card.
The guest details will be matched using the name, passport number and nationality. The guest's accommodation arrangements will be validated upon confirmation of the details.
Hayya Contact Center
For support, international guests can call (+974) 4441 2022 and Qatar residents can call 800 2022. You can also email [email protected]
READ NEXT: Hayya With Me (1+3) Voucher Option To Bring Guests
---
Frequently Asked Questions
---
How many family members or friends can I host?
You can register only one property and accommodate up to five guests per property.
Can I register a property if I don't have a tenancy contract under my name?
Can I change property details after registration?
A property can only be deleted if no guests are assigned to it. Once a property is added and has guests assigned to it, it cannot be deleted or changed.
---
Related Articles:
Copyright © DohaGuides.com – Full or partial reproduction of this article in any language is prohibited.
---