Qatar's Law No. (19) of 2007, commonly known as the Traffic Law, has defined a number of rules for delivery bikes and motorcycles in general. Recently the Ministry of Interior has announced additional control measures for the regulation of delivery motorcycles, which will be implemented starting 15 November 2022.
Here is a summary of the important rules that you should be aware of as a two-wheeler driver.
Definition of Motorcycle
According to Qatar Traffic Law, a Motorcycle is defined as "a vehicle provided with an automatic engine and equipped with two or more wheels, with or without a back or side cart. It is designed for transporting people and things and is not designed as a car."
A Desert Motorcycle is defined as "a vehicle provided with an automatic engine with a capacity of (50 cm3) and above to be used off the road."
Requirement for Driving License
The rider of a motorcycle has to get a Motorcycle Driving License issued in Qatar. Any other type of license, such as a light vehicle driving license cannot be used for driving motorcycles.
Visitors and tourists holding valid international driving licenses are exempted from this requirement.
Visitors and tourists who hold valid non-Qatari driving licenses, and wish to drive for a longer period in Qatar, should get approval from the Traffic Department within fifteen days of the date of their entry to the country.
All drivers should carry their license during driving and present it to the police or military officials if requested.
Driving Motorcycles on Assigned Lanes
According to Article 48, cyclists shall drive on the right side of the carriageway and move individually behind one another if assigned bicycle lanes are not available.
However, if bicycle lanes are available, cyclists shall be prohibited from using the other lanes of the road dedicated to cars. Motorcycles shall be driven on the lanes assigned for mechanical vehicles.
Recently General Directorate of Traffic announced that delivery bikes must stick to the right lane of the ride.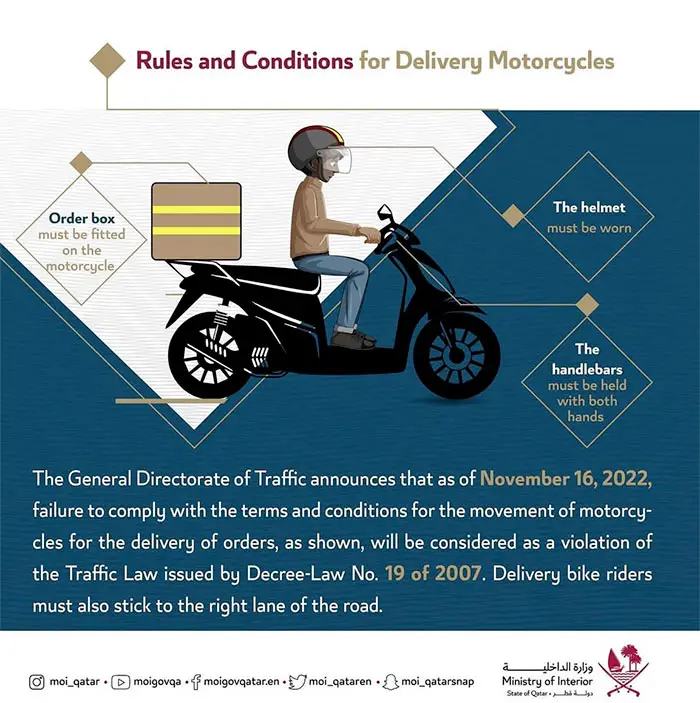 Safe Driving Rules for Two Wheelers
Hold the handlebars: Both motorcyclists and cyclists are prohibited from driving without holding the handlebars with both hands, except when giving hand signals.
No dangerous driving: They are prohibited from holding another vehicle or lifting one wheel off the ground while driving, carrying, pushing or drawing things that obstruct traffic, or pose a threat to themselves or road users.
No passenger allowed behind rider: Motorcyclists are prohibited from transporting other people on their motorcycles unless such motorcycles are equipped with a side or rear car for an additional passenger. Carrying additional passengers by bicycle shall be prohibited unless the bicycle is equipped for such a purpose.
Wear Helmets: In all cases, motorcyclists and cyclists and those whom they transport with them shall wear the helmet designated for such purpose.
Lights for Motorcycles and Bicycles
Motorcycles and Bicycles should use the following during the period from sunset to sunrise or when visibility is poor due to weather conditions (during the daylight hours):
Headlights at the front of motorcycles or bicycles,
Rear lights at the back of motorcycles,
A light not adjacent to the driver at the rear or side vehicle,
Rear reflector for bicycles.
Rules for Delivery Bikes Carrying Loads
According to Article 85, the load should be placed on top of the vehicle, and it should be organized, arranged, and fixed or tied up securely so that it will not be subject to moving or falling. In particular, the following must be observed:
It must not entail risk to persons, or cause harm to public or private property.
It must not make noise and release or emit harmful fumes to public health or the environment or cause inconvenience to pedestrians.
It must not hinder the view of the driver, or obscure traffic lights or hand signals, direction signals, vehicle lights, lights reflector or number plates.
It must not expose the balance or drivability of the vehicle to risks.
Specifications for Delivery Bike Box
The delivery box shall be firmly fixed and equipped with suitable and sufficient vibration preventers. The delivery box should have phosphorous reflectors on the edge.
The box dimensions shall be within the following limits:
Rear or front box: Its length should not exceed 120 cm and its width is not be more than 60 cm. The length of the box with the motorcycle should not be more than 3 metres, and its height should not be more than 120 cm above the ground, provided that it does not block the driver's view.
Sidebox: Its length should not be more than the length of the bicycle, and its width should not be more than 60 cm. Its height above the ground should be a maximum of 120 cm.
Failure to do so violates Clause 3, Article 85 of the Traffic Law, and the fine for this traffic violation is QR 1,500.
According to Traffic Department officials, carrying goods in a bag on the rider's back causes imbalance and hence should be avoided.
Other Important Rules
The bike should display the permit number of the bike.
The bike should be registered with the employer.
The bike should have a side jack to ensure balance.
Maximum Delivery Charge
In February 2022, the Ministry of Commerce (MoCI) and Industry set the charge for delivery of goods using two-wheelers at QR 10 and other vehicles at QR 20. The Ministry stressed that it was not permissible to increase these rates unless approved by the authorities concerned.
---
Frequently Asked Questions
---
Are motorcycles allowed in Qatar?
Yes, you can drive a motorcycle in Qatar if you have a valid two-wheeler license.
Can I drive a motorcycle with a light vehicle license?
No, you need a valid two-wheeler license to drive a motorcycle in Qatar.
---
You May Also Like
Copyright © DohaGuides.com – Full or partial reproduction of this article in any language is prohibited.
---