Doha Guides Team regularly reviews this article to ensure the content is up-to-date and accurate. The last editorial review and update were on 3 September 2023.
Registered vehicles in Qatar must undergo an annual inspection at an authorized testing centre. This needs to be done every year for private passenger cars and smaller vehicles after the first three years.
If you're a driver in Qatar, it's important to ensure your vehicle meets the technical and legal requirements set by Traffic Department. You can only renew your vehicle registration (Istimara) after you have passed this vehicle inspection.
This article will discuss everything you need to know about Fahes Vehicle Inspection in Qatar.
Fahes Working Hours During Eid Al Adha 2023
To servce customers during Eid Al Adha holiday Fahes vehicle inspection services will be available in the following stations:
| Date | Station | Time |
| --- | --- | --- |
| Tue 27 June 2023 | Mazrouah & Industrial Area | 6 am to 2 pm |
| Sat 28 June 2023 | Mazrouah | 6 am to 2 pm |
| Sun 02 July 2023 | Mazrouah & Industrial Area | 6 am to 2 pm |
| Mon 03 July 2023 | Mazrouah & Industrial Area | 6 am to 2 pm |
Gates will close at 1:30 pm.
Traffic services will be available at these stations from 8 am to 12 pm except on Saturday.
---
Appointments are required at three stations
Fahes vehicle inspection at the following stations can be done only through booking on the Woqod mobile app:
Mesaimeer
Wadi Al Banat
Al Wakra
The booking system will ensure that customers do not cause traffic jams or wait in long queues at entrances to these stations. All other stations will continue to offer inspection on a first-come, first-serve basis.
Here is how to book Fahes appointment online
---
What is Fahes in Qatar?
WOQOD Vehicles Inspection (FAHES) is the only licensed organization in Qatar that conducts vehicle inspections, including those of light and heavy vehicles and heavy construction equipment.
Their technical inspections follow the standards agreed upon by the Traffic Department of the Ministry of Interior (MOI) and the General Committee of Standardization and Metrology (GCSM). Fahes inspection service ensures that all vehicles follow the approved standards for road traffic safety and pollution control.
If you are wondering what Fahes means, it is an Arabic word that can be loosely translated as "investigation or examination".
When To Do Fahes Inspection
For private passenger cars, you do not have to do the inspection for the first three years. Once the vehicle is three years old, you must do an annual inspection before renewing the registration.
| Vehicle Type | Inspection Frequency |
| --- | --- |
| Private Passenger Cars | Every year after three years old |
| Private Transport of less than 3000kg (Individual owner) | Every year after three years old |
| Private Transport of less than 3000kg (Company owned) | Every year from the first registration |
| Private Transport/Trailers of more than 3000kg | Every year from the first registration |
| Taxis, Rental cars and Motorcycles | Every year from the first registration |
Fahes Inspection Frequency
How To Do Fahes Inspection in Qatar
Before you take your vehicle for an annual inspection, you must ensure it is in good condition. You can follow the below checklist, which will ensure that the chances of failure are very less:
Fahes Requirements: Checklist for Inspection
General Instructions
Clean off the dirt from your vehicle, especially the area under the chassis. Taking the vehicle for a full body wash would be a good idea.
Remove valuables and insecure loads.
External Body Parts
Make sure the following are in safe working condition: Brake Lights, Doors, Door Handles, Fire Extinguishers, Fuel Caps, Headlights, Hoods, Horn, Indicator Lights, License Plates, Mirrors, Mud Guards, Safety Belts, Seats, Spare Tires, Steering, Sun Visors, Tires, Wheel fixings, Windows, and Wipers.
Technical / Internal Parts
Check these internal parts (consult with a mechanic if needed): Anti-skid Brake System (ABS), Accelerators, Air Bags, Batteries, Brakes, Drive Shafts, Electrical Wires, Engine, Exhaust Systems, Fuel Systems, Oil Leaks, Shock Absorbers, Suspension, and Transmissions.
Legal Requirements
All physical modifications and alterations must be approved by the Traffic Department.
Additional tinting to windows (cooling film) needs Traffic Department approval.
Excessive damage to paint, bodywork or bumpers can fail legal inspection.
Exhaust emissions (CO and HC) must meet the minimum legal requirement.
A vehicle with advertising, aftermarket graphics, stickers or stripes will need official written approval from the Doha Municipality to pass the legal inspection.
Fahes Fees
The price for Fahes inspection is as below:
| Vehicle Type | Inspection Fee |
| --- | --- |
| Private Passenger Car | QR 150 |
| Light Vehicle (Taxi, Private & Public Transport less than 3000kg) | QR 160 |
| Motorcycle | QR 100 |
| Heavy Vehicle (Private & Public Transport of more than 3000kg) | QR 250 |
| Trailer, Semi Trailer, Heavy Equipment (For and Not For Road Use) | QR 300 |
Fees for Fahes Vehicle Inspection
Documents Required for Fahes Inspection
For the vehicle's periodical inspection, you only need:
The vehicle's Istimara (registration card), and
A debit/credit card for payment
---
Fahes Vehicles Inspection Process
You can visit any Fahes station in Qatar to complete your vehicle inspection.
Step 1: Pay the fee and register your vehicle
Once you enter the premises, you will be directed to the registration booth. Upon reaching the booth, hand over your Istimara and debit/credit card for payment. You may be asked for a mobile number to send the inspection report by SMS. Collect the customer receipt and inspector copy from the booth.
Note: Paying with a debit/credit card is the only option since cash is not accepted.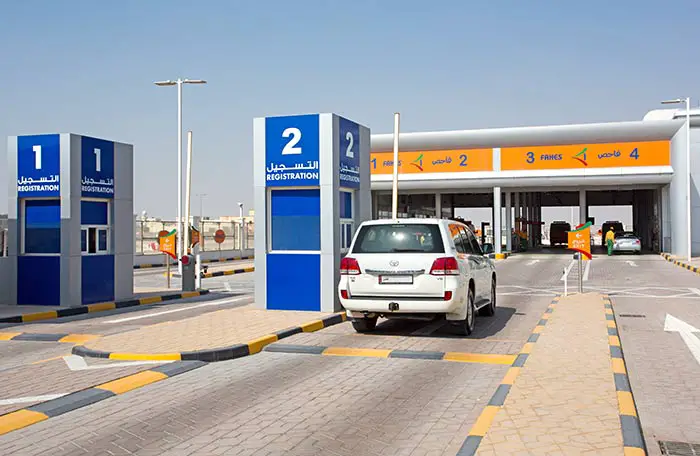 Step 2: Queue up for the inspection
Drive slowly and carefully into the inspection lane. Stop at the first test stage. Wait for the staff signal to move ahead.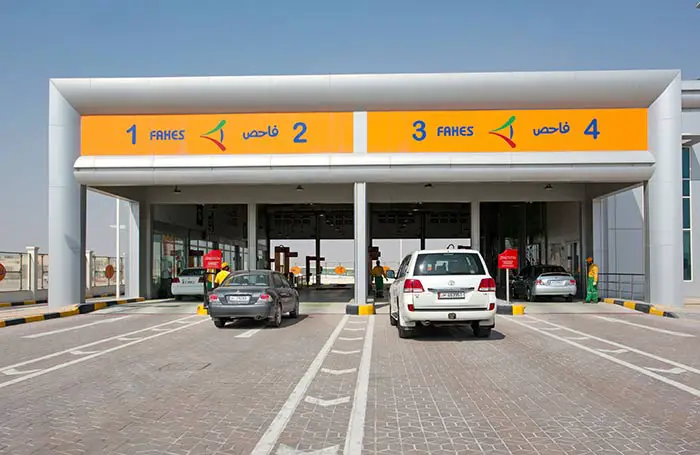 Step 3: Follow the directions for the inspection
Follow the directions from the service staff. At the first test stage, the staff will ask you to apply the breaks, turn on the lights, turn on indicators etc. They will also inspect the external body, doors, tires, horn, viper, exhaust emission etc. Then you will be asked to drive slowly to the next stage.
At the second stop, the staff will do the technical inspection and check internal parts including below the chassis. They may ask you to step out of the car if needed. Once done, they will ask you to drive away slowly. The whole process will take less than 10 minutes.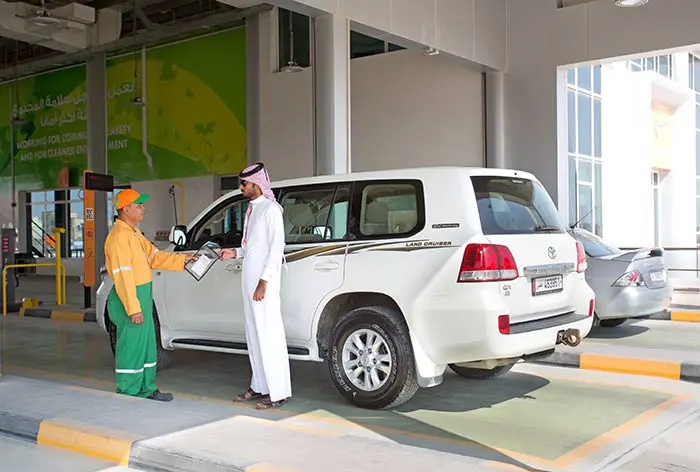 Step 4: Wait for the SMS with the result link
Once you are out of the inspection lane, you can park outside and wait for the SMS. Within a few minutes of the inspection, you will receive an SMS with a link to the results.
Most stations have a Traffic Dept. office inside their premises. If the vehicle inspection results are PASS, you can pay for your insurance renewal and renew your vehicle registration at the Traffic office on the same day.
Remember that sometimes the Traffic Dept service may close earlier than the inspection service. You can also do the renewal at any Traffic Department office in the following days or online through the Metrash2 mobile app.
Insurance service at Fahes is usually from Qatar Insurance Company. If you want to go with another insurance company, you can renew online also. In either case, the vehicle insurance should be renewed before the renewal of Istimara.
---
How To Check Fahes Report Online
You can click the link on the SMS or check directly on the Fahes website.
Step 1: Go to Fahes website
Here is the link to Fahes website.
Step 2: Click on "Online Report Search"
The button is located on the top menu. You will see a page as shown below.

Step 3: Enter your plate number, select plate type and enter your QID number
Step 4: Type the captcha code and click on the "Search" button
You can see the full report with all details. This report will be visible for one year from the inspection or until the next inspection.
---
What To Do If Vehicle Fails Fahes Inspection
If your vehicle fails the first inspection, you need to rectify the reason for failure, which will be mentioned in your report. In case of any query, you can check with the station supervisor.
For technical issues, seek the assistance of a professional mechanic. If repairs are needed for the vehicle body (like fixing dents, re-painting etc.), you need to get a paper from the Traffic Department. The garage cannot fix the vehicle body without this paper.
It is important to correct these faults, no matter how small or major. You must once again have your vehicle inspected after you have corrected the faults so that they can recheck the vehicle and provide you with a new report. After re-inspection, you will receive a "PASS" report. Vehicle registrations can be renewed only if the report has been passed.
Cost for Re-inspection
The first re-inspection will be free of cost. However, if your re-inspection fails, you must do a paid inspection. The following inspections will follow the pattern of one paid and one free if they are within 30 days of the main inspection.
Fahes Inspection Report Validity
The inspection report is valid for 30 days from the inspection. The registration renewal must be completed within 30 days from the pass report date/registration validity.
If a vehicle does not pass within 30 days of the first main inspection, all previous reports and repairs will be ignored, and a new fresh main inspection will be performed, checking every item again.
Common Reasons for Fahes Inspection Failure
Below are the common reasons for failure during vehicle inspection:
Paint faded (often due to parking under the sun)
Tyre erosion
Break lights / Indicator lights not working
Viper erosion
Sunfilm tint without permission or more than allowed
Excessive dents
There may be many other reasons for failure. Make sure you refer to the inspection checklist given above.
---
How To Book Fahes Appointment Online
To book an inspection online using the Fahes app, follow the below steps:
Step 1: Download Woqod mobile app
Note that Fahes do not have a separate app. You can download the Woqod mobile app from the Play Store or App Store.
Step 2: Click on "Fahes"
Step 3: Click on "Book Vehicle Inspection"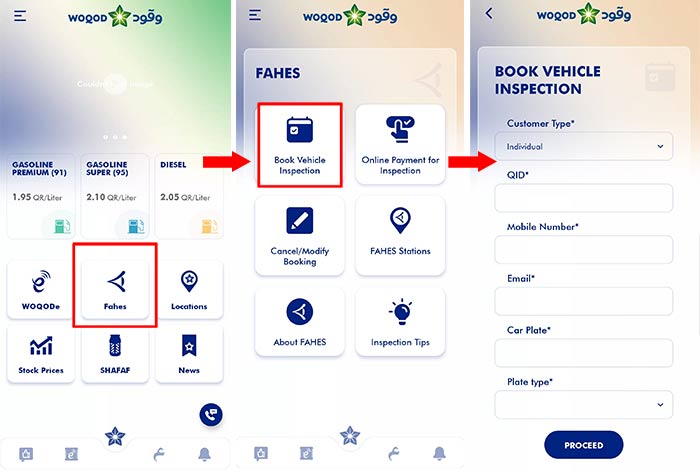 Step 4: Enter your details
Select the customer type, enter QID, mobile number, email, and car plate and select plate type.
Step 5: Select the station, and confirm the date and time of their booking. 
Currently, you can choose Mesaimeer, Wadi Al Banat or Wakra.
Step 6: You will receive a confirmation message
You can go to the station as per the appointment date and time.
---
Fahes for Motorcycle
Fahes inspection for motorcycles should be done every year after registration. The fee is QR 100 per inspection.
Other Services at Fahes Stations
The following services are also offered at the stations:
​Static weighing scale
VIN stamping & VIN marking
Tanker capacity certificate
Water tanker inspection
External inspection of heavy equipment vehicles
Fahes Regular Timing
Below are the regular timings for Fahes stations (For Ramadan timing, please check above)
| Fahes Branch | Working Days | Timing | Gate Closes |
| --- | --- | --- | --- |
| Al Mazrooah (Umm Salal) | Sun-Thu | 6:00 am to 6:00 pm | 5:45 pm |
| Mesaimeer (Abu Hamour) – With Appointment Only | Sun-Thu | 6:00 am to 6:00 pm | 5:30 pm |
| Wadi Al Banat (Duhail) – With Appointment Only | Sun-Thu | 6:00 am to 6:00 pm | 5:30 pm |
| Al Wakra – With Appointment Only | Sun-Thu | 6:00 am to 6:00 pm | 5:45 pm |
| Al Wukair | Sun-Thu | 6:00 am to 6:00 pm | 5:45 pm |
| Al Shahaniya | Sun-Thu | 6:00 am to 6:00 pm | 5:45 pm |
| Al Egda (Al Khor) | Sun-Thu | 6:00 am to 6:00 pm | 5:45 pm |
| Industrial Area | Sun-Thu | 6:00 am to 6:00 pm | 5:45 pm |
| Al Shamal (Madinat Al Shamal) – Mobile Station | Wed-Thu | 7:00 am to 2:00 pm | 1:45 pm |
Fahes Locations and Timing
Read Next: How To Do Istimara Renewal Online
---
FAQ On Fahes Testing in Qatar
---
How can I check the Fahes vehicle inspection report?
Once your vehicle inspection is completed, you will receive an SMS with the link to your report. You can also check online on the Fahes website.
Should I do a re-inspection for minor defects in Fahes report?
If the overall result is PASS for the technical and legal sections, you do not need a re-inspection. However, it is advised to fix these faults later for your safety.
When is the best time for Fahes inspection?
Fahes recommends doing vehicle inspections during the middle of the week and mid-month, between 12 pm and 3 pm, as the stations are less busy during these hours.
---
Related Articles:
Copyright © DohaGuides.com – Unauthorized reproduction of this article in any language is prohibited.
Information and Images courtesy: Fahes
---