Doha Guides Team regularly reviews this article to ensure the content is up-to-date and accurate. The last editorial review and update were on 9 September 2023.
Since August 2017, the State of Qatar has been allowing visa-free entry for citizens of more than 80 countries, making it the most open country in the Middle East.
After it was briefly suspended in 2020 due to COVID-19, Qatar's visa-on-arrival service has resumed with some conditions. As of August 2022, citizens of 90+ countries are eligible for Free Qatar Visa On Arrival.
This article explains all the requirements, eligible nationalities, application procedures, renewal procedures, and answers to frequently asked questions about the free visa on arrival in Qatar.
Recent Updates On Qatar Visa On Arrival
3 SEPTEMBER 2023 STATUS
Visa-on-arrival for eligible nationalities is available from 23 December 2022. Nationals of
India, Pakistan, Iran, Thailand, and Ukraine
are still required to book hotels through the
Discover Qatar website
. The hotel reservation should be for the entire duration of the stay. Hotel reservations from other websites are not accepted. Citizens of other countries may book their hotel through any website.
Qatar has relaunched
Hayya portal
with options to apply for various tourist and business visas through the portal. You can check our detailed guide on
how to apply for Qatar Tourist Visa
. Nationals of countries eligible for visa on arrival are exempt from tourist visa fee.
Requirements for Visa On Arrival to Qatar
1. Citizenship
The visitor must be a citizen of an eligible country (the list of countries is given below).
2. Passport Validity
The visitor's passport must be valid for at least six months.
3. Confirmed Return Tickets
The visitor must have a confirmed return or onward ticket.
4. Hotel Reservation
The visitor should have a hotel reservation for the duration of the stay. This can be a regular hotel booking for travellers from most countries. For hotel booking we recommend TripAdvisor as it has the largest database of hotel reviews.
However, for citizens of India, Pakistan, Iran, Thailand and Ukraine the hotel booking for the entire duration of the stay should be through the Discover Qatar website.
Please note that even if you book the hotel for a longer duration, the initial visa issued will be for 14 or 30 days only. You need to extend that by visiting any MOI Service Center or the Airport Immigration office. The online extension may not be possible for these nationalities.
This requirement is only mandatory for travellers coming on a visa on arrival and not for family visit visas.
5. Health Insurance
From 1 February 2023, health insurance is mandatory for all visitors to Qatar. Visitors can buy a basic health insurance for QAR 50 from any of the registered insurance companies listed on MOPH website.
6. Proof of Funds
From 10 March 2022, visitors from countries like India and Pakistan (using a visa-on-arrival facility) are required to have a valid international credit card or debit card. Cash of QR 5000 will no longer be accepted.
For debit cardholders, three months bank statement is also required. There should be a minimum balance equivalent to at least QR 5,000.
The card should be under the name of the visitor. The card can be under the family head's name if you are travelling together as a family.
This rule applies only to nationalities that require proof of funds (like India, Pakistan, etc.)
---
Nationalities Eligible For Qatar Visa On Arrival
The countries under this facility are divided into two categories as below:
Category 1: Visa waiver for 180 days
Visa waiver valid for 180 days from date of entry
Maximum stay: A total of 90 days, either during a single trip or during multiple trips
The stay is not extendable
The following are the countries included under this category:
Antigua and Barbuda
Argentina
Austria
Bahamas
Belgium
Bulgaria
Croatia
Cyprus
Czech Republic
Denmark
Dominican Republic
Estonia
Finland
France
Germany
Greece
Holland
Hungary
Iceland
Italy
Latvia
Liechtenstein
Lithuania
Luxembourg
Malaysia
Malta
Netherlands
Norway
Poland
Portugal
Romania
Serbia
Seychelles
Slovakia
Slovenia
Spain
Sweden
Switzerland
Turkey
Ukraine
Category 2: Visa for 30 days (+30 days extension)
The initial visa is for 30 days from the date of entry
The stay can be extended for another 30 days free of cost
The following are the nations included under this:
Andorra
Australia
Azerbaijan
Belarus
Bolivia
Brazil
Brunei
Canada
Chile
China
Colombia
Costa Rica
Cuba
Ecuador
Falkland Islands 
French Guiana
Georgia
Guyana
Hong Kong, China
India
Indonesia
Iran
Ireland
Japan
Kazakhstan
Lebanon
Macau
Macedonia
Maldives
Mauritius
Mexico
Moldova
Monaco
Montenegro
New Zealand
Pakistan
Panama
Paraguay
Peru
Russia
Rwanda
San Marino
Singapore
South Africa
South Korea
Suriname
Thailand
United Kingdom
United States
Uruguay
Vatican City
Venezuela
In addition to these, Citizens of the Gulf Cooperation Council countries (Bahrain, Kuwait, Oman, Saudi Arabia, and UAE) do not require a visa to enter Qatar.
Make your family's trip to Qatar unforgettable! Check the latest offers from Qatar Airways, Qatar's own 5-star airline, rated as one of the best in the world.  With its reputation for luxury, comfort, and a wide-reaching global network, booking with Qatar Airways ensures an extraordinary travel experience
Documents Checklist For Visa On Arrival Passengers
Passport
Minimum six months validity
Flight tickets
Return / onward flight tickets
Regular Hotel Booking for the full duration
Discover Qatar booking for India, Pakistan, Iran, Thailand and Ukraine;
Regular hotel booking for other countries.
International debit/credit card
Only for India and Pakistan. Under visitor's name (3 months bank statements also needed for debit card). Cash is not acceptable.
Health Insurance
Basic health insurance as per MOPH (From 1 Feb 2023)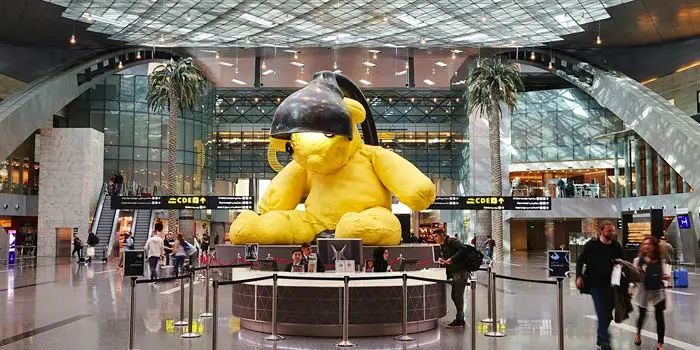 Frequently Asked Questions
Is there any fee for the Qatar Visa on Arrival?
Visa on arrival is granted entirely FREE of charge, and there is no charge for extension/renewal.
Should I use only Qatar Airways for my travel?
You can use any airline to Doha. There are no restrictions on the mode of travel. If you are travelling via another airline, ensure your airline knows about this Visa On Arrival facility. Some airline staff who are unaware of this facility may refuse to board you without a visa.
Should I show proof of funds/credit cards?
Proof of funds may be required for some nationalities. Please carry an International Credit / Debit card under your name with at least QAR 5000 balance.
Should I show the salary certificate or tenancy contract of my host?
The host's salary certificate or tenancy contract is not required for a visa on arrival. There is no minimum salary requirement for anyone to host a visitor. However, you are advised to keep your host's contact information ready to show if officers request it.
---
Procedure At the Immigration Counter
During the check-in from your departure country, inform the airline staff that you are visiting on a visa on arrival. They may check your accommodation details. If you are staying with a relative, it is good to have their contacts and QID copy.
At the immigration counter in Doha, mention that you want a visa on arrival.
Give the hotel's / host's contact details (name, contact number) if you are asked.
Show credit or debit card if required (for some nationalities only)
When asked, look at the camera for an iris scan (eye scan). A green light would blink to confirm this.
A fingerprint scan may be required for some passengers.
The immigration officer would fix a small sticker on your passport. That's it. Welcome to Doha!
---
How to Extend Qatar Visa On Arrival?
If you are a citizen of a country eligible to extend 30 days visa on arrival, you can do the renewal online.
This is available under Visa Services –> Visit Visa Extension.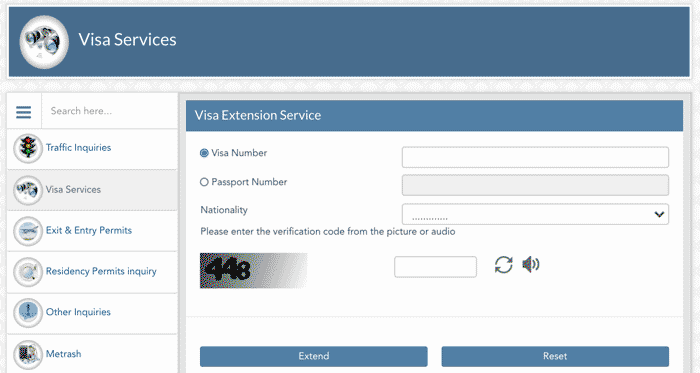 Step 2: Enter the visa number or passport number
You can find the visa number on the sticker on your passport.
Step 3: Select nationality from the drop-down list
Step 4: Enter the verification code from the picture or audio
Step 5: Click on the "Extend" button
The visa will be renewed for another 30 days.
---
Is there any fee for a Qatar visa on arrival extension?
Qatar visa on arrival can be extended free of cost.
How many days after arrival can I renew the visa?
You can renew any day after arrival. Make sure you do it before the expiry to avoid complications.
I did not get any message or e-mail after renewal. How can I check the validity?
You can check the validity of your visa on the Ministry of Interior website. Here is how to check the validity of a Qatar visa.
Go to the MOI website Visa Inquiry & Printing page
Enter the visa number (available on the sticker in the passport) or passport number
Select nationality from the drop-down list
Enter verification code from picture or audio
Click on the "Submit" button
The details, including visa validity, will be shown
Click on the print icon to save or print a copy for future reference
Do I need the renewal receipt while going back?
A receipt is not needed as the renewal date will be updated in the immigration system. However, you may keep a copy for your peace of mind.
Are GCC residents eligible to get a Qatar visa on arrival?
If you're a resident of a GCC country (Gulf Cooperation Council), you're eligible for a single-entry visa on arrival. The visa will only be issued if your residence permit is valid for at least six months and if your profession (as mentioned on your residence permit) appears on the list of eligible professions. You can see the list of eligible professions here.
---
Qatar Visa On Arrival For Indians (Requirements)
The following are the conditions for Indian nationals applying for a Qatar visa on arrival:
The Indian passport must be valid for at least six months
Return ticket must be confirmed
Hotel booking for the entire period – booked through Discover Qatar
The passenger must have a valid credit card/debit card with three months statement
Additional Requirements for Pakistani National
Requirements for Pakistani nationals are the same as for Indian nationals. There is one additional requirement as below:
Those coming directly from Pakistan should present a certificate of vaccination against polio
We have tried to cover most of the frequently asked questions. If you have any further queries feel free to ask in the comments section, and we shall try to answer them.
As the policies are subject to change at any time, travellers are strongly advised to check the official website of MOPH for the latest travel policy. You can also call the Government helpline at +974-4406 9999 or [email protected] for more queries.
Updates To Qatar Travel Policy
As per the travel policy announced by Qatar's Ministry of Public Health (MoPH) in October 2022:
Pre-travel and post-travel COVID testing is not required.
Ehteraz pre-travel registration is not required.
Ehteraz mobile app is only required for entering public and private healthcare facilities.
Quarantine is no longer mandatory for all travellers arriving from abroad. However, if passenger tests positive for COVID-19 after arriving in Qatar, quarantine measures must be followed as stipulated by the State.
Country classification based on COVID-19 risk (Red List and Standard Health List) is no longer applicable.
---
FAQ on Qatar Visa on Arrival
---
How can I get a free visa for Qatar?
You can get visa-free entry to Qatar if you hold a passport from any of the 90+ eligible countries. You can see the full list of countries on this page. There may be additional requirements for some countries.
Is there any age limit on visas on arrival?
There is no specified age limit for visas on arrival. However, airlines may refuse to board minors not accompanied by an adult. If a minor is travelling alone, please check with your airline.
Is a medical check-up needed for extending visa-free entry
A medical check-up is not needed to extend visa-free entry. A medical check would be required for renewing a family visit visa only.
Are Indians eligible for a Qatar visa on arrival?
Indian citizens are eligible for 30 days of visa-free entry to Qatar if they meet some conditions. Upon arrival, this can be extended for another 30 days.
How much is the fine for an expired visit visa in Qatar?
If the validity of your visit visa has expired, you will be charged a penalty of QAR 200 per day.
---
Related Articles:
Copyright © DohaGuides.com – Unauthorized reproduction of this article in any language is prohibited.
Sources: Qatar Ministry of Public Health, Qatar Airways, Qatar Tourism Authority
---