Many transit passengers travelling through Doha's Hamad International Airport (HIA) often want to leave their luggage at the airport so they can visit the city without carrying all their bags.
Like most international airports Doha Airport also has lockers for storing passenger baggage. However, the official luggage storage at Doha Airport has been temporarily suspended. The good news is that there is a private facility offering luggage storage service inside the Doha Airport premises.
In this article, we will discuss the facility for luggage storage at Doha Airport, including the location, storage rates, and how to book in advance.
Luggage Storage at Doha Airport
Currently, the Hamad International Airport storage lockers are not in operation due to health and safety concerns. However, Tawfeeq Travel offers luggage storage at their Travel Hub inside the airport.
Some lounges inside the Airport offers luggage storage facility for a short period. However, these are mainly for smaller handbags and you cannot leave them there if you exit the airport.
Travel Hub By Tawfeeq Travel
In June 2022, leading travel management company Tawfeeq Travel opened a "Travel Hub" at the Hamad International Airport Metro Station.
According to the management, the Travel Hub at HIA offers Qatar's first baggage drop-off and storage solution to travellers. Besides it is also serving as a retail outlet for travellers.
The storage facility boasts CCTV-monitored rooms with state-of-the-art electronic locks for the safety of the baggage which are sealed with tamper-proof security seals.
"Not only residents of Qatar, but visitors from all over the globe can now experience world-class travel services and products while travelling through Qatar's award-winning Hamad International Airport," Tawfeeq Travel management said in a statement.
Location of Luggage Storage Facility (Travel Hub)
Tawfeeq Travel's Travel Hub is located in Hamad International Airport Metro station (Red Line) Shop No. U05.
The airport's metro station is a 5-minute walk from the terminal, it's located next to West Short Term Car Park. You can follow the directional signages at the Arrivals Halls.
Timing of Travel Hub
This service is available six days a week: Saturday to Thursday from 10 am to 8 pm.
The Travel Hub will be closed on Fridays.
Rates for Luggage Storage at HIA Travel Hub
The current storage rates are QAR 100/- per bag for 8 hrs.
For extra hours, there is an additional charge of QAR 25/- per hour
There is no restriction on bag size.
Please note that this is only a storage facility. Guests have to drop their bags by and pick up themselves.
How To Book In Advance
Due to the FIFA World Cup and high demand for service, Tawfeeq Travel is not providing advance booking now. The storage will be on a first come first serve. Hence Tawfeeq Travel cannot guarantee space availability due to this.
For more enquiries, you can contact: (+974) 4488 7732 or e-mail: [email protected], [email protected]
---
Frequently Asked Questions
---
Can I store my luggage at Doha airport?
The storage lockers at Hamad International Airport are currently not in operation due to health and safety reasons. However, Tawfeeq Travel are offering a luggage storage facility at their Travel Hub inside the Airport.
Should I collect my luggage if I am transiting under the same booking?
The luggage will usually be "checked through" if you booked the flights together at the same time. You will probably have to pick up your luggage and check it in again if you booked them separately, especially if they are on different airlines.
---
Related Articles:
Copyright © DohaGuides.com – Full or partial reproduction of this article in any language is prohibited.
---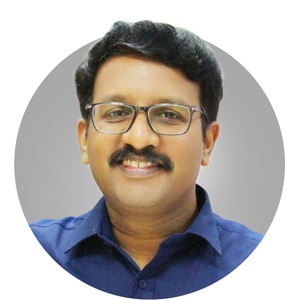 Aneesh, the Founder & Editor of DG Pixels, holds a Master's Degree in Communication & Journalism, and has two decades of experience living in the Middle East. Since 2014, he and his team have been sharing helpful content on travel, visa rules, and expatriate affairs.