Doha Guides Team regularly reviews this article to ensure the content is up-to-date and accurate. The last editorial review and update were on 21 November 2023.
Doha, the vibrant capital of Qatar, is hosting a groundbreaking event that promises to immerse visitors in a world of horticultural wonders, innovation, and sustainability. Expo 2023 Doha will mark a historic moment as the first A1 International Horticultural Exhibition in the Middle East and North Africa region.
Our visitor's guide to Expo 2023 Doha will serve as your companion, providing essential information, such as dates, location, timings, tickets, event schedule, maps, and how to reach.
Expo 2023 Doha Latest News
Dadu Gardens permanently reopened at Al Bidda Park
Dadu, Children's Museum of Qatar, has reopened Dadu Gardens at Al Bidda Park, in the heart of the International Zone at the Expo 2023 Doha, cementing its status as a beacon of education and fun for children aged under 12, along with their families and caregivers.
---
Expo 2023 Dates and Location
The Expo will run for 179 days, from 2 October 2023 to 28 March 2024.
It is being held at Al Bidda Park in Doha, conveniently situated between West Bay and Doha Port.
How To Reach By Doha Metro
You can easily reach the Expo venue by Doha Metro.
The nearest station to the Expo's Cultural Zone is Al Bidda Station (Red and Green Lines).
The nearest station to the International Zone is Corniche Station (Red Line).
Entry By Car And Parking
If you are going to the International Zone from Majlis Al Tawoon Street, use the Corniche Gate or Khalifa Gate.
If you are going to the International Zone from Al Istiqlal Street, you can park your car at Wadi Al Sail South basement car park, and then head to the Green Tunnel Gate.
If you are going to the Family Zone from Mohammed Bin Thani Street, you can park your car at the Corniche North basement car park, and then head to the Red Road Gate or Rumailah Gate.
If you are going to the Cultural Zone from Al Rayyan Road, you can park your car at Al Bidda West basement car park, and then head to the Al Bidda Gate. Here is a video explaining these arrangements.
How To Reach From Doha Airport
If you're an international visitor, Hamad International Airport (HIA) is just a short distance (12 km) away, ensuring easy access.
Taxi: The airport's taxi pavilion is located on the left side of the Arrivals Hall. Transportation coordinators are available to assist.
Bus: The airport's bus pavilion is located on the right side of the Arrivals Hall.
Metro: The Metro station at the airport offers fast and frequent services to and from the airport.
Limousine: Chauffeur-driven limos, including luxury sedans, and 7-seater vans, are available from the airport.
Car Rentals: You can choose from a range of car rental providers inside the airport.
Expo 2023 Doha Timings
Below are the regular operating hours of the Expo starting from 3rd October 2023.
| Day | International Zone | Cultural & Family Zones |
| --- | --- | --- |
| Sun to Wed | 10 am – 8 pm | 10 am – 10 pm |
| Thu | 10 am – 8 pm | 10 am – 11 pm |
| Fri | 1 pm – 8 pm | 1 pm – 11 pm |
| Sat | 10 am – 8 pm | 10 am – 10 pm |
Expo 2023 Doha Timings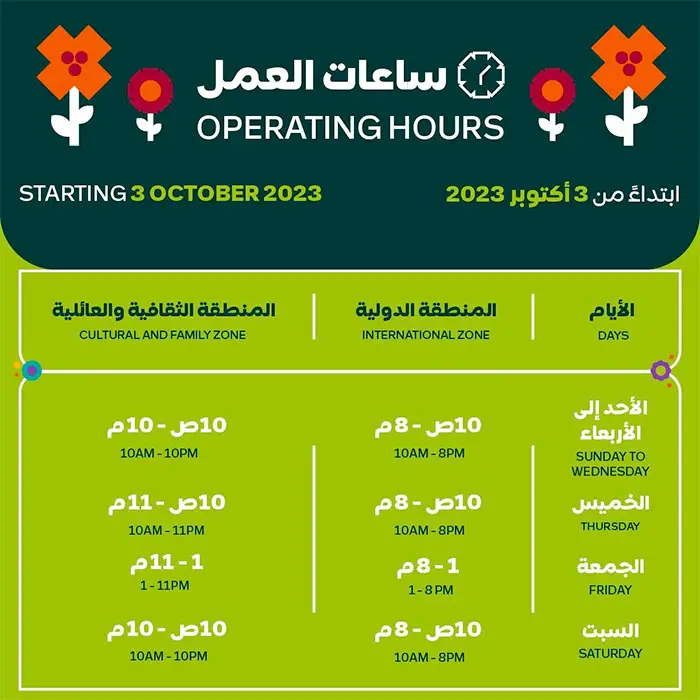 Expo 2023 Doha Tickets
Entry to Expo 2023 Doha is entirely free, allowing everyone to enjoy the remarkable exhibitions without any cost.
---
Expo 2023 Doha Events Schedule
International Zone
Time
Event
Venue
10:00 am – 8:00 pm
International Pavilions Visit
International Pavilions
10:00 am – 8:00 pm
Life Hub Exhibition
Innovation Centre Basement
10:00 am – 8:00 pm
Get Immersed With Nature
UDST's Sustainable Innovations
Innovation Centre
10:00 am – 8:00 pm
Education Above All Pavillion
Zahra Hadid Pavillion
3:00 am – 8:00 pm
Innovation Café Workshops
Innovation Centre
4:00 pm – 8:00 pm
Dadu Gardens
10:00 am – 10:00 pm
The Bicycle and The Future of Mobility
International Zone
10:00 am – 10:00 pm
Studio 5 Lab
Innovation Centre
Family Zone    
Time
Event
Venue
3:00 pm – 10:00 pm
Digital Challenge (Children above 12 years)
Digital Park
3:00 pm – 10:00 pm
Green Playground
Eco Workshops
Expo House
4 pm, 7 pm and 9 pm
SpongeBob SquarePants "'I Heart Dancing"
Family Amphitheatre
5 pm, 7 pm and 9 pm
Save The Planet
Family Amphitheatre
3:00 pm – 10:00 pm
Coffee, Tea & Chocolate Festival
Events Area
3:15 pm – 5:15 pm
365 Days of Activities
Family Zone
Cultural Zone
Time
Event
Venue
3:00 pm – 9:00 pm
Cultural Workshops
Sand Meet (0-6 years)
Eco Challenge (7-15 years)
Qatari & International Street Games
Ennat Expo
1:00 pm – 9:30 pm
Challengers For Basketball 3×3
Cultural Zone
5:30 pm – 6:30 pm
Sports in Nature 1
Ennat Expo
7:00 pm – 9:00 pm
Sports in Nature 2
Ennat Expo
10:00 am – 8:00 pm
Qatar International Art Festival
Exhibition Center
---
Attractions At Expo 2023 Doha
Visitors to the Expo can explore multiple gardens, attend informative talks and conferences, and savour international cuisines.
The main building of Expo 2023 Doha is an architectural marvel, holding the Guinness World Records title for "The Largest Green Roof."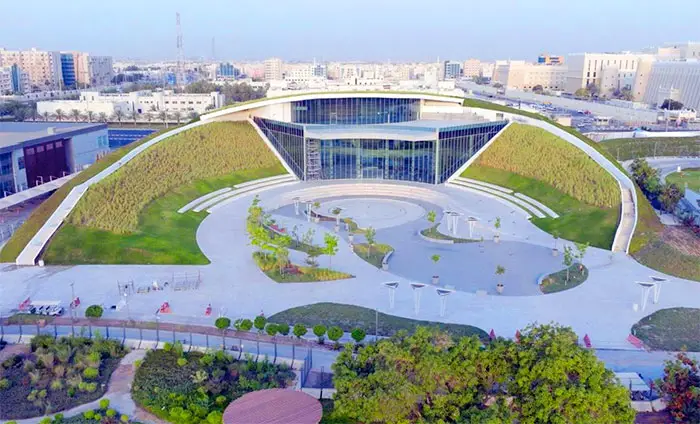 The Innovation Centre and Biodiversity Museum will educate visitors on environmental science, renewable energy, and more.
The Digital Park and Expo School will have activities for children and families. The Family Amphitheatre will host world-renowned international and regional artists for unforgettable performances.
The Three Zones
The Al Bidda site will be strategically divided into three distinct zones, each carefully designed to enhance the event's unique and complementary offerings.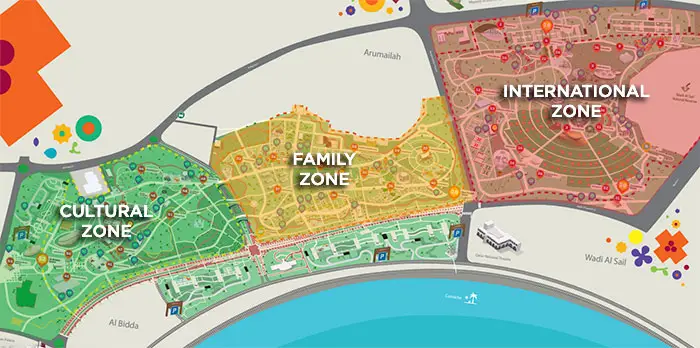 1. International Zone
Serving as the expo's main gateway, this zone spans approximately 700,000 square meters and hosts international gardens, exhibitions, and events.
This is where you can find the Expo House, Qatar Pavilion, Dadu Gardens, Green Tunnel, Plaza of Nations, Innovation Centre, Expo Square, Farmers Market, Green House, Cultural Bazaar, Expo Clock, Bio Domes, Helium Balloon, and lots more.
Additionally, 150,000 square meters are reserved for international pavilions, which will represent organizers from 80 countries, as well as representatives from the private sector and NGOs.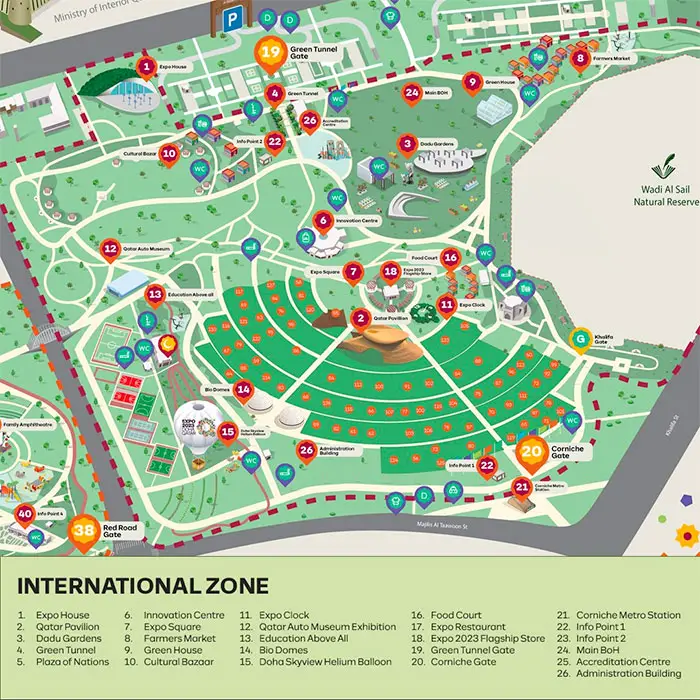 2. Family Zone
Utilizing the park's existing features, and covering approximately 500,000 square meters, this zone will serve as a vibrant hub for family-oriented fun, activities, gatherings, and outdoor adventures.
Here you can find the Family Amphitheatre, Biodiversity Museum, Quranic Botanical Garden, Falla'h Space, Event Area etc.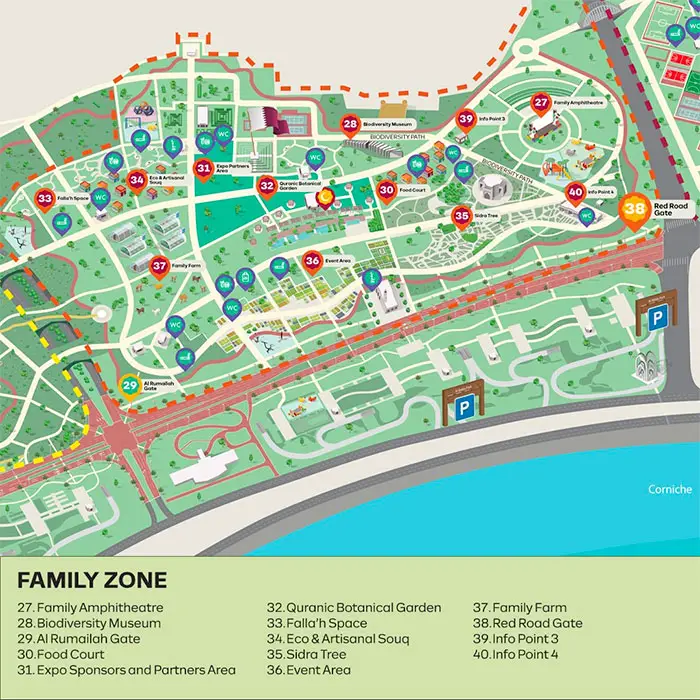 3. Cultural Zone
With its close proximity to the historical core of Doha and featuring the Old Fort and Old Rocks, the Cultural Zone pans around 500,000 square meters. It will provide the perfect setting for cultural and traditional activities and exhibitions.
You can find the Exhibition Centre, Congress Centre, Cultural Area, Coral Reef Pavilion, and lot more here.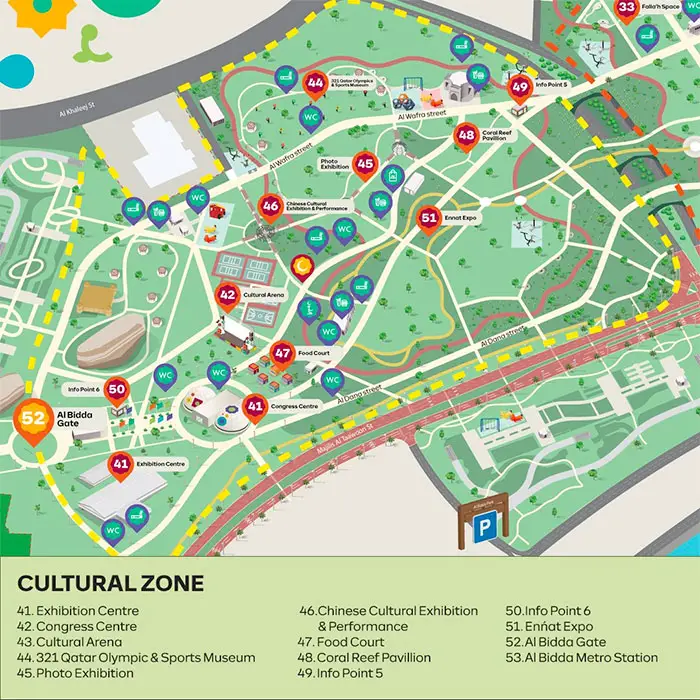 See the high-resolution map of the Expo venue here.
Dining Options
Food enthusiasts will delight in the diverse culinary offerings at the venue. There are several food courts with a large number of food vendors.
In addition to Qatari cuisine, you can savour dishes from countries such as India, Lebanon, Turkey, Mexico, Korea, Thailand, South America, the USA, France, Holland, the Philippines, China, and more.
About Expo 2023 Doha
The International Horticultural Expo, is a joint effort between the Bureau International Des Expositions (BIE) and the International Association for Horticultural Producers (AIPH), drawing visitors from both near and far.
The event promises an unforgettable experience centred around modern agriculture, technology, innovation, environmental awareness, and sustainability.
On 2nd October 2023, Qatar's Amir HH Sheikh Tamim bin Hamad Al Thani patronized the opening ceremony of the 2023 Doha Horticulture Expo, in the presence of a number of Their Excellencies and Highnesses heads of state and government along with representatives of brotherly and friendly countries.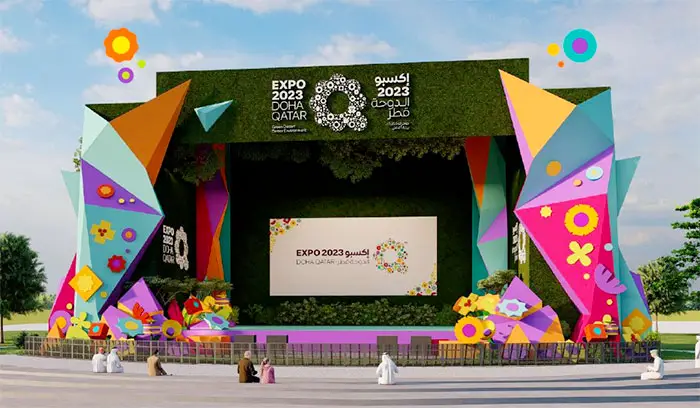 Theme and Purpose
Expo 2023 Doha is held under the theme "Green Desert, Better Environment" and aims to promote sustainable innovations and combat desertification. It aligns with Qatar's commitment to sustainable development and international cooperation, in line with its National Vision 2030.
The expo aims to educate visitors on sustainability, environmental awareness, modern agriculture, and how technology and innovation can lead to a greener future. It builds on the legacy of the previous Expo in Almere, The Netherlands, and sets the stage for the next one in 2027 in Yokohama, Japan.
Contact Information
For inquiries, you can reach the Expo helpline at 184 (inside Qatar) or email [email protected]
With participation from countries all around the world and an expected 3 million visitors, the event promises a global perspective on horticulture and sustainable development.
Images courtesy: Expo 2023 Doha
---
Related Articles:
Copyright © DohaGuides.com – Full or partial reproduction of this article in any language is prohibited.
---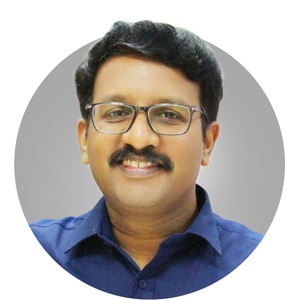 Aneesh, the Founder & Editor of DG Pixels, holds a Master's Degree in Communication & Journalism, and has two decades of experience living in the Middle East. Since 2014, he and his team have been sharing helpful content on travel, visa rules, and expatriate affairs.