Qatar has a special Visa On Arrival scheme for residents of GCC countries (Bahrain, Kuwait, Oman, Saudi Arabia or UAE) if they meet the eligibility criteria.
As per this facility, also known as GCC Residents Entry Permit, more than 200 categories of professionals who hold valid residency permits in any GCC country can get visas on arrival in Qatar.
This article explains the eligibility conditions, list of professions eligible, visa fees, duration of stay etc. about Qatar Visa On Arrival for GCC Residents.
22 JULY 2021 UPDATE: Since the mid of July 2021, Qatar has resumed visa on arrival services to citizens of 90+ countries. Please check our complete guide on Qatar's visa on arrival scheme for more details.
Conditions for Qatar Visa on Arrival for GCC Residents
The visa will only be issued if you meet all the below conditions:
You should have a valid residence permit in any GCC country (Bahrain, Kuwait, Oman, Saudi Arabia or UAE)
Your GCC residence permit should be valid for at least six months 
Your passport should be valid for at least six months 
Your profession (as mentioned on your residence permit) should appear in the below list
You must possess a return ticket to point of origin
Visa fee of QAR 100 for the main applicant and QAR 50 for each accompanying person
The accompanying person shall be under your personal sponsorship and shall have a valid residence permit
List of Professions Eligible
The following categories of professionals with a valid resident permit of any GCC country can get visa on arrival to Qatar. They have been arranged in alphabetical order for your convenience.
Accountant / Accounts Verifier / Auditor
Accounts Manager
Administration Coordinator
Administrative Manager
Administrative Researcher
Agricultural specialist (General)
Air Controller
Air Hostess
Air Navigator
Air Transport Manager
Aircraft Landing Controller
Aircraft Maintenance Technician
Aircraft Takeoff Controller
Aquatic Specialist
Archeological Director
Archaeological Prospector
Archaeological Researcher
Architectural Draftsman
Army Officer
Artist (Actor, Musician, Composer, Poet, Painter, Singer etc)
Assistant Engineer (All specializations)
Assistant General Manager
Assistant Pharmacist
Assistant Pilot
Astronomer
Auditor
Author
Aviation Guide
Aviation Technician
Aviation Trainer
Bank Manager
Bank Official
Banker
Banking Business Manager
Breeding Specialist (Animals/ Birds/ Bees)
Broadcasting Manager
Business lady
Businessman
Captain of Ship/Cruise/Carrier/Steamship
Career Counselor
Chairman (All types)
Chairman / Executive Director
Chemist (All specializations)
Chief Justice
Cinema Cameraman
Cinema Director
Cinema or Television Producer
College Dean
Commercial Broker
Commercial Manager
Company or Factory Manager
Computer Programmer
Consultant (All types)
Consultant (All types)
Control Equipments Technician
Cooperative Society Manager
Correspondent (Newspaper/Radio/TV)
Cruise Ship Guide
Customs Clearer
Customs Specialist
Decoration Designer
Dental Technician (Fixing)
Diplomat (Members of diplomatic corps)
Director
Earthquakes expert
ECG Technician
Economic Analyst
Electricity Manager
Employees at the Embassies in the GCC countries (Except Support Services Jobs)
Engineer (All Specializations)
Executive Manager or Director
Executive Secretary
Farm Manager
Finance Manager
Finance/Economics Expert
Flight Technician
Food Controller
Foodstuff Technician
Gardening Specialist
General Professional Trainer (Industrial/Agricultural/Commercial)
General Specialist
General Supervisor
Geologist (General)
Geology Technician
Head of Prosecution
Horse Breeding Technician
Hospital Manager
Hotel Manager
Information Systems Expert
Institute Manager
Insurance Manager
Investment Manager
Investor
Jeweller
Journalist
Judge
Lab Specialist
Lab Technician
Laboratory Manager
Land Hostess
Land Transport Manager
Lawyer / Advocate
Lecturer
Legal Expert
Legal Researcher
Library Manager
Literator
Maintenance Manager
Male or Female Nurse
Manager (All types)
Manager or Director of any government departments or companies
Marine Navigator
Marine Traffic Controller
Marine Transport Manager
Maritime Controller
Marketing Executive
Marketing Manager
Marketing Representative
Media Controller
Media Manager
Media Person
Media Specialist
Medical Analysis Specialist
Medical Equipment Technician
Medical Therapy Specialist
Medical X-ray Specialist
Microscopic Technician
Mining Technician
Ministry Undersecretary
Museum Manager
Nutrition Specialist
Operations Analyst
Optical Technician
Partner
Pharmaceutical Technician
Pharmacist
Physician (All specializations)
Physicist
Pilot
Player (All sports items in a sports club)
Police Officer
President or Director of a Club
President or Director of a University
Press Photographer
Printing and Publishing Manager
Procurement Representative
Production Director
Professional Security and Safety Technician
Professor
Program Designer
Program Producer
Proofreader
Prosecutor
Psychiatrist
Quality Controller
Quantity Enumerator
Radio or TV Transmission Technician
Referee (Sports)
Regional Director
Religious person
Research & Studies Director
Road Controller
Sales Executive
Sales Manager
Sales Representative
School Manager
Scientist
Secretary or Manager of Library
Ship Captain
Ship Maintenance Technician
Ship Supervisor
Sociologist
Special Needs Teacher
Speech Specialist
Sports Medicine Specialist
Sports Representative
Sports Trainer
Statistics Specialist
Surgeon (All specializations)
Surveyor
Systems Analyst
Teacher / Instructor
Telecom Technician
Television Manager
Theatre Manager
Tourism Agency Manager
Tourist Guide
Trader
Train Maintenance Technician
Translator
Travel or Tourism Agent
TV Cameraman
TV or Radio Programs Presenter
University Professor
University student
Veterinary Doctor
Weather expert
Well Drilling Technician
X-Ray Specialist
X-ray Technician
Zoology Specialist
Here is the official list of professions in Arabic
Validity and Extension of Visa
The visa on arrival is valid for 30 days and can be extended for a maximum of three months by paying extra fees for every additional month. The visa can be extended at any Ministry of Interior Service Centre.
Visa Fees
The cost of the GCC Residents Visa is QAR 100 (USD 27) for the main applicant, QAR 50 (USD 13.50) for each accompanying person and QAR 200 (USD 55) as overstaying fine per day. Visa holders are allowed to stay in Qatar for up to 30 days on a single trip.
What to do if your profession is not in the list
If your profession is not in the above list, there is no guarantee that you may receive a visa on arrival. In such cases, it would be better to apply in advance for Qatar Tourist Visa online.
In addition to this, Qatar has FREE Visa on Arrival facility for citizens of more than 80 countries. So make sure to check if you are from an eligible country. You can read more about it here: Qatar Visa on Arrival: Complete Guide.
How to Apply for GCC Residents Visa Online
NOTE: Currently this service is suspended. Travellers eligible for visas on arrival can register on the Ehteraz website for pre-travel approval.
In order to save time on arrival and avoid any complications, you can opt to apply for GCC Residents Entry Permit via online. Applications can be made a maximum of 90 days or a minimum of four (4) working days prior to travel.
Sign up or Sign in using your email and password.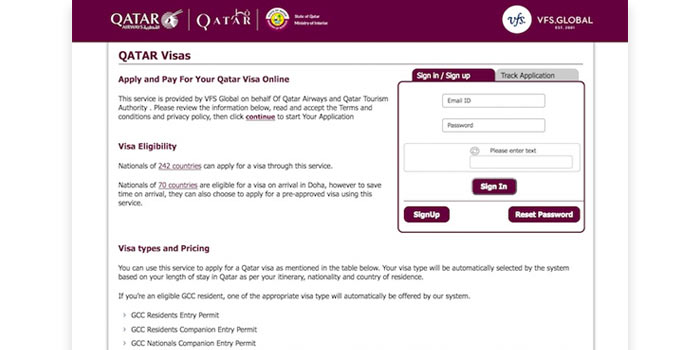 Step 2: Fill up the online application form
You need to fill up basic details like name, nationality, date of birth, contact details etc.
Your visa type will be automatically selected by the system based on your length of stay in Qatar as per your itinerary, nationality and country of residence.
If you are an eligible GCC resident, one of the appropriate visa type will automatically be offered by the system:
GCC Residents Entry Permit
GCC Residents Companion Entry Permit
GCC Nationals Companion Permit
Step 3: Upload all required documents
Documents required include:
Passport information (bio/picture page)
GCC residence visa / GCC ID card
A passport-sized photo
Airline Ticket (Qatar Airways passengers are not required to submit their ticket copy)
Hotel confirmation voucher / relevant documents for a place of stay in Qatar
Step 4: Pay the required fees and submit a request
The portal only accepts payment using a Visa or Mastercard debit or credit card.
Step 5: You will receive status updates on your email
You will receive status updates via email. You can also login to the portal to track the status online.
Step 6: The e-visa will be sent to your email
Once the visa application is processed, the e-visa would be sent to your email. The average timeframe for a response is 48 hours to 96 hours from the time all of the applicant's documents have been received.
Visitors travelling with Qatar Airways may select 'Apply for a visa' after logging in to 'My Trips' on the airline's website. This automatically directs them to the Qatar Visa Service website, where they can start the visa application process for themselves and any accompanying travellers under the same booking.
Copyright © DohaGuides.com – Full or partial reproduction of this article in any language is prohibited.
---
FAQ on Qatar GCC Residents Visa
---
Can GCC residents get Qatar visa on arrival?
Yes, If you are a resident of any GCC country (Bahrain, Kuwait, Oman, Saudi Arabia or UAE) you may be eligible for a single-entry visa on arrival if you meet the required conditions.
What are the conditions to get GCC Residents Visa in Qatar?
The visa will only be issued if your residence permit and passport is valid for at least six months and if your profession appears on this list.
How much is the cost for GCC Residents Visa to Qatar?
The single-entry visa to Qatar can be obtained for a fee of QAR 100 and QAR 50 for companions. The fee is payable by Visa or Mastercard.
How long is the GCC Residents Visa issued for?
GCC Residents Visa to Qatar is a single entry visa valid for 30 days and may be renewed for an additional three months. 
Do GCC citizens need visa to enter Qatar?
Citizens of the GCC countries (Bahrain, Kuwait, Oman, Saudi Arabia and the United Arab Emirates) do not require a visa to enter Qatar.
---
You May Also Like:
---