Qatar's Ministry of Interior has announced that citizens and residents of GCC countries will be allowed to enter Qatar without a Hayya Card from 6 December 2022. Those who are crossing the Abu Samra land border using private vehicles are required to apply for a vehicle entry permit to Qatar.
This article will explain the steps and requirements to apply for a vehicle entry permit to Qatar through the Abu Samra land border crossing during the FIFA World Cup.
Latest Update
21 December 2022 Update: Abu Samra border crossing to resume normal operation: MOI
The Ministry of Interior (MOI) announced that the Abu Samra border crossing will return to its normal operation effective December 23, 2022.
The announcement is further to the previous circulars regarding the restriction of entry procedures through the Abu Samra border crossing for the FIFA World Cup Qatar 2022, said the Ministry.
According to MOI, travellers will be received at the Abu Samra border checkpoint in accordance with the usual procedures previously applied, which include the presentation of approved travel documents.
The Ministry advises the public to complete the vehicle insurance procedure in advance via www.online.qubinsurance.com to ensure smooth entry through the port.
---
Before applying for a vehicle entry permit, make sure that either you have an approved Hayya Entry Permit or you are eligible for GCC Resident Visa On Arrival. GCC Citizens do not need a visa to enter.
How To Apply for Vehicle Entry Permit
Step 1: Go to the MOI Registration Portal
Here is the link to the English portal.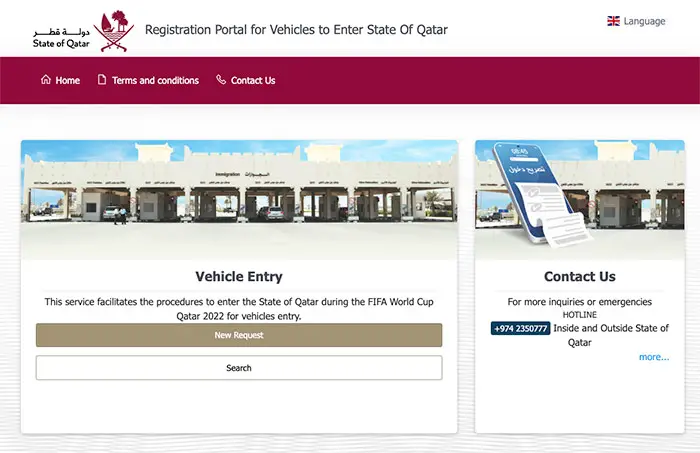 Step 2: Click on "New Request"
Step 3: Register as a new user or log in
If you registered earlier for an Ehteraz permit, you can use the same email id and password to log in.
Or else you can click on "New user registration" and register using your email id.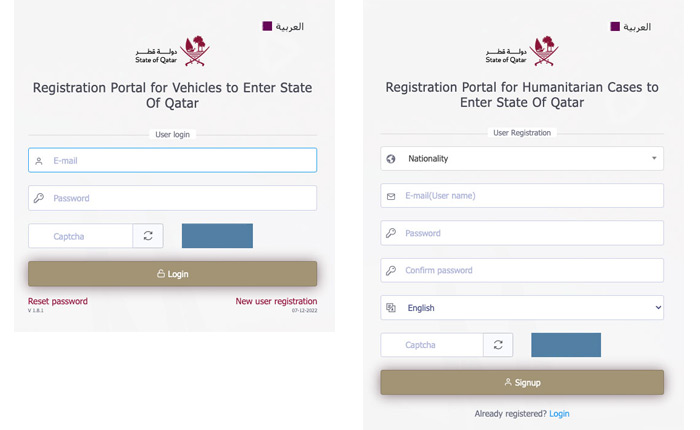 Step 4: Enter your vehicle information
You need to enter details like country of departure, arrival date, passenger count, vehicle type, vehicle country, plate details, manufacture year etc.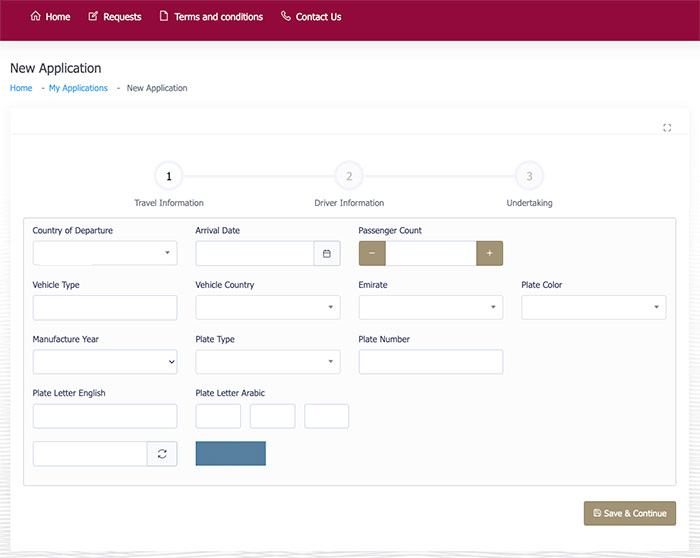 After completing the details, click "Save & Continue".
Step 5: Enter driver information
Here you have to enter details like the driver's name, gender, date of birth, mobile number, and passport details.
After entering the driver details click "Save".
Step 6: Upload the attachments
The required documents are Passport and Vehicle Registration (Istimara).
Click on the "Add" button to attach the files in jpg or pdf format. The file size cannot be more than 2 MB.
Once done, click "Continue".
Step 7: Accept the undertaking and submit it for approval
Select the check box near "I certify that … " and click on "Submit for Approval".
Step 8: Once approved, purchase the vehicle insurance
If approved, an e-mail will be sent attached with the permit and a link to complete the vehicle insurance procedures.
Note: The vehicle would not be allowed to enter the State of Qatar without insuring it.
How To Buy Vehicle Insurance
Vehicle insurance should be purchased through the Qatar Insurance Company (QIC) website. Do not purchase the insurance until your vehicle entry permit application is approved.
Vehicle Insurance Fee
The vehicle insurance fee is as follows:
| Insurance Period | Insurance Fee |
| --- | --- |
| 1 Week | QAR 100 |
| 2 Weeks | QAR 120 |
| 1 Month | QAR 160 |
| 2 Months | QAR 200 |
Procedure at the Land Border
Upon arrival at the land border crossing, you have to produce the following documents to enter the State of Qatar:
Approved Vehicle Permit
Vehicle Insurance Policy
Important Notes
The vehicle entry permit can be used only once. It cannot be used for multiple visits.
You must enter through the land border crossing only.
If the information provided is found incorrect, the application may be rejected, or the approvals issued may be revoked at the discretion of the concerned authorities.
Helpline Contact
For technical support, you can call +974 2350777 Inside and Outside the State of Qatar. You can also email: [email protected]
Travelling Through Saudi Arabia
If you are not starting your journey in Saudi Arabia, you will also need a Saudi visa and car insurance.
Saudi Arabia offers a free multi-entry e-visa to Hayya Card holders, and you can learn more here. GCC Residents can also apply for a one-year multi-permit Saudi visa online.
---
Frequently Asked Questions
---
Is there a fee for a vehicle entry permit to Qatar?
From 8th December 2022, there will be no fee for a vehicle entry permit to enter Qatar. Note that you are liable to buy the vehicle insurance as explained above.
When should I apply for a vehicle entry permit to Qatar?
You should apply at least 12 hours before travelling.
Can GCC Residents enter Qatar without Hayya Card?
If the visitor is eligible for a GCC Resident Visa On Arrival (the profession should be eligible), Hayya Card is not required.
---
Related Articles:
---