Doha Guides Team regularly reviews this article to ensure the content is up-to-date and accurate. The last editorial review and update was on 3 September 2023.
What is Metrash2 app?
Metrash2 (commonly called Metrash) is a free mobile application from Qatar's Ministry of Interior (MOI Qatar). It enables citizens and residents to obtain a wide range of official services while enjoying the convenience of using their cell phones.
The app has more than 150 services, including renewal of residence permits, visit visa applications, driving license renewal, transfer of vehicle ownership and checking traffic violations. The app can also give complete official details of your own and your dependents with a single click.
In 2021, more than 6 million transactions were completed through Metrash2. There are over 2 million active users, and they can access more than 250 services on the app 24 hours a day.
This article explains the step-by-step process of Metrash2 registration, services available on the app and answers to frequently asked questions.
Recent Updates
11 JANUARY 2023 UPDATE
Ministry of Interior has updated the Metrash2 App to allow renewal and updation of establishment details through Establishment Card Services.
The six new services related to Establishment that have been added include details related to general information, address, owner, authorised person, activity and license.
A brief history of MOI Qatar and Metrash app
The Ministry of Interior was formed in 1970 according to decree No. (5) for the year 1970 stipulating the functions of the country's ministries and other government organizations.
MOI Qatar's functions and missions include providing peace and security and organizing police forces guaranteeing the protection of national security and maintaining the safety and security of nationals and expatriates.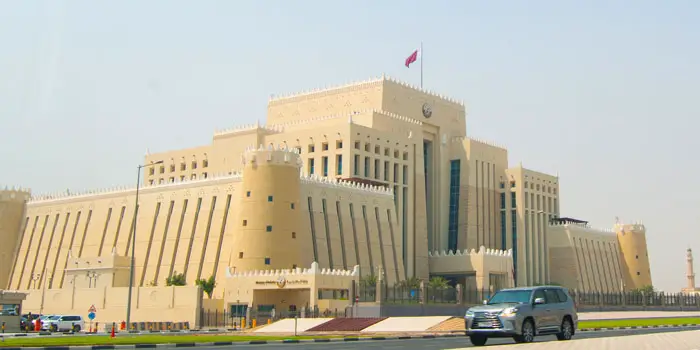 MOI Qatar is also taking all necessary measures to prevent the happenings of crimes and disclosing the secrets of committed crimes, in addition to taking care of nationality-related affairs, issuing travel documents, organizing expatriates' entry to the country and their residence and organizing the prison.
Convoying with the developments witnessed by the State of Qatar under the auspicious leadership of Emir H.H. Sheikh Tamim Bin Hamad Al Thani and Father Emir H.H. Sheikh Hamad Bin Khalifa Al Thani, the role of MOI Qatar and its departments is getting bigger in the field of maintaining security and stability to meet with the requirements of comprehensive renaissance and development in the country.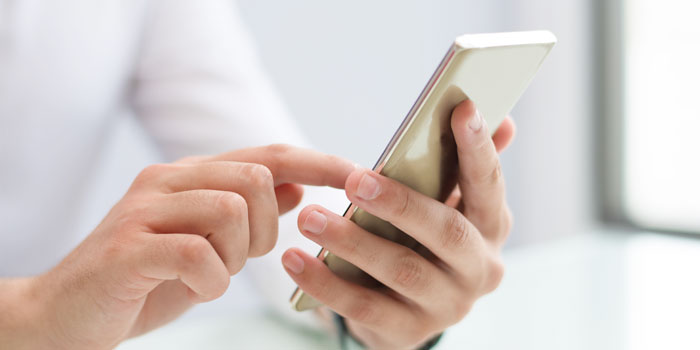 Metrash was originally introduced in 2006 as an electronic service for mobile users only, where upon subscription, residents could receive SMS messages regarding a traffic violation, RP expiry, license expiry etc.
In the initial years, the service was not very popular as the registration was complicated and needed to access the MOI Qatar self-service kiosks. The process has been simplified in the last five years, and you can easily do it in 5 minutes with your smartphone, thereby achieving great popularity.
PLEASE NOTE: Any Qatar Resident above 18 years can register for the Metrash2 mobile application. However, the mobile phone (SIM card) should be registered under his or her Qatar ID number. It is not possible to register if the mobile phone is not under the person's QID.
How to register Metrash on your mobile phone
Step 1. Download the Metrash2 app on your mobile phone
Go to App Store (iPhone users) or Play Store (Android users) and search for Metrash2. Once you find it, click "Download" and then "Open".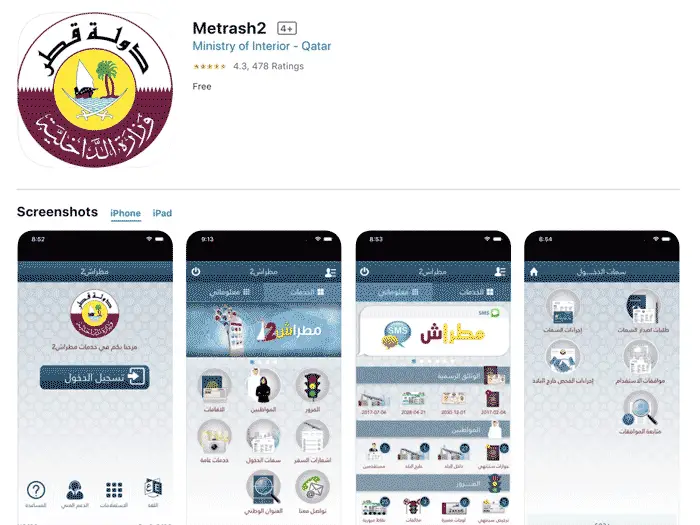 Step 2. Select your preferred language
By default, the app opens in Arabic. You can select your preferred language from the bottom right button. Metrash2 is available in Arabic, English, French, Spanish, Malayalam and Urdu. Click on "Login".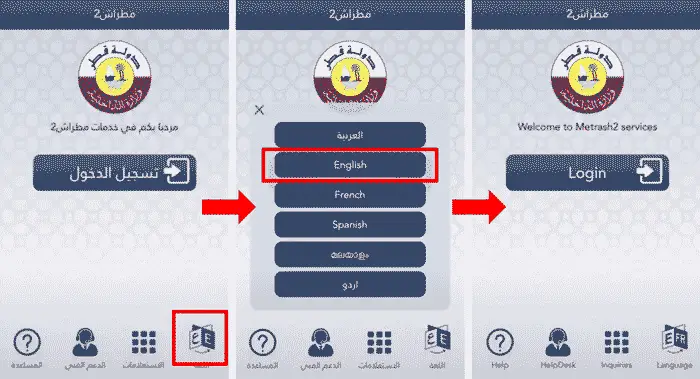 Step 3. Enter Your Qatar ID Number and Expiry Date
On the next screen, enter your Qatar ID number and press "Next". Then enter the expiry date of your Qatar ID.

At this stage, you will get a pop-up question asking, "Are you sure your phone number is under your Qatar ID?". You have to select "YES".
Step 4. Send automated SMS to 92992
The Metrash2 app will generate an automated SMS message to be sent to 92992. Simply click "SEND" and wait for the activation code.
Soon, you will receive an SMS with two activation codes (Part 1 and Part 2).
Step 5. Enter activation codes and set a PIN code
Open the app again and enter your QID and both activation codes you got from the SMS.
Set a numeric PIN code for the app (For security purposes, the PIN has to be at least six digits). The PIN is like a password for the app you would use for all future logins. So use a number that you can remember. Reconfirm the PIN and click on "Submit".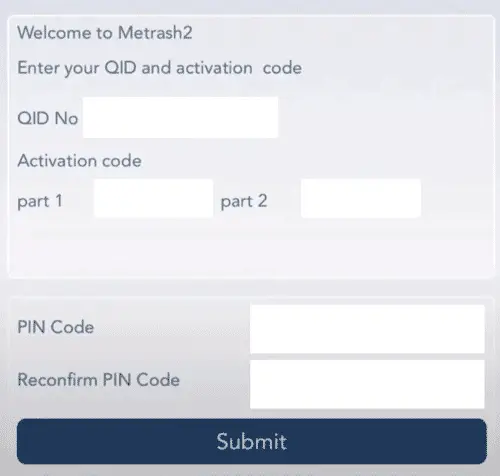 Step 6. Receive confirmation SMS and start using the app
You would have received a confirmation SMS by now. Now you can log in to the app with your PIN and use Metrash. For the first time use, you have to accept the Terms and Conditions. Click on "Accept".
What is inside the Metrash app
Inside the Metrash app, you can see two tabs on top: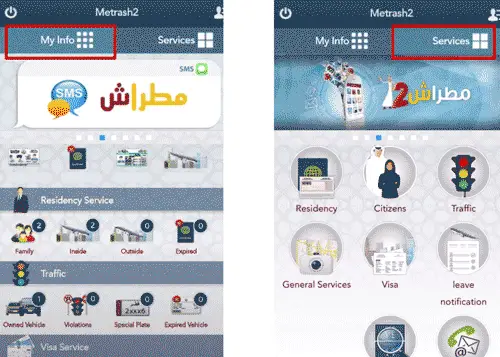 My Info Tab
The first tab has information related to your official documents like Qatar ID, Passport, Driving License and the last date you entered Qatar.
You can see the details of your family members under Residence Services in the second row. The third row has Traffic details like owned vehicles, traffic violations etc. The last row is for Visa Services.
You can see more details if you click on each icon.
Services Tab
The second tab contains the following services:
Residency
On the "Residency" page, you can find options for Issue Residency Permit, Residency Cancellation, Residency Renewal, Replace Damaged or Lost ID, Sponsored Names Report, Re-issue RP, Change Passport Details, Sponsorship Change, Automatic RP Renewal etc.
Citizens
On the "Citizens" page, you can find various transactions needed by Qatari Citizens.
Traffic
On the "Traffic Services" page, you can find services like Driving License Renewal, Check Traffic Violations, Pay for Violations, Vehicle Ownership Transfer, Accident Registration etc.
General Services
This page has services like Report Lost Objects, Police Clearance Certificate, Security Permits etc.
Visa
Visa Page contains services like Issue New Visa, Visa Approval, Visa Extension, Visa Follow Up etc.
Leave Notification
The Leave Notification page has options for Leave Notification, Return Permit, Traveller Transaction etc.
National Address
This page is for registering National Addresses. All citizens and residents must register their residence address on Metrash.
Communicate With Us
This page has options to communicate with departments like CID, Traffic, Security Department etc. You can also report traffic violations through this page.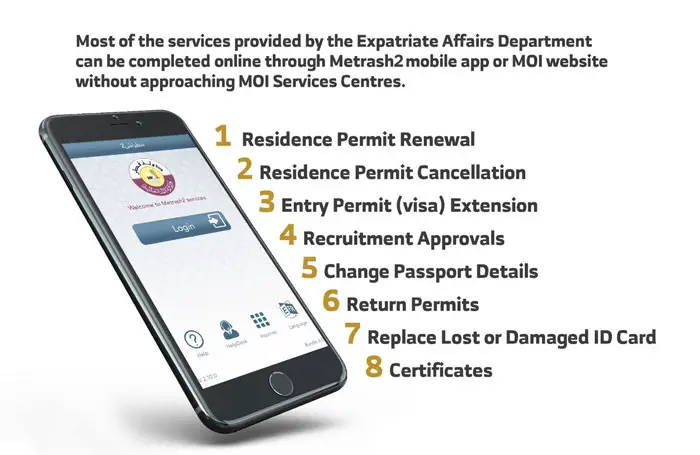 How to activate the Metrash app on a second device
Metrash2 services can be activated on two devices. To activate the second device:
Download the Metrash2 application on the second device.
Enter QID and password used for the first device.
The system will send One Time Password (OTP) valid for 10 minutes to the device used to activate Metrash2.
Enter the OTP password, and Metrash2 services will be activated on the second device.
How To Change Mobile Number in Metrash
MOI Qatar Metrash2 is activated on a mobile number owned by your Qatar ID. If you need to change the default mobile number, follow these steps:
Go to the Ministry of Interior Website
Click on the "Inquiries" icon
Go to Metrash Page
Click on "Metrash for Individuals"
Enter your QID and the new mobile number
Choose language, and enter the CAPTCHA code.
Click "Change Number"
You can also use the same page for Subscribe and Unsubscribe.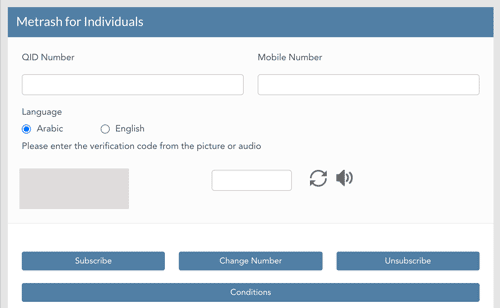 How to deactivate Metrash on a mobile device
Open the Metrash2 app
Click on the top-right icon
Scroll down to the last option named "Settings."
Click on "Deactivate"
Enter the password (PIN)
In case the service is activated on different devices, you should select whether to activate this device or all devices.
Metrash Helpline
For technical issues related to Metrash, you can contact the MOI helpline on 2342000 or email at: [email protected]
The Government Contact Center, which offers 24-hour customer service to citizens and residents, can be reached via telephone at 109 (inside Qatar) or +974-44069999 or by fax at 44069998, or by live chat on the Hukoomi website. The e-mail address is [email protected].
---
FAQ on Metrash Mobile App
---
What to do if I forget the Metrash password?
You can click on "Forget password?" on the login screen and follow the steps to reactivate the service.
How many devices can I activate Metrash?
You can activate the Metrash2 app on up to two devices under one Qatar ID.
What if my phone is not under my Qatar ID?
You have to contact your service provider (Ooredoo or Vodafone) and check about transferring the phone to your QID, or else you have to get another SIM card.
Is the Metrash app required for children?
No, Metrash is not required for children below 18 years.
How can I get assistance for Metrash app issues?
For support on Metrash2, residents can contact the 24-hour call centre: 2342000 or email MOI Qatar at: [email protected]
Can visitors to Qatar install Metrash?
No, it is a requirement that you should have Qatar ID to register for the Metrash2 app.
What payment methods are available on Metrash?
Metrash2 supports two payment methods: Credit card payment (for individuals) and Direct debit through bank (only for companies).
How can companies activate Direct debit account payments for Metrash?
The company representative has to go to Qatar National Bank (Company services) and apply for the Metrash2 service.
What is the refund process in case of an error in paid service?
In case of an error in paid service, a refund request will be submitted automatically to the bank. Transaction time is based on the bank process.
How can I change the Metrash app language?
Inside the app, click on the top-right icon. Scroll down to the last option named "Settings". Click on "Application Language".
---
Related Articles:
Copyright © DohaGuides.com – Unauthorized reproduction of this article in any language is prohibited.
---