Like all other countries, Qatar imposes travel bans against citizens and residents who are involved in pending criminal cases, financial disputes, or immigration violations. If you are a resident or citizen of Qatar and are planning to travel abroad, it's important to ensure that you are not under any travel ban imposed by the government.
In this article, we will provide step-by-step guides on how to check travel ban in Qatar using the Metrash mobile app, the Ministry of Interior e-services portal, as well as through the SJC telephone helplines.
By following these steps, you can easily determine if you have any travel bans in place and take the necessary actions to lift the ban if required. In addition, we have also included a guide on how to request removal of travel ban in Qatar.
Understanding Travel Bans
A travel ban is a legal restriction imposed on an individual's ability to leave the country. A travel ban could be in place for a variety of reasons, including:
Financial Matters: Instances involving financial cases in Qatar.
Unpaid Debts: Situations where there are outstanding debts in Qatar.
Absconding: Cases where individuals have absconded.
Child Custody Disputes: Involvement in child custody cases.
Criminal Involvement: Being linked to a criminal case in Qatar.
Ongoing Investigations: Cases where an investigation is currently underway in Qatar.
Travel bans are often put in place to ensure that individuals facing legal or financial issues remain within the country's jurisdiction until the issues are resolved. It is crucial to check your travel ban status before booking a flight ticket to avoid any inconvenience or legal issues at the airport.
Recently many residents faced travel bans due to violation of Qatar's mask policy during Covid-19 pandemic. In March 2022, the Supreme Judiciary Council of Qatar has advised citizens and residents to check "circulars of travel ban orders" on the "Metrash 2" app before leaving the country.
Checking your travel ban status in Qatar is a simple process that can be completed online. By following the below steps, you can ensure that you have a hassle-free travel experience and avoid any legal issues at the airport.
How To Check Travel Ban in Qatar On Metrash
Metrash2 is a mobile application that allows users to access various government services and complete transactions online. Here is how you can check the travel ban on Metrash mobile app:
Step 1: Open the Metrash app and login
The first step to check your travel ban status in Qatar is to open the Metrash2 application on your mobile phone. If you haven't downloaded the application yet, here is our detailed guide on how to install and activate Metrash mobile app.
Once you have downloaded the application, login using your Qatar ID number and password.
Step 2: Click on the person icon on top right
After logging in to the Metrash application, you will see a dashboard with various options. Look for the person icon on the top right corner of the screen and click on it.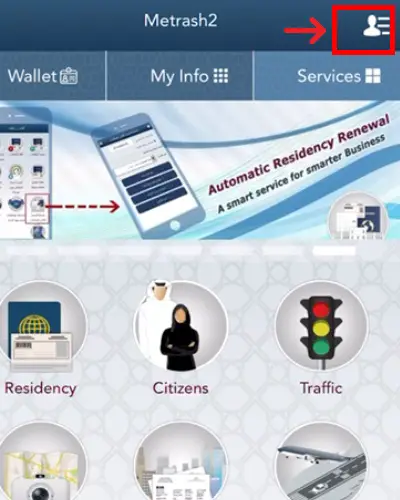 This will take you to a drop-down menu with several options.
Step 3: Select "Travel Ban" from the drop-down menu
From the dropdown menu that appears after clicking the person icon, select the option labeled "Travel Ban." This is the feature that allows you to inquire about any travel bans associated with your profile.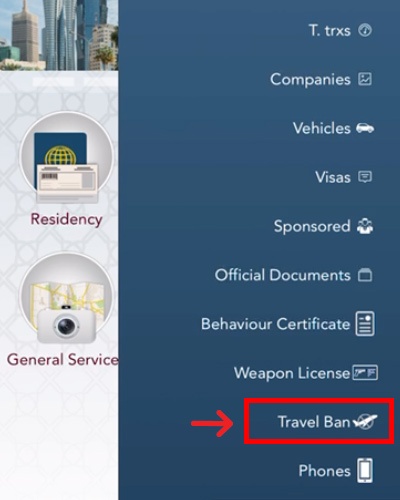 Step 4: View the results
After selecting "Travel Ban," the app will process the information and display the results. If you have no travel bans or circulars against your name, you will see a message that reads "No data found for this search."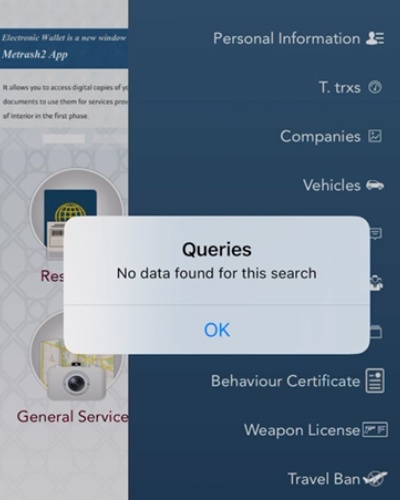 This means that you do not have any travel bans in place and can proceed with your travel plans.
If you have a travel ban in place, the Metrash application will display the details of the ban. In case you have a travel ban, you should take necessary steps to lift the ban before making any travel plans.
---
How To Check Travel Ban in Qatar On MOI Website
Qatar residents who have access to Ministry of Interior's (MOI) e-services portal (with smart card) can also check travel ban on the MOI website. Here are the steps:
Step 1: Login to the MOI E-Services portal
Start by accessing the Ministry of Interior's e-services portal. Use your smart card credentials to log in securely.
Step 2: Select the transaction type
Depending on your role, choose the appropriate transaction type:
If you're the smart card owner, select "Personal."
If you're an authorized representative, choose the relevant company name.
Step 3: Access "Travel Ban Inquiry"
Within the portal, locate and click on the "General Services" section.
From the options presented, select "Travel Ban Inquiry."
Step 4: View the circulars
On the "Travel Ban Inquiry" page, you'll find the "List of Travel Ban Circulars."
Here you can view the circulars recorded on your ID number and the commanding entities. In case of no recorded circulars, the system will display a message stating so.
Once you've completed your inquiry, make sure to log out of the service.
---
How To Check Travel Ban Through Phone
Apart from the Metrash app and MOI website, individuals can also inquire about travel ban orders using Supreme Judiciary Council's helpline numbers: 5578 8372, 4459 7769, and 4459 7777.
---
How To Request Removal of Travel Ban in Qatar
Citizens and residents can seek the removal of their Qatar travel ban by submitting a petition through the Al Mahakem E-Services Portal. Al Mahakem is the official website of Qatar's Supreme Judicial Council.
NOTE: If you are not fluent in Arabic or unsure about the reason for travel ban, it is recommended to seek legal assistance from a lawyer.
Below are the steps to initiate a request for the removal of a Qatar travel ban through a petition. You or your legal representative can apply online for this.
Log in to the Al Mahakem E-Services Portal.
Enter the activation code that has been sent to your registered phone number.
Next, select the appropriate entry type, either "lawyer" or "personal."
Opt for the "Motion Trials Services" category.
Within the service options, choose "Request Cancellation of Travel Ban."
Fill in all the necessary details, including applicant information, case details and number, application particulars, attached documents, and your signature.
Complete the process by submitting your cancellation request.
If required, proceed to complete the payment on "Electronic Payments".
It is important to note that you can only request the removal of a travel ban if the charges against you have been settled or revoked. If there is an active violation or case in place, this appeal may not be effective.
By following the steps outlined in this guide and using the official channels, you can ensure a smoother travel experience. Remember, accurate information is key to a successful inquiry, and staying informed helps you make well-informed decisions.
---
You May Also Like:
Copyright © DohaGuides.com – Full or partial reproduction of this article in any language is prohibited.
---