Ever wanted to report something to the authorities, but didn't want to reveal your identity? Qatar's Ministry of Interior (MOI) has a smart way for you to do just that – it's called the Al-Adeed Service on Metrash mobile app.
Al-Adeed Service on Metrash lets you report things like bad behavior, problems in tourist places, and even corruption anonymously.
This guide will show you how to use Al-Adeed service to share concerns, add details, and even pictures if needed, all while keeping your identity a secret. So, let's dive in and discover how this cool service is making Qatar a better and safer place for everyone.
What is Al-Adeed Service On Metrash
The Al-Adeed Service, also known as Al-Adeid (العضيد), on Metrash is a tool that enables Qatar residents to file reports anonymously, addressing a range of concerns including public morals, negative trends, violations in tourist areas, administrative corruption, and threats.
Backed by the Ministry of Interior, this whistleblower service is not just about reporting; it's about ensuring preventive security measures for a safer community.
Purpose of Al-Adeed Service
Through this service, individuals can play an active role in preventing security breaches and safeguarding public spaces. By raising awareness about negative trends, administrative corruption, and threats, you contribute to the collective effort of maintaining a secure environment for everyone.
This service allows individuals to voice their concerns without the fear of revealing their identity. Whether you have encountered an issue related to public ethics or you've come across a worrying trend, this service lets you contribute to the safety and wellbeing of your community.
The Ministry of Interior has aptly labeled the Al-Adeed Service as a "preventive security reporting" mechanism.
Ensuring Confidentiality
Privacy and confidentiality are paramount in the Al-Adeed Service. MOI has assured that the reports submitted through this service are treated with the utmost discretion.
The identity of the complainant remains undisclosed, ensuring that individuals can share their concerns without any fear of repercussions. This commitment to confidentiality encourages individuals to speak up without hesitation.
How To File A Complaint Anonymously
The process of filing a report through the Al-Adeed Service on Metrash is straightforward and user-friendly. If you have witnessed a situation that requires attention, follow these steps to file your report:
Step 1: Launch Metrash2 App
Ensure you have the Metrash2 app installed on your device. If not, download and install it from your app store.
Step 2: Access Al-Adeed Service
Open the Metrash2 app
Click on "Communicate with Us"
Click on "Preventive Security"
Select "Al-Adeed Service Reporting"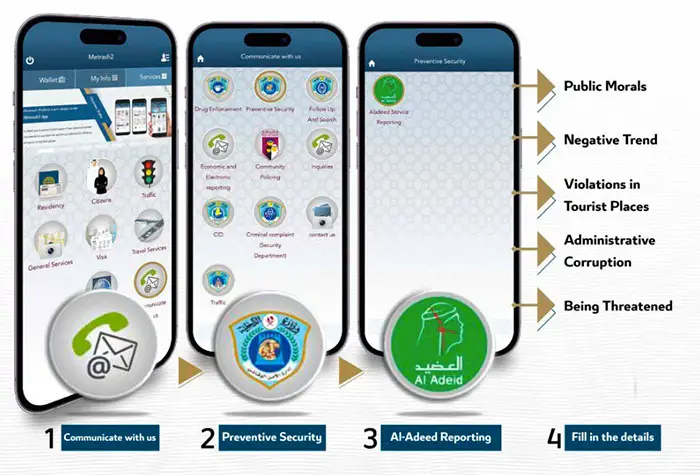 Step 3: Provide Details
Select the Al-Adeed Service and begin by adding relevant details about the incident or concern you are reporting. Be as specific as possible to aid the authorities in understanding the situation accurately.
Step 4: Attach Media (if necessary)
If you have a photo or any media that supports your report, you can attach it within the app. Visual evidence can often provide valuable context to your report.
Step 5: Add Comments and Submit
Feel free to add comments or additional information that might help authorities comprehend the situation better. Your insights can be invaluable in addressing the concern effectively.
Community Participation
The Al-Adeed Service is a testament to the Ministry's belief that security is a shared responsibility. By leveraging the capabilities of technology and digitalization, MOI has made it easier for residents and citizens to contribute to the safety of their surroundings.
This service is just one of the many offerings within the Metrash2 app that showcase the Ministry's commitment to modernizing public services.
With the assurance of anonymity, user-friendly interface, and the dedication of the Ministry of Interior, the Al-Adeed Service empowers you to contribute to a safer and more secure Qatar. Embrace this opportunity, and together, let's make a positive impact on our society.
---
Related Articles:
Copyright © DohaGuides.com – Unauthorized reproduction of this article in any language is prohibited.
---