The FIFA Fan Festival™, the biggest and longest celebration event of the FIFA World Cup Qatar 2022™, opened to the public on 19 November 2022. There will be 29 days of football, music, culture and lifestyle – a true football festival!
Here is everything you need to know about the FIFA Fan Festival Qatar – including location, dates, timings, events schedule, how to attend and other frequently asked questions.
Recent Updates
Hayya Card is Required for Entry To FIFA Fan Festival
According to Qatar News Agency (QNA), SC's Director of Events has confirmed that only 3 entertainment destinations will require Hayya Card for entry: FIFA Fan Festival, Ras Abu Aboud Beach 974, and the Old Doha Port. Entry to other entertainment destinations does not require a Hayya card.
---
What is FIFA Fan Festival?
The FIFA Fan Festival is a public viewing site organized by FIFA and the host cities during FIFA World Cup. There will be live match screenings, entertainment events, music concerts, and a food festival.
According to FIFA, The FIFA Fan Festival is the central destination where fans from all over the world meet to share their emotions and celebrate the unique atmosphere of the FIFA World Cup. Since its launch in 2006, the FIFA Fan Fest has been a great success at four editions of the FIFA World Cup and in 52 venues on five continents in cities with visits from almost 40 million people worldwide.
FIFA Fan Festival Qatar Location
Al Bidda Park in Central Doha is the venue for FIFA Fan Festival during FIFA World Cup Qatar 2022. Located between West Bay and Souq Waqif, the venue can accommodate a capacity of 40,000 fans.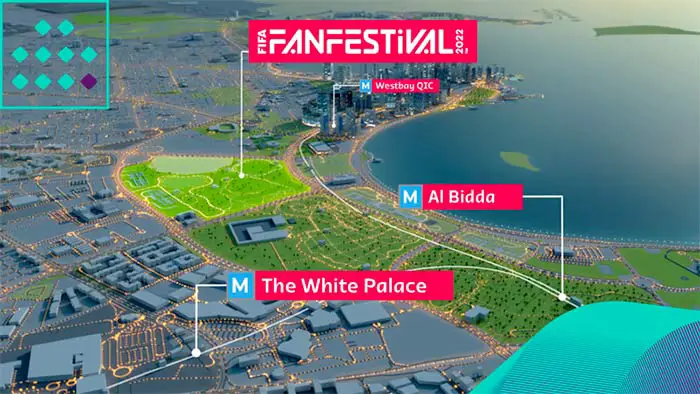 How To Reach FIFA Fan Festival Qatar
Al Bidda Park, the venue for the FIFA Fan Festival, will be accessible via Doha Metro. The nearest Doha Metro stations are:
West Bay Qatar Energy (Red Line)
Corniche (Red Line) – Exit only 
Al Bidda (Red and Green Lines)
Metro Timings: Doha Metro will operate from 6 am to 3 am during the World Cup. On Fridays, the service will be from 9 am to 3 am. All Hayya Card holders enjoy free travel throughout the tournament.
Dedicated transport will be provided from the stadiums to the FIFA Fan Festival and vice versa.
Fans can hop on the Shuttle Bus Loop or a Stadium Express Bus.
Park & Ride option is available at many Metro stations.
Taxi, Uber and Careem also will be available.
You can also reach by foot if you walk along the Doha Corniche.
READ: Doha Road Closures and Traffic Updates During World Cup
FIFA Fan Festival Qatar Schedule
The FIFA Fan Festival will be open every day of the tournament (from 19 November to 18 December 2022).
The venue will be open two hours before the first match kicks off on each matchday until one hour after the day's last match. Below are the timings of the festival venue:
19 November to 29 November
| Dates | Timing |
| --- | --- |
| November 19 | 5 PM to 2 AM  |
| November 20 | 3 PM to 2 AM |
| November 21 | 1 PM to 2 AM |
| November 22 to 28 | 10 AM to 2 AM |
| November 25 | 11 AM to 2 AM  |
| November 29 | 1 PM to 2 AM |
30 November to 18 December
| | |
| --- | --- |
| Match Days | 3 PM to 2 AM |
| Rest Days | 5 PM to 2 AM |
FIFA Fan Festival Events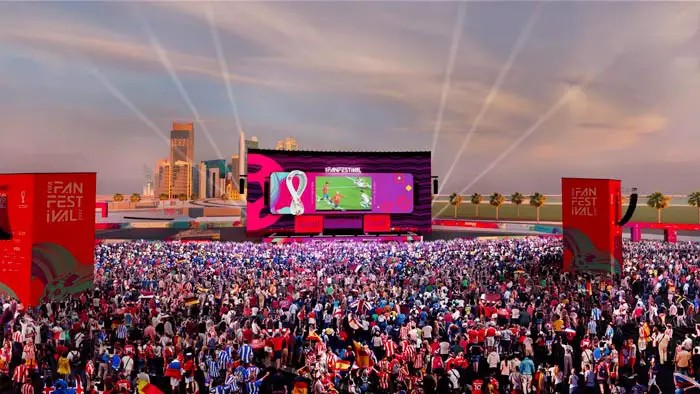 The Fan Festival has three zones: Live, Food and Play. 
Hayya Card holders can watch all 64 matches of the tournament on giant screens in a buzzing atmosphere, all free of charge on matchdays. They can also enjoy the following:
Musical Concerts – Confirmed Artists
The FIFA Fan Festival will host over 100 hours of live music by top global bands and local artists. There will be concerts starring top global and local music acts and live works by internationally acclaimed performance artists.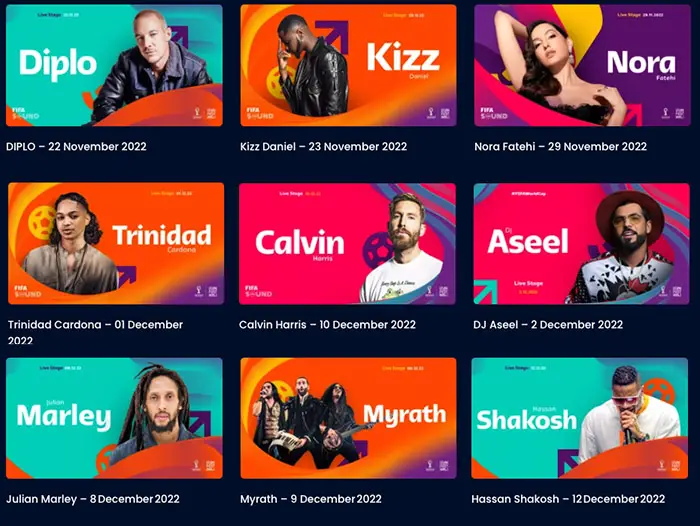 Below are the artists that have been announced so far:
DIPLO – 22 November 2022
Kizz Daniel – 23 November 2022
Tamtam – 25 November 2022
Felukah – 25 November 2022
Bader Al Shuaibi – 26 November 2022
Patoranking – 28 November 2022
Ciro y Los Persas – 29 November 2022
Nora Fatehi – 29 November 2022
Oman Montes – 30 November 2022
Trinidad Cardona – 01 December 2022
DJ Aseel – 2 December 2022
GIMS – 3 December 2022
Julian Marley – 8 December 2022
Myrath – 9 December 2022
Calvin Harris – 10 December 2022
Hassan Shakosh – 12 December 2022
Paul Van Dyk – 15 December 2022
Clean Bandit – 16 December 2022
Sean Paul – 17 December 2022
DJ Cosmicat – 13 & 14 December 2022
DJ Khaled MamDouh – 2- & 27 November 2022
This fantastic artist line-up keeps growing, so check back for more.
Video Courtesy: Qatar 2022 Official Youtube Channel
Fans' Cup
Fans' Cup will be a 6-a-side football competition that mirrors the tournament schedule at the Adidas Stadium. The Fans' Cup will be held in Qatar from Tuesday, 29 November – Friday, 2 December 2022. If you are interested in participating, you can find more information here.
There will be unique football matches with FIFA Legends, in addition to interactive physical and digital football gaming stations for fans of all ages,
Official Partner Activations
You can also see innovative sponsor activities, dedicated football exhibitions and an official FIFA Store with licensed FIFA World Cup products.
Many family-friendly areas will offer great games and must-have giveaways, such as Hyundai Museum, Qatar Airways Zip Line, QNB Dynamic Football Area, Connect With Coca-Cola, and many more.
At the Education Above All pavilion, you can explore Qatar's involvement in climate, sustainability, equality, anti-poverty, and economic growth programs – showcasing the country's vision for a better world for all.
Food Court
The venue will have a food court with unique culinary experiences ranging from local cuisine to international delicacies.
Doha's skyline will provide the perfect backdrop for stunning photography and filming, enabling visitors to share their own FIFA World Cup highlights.
FIFA will also extend the reach of the event around the world by enabling fans to watch, experience and interact with content from the FIFA Fan Festival through the FIFA+ digital platform.
From football enthusiasts to music, food and culture lovers, it will be a hotspot for all types of fans!
Qatar will also host a vast array of cultural and entertainment options during this year's FIFA World Cup, with more than 90 special events set to take place on the sidelines of the tournament.
FIFA Fan Festival Venue Map
Below is a venue map of the FIFA Fan Festival being held at Al Bidda Park, Doha:
You can find a high-resolution map here.
Past Events
FIFA Fan Festival Opening on 19 November
The FIFA Fan Festival in Al Bidda Park officially opened on 19 November. Lebanese singer Myriam Fares and Colombian star Maluma opened the Live Stage with headline solo concerts.
Maluma and Myriam Fares serenaded the thousands of fans. The two artists along with Nicki Minaj have also sung "Tukoh Taka," the first-ever official FIFA Fan Festival anthem.
More than 40,000 fans attended the opening, which included DJ sets, a firework display and a thrilling performance of the FIFA Fan Festival anthem Tukoh Taka.
Test Event on 16 November
The FIFA Fan Festival at Al Bidda Park hosted a special test event for Hayya Card holders on 16 November 2022. The event served as the final rehearsal before the fan activation opens to the public on 19 November.
Fans were entertained by a resident DJ and a special Michael Jackson Show. Gates opened at 5 pm, with the show running until 10 pm. The event was open to Hayya Card holders only.
---
Frequently Asked Questions
---
What is the FIFA Fan Festival?
FIFA Fan Festival is the world's biggest football party. In addition to watching FIFA World Cup matches live, you can enjoy music and entertainment during match days.
Is a ticket required to enter the FIFA Fan Festival?
No, the FIFA Fan Festival is free of charge and open to everyone with a Hayya Card.
Can I watch every match at the FIFA Fan Festival?
Yes, FIFA will broadcast 64 matches from the FIFA World Cup Qatar 2022.
Will there be FIFA Fan Festivals in any other city?
Six global cities: London, Mexico City, Rio de Janeiro, São Paulo, Seoul and Dubai, will also host International FIFA Fan Festival events during FIFA World Cup Qatar 2022.
---
Related Articles:
---