Considering the influx of visitors during the FIFA World Cup Qatar 202, the Doha Metro plans to increase the number of trains and their service frequency. This article will explain the service updates and changes to Doha Metro during World Cup, including new timing, arrangements, facilities, ticket rates etc.
Recent Updates
19 DECEMBER 2022: Doha Metro & Lusail Tram has announced new service hours starting from 20 December 2022.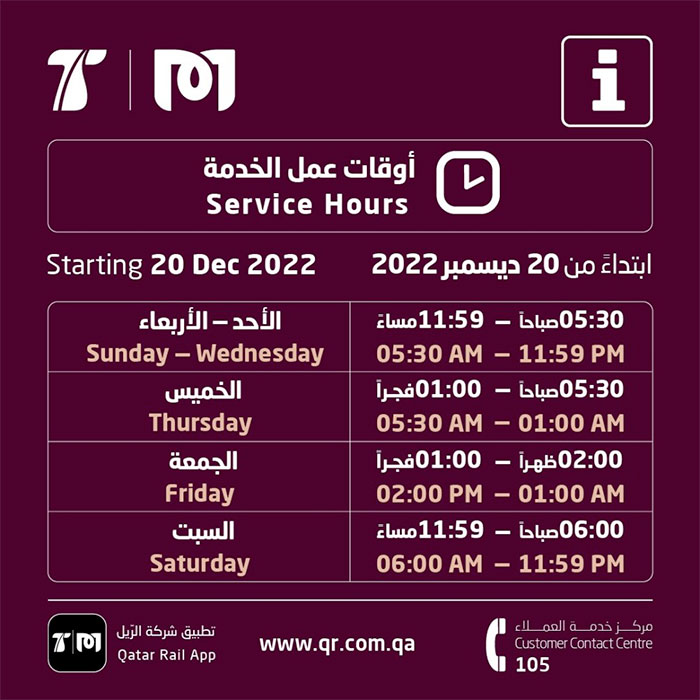 Doha Metro transports 2.4 million passengers in four days
During the first four days of the FIFA World Cup Qatar 2022 tournament, Doha Metro and Lusail Tram transported 2.4 million passengers to their various destinations, especially toward the tournament stadiums, recreational spaces and fan zones.
Walking time between stations
Walking can be quick and easy to get around Metro stations, especially during busy times. This map shows you how much time it takes to walk between some stations.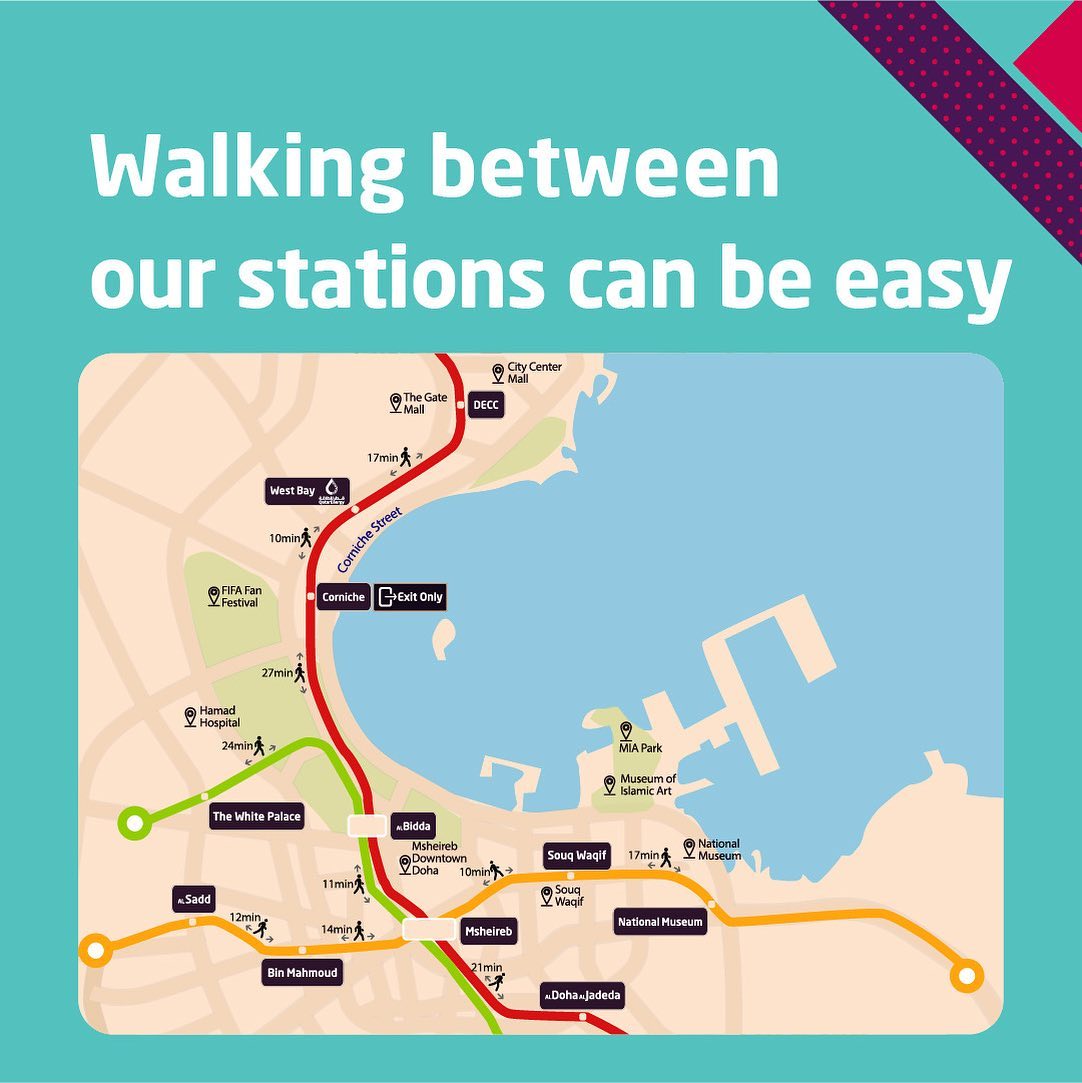 Using Metro for airport travel
Travellers can use Al Matar Al Qadeem metro station to reach Doha International Airport (DIA), and use Hamad International Airport T1 station to reach Hamad International Airport (HIA).
For safety reasons, travellers with luggage won't be allowed on board during busy times. Please plan your trip to the airport ahead of time.
Free ride for Hayya Card holders
Starting from 10 November 2022 till 23 December 2022, those with Hayya Card can use the metro service for free. Prepare your Hayya Card on your phone before reaching the gates and show it to the Metro staff. Tapping is not required.
---
Corniche Station to be exit only
10 Nov: From 11 November to 19 December 2022, Corniche station on the Red Line will operate as an exit only. You can access the Metro through the nearest stations: West Bay Qatar Energy or Al Bidda.
---
35 additional gates installed
08 Nov: As part of Qatar Rail's preparations for the FIFA World Cup Qatar 2022, 35 additional gates have been installed in nine Doha Metro stations. These nine metro stations are those connected to the stadiums and fan entertainment areas, which are expected to see a huge turnout. The additional gates will facilitate the movement of fans inside stations.
---
Suspension of Gold Class
06 Nov: Starting November 11, 2022, all carriages in the metro will be changed to Standard Class. The Gold and Family Class will be suspended until December 22, 2022. This step is being taken to increase the train capacity during the FIFA World Cup Qatar 2022. 
---
About Doha Metro
Doha Metro, which started operations in the year 2019, is a state-of-the-art public transportation system running across the city of Doha. The metro system has three lines (Gold, Green and Red) covering 37 stations. Trains run every 3 minutes, and staff are available at every station to assist you during your journey.
Doha Metro During World Cup
For most visitors, Doha Metro will be the main mode of transport during the World Cup. Almost all stadiums are accessible using the Metro services. Some stadiums will be connected with Metro stations using complementary bus services on match days.
Qatar Rail has announced that thirty-seven metro stations and seven tram stations will be operational during the World Cup 2022. The entire fleet, consisting of 110 Metro trains, those in service and those on stand-by, and 18 trams will be operated during this period.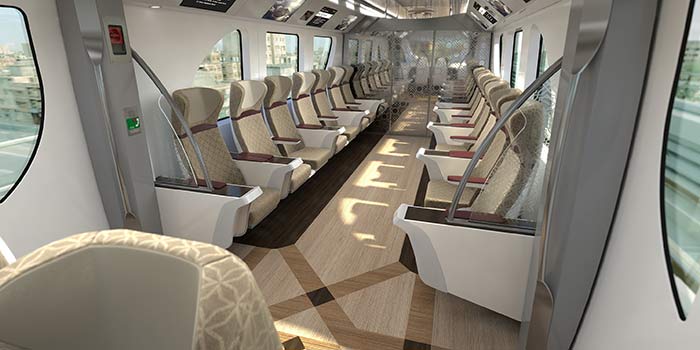 The Park and Ride facility available at 13 metro stations will provide 18,200 parking spaces.
According to Dr. Abdulla bin Abdulaziz bin Turki Al-Subaie, Minister of Municipality and CEO of Qatar Rail, the Doha Metro network is ready to handle 500,000 expected daily passengers during the World Cup. This will be is nearly five to six times the current ridership of the Metro.
More than 5,000 people have been mobilized to support delivering the event, with 1,800 dedicated staff trained to manage crowds outside the stations.
Other measures to ensure passengers' safety and smooth flow in and around stations include installing line barriers at all 37 stations, advanced monitoring systems for managing incidents and emergencies, and a minute-by-minute simulation model for ridership at each station.
On 12 October 2022, representatives from the Supreme Committee for Delivery and Legacy, Ministry of Interior, Ministry of Transport, Qatar Rail, Mowasalat and Public Works Department organised a press conference where the officials announced the details of the transportation services during the tournament. 
Doha Metro Stadiums Map
Below is a map of the Doha Metro connecting the FIFA World Cup stadiums:
Timing of Doha Metro During World Cup
On the occasion of the FIFA World Cup Qatar 2022, from 11 November to 19 December, Doha Metro Services will operate from 6 am to 3 am. On Fridays, the service will be from 9 am to 3 am.
| Days | Timing During World Cup |
| --- | --- |
| Saturday to Thursday | 6 am to 3 am |
| Friday | 9 am to 3 am |
Doha Metro Timing During World Cup
The timing after the World Cup (from 20 December 2022) is as follows:
| Days | Timing |
| --- | --- |
| Sunday to Wednesday | 05:30 AM to 11:59 AM |
| Thursday | 05:30 AM to 01:00 AM |
| Fridays | 02:00 PM to 01:00 AM |
| Saturday | 06:00 AM to 11:59 AM |
Doha Metro Timing From 20 December 2022
Metro Link and Meto Express During World Cup
Metrolink feeder services will continue to operate on 43 lines, serving the metro stations. MetroLink feeder buses provide first and last-mile connectivity to Qatar Rail customers within a 2 to 5-kilometre radius of the stations.
The MetroExpress on-demand service will only be available from 6 am until noon. MetroExpress is a free ride-sharing service with a fleet of branded Mercedes Vito vans, seating seven people per vehicle. This service currently covers eight stations.
Doha Metro Tickets During World Cup
It was announced earlier that Hayya Card holders could use public transport free of cost during the tournament. The officials have clarified that Hayya Cardholders can use the metro and tram for free from 10 November to 23 December 2022.
Non-ticketholders can buy a travel card at any station. The cost of the re-usable travel card is QR 10 (USD 2.75). The Standard & Family Class rates are QR 2 per single journey, with a maximum of QR 6 per day.
Travellers can save time by topping up online or on the Qatar Rail app (iOS and Android). Children up to the age of 5 can travel free of charge. Standard rates apply for children above 5.
All stations have elevators, and train carriages provide space for wheelchair users, pushchairs, and guide dog allowances.
Please check our detailed guide for more details about Doha Metro, including maps and stations.
---
Frequently Asked Questions
---
What will be the timing for Doha Metro during World Cup?
During World Cup, Doha Metro Services will operate from 6 am to 3 am during weekdays and from 9 am to 3 am on Fridays.
Can Hayya Card holders travel free on Doha Metro?
Yes, Hayya Cardholders can use the metro and tram for free from 10 November to 23 December 2022.
How frequent are Doha Metro trains?
Currently, Doha Metro trains run every 3 minutes. Qatar Rail may change this during World Cup to accommodate more travellers.
---
Related Articles:
---