Doha Guides Team regularly reviews this article to ensure the content is up-to-date and accurate. The last editorial review and update were on 09 November 2022.
In July 2021, Qatar launched an online pre-travel registration service for travellers arriving in Qatar. The service, known as Ehteraz Pre-Travel Registration, was mandatory for visitors until 1 November 2022.
The Ehteraz pre-registration system for those coming to Qatar aimed to facilitate the arrival process and verify the visitor's immunity status. Using this online platform, passengers could upload all required documents, such as vaccination certificates and other relevant data, to avoid hassle and long queues at the airport.
This article explains the step-by-step process of how to do the Ehteraz pre-registration and answers frequently asked questions.
NOVEMBER 2022 UPDATE: From 1 November 2022, visitors entering Qatar are not required to do Ehteraz pre-travel registration. This is as per the latest travel policy announced by MOPH.
Recent Updates
1 OCTOBER 2022 UPDATE: From 1 November 2022, entry into the State of Qatar will be restricted to holders of the Hayya Card, Qatari citizens and residents only. Everyone except Qatari citizens and residents must have a Hayya Card to enter Qatar during the tournament. FIFA World Cup Qatar 2022 visitors who hold Hayya Cards are excluded from the pre-entry online registration requirement on the Ehteraz website.
---
1 SEPTEMBER 2022 UPDATE: Qatar's Ministry of Public Health (MoPH) has announced a new travel policy which will come into effect on Sunday, 4 September 2022. Quarantine is no longer mandatory for all travellers arriving from abroad. However, if passenger tests positive for COVID-19 after arriving in Qatar, quarantine measures must be followed as stipulated by the State. Country classification based on COVID-19 risk (Red List and Standard Health List) is no longer applicable.
---
Please ignore the content below as it is no longer applicable.
As per the latest guidelines on the MOPH website, non-residents of Qatar must apply through the Ehteraz website and upload all relevant documents, such as vaccine certificates, at least three days before arrival.
RT-PCR test result is no longer required during the Ehteraz pre-registration process. Instead, travellers must present the original copy of the negative RT-PCR, or Rapid Antigen Test result to the airlines to allow them to board the plane or at the country's ports. This test should have been conducted within 48 hours of travel.
According to MOPH, all visitors will be required to download all official documents and present the Ehteraz travel permit to the airline employees (in case of travelling through Hamad International Airport) to allow them to board the aircraft or to the immigration employees at the land borders (in the event of travelling through Abu Samra land port).
NOTE: Ehteraz pre-travel registration should not be confused with the Ehteraz mobile app, which is a different service to be used once you are inside Qatar.
Is Pre-Travel Registration Compulsory for All Travellers?
From 1 November 2022, registering on the Ehteraz website is not required for travellers (visitors and residents).
Also, Ehteraz pre-registration is not needed for transit through Doha Airport.
Advantages of Ehteraz Pre-Travel Registration
The Ehteraz pre-travel registration has several advantages:
It will ensure that you meet the required conditions and are authorized to enter Qatar.
It will make your check-in and departure process smooth at the point of departure.
It will ensure quick completion of entry procedures at Doha airport/point of entry.
Travellers with pre-approval will be allowed to use the designated fast-track route and proceed directly to the immigration checkpoint
Documents Required For Ehteraz Pre-travel Registration
To apply for Ehteraz travel registration, the following documents are required:
Passport copy (for visitors)
A vaccination certificate issued by the competent authorities in the country departing from (for those who are fully vaccinated and 14 days have passed after the second dose)
A COVID-19 recovery certificate issued by the approved health authorities in the country departing from (for those who were recovered within a period not exceeding twelve months)
Two-way airline ticket if you are a visitor applying for a visa on arrival service
Hotel booking (for the entire duration) through the Discover Qatar website for Indian, Pakistani, and Iranian nationals applying for visas on arrival (requirement from 14 April 2022)
NOTE: All visitors aged six (6) and above should have a negative RT-PCR test result obtained no more than 48 hours before departure or a Rapid Antigen Test (RAT) certificate obtained no more than 24 hours before departure.
However, as per the new rules, this need not be uploaded during Ehteraz pre-registration. Instead, the original test result should be presented during check-in at the airport or during entry at other borders. Minors aged 0-5 years are exempted from COVID testing.
When To Do The Ehteraz Pre-Travel Registration
Travellers must apply through the Ehteraz platform at least three (3) days before arrival* to Qatar and submit the required documents.
Please note that the system will not accept your application if your travel date is after seven (7) days. However, you can start filling up the application form earlier and save it for future submission.
It is highly recommended to submit the application 6 or 7 days before travel as there can be delays in approval.
*2 December 2021 Update
How To Do Ehteraz Pre-Travel Registration
Below are the steps for travellers to do the pre-travel registration on the Ehteraz website:
Step 1: Go to Ehteraz's official website www.ehteraz.gov.qa
Step 2: Go to Pre-entry Registration; Click on the "Register new request" button
This is a recent update to the page. You can find this section on the left side in maroon colour.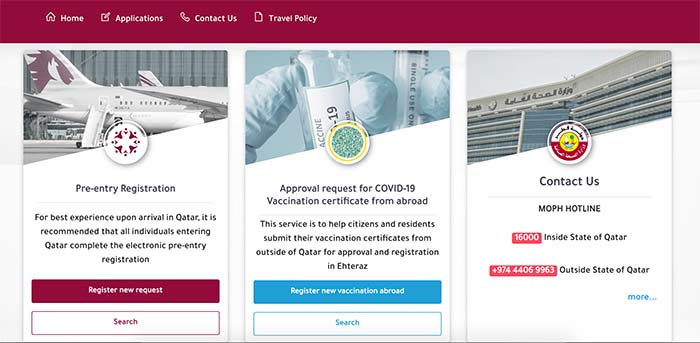 It will take you to this page: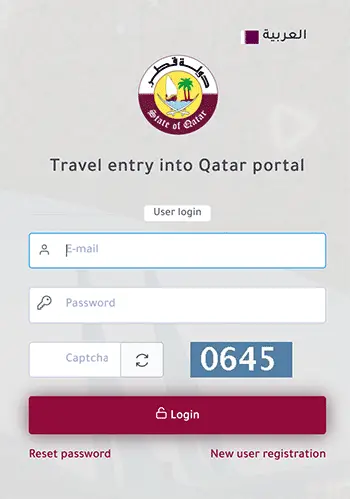 Note: You can also reach this page by clicking on the "Pre-Registration System" link on Ehteraz mobile app. Either way, you will be redirected to the same page, and the process is the same as below.
Step 3: If you are using the website for the first time, click on "New User Registration"
If you are already registered, go to Step 5 below.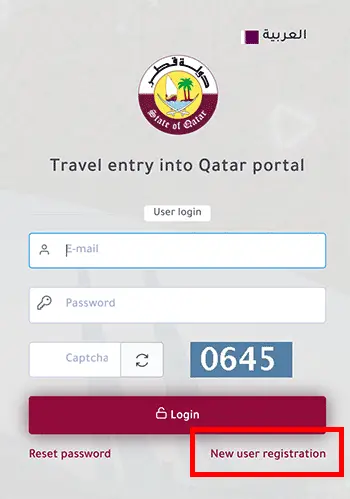 Step 4: Enter your details on the User Registration page
Select your nationality, enter your email and create a password. Click on the "Signup" button.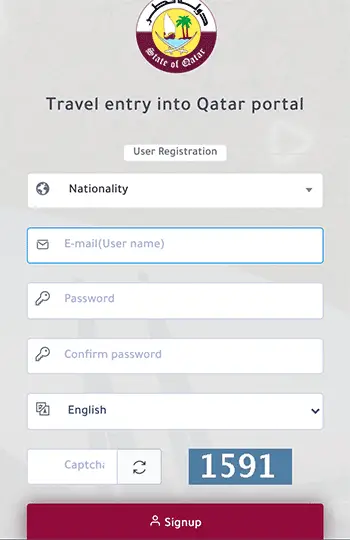 Step 5: Activate your account by clicking the email link
You will receive an email with the activation link. Click on the email link to activate your account.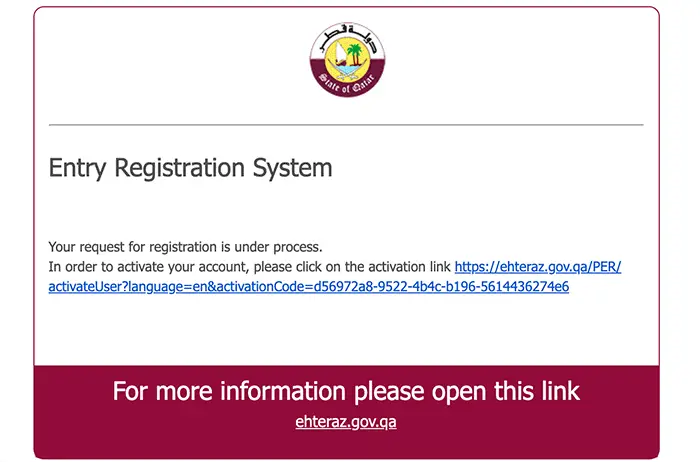 Step 6: Go to the login page, enter your email id and password
Enter the captcha code (number shown in the image) and click on the "Login" button.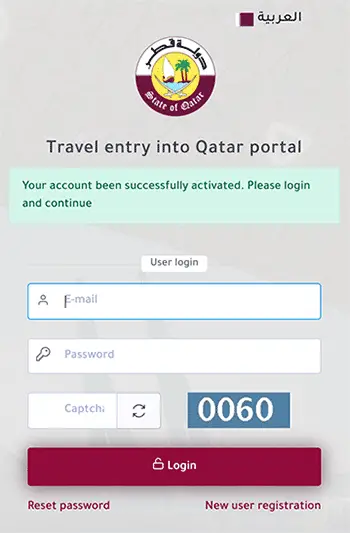 Step 7: On the next page, click on "Register New Request"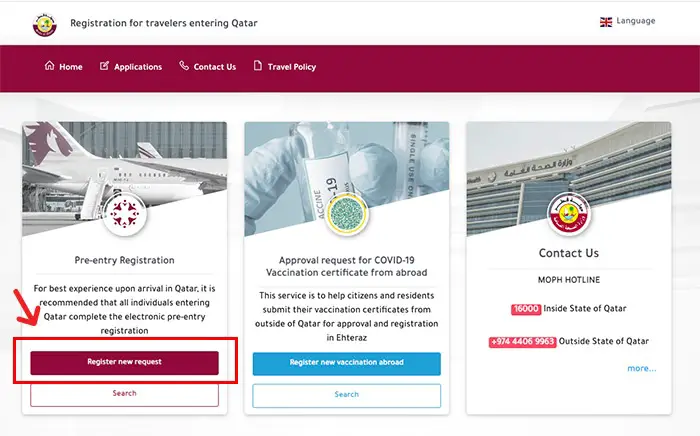 Step 8: Enter your travel information
Select arrival border, country of departure, arrival date, and passenger count (if you are travelling alone, the passenger count will be 1). For passengers arriving by air, arrival time is also required. Enter the captcha code and click on "Save & Continue".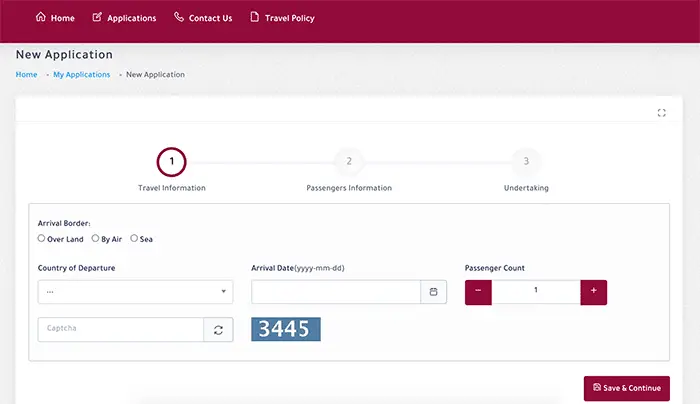 Step 9: On the next page, select visitor type and details
If you choose Qatari/Resident option, enter your nationality, QID number, and date of birth. Then enter the captcha code and click on the "Retrieve" button.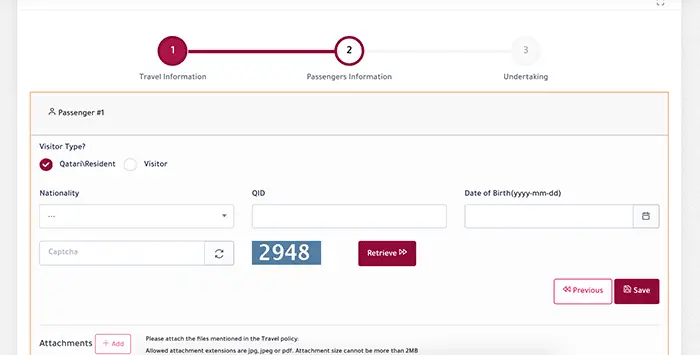 If you choose the Visitor option, you must enter your nationality, visa number, date of birth, full name, passport details, and gender. Those applying for a visa on arrival to Qatar can skip the visa number field.
You should also give vaccination details, any recent COVID-19 infection, and the countries you have recently visited.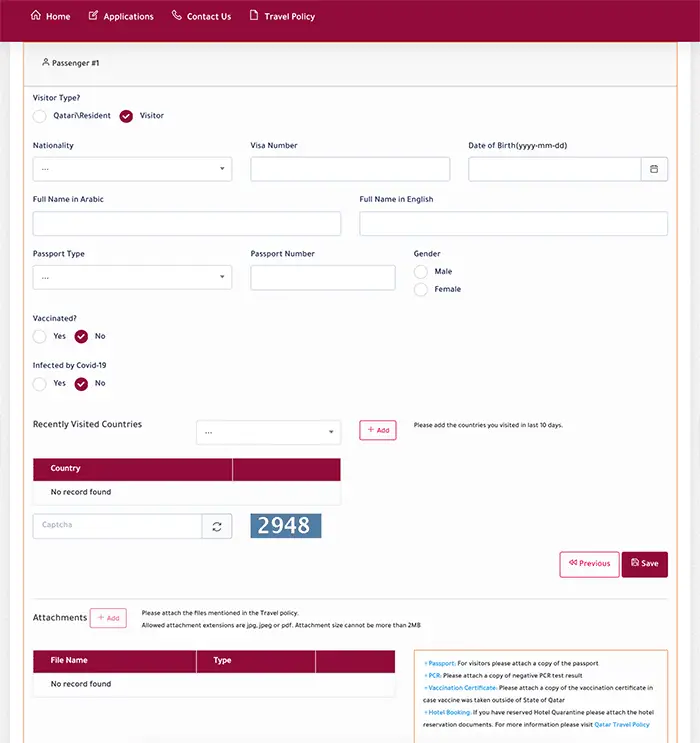 Step 10: Attach the required documents
For residents, a vaccination certificate is not needed if vaccinated inside Qatar.
For visitors, you will need your passport and flight tickets. A hotel booking from Discover Qatar is also needed for visa on arrival from India, Pakistan and Iran.
For uploading the documents, jpg, jpeg, or pdf attachment extensions are allowed. The attachment size cannot be more than 2 MB per file.
13 MARCH 2022 UPDATE: A credit or debit card with a three-month bank statement must be uploaded if you apply for a visa on arrival from countries like India, Pakistan, etc. The balance should be a minimum of QR 5000. QR 5000 in cash is not accepted anymore.
Step 11: Review and save the information
Review the information and make sure it is accurate. Enter the captcha code and click "Save".
Step 12: On the next page, agree to the terms and conditions and submit the application
Step 13: You will receive a decision by email
After applying, the traveller may follow up and see the status of the application, whether it is approved, or whether any other procedures are required to get the approval. This can be checked on the website's home page under the "My applications" option.
Once the pre-registration is completed, travellers will be provided with information on the procedures they will have to follow and the checkpoints they will have to stop at upon arrival in Qatar.
Time Required For Ehteraz Pre-Travel Approval
Since you are now required to submit the application at least three days before travel, you are supposed to receive a decision within 1-3 days. The decision is taken for each person within the application individually (in the case of the application for more than one person).
The Ehteraz pre-travel approval will be sent to the email address registered in the user account. You can take a printout to use during travel.
This approval will be automatic and can be downloaded immediately for residents and citizens vaccinated in Qatar.
Ehteraz Pre-Travel Registration Fees
This is a free service and does not require any fees.
Warning: If a traveller submits fake information or forged documents during pre-registration, the passenger's condition will be re-evaluated upon entry to the country, and the prior decision is not considered.
Ehteraz Helpline
You can contact the Government Contact Center at 109 (Inside the State of Qatar) or +974 4406 9999 (Outside the State of Qatar). You may also email at [email protected].
For health or quarantine-related queries, please call the MOPH helpline on 16000 (Inside the State of Qatar) or +974 4406 9963 (Outside the State of Qatar).
The email id for support related to Ehteraz is: [email protected]
Additional Information
Travellers must present their RT-PCR or Rapid Antigen Test results and the application approval to the border employee.
The data of citizens and residents who have completed the website pre-registration will be stored to facilitate the process of submitting new applications.
For Qatar residents, an exceptional entry permit will not be required if they have valid QID and have left Qatar within the last six months. If the resident has been out of Qatar for six months, they must apply for a Return Permit.
Individuals must ensure that they are updated with any changes in the Entry and Return policy of the State of Qatar through official sources before planning their trip. Please check the MOPH website for the latest Travel Policy for the State of Qatar.
---
FAQ on Ehteraz Pre-Travel Registration
---
Is Ehteraz pre-travel registration mandatory for all travellers?
From 1 November 2022, registering on the Ehteraz website is not required for travellers.
When should I submit my Ehteraz pre-travel registration application?
The application should be completed at least three days before your arrival in Qatar.
Can I apply for a family member or someone travelling with me?
Yes, applying for a family member or someone travelling on the same flight is possible. However, the decision depends on each passenger separately based on the requirements and submitted documents.
---
Related Articles:
---