If you are planning international travel by air, there is a chance you may require a COVID-19 PCR test for entry to your destination.  Passengers to certain countries like the US, UK, India, and Pakistan are now required to present a negative COVID-19 test result as a part of the entry requirements.
This article explains the procedure for getting an RT PCR test in Qatar. Also, you can see a list of private clinics and hospitals offering this service, the cost of PCR tests in Qatar, and the documents required for testing.
A COVID-19 PCR (polymerase chain reaction) test is performed to detect genetic material from a specific organism, such as a virus. The test is used to directly detect the presence of an antigen and will show if a person has COVID-19.
COVID-19 Testing at Government Clinics
4 APRIL 2021 UPDATE: Primary Health Care Corporation (PHCC) has temporarily stopped the provision of COVID-19 PCR swabs for people travelling abroad. PHCC tweeted this on their social media adding that private sector hospitals will provide all COVID-19 PCR swabs for people travelling abroad.
Here is the text from the announcement:
Primary Health Care Corporation health centers and medical teams are at the forefront of the National COVID-19 Vaccination Program and staff are working round the clock providing COVID-19 swabs for anyone showing signs and symptoms of the virus. 
This step was taken to relieve pressure on these teams and enable them to focus on providing services for people with COVID-19 and for those being vaccinated. 
The decision has been made to temporarily transfer the provision of COVID-19 PCR swabs, for people travelling abroad, to private healthcare facilities. When the second wave is suppressed and pressure is eased on PHCC healthcare teams, this important service will resume at primary health centers.
---
COVID-19 Testing at Private Clinics
How To Do PCR Test in Qatar for Travel
Step 1: Call the hospital or clinic to fix an appointment
Most private clinics in Qatar require you to call and make an appointment for an RT-PCR test. The clinic staff would give you an appointment depending on your travel date. Walk-in tokens are also available in some clinics, but it is not guaranteed.
Step 2: Visit the Clinic with the required documents
The documents required for the RT PCR test in Qatar for travel are your Passport, Qatar ID, and a copy of the Flight Ticket.
Step 3: Go to the reception, take a token number and pay the fees
The Ministry has fixed maximum fees for PCR testing at private clinics as QR 300 with effect from 8th April 2021. However, there are some private clinics offering the test for QR 220 onwards.
Step 4: The medical staff will collect the swab and send it for testing
The staff will ask a few verification questions before swab collection. Then they would collect the swab from your nose and/or throat.
Swab collection involves inserting a long stick that looks like cotton buds into your nose and/or mouth. The swabs are then taken away securely for laboratory testing.
Usually private centers collect the swab and send it to Hamad Medical Corporation laboratories for testing.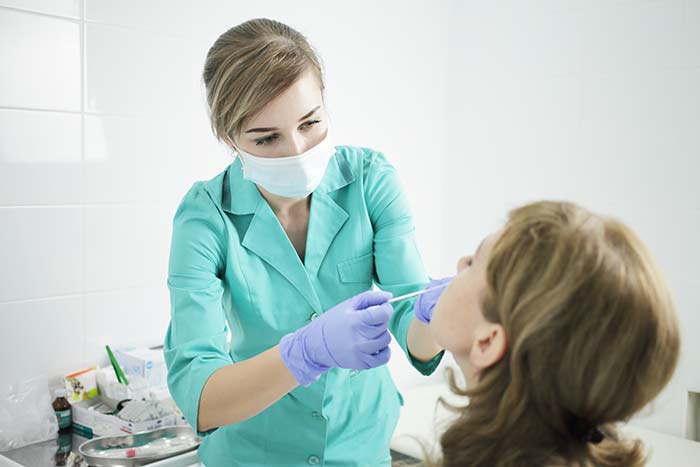 Step 5: You will receive an SMS with the test result
You will receive an SMS after the swab is received and testing is done. Usually, the test result is available within 24-48 hours. Note that while you are awaiting the test results your Ehteraz app may be showing grey colour.
If you are tested positive, you will be moved to an isolation facility or a designated treatment center or instructed to do home quarantine depending on your symptoms.
If you are tested positive, the color on your Ehteraz app would turn red. If the test result is negative the color would change from grey to green.
Step 6: Collect the test certificate as advised by the clinic
In most cases, you can visit the clinic the next day for collecting the test result certificate. Please make sure that the details on the test report (like your name, date of birth, date of the test, etc. are correct to avoid any issue during travel).
As per the protocol from HMC, a softcopy of the test result will not be considered a valid document. So you need to collect the hardcopy from the concerned clinic.
---
Cost of PCR Test in Qatar Private Clinics
27 May 2021 UPDATE: The Ministry of Public Health had decided to unify the price of the COVID-19 examination and has fixed a flat rate of QR300 for testing in private health facilities, starting 8th April 2021. However, there are some private clinics offering the test at discounted price of QR 220 onwards.
---
List of Approved Covid Test Centers in Qatar for Travel
PCR Test Centers in Qatar: Below is the list of private health facilities in Qatar (in alphabetical order) accredited to conduct PCR test with their website links and phone numbers (updated 27 May 2021):
---
At the Airport
If you are traveling to a country or using an airline that needs a pre-travel COVID-19 test, your airline will verify this information at check-in and retain a copy of the test result. Please have additional copies of the test result available with you for submission at departure and arrival airports.
In addition to a negative RT-PCR test result, many countries around the world have specific regulations in place for arriving and departing passengers to limit the spread of COVID-19. Please ensure that you understand how all these travel requirements affect you when planning your trip.
Dedicated COVID-19 Hotline
Ministry of Public Health (MoPH) has a dedicated COVID-19 hotline 16000 to answer public queries regarding the disease. The Ministry urges individuals who display symptoms of COVID-19 to quickly contact the helpline.
The toll-free hotline is accessible 24 hours a day, seven days a week, and is available in Arabic and English.
Additional Information
RT-PCR test for travel to India
All the passengers arriving from the United Kingdom, Europe, and the Middle East should carry a negative RT-PCR Test report for which test should have been conducted within 72 hours before undertaking the journey. The same also shall be uploaded on the online portal.
Travel Update from Qatar Airways
23 March 2021 Update: With immediate effect, Qatar Airways will no longer require passengers to present a negative RT-PCR test report when departing from the following 13 countries where this requirement was implemented previously. Any government regulation imposed or required by the destination or transit country will continue to apply.
Armenia
Bangladesh
Brazil
India
Iran
Iraq
Nepal
Nigeria
Pakistan
Philippines
Russia
Sri Lanka
Tanzania
You can find the latest travel requirements on Qatar Airways Travel and Entry Requirements Website. For more information, please contact your local Qatar Airways Sales Representative.
Copyright © DohaGuides.com – Full or partial reproduction of this article is prohibited.
---
FAQ on Pre-Travel PCR Test in Qatar
---
Where can I do the RT-PCR Test in Qatar?
From 4th April 2021, RT-PCR tests can be done only at private clinics/hospitals approved by the Ministry of Public Health.
How much is the cost of the RT-PCR Test in Qatar?
At private clinics, the price is fixed at QR 300 with effect from 8th April 2021. However, there are some private clinics offering the test for QR 220 onwards.
How much time is required to get the RT-PCR test result?
The entire process, from sample collection to results, can take up to 48 hours in normal cases.
Would I lose my ticket price if my RT-PCR test result is positive?
If the test result is positive, you would not be allowed to travel. Most airlines will refund a portion of your ticket price or allow you to rebook for a different date by paying the cancellation charge.
---
Related Posts:
---
Share This With Someone Who Needs It