Qatar is among the first countries in the world to provide a safe, effective and approved COVID-19 vaccine totally free for its population, as the largest ever vaccination campaign was launched across the country on 23 December 2020. 
To streamline the vaccination campaign, the Ministry of Public Health (MOPH) launched an online registration process that will allow citizens and residents to register their desire to receive the COVID-19 vaccine. 
This article explains how citizens and residents can get COVID vaccine in Qatar and the step-by-step instructions on how to register for COVID-19 vaccination online.
17 APRIL 2021 UPDATE: The Ministry of Public Health (MOPH) has announced that it has lowered the age threshold for COVID-19 vaccine eligibility to 35 years of age.
The change comes as part of the phased roll-out of the National COVID-19 Vaccination Program which continues to pick up the pace and has now administered more than 1,200,000 vaccines doses to the most at-risk members of Qatar's population.
One in three adults in Qatar has already received at least one vaccine dose and Qatar ranks ninth in the world for total vaccine doses administered per 100 people, in countries with a population of at least one million. Following the change in age limit, the appointment process for vaccinations remains the same as below:
How To Get COVID Vaccine in Qatar
Currently, vaccines are being given to people on the priority categories list based on age, health risk, profession etc.
People who are not among the priority categories currently listed can also register their desire to receive the vaccine and their details will be saved by MOPH and they will be sent a notification as soon as they become eligible for the vaccine in the future. 
MOPH has affirmed that vaccinations will be administered only to those who have received an invite. Others are requested to wait until they receive an SMS invite.
How To Register For COVID Vaccination in Qatar
To register for the COVID-19 vaccination in Qatar, you will need to log in using your National Authentication System (NAS) Tawtheeq username and password.
If this is the first time you are using Qatar Portal, you need to create a new Tawtheeq account. Here is the detailed guide on how to create a Tawtheeq account:
If you already have an account, you can directly proceed as below:
Step 2: Click on "Proceed to Sign in page"
This will take you to the Tawtheeq (NAS) Portal login page.
Step 3: Enter your Tawtheeq Username and Password
You have to enter the Tawtheeq username and password. The username is usually the Qatar ID number. Then you would be taken to the vaccine registration page.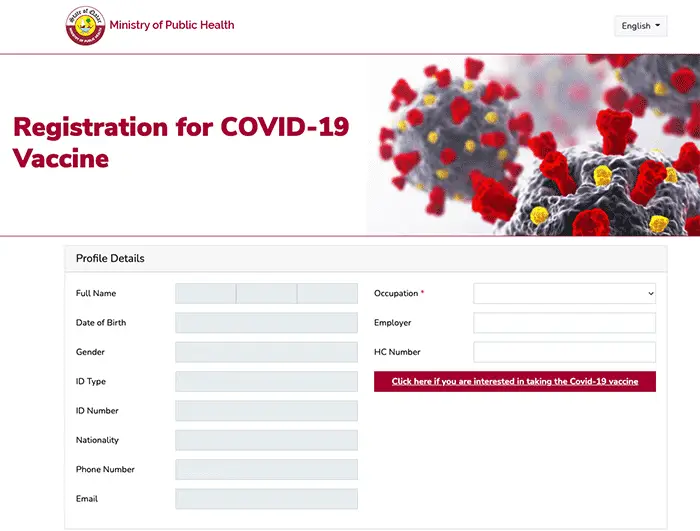 Step 4: Fill up all your details
Some of the information will be preloaded from your Tawtheeq (NAS) account. To edit the details displayed in the profile, the user shall log in to the Tawtheeq account and do the required update first.
You have to select the occupation and enter the employer name as well as Hamad Health Card number if available.
Step 5: Click on the interest button
Click on the button that says "Click here if you are interested in taking the COVID-19 vaccine". You would be taken to the next page with some questions.
You will be asked if you have had any severe allergic reactions, if you are currently pregnant or breastfeeding, if you are currently in isolation because you tested positive for COVID-19, and if you have received plasma treatment for COVID-19 within the last 90 days.
NOTE: If you undergo a COVID-19 test, you must wait at home while taking all receive your result and make sure it is negative before receiving the vaccine.
Step 6: Answer the questions and click on "Submit Answers"
You would be asked to select if you fall under any priority group.
Step 7: Select the priority group (if applicable)
Click on "Continue your Registration for COVID-19 Vaccine".
Step 8: Receive confirmation message
If you are included in the current priority group you will be able to choose your preferred health center, date, and time for the COVID-19 vaccination. The health center for vaccination is not guaranteed unless you have received confirmation in your email. You will also get a Request Number after the registration process.
If you don't belong to the current priority group, the Ministry of Public Health will record your interest to take the vaccine, and you will be contacted when you are eligible. In this case, you will see a pop-up saying your registration has been successful.
---
6 APRIL 2021 UPDATE: Health card no longer required for vaccine
MOPH has announced that temporarily you are no longer required to provide a health card in order to receive the COVID-19 vaccine.
When attending your vaccination appointment, ensure that you have a valid Qatar ID and that your Ehteraz status is green. It is, however, still recommended that you register for a health card as it will allow you to access governmental healthcare facilities.
---
COVID-19 Vaccines Available in Qatar
Pfizer-BioNTech and Moderna COVID-19 vaccines have been approved for emergency use by the Department of Pharmacy and Pharmaceutical Control in the Ministry of Public Health.
They were approved after a thorough review of the vaccines and the results of clinical studies conducted on a wide range of volunteers. Their review showed that the vaccines are safe and effective in accordance with international standards.
In December 2020, MoPh started to administer the Pfizer and BioNTech vaccines to the general public. The Moderna vaccines are being administered from 22 February 2021.
Below is a comparison of the two vaccines (source: MoPH)
Priority Groups for COVID-19 Vaccination in Qatar
​Everyone is at risk of getting COVID-19 and developing serious complications from the virus, but certain population groups are at higher risk and it is, therefore, more important for these groups to receive the vaccine as soon as it is available. 
Initially, vaccines will be prioritized for three key population groups: older people, people with certain chronic conditions and key healthcare workers.
Older people 
Evidence from around the world clearly shows that the risk of developing severe complications due to COVID-19 increases with age. People over 60 years of age have a higher risk of severe illness and death. The MoPH is now encouraging elderly people to take the vaccine at the earliest.
As of 17 April 2021, this age threshold has been reduced to 35 years and above.
People with severe chronic conditions 
People with certain long-term chronic medical conditions, including diabetes, asthma, and heart disease, or compromised immune systems, have an increased risk of developing severe complications as a result of COVID-19, regardless of their age. 
Healthcare workers at high risk of exposure to COVID-19
Healthcare workers, especially doctors, nurses and paramedics working directly with COVID-19 patients, have an increased risk of being exposed to COVID-19 and catching the virus and becoming sick.
Additionally, healthcare workers who catch the virus can spread it to their patients, many of whom may be at increased risk of severe complications due to chronic conditions or compromised immune systems. ​
---
Quarantine Exemption for Vaccinated People
Fully vaccinated people are now exempt from quarantine requirements following travel abroad and following exposure to a COVID-19 positive case, MoPH) has said. However, this exemption is not applicable to travellers coming from India, Nepal, Bangladesh, Pakistan, Sri Lanka, and the Philippines starting from 29 April 2021.
Quarantine exemption criteria:
14 days must have passed after receiving the second dose and a negative PCR test is required on return to Qatar following travel or following exposure.
The quarantine exemption is valid for a period of three months, starting 14 days after the second dose, and this may be extended in the future with the availability of more clinical evidence.
The exemption does not currently apply to people vaccinated in other countries.
---
Where To Get COVID Vaccine in Qatar
The COVID-19 vaccine is offered at all 27 Primary Health Care Centers in Qatar. The vaccine is offered by invitation only according to the phased vaccination plan. The targeted groups will receive an SMS invitation to come to their health center on a specified date and time.
Currently, the following groups are gradually being invited for COVID-19 vaccinations:
People aged 35 years* of age and above regardless of their health conditions
People with moderate chronic medical conditions
Healthcare professionals and other key workers in different ministries and industries, including teachers and school administration staff.
*Updated on 17 April 2021
Vaccination Center At QNCC
A vaccination center has been set up at Qatar National Convention Center (QNCC) for specific groups on a priority basis. Attending this center is by invitation only. People will receive an SMS showing the time and date of their appointment and must present their valid QID card when they attend
QNCC Ramadan Timing
21 APRIL 2021 UPDATE: During Ramadan, QNCC will be open in two shifts, every day of the week. The first shift will be from 8 am to 4 pm with the last entry at 3 pm followed by a break with the second shift starting from 7 pm to 1 am, last entry at 12 midnight. 
Vaccination Center At Industrial Area
On 12 April 2021, a new COVID-19 vaccination center has been opened in Industrial Area, at the previous Medical Commission facility.
The vaccination center will open six days a week from 7 am to 7 pm and operate on a strict invite-only basis. The center will administer first and second dose vaccinations in line with the national priority groups. Individuals should bring their QID, health card or passport with them and must show their green Ehteraz status.
Drive-through Vaccination Centers
Currently there are two Drive-Through Vaccination Centers in Qatar.
Al Wakra Drive-Through Center is located behind Al Janoub Stadium. Here is the location map for Al Wakra Drive-Through Vaccination Center.
Drive-Through Vaccination Centers Ramadan Timing
Both Lusail and Al Wakra Drive-Through Centers will operate from 1 pm to midnight every day throughout Ramadan with the last entry at 11 pm.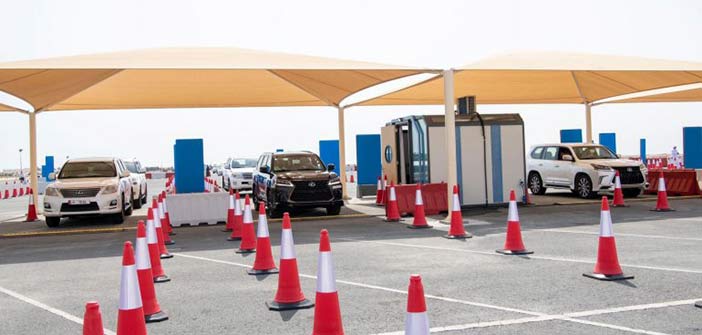 How To Attend Drive-Through Vaccination Centers
The Drive-Through Centers currently cater to people receiving their second dose only. You do not need an appointment to attend these Drive-Through Center.
However, as the centers are only for people receiving their second dose, you must attend 21 days (in the case of Pfizer) or 28 days (in the case of Moderna) after your first dose. The date of the second dose will be informed after the first dose. Here are the important points to note:
You cannot visit the Drive-Through Center on a day other than the set date for the second dose.
You must complete the vaccination process in a car or suitable vehicle – it cannot be done on foot.
If you do not have a car you can use a taxi to visit the Drive-Through Centers.
Visitors will be seen on a first-come-first-seen basis. At peak times you may be required to wait while other people are seen first.
In the first few weeks of operation the busiest times have been between 11 am and 1 pm daily. For the fastest and most efficient experience, MOPH recommends that people visit between 2 pm and 7 pm.
How To Get Vaccination Certificate
The health ministry has a weblink offering vaccine certificates that are accessible for people who have taken their second dose of the COVID-19 vaccine.
Here are the steps to download your vaccination certificate: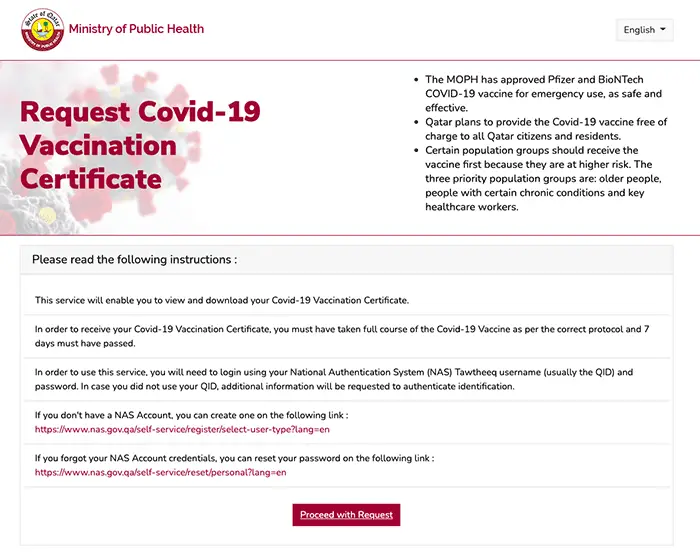 NOTE: In order to receive your COVID-19 Vaccination Certificate, you must have taken a full course of the vaccine as per the correct protocol and 7 days must have passed after the second dose.
Feedback About Vaccine Side Effects
21 March 2021 Update: The Ministry has added a COVID-19 vaccination feedback page on the vaccine microsite. The Ministry has urged the public to record their symptoms after vaccination and submit the feedback for both the doses separately.
PHCC Hotline Number for COVID-19 Vaccine
PHCC has activated a dedicated hotline number 4027 7077 to enable priority groups to book, cancel or schedule pre-booked vaccination appointments. The dedicated line is currently available from 7 am to 11 pm.
Copyright © DohaGuides.com – Full or partial reproduction of this article is prohibited.
---
FAQ on COVID-19 Vaccination in Qatar
---
Is COVID-19 vaccination compulsory for all in Qatar?
No, the COVID-19 vaccination is not compulsory for all. However the Ministry of Public Health is encouraging everyone to take the vaccine.
Is COVID-19 vaccination free for all in Qatar?
Yes, the COVID-19 vaccination is free for all citizens and residents in Qatar.
How can I get COVID vaccine in Qatar?
During the initial phases, priority is given to vulnerable groups. Others who register can get vaccinated as per the schedule which will be announced later.
How many doses of COVID-19 vaccine do I have to take?
The vaccines are administered in two doses, 21 days apart (in the case of Pfizer-BioNTech) and 28 days apart (in the case of Moderna).
Which COVID-19 vaccine is approved in Qatar?
Pfizer-BioNTech and Moderna COVID-19 vaccines have been approved for emergency use by the Department of Pharmacy and Pharmaceutical Control in the Ministry of Public Health.
Should I take the vaccine if I have been previously infected with COVID-19?
Available data suggest that previously infected individuals can be at risk of reinfection of COVID-19 and should benefit from vaccination.
Can children receive the COVID-19 vaccine?
Currently, the vaccine is not being given to individuals below 16 years of age (in the case of Pfizer-BioNTech) and 18 years (in the case of Moderna).
---
Related Posts:
---
Share This With Someone Who Needs It