Doha Guides Team regularly reviews this article to ensure the content is up-to-date and accurate. The last editorial review and update were on 3 September 2023.
Individuals in Qatar, whether citizens or residents, can enjoy world-class public healthcare services by applying for a Government Health Card (commonly known as Hamad Health Card).
Here is the detailed step-by-step process of how to get a Hamad Health Card, which can be used to access public healthcare in Qatar at subsidized rates. We have also included the steps to use the detailed process on how to use the recently-launched Nar'aakom mobile application to apply for a Health Card online.
About Hamad Medical Corporation
Hamad Medical Corporation (HMC) is the principal public healthcare provider in the State of Qatar, delivering the safest, most effective, and most compassionate care to each one of its patients.
It is Qatar's premier non-profit healthcare provider offering front-line medical services such as hospitals and polyclinics across the country. Primary Health Care Corporation (PHCC) operates through primary health care centres distributed into three regions, namely Central, Western, and Northern.
With 30+ health centers across the country, PHCC provides primary care services including a general practice (where one can be seen by the family physician), vaccinations, optometry, urgent care services and other services. To register for PHCC services, you need to apply for a health card.
Benefits of Hamad Health Card
Having an HMC Health Card is very helpful, regardless of whether it is to complement your private insurance or to ensure proper medical care in the absence of private insurance.
From consultations and blood tests to surgeries and medication, including for mental health, everything is free of charge or heavily subsidized in Hamad and PHCC.
In some cases, consultations or non-emergency treatments may cost extra but will be subsidized for those who hold a valid health card.
Holders of a health card can also have their prescriptions filled at a government-run pharmacy at subsidized rates.
Documents Required for Hamad Health Card
The following documents will need to be submitted along with the healthcare application.
Valid Qatar ID (original+copy)
Passport copy
Passport size photograph
Proof of address / copy of a utility bill (phone, water/electricity) to prove where you live*
*If electricity is not under the tenant's name, you should provide a housing contract attested by Municipality. This is not required for single workers. For single workers, please check the procedure here.
TIP: Make sure to note down or take a photo of your home's National Address (blue address plate with building, street, and zone numbers) as those details would be required.
---
Hamad Health Card Application Process
How To Get Hamad Health Card in Qatar (Offline)
Below are the steps to get an HMC Health Card directly through PHCC.
Step 1: Visit your nearest Primary Health Care Centre
Each area has a designated health care centre and if you are unsure which one is closest to you, call the PHCC helpline on 107. You will need to tell them your Qatar National Address.
Please note that health cards are issued during morning working hours only.
If there are more than one employee, the company Mandoob (PRO) can go to Hamad Hospital and apply on behalf of the employees.
Step 2: Fill up the healthcare application
You will be given a simple application form where you have to fill up basic details like Name, Qatar ID number, National Address (building, street, and zone numbers), Phone Number, etc.
Step 3: Submit the documents
Submit the required documents listed above.
Step 4: Pay the required fee
Usually, the payment is accepted only via debit/credit card. However, it is better to carry cash also as some clinics often ask for cash payment. Here is how much Hamad Health Card costs.
Step 5: Collect your health card
The health centre will either issue your card immediately or ask you to return it within a few days to collect it.
---
How To Get Hamad Health Card for Single Workers
For single/bachelor workers, the application has to be submitted to Hamad Health Card Printing Office through the company PRO (Mandoob). Workers Health Center is not offering this facility anymore.
How to Apply for Hamad Health Card Online
PHCC has recently launched Nar'aakom (Naraakom), a bilingual mobile application that provides comprehensive healthcare management via smartphones.
Nar'aakom mobile app has the option to apply for Hamad Health Card online. Here are the steps on how to do that:
Step 2: Open the app, and select the language (English or Arabic)
Step 3: Login using National Authentication System (Tawtheeq)
If you do not have an account yet, you can create one by following the instructions on the app screen.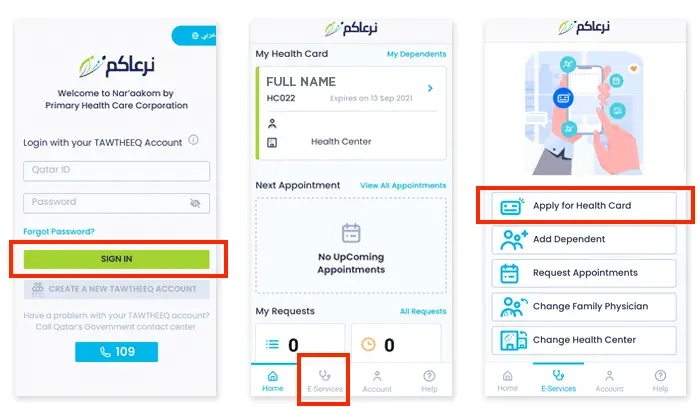 Step 4: Select "E-Services"
The E-Services option is shown on the bottom part of the application window.
Step 5: Select "Apply for Health Card"
It would be the first option on the next page
Step 6: Fill up the details required
Step 7: Upload the required documents
Step 8: Follow the instructions on how to collect the card
After submitting the documents you will be issued a health card number which can be used for initial services.
Fees for Hamad Health Card
Below are the fees for obtaining Hamad Health Card:
| | |
| --- | --- |
| Expatriate Residents (adults or children) | QR 100 |
| Qatari Citizens (adults or children) | QR 50 |
| GCC Citizens (adults or children) | QR 50 |
| Domestic Workers | QR 50 |
NOTE: Children born in Qatar can access medical facilities for free for the first year.
Working Hours
The health card application along with your documents can be submitted only from 7.30 am until 2 pm on weekdays.
How The Health Card Looks Like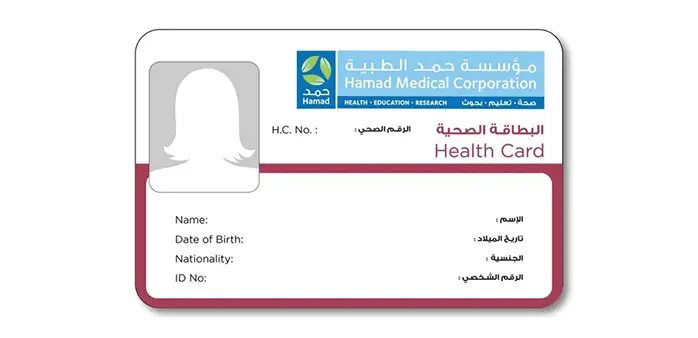 The Hamad Health Card is a regular size card with the following details:
Health Card Number (H.C. Number)
Name
Date of Birth
Nationality
Qatar ID Number
Blood Group
Health Center Code
Date of Issue
Important Medical Data
PHC File Number & File Location
Hamad Health Card Validity
The card is valid for one year for expatriates and has to be renewed every year. There is no penalty for not renewing the card.
Here is a detailed step-by-step guide on how to renew the Hamad Health Card online. The card can also be renewed at your local PHCC during morning hours.
Please note that the Health Card does not have the expiry date printed on it. The expiry date is updated in the online system. Even after you renew the card, you will not be issued a new card and you can continue to use the old Health Card.
You can check the validity of your health card by going to this link on the Hukoomi website.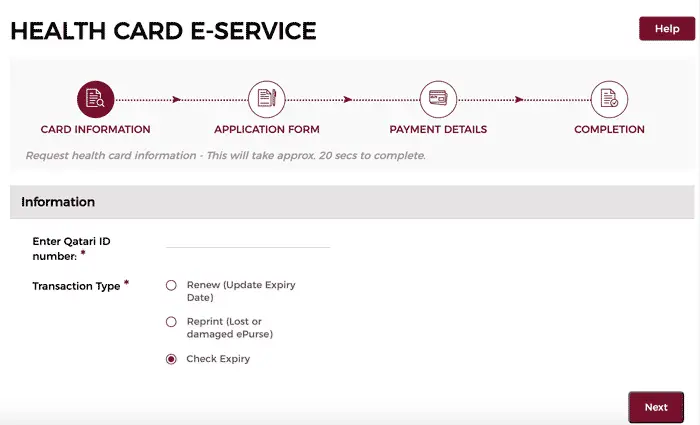 How To Replace Lost Health Card
For replacement, you have to contact your health centre with your Qatar ID. You can also request for reprint online by going to this link.
If you lose your Health Card but it is still valid, you will have to pay QR 100 for a replacement. If you lose it and it has expired, you will have to pay QR 200 for a new health card.
How To Get Treatment With Hamad Health Card
Once registered, you can access PHCC services by booking an appointment via the PHCC Naraakom app or by calling 107. You have the option of booking a face to face or a virtual appointment.
Alternatively, you can call 16000 for  an urgent telephone or video consultation with the physician., during the hours of 7am to 11pm.
A nurse led telephone triage service is also available from 11pm to 7am which will signpost patients to appropriate services, such as PHCC 24-hr Urgent Care services, based on their needs.
PHCC provides a walk in 24-hour Urgent Care Service at the following 9 health centers: Rawdat Al Khail, Al Rayyan, Al Kaaban, Al Sheehaniya, Al Ruwais, Muaither, Abu Bakr Al Siddiq, Um Salal and Al Mashaf Health Centers. 
---
FAQ on Hamad Health Card
---
Can visitors to Qatar get Hamad Health Card?
No, Hamad Health Card is only issued for Qatar Residents, Qatari Citizens and GCC Citizens.
Is it compulsory to take Hamad Health Card?
Hamad Health Card is not mandatory if you are comfortable with private insurance. However it is highly recommended as it would be useful in case of an emergency.
Is healthcare free in Qatar?
Qatar's public healthcare system provides most of the consultations, medications, medical tests and even surgeries free of cost or at heavily subsidized rates.
Where can I apply for a Health Card in Qatar?
Citizens and residents of Qatar may apply for a health card to access services at any of the Hamad Medical Corporation's healthcare facilities or hospitals.
How can I apply for Hamad Health Card online?
You can apply for a Hamad Health Card online using the Nar'aakom mobile application launched by PHCC.
---
You May Also Like:
Copyright © DohaGuides.com – Full or partial reproduction of this article is prohibited.
---