If you plan to travel to Qatar, it is highly recommended that you learn about the country's regulations, rules, and cultural do's and don'ts.  Some of Qatar's legal and cultural rules, particularly regarding smoking laws, may not be so obvious.
This article answers common questions like: is smoking allowed in Qatar, what are smoking laws, where you can smoke and where you can't.
Qatar has strict guidelines on the sale and consumption of tobacco products. These are defined under Law No.10 of 2016 on the control of tobacco and its derivatives. All articles mentioned below correspond to this law.
Is Smoking Allowed in Qatar?
There is no legal restriction on smoking cigarettes in Qatar. In fact, smoking cigarettes and traditional hookahs is very common in Qatar. However, there are certain areas where smoking is prohibited by law, and violators can face penalties.
Places Where Smoking is Banned
According to Article 12, smoking is prohibited in closed public places such as:
Schools, education and training centres, universities, and other educational institutions.
Hospitals, health centres, and other health facilities.
Ministries, other government agencies, public organizations and institutions.
Sports clubs, associations' premises, indoor stadiums and sports facilities.
Public stores, hotels, elevators, cinemas, and theatres.
Restaurants and other establishments that sell food or drink to the public.
Means of public transport such as Doha Metro and transport buses.
Industrial facilities, shopping malls, etc.
Even inside shopping malls and other public places, smoking may be permitted in designated areas, which should be clearly marked.
Fine For Smoking In Prohibited Places
According to Article 17, a penalty of not less than QR 1000, not exceeding QR 3000, shall be imposed on anyone who smokes cigarettes or tobacco or its derivatives or permits smoking in public closed places where smoking is prohibited.
Legal Age For Smoking in Qatar
There is no minimum legal age limit for smoking cigarettes in Qatar. However, selling cigarettes to anyone under 18 is prohibited by law.
According to Article 8, the sale of cigarettes of all types of tobacco and its derivatives to any person under 18 (eighteen) years shall be prohibited. Ignorance of the law shall not be an excuse, and the seller shall take all necessary precautions to ascertain the buyer's age.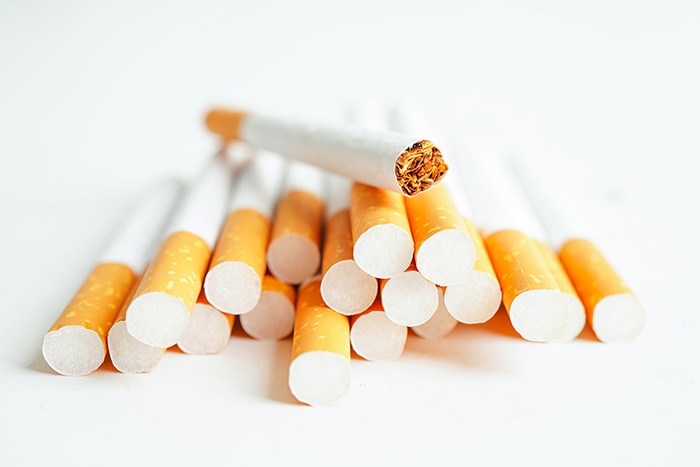 Smoking Inside Doha Airport
Doha's Hamad International Airport is strictly a non-smoking facility. The smoking of e-cigarettes is also not permitted within the terminal. There are designated smoking rooms available throughout the passenger terminal.
Smoking While Driving
While there is no specific law on smoking while driving, it is illegal to smoke in a vehicle in the presence of children.
According to Article 18, a penalty not exceeding QR 3000 shall be imposed on anyone who smokes cigarettes while driving a vehicle in the presence of any person under the age of 18.
Smoking During Ramadan
Normally smoking is permitted on the roads and outdoor places, but it is not recommended during the Holy month of Ramadan.
During Ramadan, non-Muslims may smoke, drink, and eat whenever they wish, but not in public. This is a way of showing respect for the local culture. 
Other Tobacco Rules in Place
There are also several other rules under Law No.10 of 2016, mainly intended for commercial establishments selling tobacco products. Some of these rules are:
The cultivation or manufacture of tobacco or its derivatives is prohibited in the State.
The importation, manufacture or use of automated devices intended to sell cigarettes is prohibited.
Advertisements or promotion of tobacco products to promote and encourage smoking are prohibited.
Approved standard specifications, expiry date, and cautionary statements and images must be conspicuously affixed on each package.
The sale, circulation or display of any quantity of tobacco or its derivatives after its expiry date is prohibited.
The sale of cigarettes or tobacco or its derivatives at a distance of fewer than 1000 meters from schools and other educational and training institutions is prohibited.
5% of the proceeds of customs duties on tobacco and its derivatives are allocated for spending on health education and combating all forms of smoking.
According to Article 7, importing, circulating, displaying, selling, distributing or manufacturing the following are also prohibited:
Chewing tobacco, in any form and under any name.
Electronic cigarettes, shisha or simulators of smoking tools.
Sweika, in any form or under any name.
Health Implications of Smoking
Smoking is considered a risk factor for various diseases, including respiratory and cardio-metabolic diseases, which affect infected individuals the most. The World Health Organization estimates that half of the smokers worldwide die from smoking, and regular exposure to tobacco smoke is directly associated with cancer, heart disease, stroke, and respiratory disease, both for smokers and passive smokers.
Qatar has adopted the WHO's Framework Convention on Tobacco Control. In line with the Qatar National Vision 2030 and the Ministry of Public Health Strategy 2018–2022, Qatar seeks to curb the current smoking prevalence by 5%.
---
Frequently Asked Questions
---
Is smoking allowed in Qatar?
There is no legal ban on smoking in Qatar. However, smoking is banned in certain places, especially closed public places.
Are women allowed to smoke in Qatar?
Yes, women are allowed to smoke as well as drink. However, they have to follow the same rules as men.
Is smoking allowed for tourists in Qatar?
Yes, you can smoke if you are a tourist. However, the laws are the same for tourists as well. 
How many cigarettes can I bring to Qatar?
Passengers may carry up to 400 cigarettes into Qatar when arriving.
---
Related Articles:
Copyright © DohaGuides.com – Unauthorized reproduction of this article in any language is prohibited.
Reference: Law No. 10 of 2016 on Control of Tobacco and Its Derivatives
---