Being an Islamic country, Qatar has regulated the sale and consumption of alcoholic beverages and pork products. Alcoholic beverages are only served at hotels, bars, clubs and licensed restaurants.
Non-Muslim expatriate residents can purchase alcoholic beverages and pork products from Qatar Distribution Company (QDC) for personal consumption at home. However, they would require a QDC license (permit) to buy such items, and there will be a monthly quota restriction on liquor (alcoholic beverages).
This article covers everything about the QDC Qatar license, including license requirements, documents needed, annual fees, and the application process.
Recent Updates
01 SEPTEMBER 2023 UPDATE
Starting on September 1, 2023, QDC Abu Hamour will be open from 9:00 am to 9:00 pm (Saturday to Thursday) and from 1:00 pm to 9:00 pm on Fridays. Food sales for non-permit holders will occur every Friday from 9:00 am to 11:30 am
22 APRIL 2023 UPDATE: All QDC customers are now required to complete a one-time registration to continue to use the online services. You can do the one-time registration by visiting www.qdc.com.qa and clicking "Register Profile".
Next time, you can simply login with just your email address and password.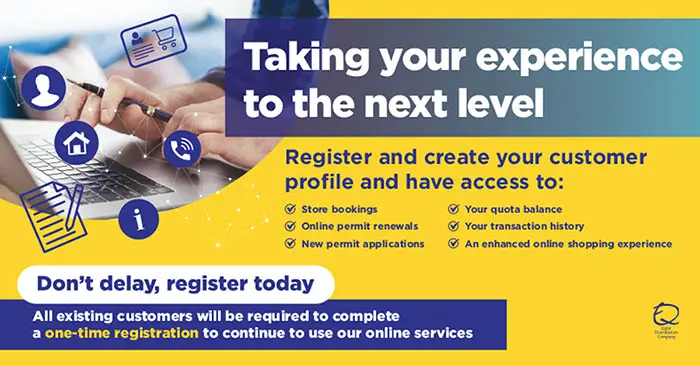 ---
QDC West Bay branch is now open
05 OCTOBER 2022 UPDATE: QDC has opened a new branch at the West Bay Hotel Park. The store is accessible through the Sheraton Road, Hotel Car Park entrance at Basement Level 1.
Please note that this branch is only accessible by vehicle. Pedestrians will not be given access to the location. The same rules for the QDC permit apply to the QDC West Bay branch.
---
What is QDC?
Qatar Distribution Company (QDC) is the sole importer, distributor, and retailer of alcoholic beverages and speciality foods. It is also responsible for issuing permits for all individuals, hotels, clubs, and restaurants.
QDC Qatar License Requirements
To qualify for a QDC license (liquor permit), the applicant should meet the following requirements:
Nationality: Should be a non-GCC citizen possessing a valid Qatar Resident Permit (RP)
Age: The applicant must be aged 21 years or above
Salary Requirement: The applicant should have a minimum basic salary of QAR 3,000 per month
Valid Residence Visa: The applicant's QID should have a validity of more than 2 months
Applicants without Qatar IDs or RPs may apply if they are on a multiple-entry visa or another type of business visa and meet the following requirements:
Have been living in Qatar for at least three months.
Have been living in private accommodation while residing in Qatar. Applicants living in hotels are ineligible.
An employer or sponsor based in Qatar must confirm the above details in writing.
---
How To Apply For QDC Qatar License
Applicants who meet the above requirements can apply for a QDC license (permit). First, you must book an online appointment and visit QDC in person with the required documents. Follow the below steps to apply for a QDC license:
Step 2: Select "New Permit" and click "Next"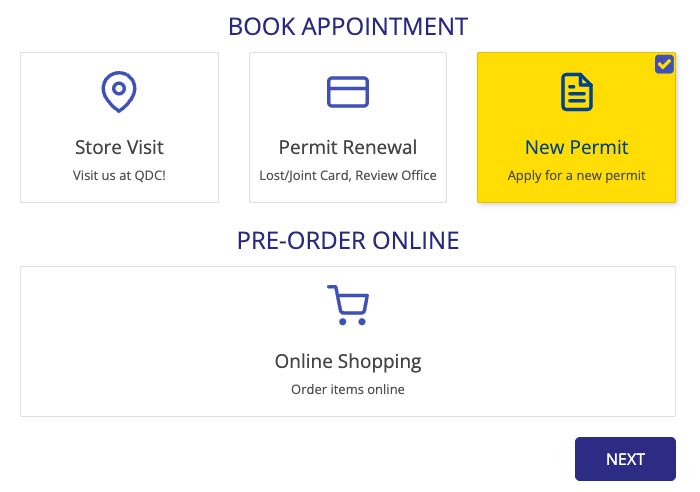 Step 3: Fill up your details, enter the captcha code, and click "Next"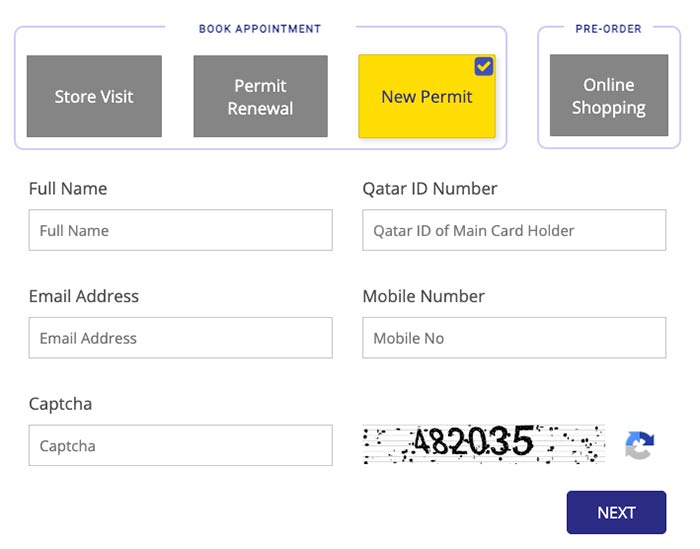 The details to be entered are full name, QID number, email address and mobile number.
Step 4: Enter the OTP received in your email and click "Verify"

Step 5: Select the preferred date and time for an appointment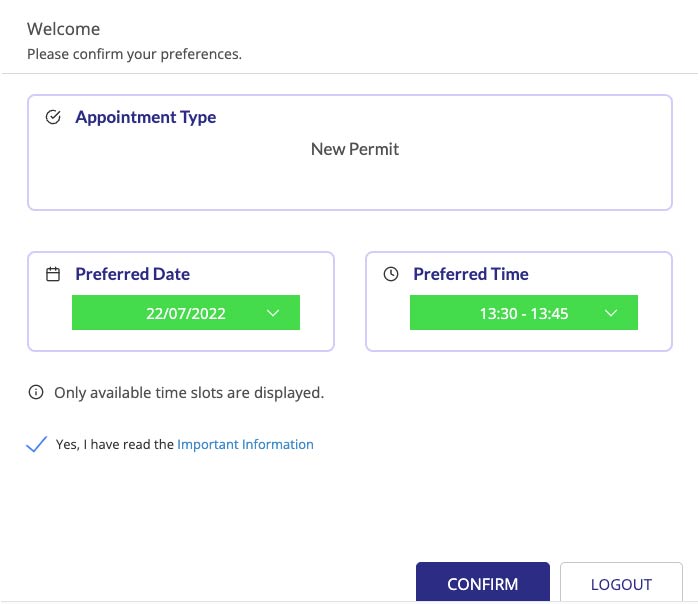 Only available time slots will be displayed. Confirm that you have read the important information. Click "Confirm" once done. You will see an appointment confirmation message.
Step 6: Fill up the application form received in your email
The application form will be sent to your email. You can also download the QDC application form here.
Print the application form and complete all the required details. You can also print the appointment confirmation received in your email.
Step 7: On the appointment day, visit the QDC store
Take the application form and all other required documents (given below) to the QDC license office. Take a token from the reception. Submit all the documents to the staff. They will verify and approve your application. Your photo will be taken on the spot.
Step 8: Pay the fee and collect your card
Pay your license fee using a credit/debit card. Your license card will be printed and issued the same day.
---
Documents Required for QDC Permit
1. NOC Letter from your employer
This should be written in English and on original letterhead. It should be dated within the last three months and must be signed and stamped by an authorised signatory.
The letter should be addressed to "Qatar Distribution Company" or "To Whom It May Concern" and state the following:
Your full name and job position
Your basic salary: The basic salary is the total salary less all allowances.
Accommodation entitlement: Indicate whether you receive a housing allowance or the company provides housing. The accommodation entitlement must be shown either as free housing provided by the employer or as a monthly allowance.
Marital status: Indicate whether you are married or single
In some cases, you may be required to produce evidence of salary and allowances, such as bank statements and/or employment contracts and/or CR copy.
2. Qatar ID
The applicant should have a valid Qatar ID. Applicants on a business visa or multiple-entry visa can apply if they meet these conditions.
3. QDC Application Form
You should have received the application form in your email. Make sure to print it and fill in all the required details.
4. Bank Card for Permit Fee
Upon approval of an application, the applicant must pay an annual license fee using a credit/debit card. Cash payments are not accepted at QDC.
---
QDC Qatar License Fee
Below is the annual fee for the QDC license. The license will be only issued up to the maximum duration of your Qatar ID. The license fee is non-refundable in case of membership cancellation or termination.
| QDC Permit Validity | Fees |
| --- | --- |
| 1 year | QAR 150 |
| 2 years | QAR 250 |
| 3 years | QAR 350 |
| 4 years | QAR 400 |
QDC Qatar License Fee
---
QDC License Validity
Usually, the license is issued for one year or up to the maximum remaining validity of QID. A prorated license fee will be charged if the applicant's QID expires in less than one year.
The maximum validity of the QDC license issued will be calculated as shown below:
| QID Validity | Permit Validity Issuance |
| --- | --- |
| 1 to 2 months | Not allowed; Applicant should renew QID before application or renewal. |
| 3 to 11 months | The applicant has to pay the prorated license fee for the full validity of QID. |
| 12 to 48 months | The applicant can choose from 1 year to full validity of their QID. Less than 12 months of permit validity is not allowed in this scenario. |
The expiry date of the QDC permit will be shown in the format MM/YY. The permit will be valid until the last day of the month.
To allow you time to renew the permit, you will be allowed one purchase within 30 days after the expiry date (the last day of the month shown on the card in the format of MM/YY). You must have a confirmed retail store appointment before expiration to use the card within 30 days.
QDC Qatar Locations
QDC Abu Hamour Store
QDC retail store and permit office is located in Abu Hamour, off Wholesale Market Road (close to Safari Mall). Here is the Google Map location of QDC.
Address: Plot No 15, Street No 668, Zone 56, Abu Hamour, Doha, Qatar
Contact Number: +974 4469 9412
Email:

[email protected]
QDC West Bay Store
The new QDC store is located at the West Bay Hotel Park car parking. Visitors should enter through Sheraton Road, Hotel car park entrance (see the map below). Go to Basement Level 1. Park in the designated car park for QDC customers.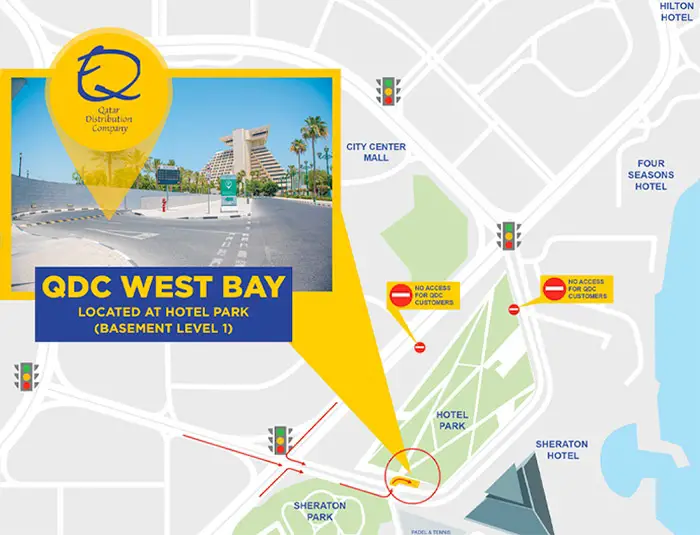 NOTE: QDC West Bay store is accessible by vehicle only. Pedestrians will not be permitted.
QDC Qatar Timings
Below are the opening hours of QDC (as of September 2023):
| Day | Abu Hamour | Hotel Park |
| --- | --- | --- |
| Saturday to Thursday | 09:00 AM to 09:00 PM | 10:00 AM to 7:00 PM |
| Friday | 01:00 PM to 09:00 PM | 01:00 PM to 7:00 PM |
QDC Qatar Working Hours
Entry to the retail shop and permit office is strictly by appointment only. You can see the available slots when you log in to the QDC website.
---
QDC License Quota Per Month
There is a fixed monthly quota for liquor allowed for each license holder. The monthly quota is based on several factors, including the basic salary. Once the application process is complete, the applicant will be informed of his quota. The monthly liquor quota applies to liquor purchases only. Pork products are not included.
QDC Joint Permit With Spouse
It is possible to apply for a joint QDC license with a spouse if he/she has a residence visa. If the spouse is not on the husband's sponsorship, proof of marriage will be required.
On request, an additional card can be issued to the spouse of the current permit holder. This application should be made in person by both the existing permit holder and the spouse. Only one permit per family is allowed.
---
How To Buy Alcohol From QDC Qatar
Only existing license holders are allowed to buy from QDC retail store. License holders are required to book an online appointment before a store visit. See our detailed guide on QDC appointment booking and online purchases.
---
How To Do QDC License Renewal
Renewing your QDC license is an easy process that can be completed online if your employer/sponsorship details remain the same. Here is how to renew the license online (if there is no change in circumstances):
Step 2: Select "Permit Renewal" and click "Next"
Step 3: Enter Permit Number, QID, Mobile Number and Email
Step 4: Enter the captcha code and click on "Login"
Step 5: Enter the OTP received in your email and click "Verify"
Step 6: Login and follow the onscreen instructions
Step 7: Pay the permit renewal fee online
It is not necessary to change your license card after renewal. Permit cards will remain valid until otherwise instructed. If needed, you can visit the permit office anytime to replace a worn-out or damaged permit card.
If the applicant's circumstances (company, role, salary, accommodation status) have changed, you will need an updated application form and a new NOC letter from the employer. Then you will have to visit the QDC office to submit the new application.
In the case of family sponsorship or permanent residency, the applicant will need to get a new NOC letter and new QID during each renewal.
If the main card holder is not present during the renewal, you should bring an authorisation letter and Qatar ID copy of the main card holder.
How To Cancel QDC Permit Card
You can cancel your QDC permit in two ways:
Your permit card can be cancelled and surrendered at the QDC permit office.
You can cancel your card by emailing

[email protected]

with your permit details in case you cannot visit in person or have already left Qatar.
---
Important Rules Regarding QDC Permit
A permit card is required for purchase.
Permits may only be used for personal purposes. The sale or gift of alcohol to others is strictly prohibited. It is not permitted to transfer alcohol to another person even if they hold a valid permit.
While in transit, purchases should be concealed from public view and taken directly to the permit holder's residence. Permit holders and goods must be in the same vehicle.
Consumption of alcohol must take place at the permit holder's residence only.
Pork products are sold to Non-Muslims only.
QDC During Ramadan
Usually, QDC outlet will be closed during the whole month of Ramadan. However, license holders will have the option of buying double or triple quota during the previous month.
Drinking And Driving: A Word Of Caution
Please keep in mind that Qatar has a zero-tolerance policy for driving under the influence of alcohol. Offenders who drink and drive are punished with jail terms ranging from one month to three years, fines, or both. You may also be deported if you are caught drinking and driving.
Also, note that Qatar Penal Laws Article 270 penalizes anyone found drunk on the main street or disturbing others due to alcohol effects with a fine of QAR 3,000 or a prison sentence of no more than six months.
---
FAQ on QDC Qatar License
---
What can I do if I forget my permit card on the appointment?
You can visit the permit office with a valid QID to request a one-day temporary pass.
Can someone else collect my order on my behalf?
No, only a joint card holder can collect an order linked to the main permit card.
Does QDC Qatar provide home delivery?
No, there is no home delivery service for QDC. You can use the Click & Collect options to pre-order online and collect from the outlet.
READ NEXT: How To Book QDC Appointment Online
---
Related Articles:
Copyright © DohaGuides.com – Unauthorized reproduction of this article in any language is prohibited.
---